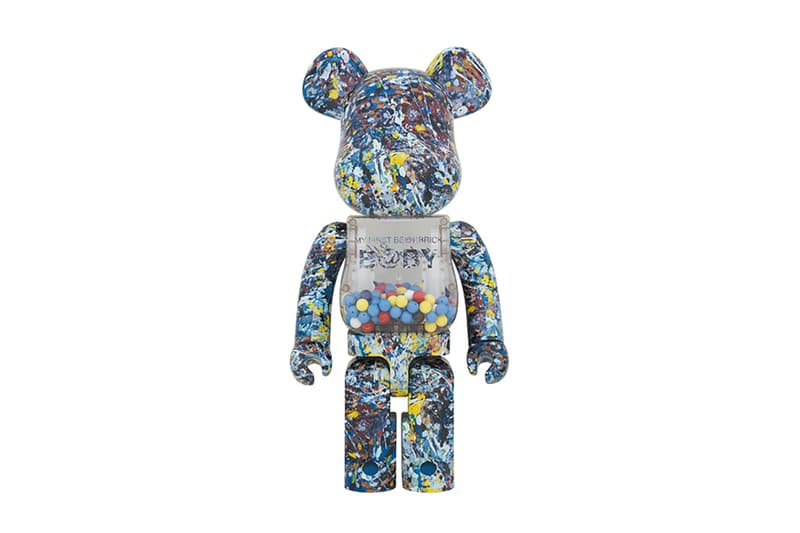 1 of 2
2 of 2
Jackson Pollock Studios and Medicom Toy Join Forces for a Paint Splattered BE@RBRICK
The figure's translucent belly houses a collection of multi-colored beads.
---
Artist collaborations have been heavily emphasized lately for Medicom Toy as it already has dropped team-ups with the likes of Steven Harrington and Vincent Van Gogh. And to keep this run rolling strong, it's now linking with Jackson Pollock Studios for a two-piece BE@RBRICK collaboration. Pollock is famously known for his emotional Abstract Expressionist artworks, and these collectibles effectively translate his unique design language.
Much like any other Medicom Toy BE@RBRICK collaboration, this link-up includes both the 400% and 1000% sizes. In terms of its visual appearance, the head, arms, hips and legs are identically styled with Pollock's signature paint splatter patterns. Various shades of blue, red, yellow, orange and white are all mashed together in wayward and vivid fashion. One can argue that the most enticing component of these figures is its bellies. Instead of hosting more paint graphics, they opt for a translucent case that comes branded with the words "MY FIRST BE@RBRICK B@BY" that's written out in distressed navy font. Additionally, the inside of the case has multi-colored beads for more design flair.
Mark your calendars that both of these are slated to drop on October 9 via Medicom Toy.
In case you missed it, Medicom Toy also recently teamed up with UNDERCOVER and Will Sweeney for a Helmut Hot Dog Man Lamp.