Fans React to Carmelo Anthony's First Points for Los Angeles Lakers
Although still in preseason, Melo's first buckets sparked major excitement across the NBA community.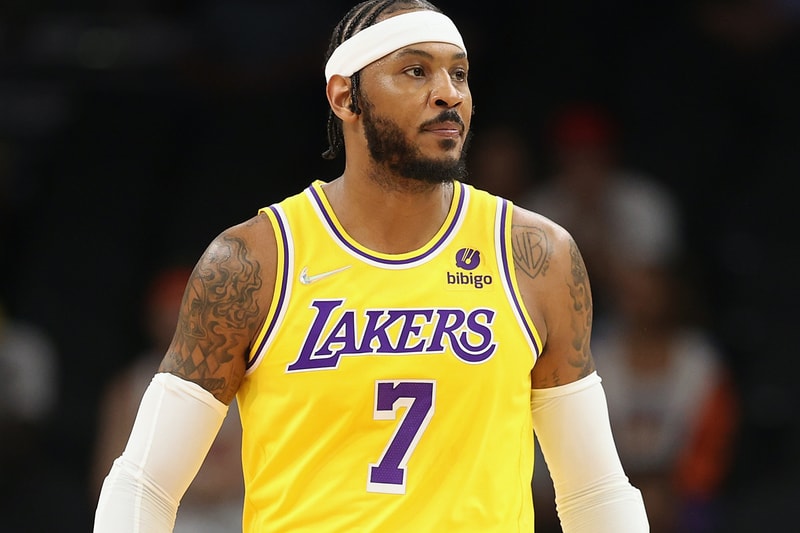 Coming off a disappointing 2021 season, Rob Pelinka has revamped the Los Angeles Lakers to give the city a competitive edge for the upcoming season. Amongst some of their biggest trades, the Lakers signed 18-year NBA veteran Carmelo Anthony, who had recently had two memorable seasons with the Portland Blazers. The move now sees Carmelo Anthony join forces with LeBron James and Russell Westbrook.
In their second preseason game, the Los Angeles Lakers faced last year's Western Conference Final Champions, the Phoenix Suns. Melo stepped onto the court as a Los Angeles Lakers for the first time, immediately sparking excitement from fans across the nation. Fans have long waited for the moment to take a first peek at Melo in his new Purple and Gold uniform. His first live game as a Laker tallied eight points, 2 rebounds and 2 assists, playing for 17 minutes.
While Melo made his debut, fans have yet to see Westbrook and LeBron hit the court. James has now sat out for the second straight game for the preseason. Lakers fell to the Suns, 117-105, despite Melo's debut.
Check out some of the fan's reactions below.
WE REALLY GOT HIM ON A MINIMUM LMFAOOOO

— dettox (@LeBronSZN__) October 6, 2021
he's already better than Schroeder and Harrell

— bass face (@UlyssesDuarte10) October 6, 2021
First Ring SZN

— Z0mbify (@Zomb1fy) October 6, 2021
Having melo being able to score on his own off the bench is so valuable

— Luke (@_uhhhhhhhhhhh_) October 6, 2021
— YawnHova (@yawnhova) October 6, 2021
THATS WHAT WE NEED RIGHT THERE!!! TEN OF THOSE THANGS A GAME

— ?iz ?? (@yokizle) October 6, 2021
Start melo idc what anyone says if he is a scorer then start him for the good of our offense

— ??? ?????? ????? (@LakeShowSZNN) October 7, 2021
In case you missed it, Tom Brady recently revealed which NFL team he loves beating the most.