Jon Wexler Shares the Most Important Thing He Learned From Kanye West
The former adidas YEEZY GM talks about his new role at Shopify in a HYPEBEAST-exclusive interview.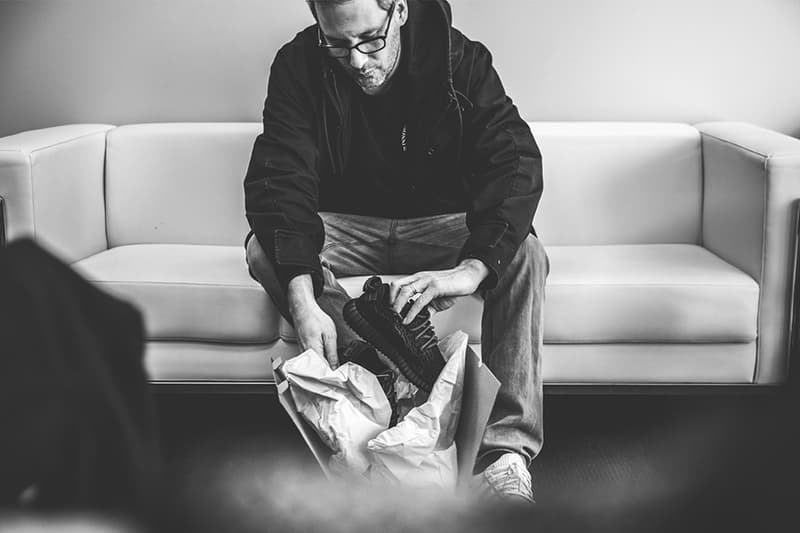 Jon Wexler is no stranger to sending shockwaves through the world of street culture. The man affectionately known as "Wex" did so once again when it was announced earlier this month that he'd be leaving his position as GM of adidas YEEZY to join Shopify as Vice President of the company's creator and influencer program. Of course, executives moving between companies is par for the course, but Wexler's stint at adidas was nothing short of monumental: over two decades with the Trefoil, he established paradigm-shifting partnerships with Pharrell, Beyoncé, Kanye West and more. The famously mercurial West even said that Wexler "basically saved my life" in 2015.
So what will the cultural guru bring to the world's biggest E-commerce platform when he officially starts his role this upcoming Monday? In an exclusive interview with HYPEBEAST, Wexler and Loren Padelford, VP and GM of Shopify discussed next steps, how they want to help creatives — or "makers," as they say — amplify their voices and much more.
HYPEBEAST: Jon, what was it that drew you to Shopify?
Jon Wexler: I've been following them closely for many years, and have engaged with them multiple times. It was just very clear from the early days of conversations with them and meeting their leadership that we shared a common vision — and that they believe strongly in the mission of enabling entrepreneurs while making commerce better for everyone. That idea of democracy and leveling the playing field really resonated with me as someone who's always had an entrepreneurial spirit.
Loren Padelford: As far as why [Shopify] wanted Wex, it's because we watch brands and their stories and we see when people are doing innovative things. Things that are counterintuitive and very creative. What Wex did at adidas is all of that. When we started to peel back the onion and be like, "Where did [adidas's success] come from? How did adidas choose to go down this path?" All those roads lead to one place: Wex.
He was going after creatives, musicians, artists who were very different, and [let them] design athletic wear in a different fashion than normal people do. That's the genius of what Wex did with adidas. You can't teach or manufacture that. If you want that level of creativity, you just have to get the people who are naturally inclined to operate in that way. When you talk to the artists and creators that worked with Jon, it just reinforced how influential his thought process and decision making was.
Is bringing that entrepreneurial spirit to a different platform what excites you most about your new role?
Wexler: It's mostly that I'll have the chance to help creators, makers, etc., build these long-term businesses. As a person who envisions their role as a connector, someone who helps people achieve their goals, take the ideas in their head and bring them to reality, going into the Shopify ecosystem where we have the ecosystem, the distribution — I don't want to reveal too much just yet [laughs].
"We love the story of someone who took nothing and made something."
What is the most important thing for a creator to do when building their brand?
Padelford: Stories. Stories rule. Humans only exist because they told stories for a million years. We love underdog stories, we love hero stories. We love the story of someone who took nothing and made something, of someone who created something new and took it to the world — someone who delivered unique value in a space that didn't exist before they came along.
Because of that love for stories, I think that when you're discussing brand building of any format — whether it's a company starting out, a maker creating something, an influencer building a community — the best [people] are the best storytellers. They have the most compelling personal stories, but also the most compelling stories for what they're trying to do, change or influence. When I talk to entrepreneurs around the world, all scales and sizes, I tell 'em "be true to your story." If you want to build a brand, become a storyteller.
Wexler: I don't know how you follow that up, it's perfect. That's always what it was to me as well, as a consumer and someone on the other side of the table. That meta narrative that goes into the product itself, that's what people are responding to.
"Creativity comes from all different walks of life, and every scale and scope."
What kind of creative partners is Shopify looking to bring into the fold? "Makers" is a term I'm hearing a lot.
Wexler: Creativity comes from all different walks of life, and every scale and scope. You have these up and coming people who are trying to connect with their audience in a meaningful way. Like Loren just referenced when we were discussing storytelling, that becomes so critical. For the artist of larger stature, they're trying to have those meaningful conversations as well. For us though, the focus is about bringing in the new up and coming people who [haven't made it to the top]. However, makers both large and small are already on Shopify — so it's also about forging deeper relationships with the ones who are there.
Padelford: We're looking for storytellers, the up-and-comers that nobody has really discovered yet. They're just getting started, and don't have the support, the infrastructure of the mega influencers. We want to empower them, to give them support on a global scale. Once again, that doesn't mean we're not interested in or won't do really exciting things with big brands and big creators. The world is full of interesting stories, and we just want to help tell them.
As brands scale, retaining their "authenticity" is very important. What would you do to assuage the fears of a brand or individual who's worried about "selling out" with corporate partnerships?
Wexler: As long as people are leaning into their passion in an authentic way, there's ways to scale their businesses into a wider hemisphere while still maintaining their authenticity and original approach to designing, creating, distributing and interacting with consumers. Scaling authenticity, while it is a finer needle to thread, is an optimal thing to do at a place like Shopify, where you have multiple ways to engage with your audience, and learn more about their audience as they grow. I think [Shopify] is a really incredible environment to do exactly what you're asking about.
Padelford: Some of the best and biggest brands ever are fundamentally focused on a core set of authentic values and they held [the values] through thick and thin. What Jon and I are trying to do isn't make creators into something they're not — it's amplifying something they are. Most small creators just don't have the team, the infrastructure, the support. They didn't start doing what they're doing because they're great businesspeople, they started because they were great makers. We want to take the massive asset that is Shopify, with all of its capabilities and global reach, and give that to creators to amplify their voice so they can be what they are on a much larger scale. We live in a world where access is much easier to gain, so we want to help a very unique set of entrepreneurs, creators and influencers amplify their community engagement in a way they might not be able to do on their own.
Is this amplification the key to striking an authentic balance between commerce and culture?
Wexler: Absolutely. There's a variety of factors to authenticity that you have to always retain, and these factors get weighted differently along the journey of building a brand. Parts of the brand will always need tweaking and fine tuning as the market and media landscape changes — requiring creators and makers to find new ways to attach to their audience and sharing a compelling enough story.
However, the creators are the birthplace of these changes and evolutions, so we're going to tap in with them in a way that's enabling and empowering to them and help them bring their vision to life, regardless of product or brand classification. This level playing field we're creating is, to me, empowering and amazing.
Padelford: Traditionally, an influencer of any size and scale who wanted to "monetize" — and I think that's just a business term for "engage your community" — had a super limited set of choices. They could get sponsored by someone else's product or service. You'd get paid to be someone else's representative. It was always "someone else's." Now, they can be their own representative and engage new communities from an authentic perspective instead of choosing the "best brand" they could. What we're doing is not a knock on sponsorships for creatives, it's just a different option, one that they can do without a ton of money or resources.
"The day after Kanye and I did YEEZY Season 3 in New York, we were in a LA studio the very next day, working on his next album. He does not pause for a moment."
Jon, what's the most valuable lesson you learned from working with Kanye West?
Wexler: Never take a second for… how do you say this? There's a scientific theory where, when scientists are conducting experiments and their test subject gets to the end of a maze it's been proven that the subject pauses to relax and take a moment of celebration. The day after Kanye and I did YEEZY Season 3 in New York, we were in a LA studio the very next day, working on his next album. He does not pause for a moment. He's relentless and determined in how he works. I think the thing I learned from him is sheer determination and work ethic, and how to apply your creative vision to the world in a powerful and meaningful way.
That would be my main takeaway, that and being consistent. Kanye is very consistent with his design, his music his sneakers, even the energy on all those things.
Is there anything else that we should know?
Wexler: My phone has been on fire since last week [when Wexler left adidas] with messages and calls from people who are curious about what's going on and wanting to engage with what I'm doing. I'm just really looking forward to this new opportunity, man. I cannot wait to get started. I can't go into it just yet, but the relationships that I formed with the people at Shopify, I've maintained through the years, and they've always had my interest. Once again, this is a great moment, man. I can't wait to get started.