8 Drops You Don't Want to Miss This Week
Supreme Mac Tools Station on deck as well as choice logo-printed Palace pieces.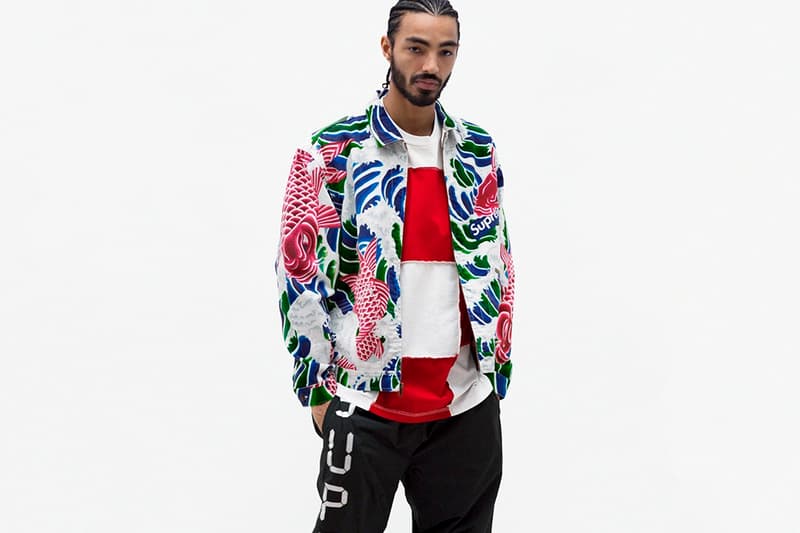 With another week we have yet another installment of our product drops series. Leading the list is the release of Supreme's newest Spring/Summer 2020 offerings, along with the Week 3 release of Palace's Summer 2020 collection.
Week 14 from Supreme takes a break from the major collaboration series and the Mac Tools Workstation model T5025. Leading the accompanying range is the Waves Work Jacket and matching Longsleeve Top, Regular Jeans, Crusher and Ceramic Bowl. Along with the Castelli Cycling Jersey and matching Cycling Bib Shorts that serve as Supreme's take on riding gear.
Notable collaborations this week come in the form of a concise Air Max 270 React "Cactus Trails" apparel range from Nike and Travis Scott, Stüssy and Matthew M. Williams' "California Cotton" Denim capsule and CLOT and RHUDE's "Double Happiness" collection. Virgil Abloh and Jacob & Co. also put together new "Office Supplies" jewelry, while amongst few and StreetX came together to celebrate street culture. Rounding up this week's product drops is Professor.E's latest release of its evocative SS20 collection.
Professor.E Spring/Summer 2020 Collection
Professor.E has now lifted the hazy veil over its evocative SS20 collection, the latest range marks the launch of women's sizing.
Exploring images and symbols related to the synonymous exotic realm, the SS20 collection features a new assemblage of patterns and experimentation with a new series of color matching. Professor.E has used pink and burgundy to symbolize the coming of Spring and Summer as if the flowers are blooming in grey. Aside from impeccably spliced construction and reversible wear design, deformable construction is introduced through trousers that wind from the back pocket to the front and from the front trousers corner to form a beautiful arc after being unfolded. Professor.E also reimagined traditional suiting with a collarless design complete with a drawstring waist design that allows for adjustment that matches the label's alternative temperament.
When: Now
Where: Professor.E
amongst few x StreetX Collaboration
Sharing a mutual story, Dubai-based amongst few and Perth's StreetX have come together for a celebration of street culture. The collaborative range aims to express the fledgling expedition of both brands are undertaking to bring street culture to a more prominent place within their respective cities.
The capsule features a pullover hoodie, T-shirts and shorts that build, nurture and shed light on the communities tied to amongst few and StreetX. Garments are decorated with distinct text-based motifs, illustrations and a striking photo by Mohammed Kazim. Standout items include the Photo T-shirt which introduces a traditional dance that involves a rifle and Camel Souvenir T-shirt centered around a camel illustration underlined by StreetX's Pina Colada Boys in Arabic.
When: Now
Where: amongst few & StreetX
Virgil Abloh x Jacob & Co. "Office Supplies"
Virgil Abloh recently revealed new "Office Supplies" jewelry created in collaboration with Jacob & Co. The made-to-order collection repurposes the shape of paperclips into luxury staples crafted from 18k white, yellow or rose gold, drawing from the grade-school concept of piecing paper clips together to make accessories.
Abloh explained on Instagram that the collection "is a concept for fine jewelry I developed and have been sitting on for a while now…It's all cryptic & metaphoric but that's as much of the concept as the adolescent idea of making a paperclip bracelet in grade school meets the blinding aspirational quality of a Rocafella chain. It's my whole art practice in one object."
When: Now
Where: officesupplies@canary—yellow.com
Supreme SS20 Collection Week 14 Release
Keeping its Spring 2020 releases coming, Supreme has now readied the Week 14 drop of its latest seasonal collection.
Taking a break from its major collaboration series, leading this week's drop is the Waves Work Jacket and matching Longsleeve Top, Regular Jeans, Crusher and Ceramic Bowl. Other standout items include the Eyelet Hooded Sweatshirt, Dragon Overdyed Hooded Sweatshirt, Castelli Cycling Jersey and matching Cycling Bib Short, Satin Pajama Set and Mary Work Short. Additional headwear options come in the form of the Satin Digi Camo Camp Cap and Tank 5-Panel Cap.
This week's boldly branded accessory comes in the form of the Mac Tools Workstation model T5025, which is a  is a double-bay workstation that features extra-large top 3" x 5" sliding drawers along with organizing thinner drawers for various tool storage. Elevating the unit are 6" caster wheels, while an integrated power strip provides convenience with power tools, and a Uni-key lock system allows for simple one-turn security.
When: May 28, Japan Release May 30
Where: Supreme Online
CLOT x RHUDE "Double Happiness" Collection
CLOT and RHUDE have teamed up for a cross-cultural collaboration of streetwear staples.
Dubbed "Double Happiness," is an amalgam of east and west sensibilities that reveal the roots of both imprints. References include the Chinese ligature character "囍" and its wide usage across Asia as the foundation for well-living and a cigarette brand of the same name in its designs. Other references include the 1972 Hong Kong film Seven Blows of the Dragon, western biker motifs, traditional dragon illustrations and more. Rounding up the design of all pieces are CLOT insignias, RHUDE logos matched with monochromatic palettes and athletic functionality.
When: May 29
Where: JUICE Store
Matthew M. Williams x Stüssy "California Cotton" Denim Capsule
After being teased, Stüssy and Matthew M. Williams are now preparing to release their collection titled "California Cotton."
Constructed of Italian denim fabric by Loro Piana, the range is comprised of a work jacket, work pants, and an unconventional apron dress. The indigo items are accented with large MMW and Stüssy co-branded patches and contrasting stitching. Constructed in Portugal, rounding up the collection is a garment-dyed graphic long-sleeve shirt and scoop-neck T-shirts.
When: May 29
Where: Stüssy
Travis Scott x Nike "Cactus Trails" Apparel Collection
To accompany the release of the Air Max 270 React "Cactus Trails," Nike and Travis Scott have also prepared an accompanying apparel range.
The three-piece range is comprised of a hoodie, sweatpants, and a T-shirt, all three pieces see the addition of multiple utility pockets and pouches. Centered around the military-inspired references, contrasting pouches sewn on the right side of the chest on the hoodie, and on both sides of the sweatpants. A patch of camouflage fabric is also applied on the back pocket of the sweats with branding coming in the form of mini Swoosh logos and a Cactus Jack cross.
When: May 29
Where: Nike
Palace Summer 2020 Collection Week 3 Release
Following its second Summer 2020 release, Palace has prepped another diverse drop from its latest seasonal collection. Leading the Week 3 drop is Pertex Lighter Jacket, Jungle Zip Shirt, Palast Minute AOD Hoodie and Multi Option Footie Jersey.
The London-based brand has readied some warmer options like the Sofar Zip Hoodie and Blinder Crewneck Sweater. The Week 3 drop also features a heavy array of graphic styles like the I Don't Skate on a Sunday T-shirt, Don't Call Me I'll Call You T-Shirt, Lozenge T-Shirt and Skin up Monsieur T-Shirt. While bottom offerings include the Plain Pants, Cargo Shorts and simple matching Sofar Shorts. Rounding up the Week 3 selection are accessory options like the Towelling Bucket Hat, Surf Cap and Flippin Roach Book.