Stay Home Snaps: Imran Potato
Talking inverted sleep schedules, Indian cuisine and unplugging with the custom clothing savant.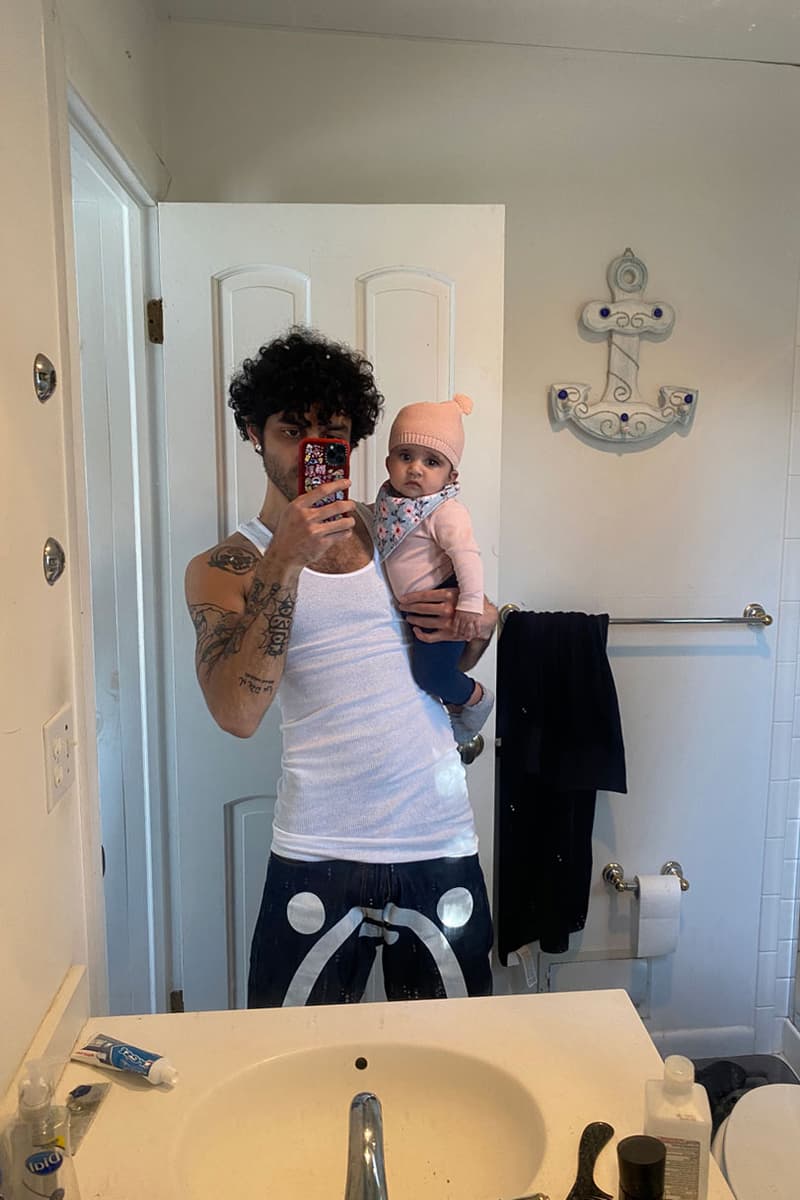 Stay Home Snaps: Imran Potato
Talking inverted sleep schedules, Indian cuisine and unplugging with the custom clothing savant.
DIY guru Imran Moosvi's bootleg-indebted Imran Potato collection has garnered a devoted sect of social media admirers, plus a who's-who of style-conscious musicians: Travis Scott, Lil Yachty, Billie Eilish and Bad Bunny are but a few of his ardent supporters. But Moosvi isn't swayed by celebrity; he puts on his (faux) Gucci socks one leg at a time, just like everyone else.
Like so many others affected by the near-global coronavirus quarantine, Moosvi returned home to weather the self-isolation period with family. As such, he still has plenty of time to game and craft his covetable custom clothing, combating ever-present cabin fever with a steady intake of comfort food and equally-comfortable cinema.
What's your daily routine?
I wake up at like 11 a.m. or noon after going to bed at 6-7 a.m., on my crackhead sh*t. I'm in Jersey right now at my moms house, the house I grew up in. She lives by herself so I came here when all this corona stuff started 'cuz I gotta make sure she's sturdy, you know?
I'll go outside if it's nice and do 200 push-ups. I wish I could play basketball but the hoop that was at my moms house got shredded to bits during Hurricane Sandy. I eat lunch and then by 6 p.m. I'm on my computer for the rest of the night. I'm playing a lot of Valorant at the moment. Still play Fortnite too, of course.
Where in your home do you like to work?
I can work anywhere as long as I'm constantly changing environments. If I get stuck physically, I get stuck mentally. When I'm doing any sort of technical work then I'm at my computer setup in my room. My desktop background is Axel from Twisted Metal. But most "work" I do is off my phone anyways, so I can be wherever. Alibaba, Wechat trappin.
What do you wear while working from home?
UGGs, Potato socks, and whatever else. But those are the only real essentials, I hate cold feet more than anything. Can't focus if I have icicle toes.
What are you eating now?
When I get up I eat eggs or pancakes. [For lunch,] my mom cooks the best Indian food in the world: kheema paratha and tomato cut (sauce). Last night I made some crazy Halal burgers on a charcoal grill. They were insane. I added my specialty homemade pink sauce (mayoketchup) as well. I eat a lot of Frosted Flakes too. Gamer fuel.
How do you stay in a good headspace while in isolation?
I take extra long breaks from any and all screens. I'm kind of a hypocrite because I burn my eyes with screens all night but I really try to stay off 'em during the day. But whenever I do take a break, I always feel like I have cooler ideas.
What are you listening to, watching and doing for fun?
Bladee's new album, Clairo and Carti leaks mostly. The only show I'm watching right now is One Piece. I have a hard time watching Netflix shows, I can't sit in one spot and watch — I don't have the attention span for it. But I love movies, last night I watched Fantastic Mr. Fox for the eighth time. Might watch Nacho Libre later.
I'm also still working on the Potato pop up that got delayed because of Coronavirus -— it's still on for after this is all over. It's going to be at Stadium Goods in New York and I'm dropping shoes for $10.