2020 Is Gorillaz's Moment, and You're Invited
Ahead of its live stream event, Gorillaz's Russel Hobbs speaks to EARTHGANG exclusively for HYPEBEAST about collaborations, the music industry, and more.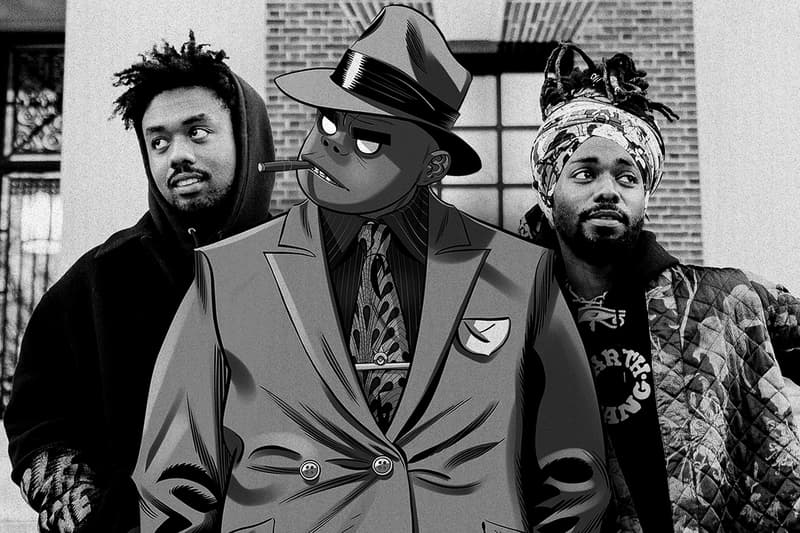 This year has proven that the future is virtual. From fashion weeks to art exhibitions, everything has taken a digital approach in response to the current times. However, the Gorillaz has been virtual since day one, producing experimental sounds for a world only it knows. But thanks to a number of unpredictable events, and the advancement of technology, the world has changed. We're in Gorillaz's universe now.
Bringing us into its world is Gorillaz's latest project, Gorillaz Song Machine Live From Kong. Following on from its seventh studio album, Song Machine, Season One: Strange Timez, the live event will take place in the basement of Kong Studios and will hear and see Gorillaz play its latest tracks and some all-time classics alongside a 14-piece band.
Jamie Hewlett's unique animations of the Damon Albarn-led band — which comprises 2D, Noodle, Murdoc Niccals and Russel Hobbs — will be joined by special guests in the virtual showcase. Although this hasn't been announced yet, it can be assumed that the line-up will be as good as those who featured on its recent album.
One of those features was the Atlanta-based duo EARTHGANG. Made up of Olu (aka Johnny Venus) and WowGr8 (aka Doctur Dot), EARTHGANG is known for its amalgamation of sounds — much like Gorillaz. While it usually taps into influences from hip-hop, soul and funk, its collaborative effort with Gorillaz, "Opium," is a far different sound.
Bringing us technical, digitally-enhanced, space-age synths and pitterpatters, "Opium" is the perfect hybrid. It combines elements we've come to expect from Gorillaz, such as those listed above, but it also transforms into something laid-back — a post-party 2 a.m. soundtrack, if you will. Littered with animated ad-libs and backed by a retro soul-dance backing beat, "Opium" hears EARTHGANG in a completely new atmosphere — like us, EARTHGANG is invited into Gorillaz's universe.
To better understand the creative process, Gorillaz's drummer and main percussionist Russel Hobbs has interviewed EARTHGANG exclusively for HYPEBEAST. To find out more about their song "Opium," how it was made, and how EARTHGANG is coping during the current climate, read on.
Russel Hobbs: Hey Earthgang. What was it like working with Gorillaz?
Olu (O): A dream come true and surreal. Gorillaz was a band I grew up listening to, appreciating their versatility and how they connected with our culture like hip hop. I remember just trying to remind myself to enjoy the process and to not let the guys down. Super humbling and super fire. 
WowGr8 (WG8): Amazing. We recorded that song at the peak of quarantine and it kind of happened and we didn't really talk about it. So, when it finally came out, a lot of our family and friends couldn't believe that it happened. It's really an honor. 
Define Earthgang, what does it mean?
Olu: EARTHGANG is a constant reminder that we are all in this together that we benefit from the greatness of everybody and their gifts. 
WG8:  EARTHGANG is a tribute to the human experience, it's inclusive.  To be a human or any kind of creature on this earth means you're EARTHGANG. 
What's the first Gorillaz record that you ever heard 
O & WG8: "Clint Eastwood." 
How would you describe "Opium" in just three words?
WG8: Transcendent fresh air. 
O: Let's go outside. 
What was the message that you most wanted to deliver on "Opium?"
O: To remind people [of] the resiliency of the human race, as we continue to enjoy ourselves, our existence and lives.
WG8: The importance of optimism and connecting with these times. 
What did you enjoy about combining our sounds?
O: The freedom of the process. You guys really prepped the canvas and handed us the brush to add our own colors and strokes without any parameters. I really appreciated the trust you had with us and this song. 
WG8: The ability to work on something together. 
What did the song remind you of, the first time you heard it?
O: It reminded me of the quarantine period, the anxiety I felt as it was gearing up and then the release of it all when I found some quiet downtime to go outside and appreciate the moment of stillness. At the beginning of the song, it's fast-paced, always moving and then more sounds and textures start to come in – the suspense builds and builds. It reminded me of how it felt when we first heard the news of quarantine, rushed, and panicked. Once we settled into quarantine life, we felt like we could handle it and made the best of it, which is when the beat drops in the song and vocals come in. 
And did you face any challenges when finding the right balance of our sounds?
WG8: I didn't find any challenges in the balance of our sounds. It's one of the things we do best as EARTHGANG, is to go to other worlds. Gorillaz opened up a whole world for us to come in to, take our shoes off and explore. This was actually one of the most fun music experiences I have ever had. 
Aside from working with us, how are things in terms of the music industry for you?
O: We are the masters of our own destiny, we are able to work with people like Gorillaz, Brittany Howard, Yung Thug, Wale, TianaMajor9, get nominated for things like Grammys and in the same breath work on political campaigns like the ones with Stacey Abrams in Georgia.  
Did you ever think you'd be working with animated characters and is it what you expected?
WG8: We've always had a strong affinity with the animated world. We've had some great opportunities to work in that world and we embrace it. It's an extension of our brand as much as it is the Gorillaz brand. 
What other people/characters/ ghosts or entities would you like to make songs with 
O: Sesame Street, Proud Family. 
WG8: More animations in general like Dreamworks and Pixar. 
When we play the songs live, what are you going to be wearing? (Me, I'm having a cape and hat made)
O: I am going to be so fresh yo. I'm going to look like a drop of freshness, coolness. 
WG8: I don't know yet, as long as I look like a beam of light — like how this song sounds. 
When I travel, I travel mentally. What places have you been recently in your mind?
O: I've been to New Zealand, South America, West Africa, Brazil, Colombia, Namibia… Western Europe, Canada… the islands in the Caribbean that people don't know about. 
WG8: Definitely South America, Australia, Africa, all over parts of Space. I've been really homesick for London a lot this year. I didn't realize how often we were in London — almost every year for the last few years on tour — so I developed some homesickness for the U.K. I really miss the Black people over there. 
You're very spiritual guys, have you got any mindful exercises for me to do with Murdoc? He's really been getting on my nerves during lockdown.
O: You guys should do some grounding exercises, walk barefoot outside. 
WG8: I did that for the first time during my Birthday this year, and really was magical. So, I would agree with that. 
Board games vs Video games;  which is better for the soul?
WG8: Board games are better for the soul! When you play a board game, the connection is automatic. 
O: Yeah, you can feel the people around you and their energy as you're playing. And when you're waiting for your turn, you can crack jokes, talk about life and other things. 
You can catch  Gorillaz Song Machine Live From Kong on December 12 and 13. Full ticket and streaming information can be found on the event's dedicated website.