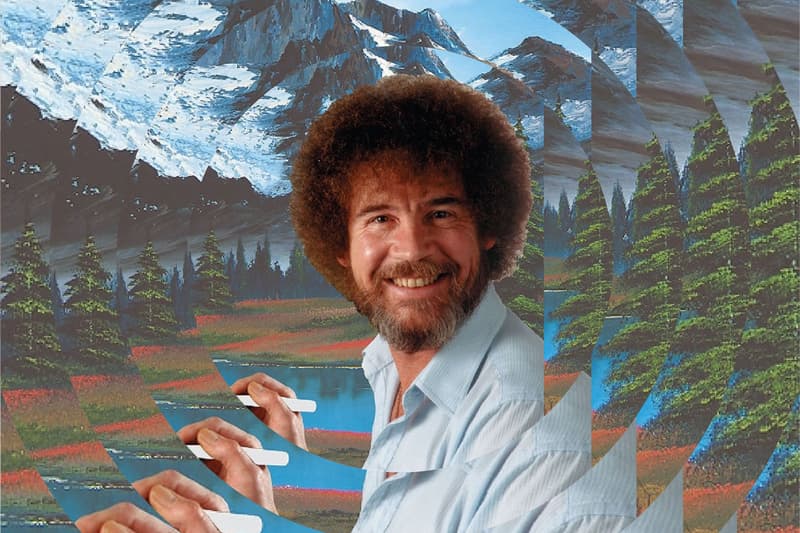 The Bob Ross Experience Is Now Open in Indiana
A permanent exhibition and masterclass series dedicated to the beloved painter.
---
Bob Ross fans, rejoice. A permanent exhibition and masterclass series paying homage to the beloved painter has recently opened in the small city of Muncie, Indiana. Situated at the Lucius L. Ball House on the Minnetrista campus, the presentation features a rotating selection of the artist's original paintings such as Gray Mountain and Sunset Aglow that are set against a 1980s-style living room complete with a plaid lounger. Also on display are his personal items encompassing keys and hair prick as well as memorabilia celebrating Ross. Visitors are welcome to touch and hold certain artifacts in the home except the artist's palette knife, easel, and brushes.
"Bob Ross at Home: Artist, Teacher, Friend," which is running through August 15, 2021, also highlights a slew of the artist's canvases contributed by locals who received works directly from Ross, or from local charity auctions where the painter had donated the pieces. A large portion of the artworks has not been shown to the public.
"Bob Ross has an incredible, fearless creativity," said George Buss, Jr., who oversees the permanent exhibition, to Artnet. "There is a confidence and a positivity that no matter how bad it looks on the canvas, it's gonna turn out. He takes what looks like a mistake and turns it into something beautiful, and he spends the entire time telling you that what he's doing is not special, not heroic. It's something you can do, too. So there's empowerment to be as powerful and as fearless as he is."
The masterclass series features a recreated set from Bob Ross' The Joy of Painting television series. You can sign for the $70 USD class with certified Bob Ross instructors. Learn more by visiting the Bob Ross Experience official website.
Elsewhere in art, London-based publisher Palm* Studios has announced its latest book, showcasing five years of portraits by photographers Lola Paprocka and Pani Paul.
Lucius L. Ball Home
620 W Minnetrista Blvd
Muncie, IN 47303