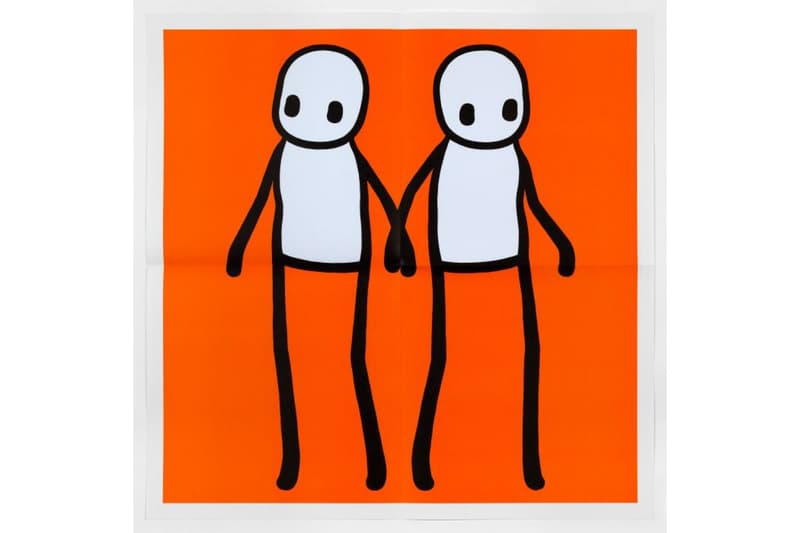 Graffiti Artist STIK Wanted to Give Away Prints to Londoners but Thousands Were Stolen
"STIK's intention was for every household in Hackney to have a single copy of the poster as a gift to either keep or sell."
---
Last month, renowned British graffiti artist STIK installed his first-ever public sculpture titled Holding Hands in London's Hoxton Square. To commemorate the installation of the piece, the artist planned to distribute 100,000 posters of his 2016 artwork of the same name to residents in the northeast London borough of Hackney for free.
However, locals complained that they never received the print and STIK's studio. Local police launched an investigation and found out that thousands of the posters were stolen and then sold online for profit. "After everything residents have gone through recently with Covid-19 and lockdown, STIK's intention was for every household in Hackney to have a single copy of the poster as a gift to either keep or sell," the Metropolitan police said to CNN. "These artworks were intended as a gift to the people of Hackney, any which are returned will be re-distributed to those who missed out," the artist added.
STIK has resided in Hackney for the past 20 years, creating numerous murals in the neighborhood featuring his signature, black and white minimalist stick figures. "'Holding Hands' depicts two figures facing in opposite directions yet holding hands in a sign of universal love and solidarity," said STIK to HYPEBEAST.
Metropolitan Police are still investigating the robbery since many of the posters are missing.
Elsewhere in art, German artist Cathrin Hoffmann unveiled new paintings and sculptures of anthropomorphic figures.