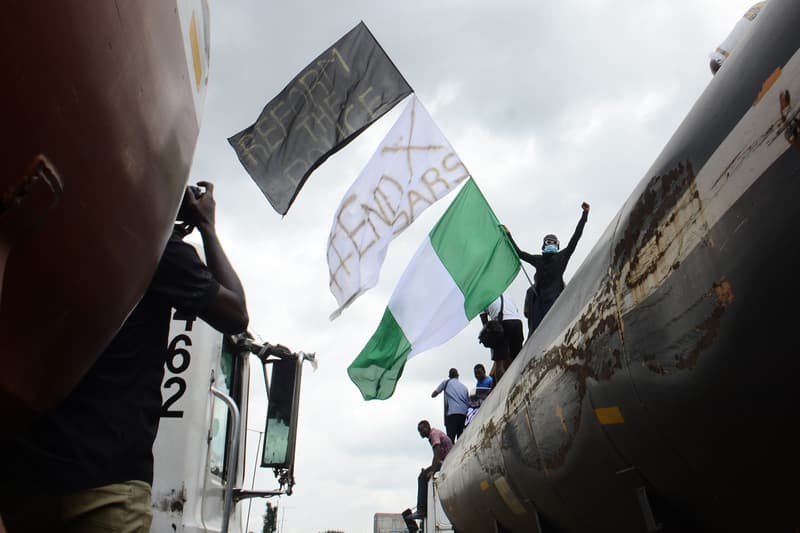 ART X Lagos Postpones Fair Amid Anti-Police Brutality Protests in Nigeria
"We are vehemently against police brutality and fully support those who are against a system that denies essential civil liberties, freedom, and opportunity to its people."
---
ART X Lagos is the first international art fair in West Africa. Founded by Nigerian entrepreneur Tokini Peterside back in 2016, the fair seeks to promote the wide range of contemporary art from Africa and its diaspora. This year marks the fifth edition of the fair, but it has been postponed in solidarity with the ongoing protests against police brutality.
Initially slated to run from November 6 through 15, organizers mentioned in a public statement that they decided to reschedule the fair to mourn the lives that were lost during the #EndSARS protests that have taken place in Nigeria. "We are vehemently against police brutality and fully support those who are against a system that denies essential civil liberties, freedom, and opportunity to its people," said Peterside in a statement.
The #EndSARS protests began in early October following the violence caused by SARS, Nigeria's Special Anti-Robbery Squad which was founded in 1991. The group has been accused of corruption, unjust arrests, extortion, torture and discrimination. They have also violently disrupted the thousands of Nigerians who have been taking part in peaceful protests against police brutality. At least 12 demonstrators were murdered during a protest in Lagos on October 20 after the Nigerian military opened fire on the large crowd, as per Amnesty International.
Not long ago, ART X Lagos shared a post on Instagram issuing an open call to photographers who were documenting the civil unrest in Nigeria — nearly 1,000 applications have been sent to the organization. The images will go on display at the rescheduled edition. "We will continue to work to amplify these important artists' voices in the coming weeks, and champion the art and creativity that can contribute tangibly to the movement for a New Nigeria," said Peterside.
A group of activists calling themselves "Diasporans Against SARS" have been collecting donations via GoFundMe to assist protestors and victims of the ongoing #EndSARS civil unrest. Supporters of the #EndSARS movement are also gathering resources via Carrd.co to help educate the public and raise awareness on the issue.
Visit ART X Lagos' website for updates on the rescheduled fair.