Sony's 63-Foot-Wide 16K Crystal LED Screen Is Now Available to Consumers (UPDATE)
But it could cost you $5.8 million USD.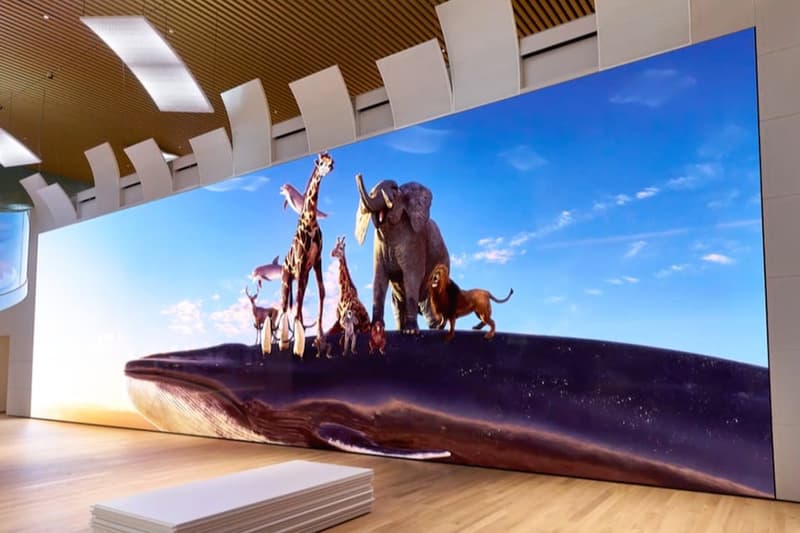 UPDATE (September 17, 2019): Previously targeted at cinema exhibitors, theme parks and other larger commercial uses, Sony has now made its 16K Crystal LED screens available to consumers. Aimed now for residential purposes, Sony will be offering the Crystal LED screens at smaller sizes, which simply compose of less modular panels, such as a 110-inch screen with 4K capability.
While Sony hasn't released official pricing details for its new technology, reports suggest that each of the modular panels will cost around $10,000 USD. This would calculate to roughly $720,000 USD for a 4K screen and a whopping $5.8 million USD for a full 63-foot 16K screen.
To learn more, head over to Sony's website now.
ORIGINAL STORY (April 10, 2019): Sony has just unveiled a 63-foot-wide 16K resolution display in Japan, reports BBC.
The new impressive piece of tech created by the multinational conglomerate, which has been dubbed "Crystal LED," contains 16 times as many pixels as a 4K UHD TV and 64 times as many pixels as a regular 1080p high definition TV, all measuring in at 63ft by 17ft (19.2m by 5.4m). Crafted from several modular panels that can be fitted together to form the large singular screen without any visual gaps, the new item essentially takes ups two whole floors when fully displayed. Another worthy note is the "Crystal LED" does not require a backlight and is much brighter than OLED screens while delivering the same similar deep blacks.
For those interested in seeing Sony's 63-foot-wide 16K screen in real life, it is currently installed at a new research center for Shiseido in the city of Yokohama. Sony even produced its own footage of animals to be played on the device considering little 16K footage exists.
Sony announced this new development during the National Association of Broadcasters (NAB) trade show, which is currently being held in Las Vegas. "We're moving slowly towards 8K TVs at the end of the decade and who knows how long it will take to get beyond that, so 16K is likely to be limited to the corporate world for the time being," commented David Mercer from the consultancy Strategy Analytics. You can learn more about Sony's NAB show here.
With its high manufacturing costs involved to create the "Crystal LED" it may never become available for widespread use. Sony however is pitching similar lower-resolution Crystal LED displays for office, home, cinema, and theme park use. Keep it locked here for more details regarding that.
For more tech news, IKEA and Sonos officially unveiled their SYMFONISK collection.