Virgil Abloh Wants to Apply the Tenets of Streetwear to Furniture Design
His Vitra collaboration aims to democratize design — but risks maintaining the same hierarchy.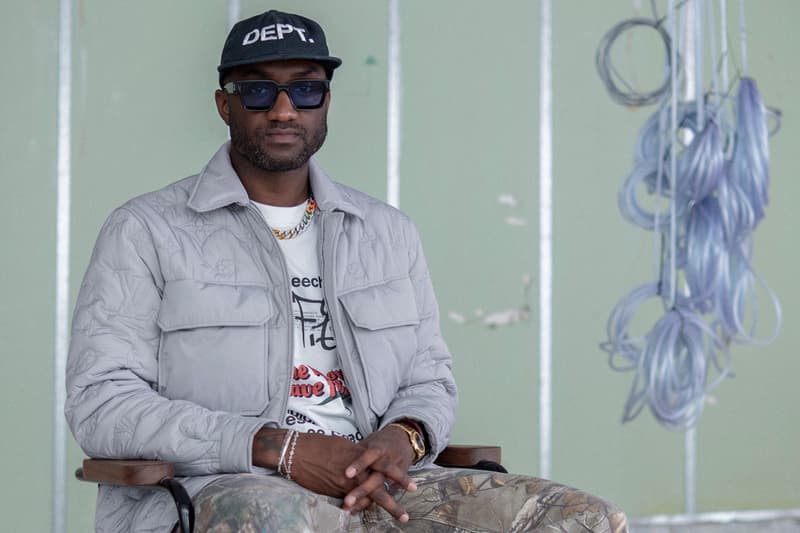 Could Jean Prouvé ever gain the same name recognition as say, Kanye West? Could style-conscious teenagers discern an authentic Eames chair from a knock off with the same certainty as they spot a fake Supreme box logo from the real thing? Virgil Abloh would like to think so.
"I feel like it's urgent to make sure that as design history goes along in this moment, that it doesn't leave the 14 to 17 year old boy or girl, who has no clue about art history, design history. They should be sort of invited in the conversation if these icons are going to exist in the next term," Abloh said at the launch of his collaboration with Swiss design company Vitra. "It should be something that is as common language as, 'Those are adidas, and those are Nike shoes.'"
The launch took place last week, in the midst of Art Basel, at Vitra Campus in Weil am Rheim, just across the Swiss-German border. The Virgil abloh ℅ Vitra project includes an art installation, titled "TWENTYTHIRTYFIVE," at Vitra's Zaha Hadid-designed Fire Station, and three limited-edition pieces for sale. Following the launch, Abloh furthered his goal of appealing to a young audience by sticking around for Vitra's annual Summer Party to play a DJ set, spinning the likes of Cardi B and Daft Punk for an eclectic crowd that mixed established Art Basel patrons with young Swiss fashion fans.
For Abloh, applying his stamp to disciplines outside of fashion is par for the course at this point. But for Vitra, the presence of a fashion designer, particularly one with origins in streetwear and hip-hop, is still something of a novelty. In a conversation with Vitra CEO Nora Fehlbaum at the launch, both Abloh and Fehlbaum emphasized the need for those who've been left out of the elite design world to find a way in. And yet, the reference points for Abloh's collaboration — the likes of Jean Prouvé and Charles and Ray Eames — would imply that the design world is still, and will likely remain, dominated by the old guard of male, and mostly white, figures who have already achieved iconic status.
Speaking to a small group of journalists for the launch, Abloh described the collaboration as forming a part of his "adult thesis," which is to make good design accessible and — perhaps more importantly — relevant, to a wide audience. "My main goal is to make design appreciated by all. So it's sort of like a democratization of design. So these icons are not just you know figments of design communities, but they are of the outside world," he said.
And the exchange goes the other way as well, in making the elite, insular design world in touch with pop culture. Speaking with Vitra CEO Nora Fehlbaum at the launch, Abloh praised the efforts of his small, London-based design studio Alaska Alaska, which is staffed by a handful of recent graduates Abloh handpicked on Instagram, in keeping his countless collaborations relevant to the teenage audience. "Virgil has this access to a much wider much younger group of people than we usually address," Fehlbaum said.
Abloh's goal involves taking the democratic, populist revolution that streetwear has brought to fashion and applying it to other design disciplines. In the case of his Vitra collaboration, that translates to creating a sort of pop culture remix of iconic pieces by French designer Jean Prouvé. It's a common method employed by hip-hop and streetwear, adding a new spin or context to a well-known image. It's what Supreme has built almost its entire model on after all.
"Maybe only in fashion has there been like a term of streetwear sort of adopted to it, you're seeing how fashion has been given a new outlook, because it's a new way of making. But to me that's a sign that there's a generation at hand that has a different aesthetic" Abloh said at the launch. "To me it's an art movement, it's not just a sort of buzzword that applies to fashion."
That methodology of updating existing pieces has also earned Abloh numerous accusations of plagiarism. Abloh for his part is unbothered; in the case of Virgil Abloh ℅ Vitra, the references are intentional and in fact authorized by the Prouvé family.
But there is trouble with only remixing designs from established icons that goes beyond simplistic claims of "copying." Instead, the pitfall is that it maintains the same hierarchy of a given industry — in the case of architecture and industrial design, ones that have been largely dominated by white men. The Vitra collaboration was revealed in the Zaha Hadid Fire Station — the first building designed by the legendary architect — however, it's notable that Vitra Campus is otherwise predominately dominated by buildings created by male architects such as Frank Gehry, Jacques Herzog and Pierre de Meuron, Nicholas Grimshaw and Tadao Ando. During his conversation Fehlbaum, Abloh named the likes of Kanye West, Pharrell Williams and Ludwig Mies van der Rohe as his creative inspirations.
His DJ set may have played the likes of Rihanna, but woman artists and designers otherwise went unmentioned in Abloh's references. He pointed to his all-male team of Alaska Alaska as well as being instrumental in the creation of "TWENTYTHIRTYFIVE." Coincidentally, women across Switzerland went on strike just two days after the launch on June 14 — at the height of Art Basel — marching across the country to protest inequality.
As Abloh himself noted, iconic designs do not become iconic simply as a result of a particular creator's genius — they become iconic because we as a society deem them iconic. "You design something that doesn't become an icon once your pen leaves the pad. It needs to be washed through culture, washed through real life," Abloh stated. Remixing design icons for the younger generation is certainly a valuable endeavor, but it also traps us in an echo chamber of who and what is allowed to be considered "iconic." Indeed, Abloh even questioned if there's a need to design more furniture — certainly the world does not need more objects, but it does imply that there is no room for anyone new to enter the pantheon of iconic designers.
But Abloh himself may at least be someone who has broken into that elite status, and he and Vitra hope with this collaboration that the world of design will in fact open up further. "Usually these design icons they're discussed in a very small circle of elite and within the design tribe that we all belong in, but most people don't. And Virgil is able to speak to a much wider audience," Fehlbaum said.
It's an admirable goal, and one that will, hopefully, eventually pay off to break the cycle of the white, male dominated design world. Abloh and Fehlbaum's presence at the forefront of the conversation would seem to suggest that it's possible, if not yet fully realized.