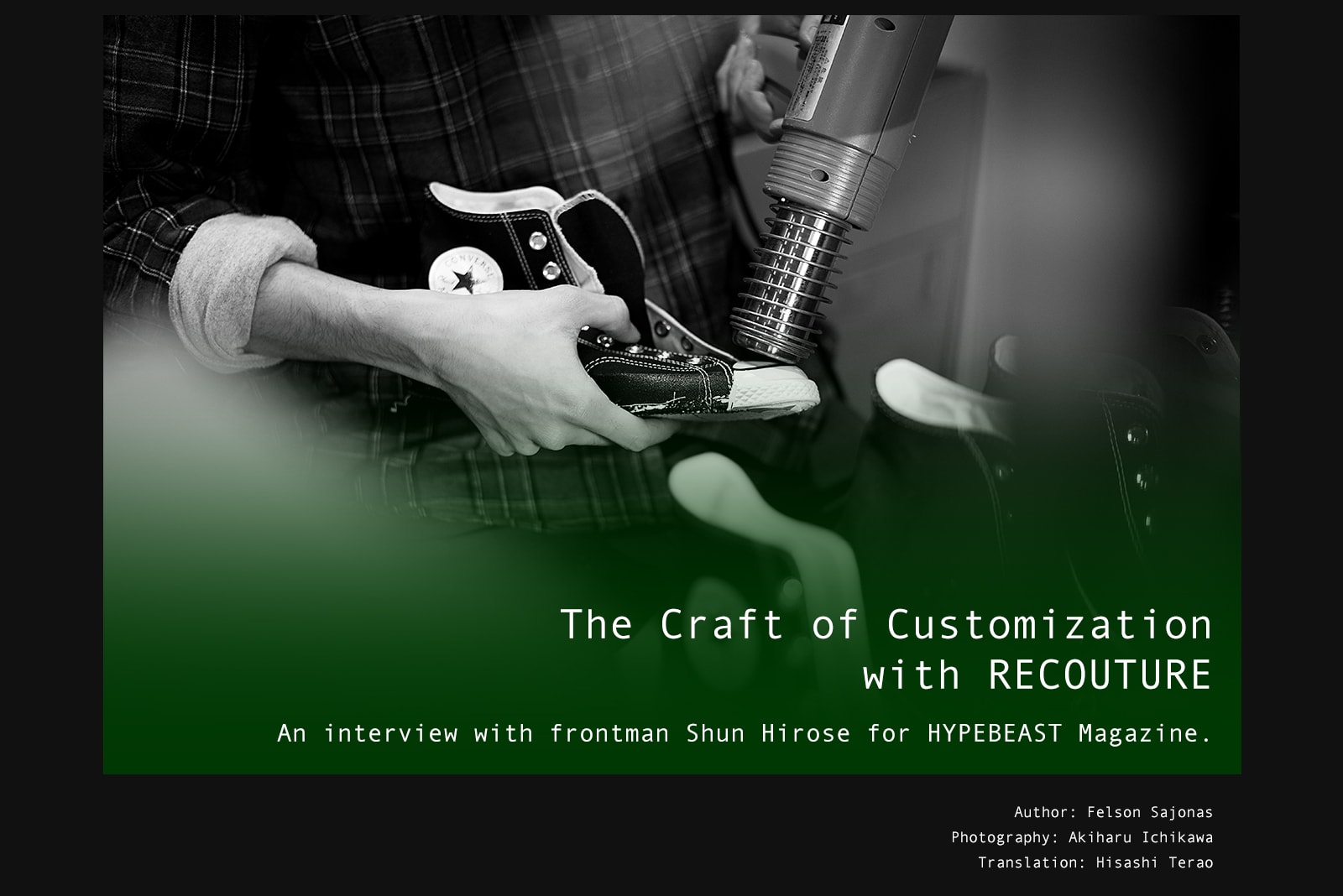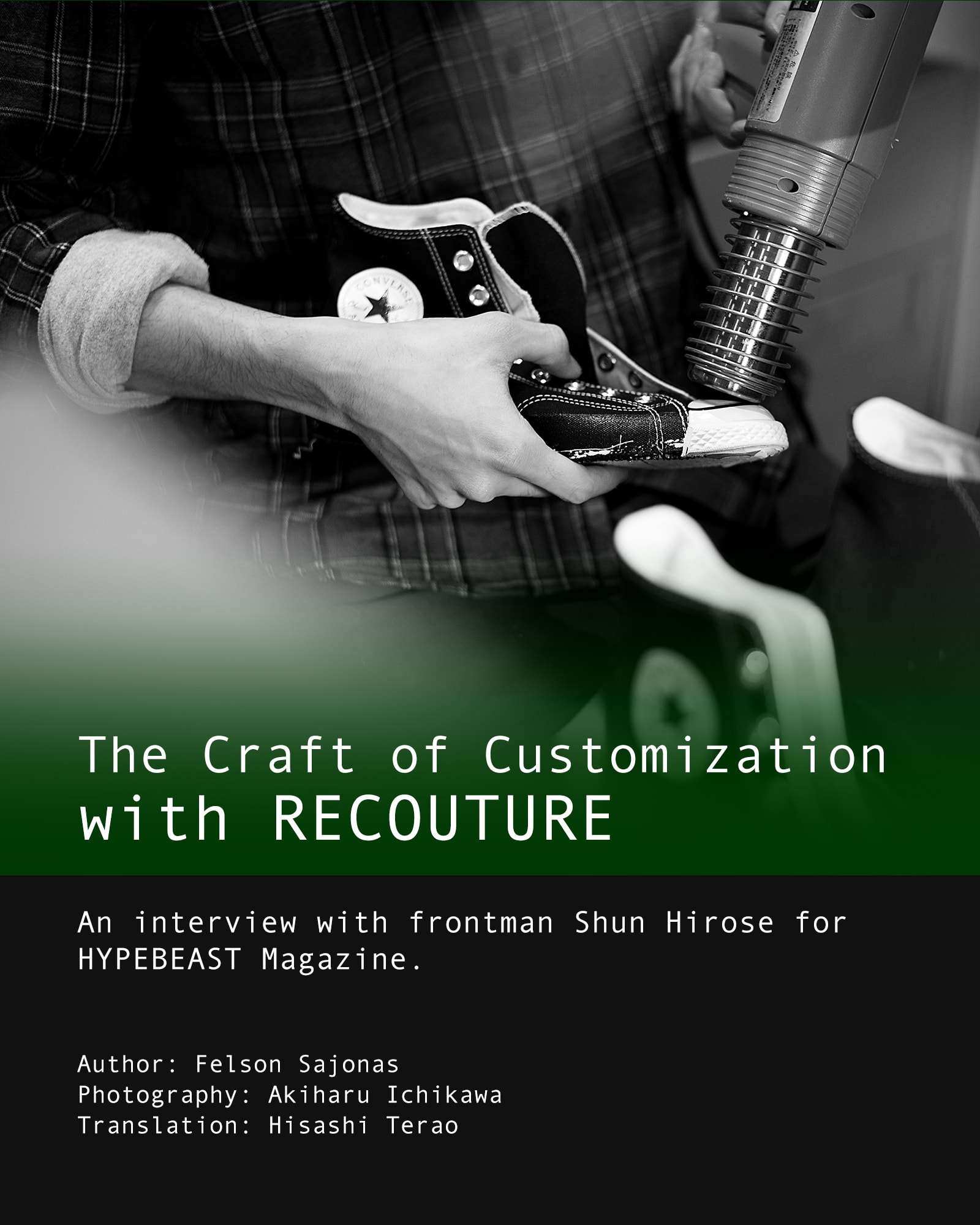 The art of customizing sneakers has changed dramatically since the early 2000s. Names like Mark Ong (SBTG) and the Shoe Surgeon (Dominic Chambrone) have been pivotal in popularizing the artform with their striking illustrations and use of luxe materials. Yet we're witnessing the emergence of a new wave of customization, thanks to Japanese craftsman Shun Hirose and his fledgling customization label, RECOUTURE.
It's hard to pinpoint Hirose's aesthetic. He uses popular sneaker silhouettes and fits them with outsoles from boots, brogues and many other shoe types – just not sneakers. The result is a design that instantly elevates the everyday. At times, Hirose refits the shoes' upper panels with nume leather – the same class of leather used in luxury giant Louis Vuitton's leather accessories. Some notable silhouettes that have received the RECOUTURE treatment include Adidas Stan Smiths, Nike's Air Max 95s, Air Jordan 1s, and even Birkenstock sandals.
Before RECOUTURE, Hirose was focused on shoe repair and restoration, and pivoted to leather goods and accessories with the aim of being more original in this industry. RECOUTURE owes its beginnings to a worn-in pair of Nike Cortez that were given a second life courtesy of Hirose's skill and fine attention to quality and craftsmanship.
His efforts have not been in vain. Just this year, cult Japanese brand Children of the Discordance partnered up with RECOUTURE for a series of Converse Chuck Taylor All-Stars that were turned into boots. Since then, Hirose has also become more experimental in terms of materials and design. A number of his newer creations feature Hermes scarves as footwear uppers, multiple suede Swoosh symbols, and Jordan logo metal plates.
There's a subtlety to RECOUTURE that makes a refreshing change from the flamboyant makeovers we see from many custom designers. Hirose creates a very distinct aesthetic, with a meticulous focus on detail reminiscent of the most revered Japanese brands of today, such as visvim, Engineered Garments, and Hender Scheme. We speak to Hirose about his humble beginnings as a cobbler, the art of customization, and his unique sneaker-boot hybrid.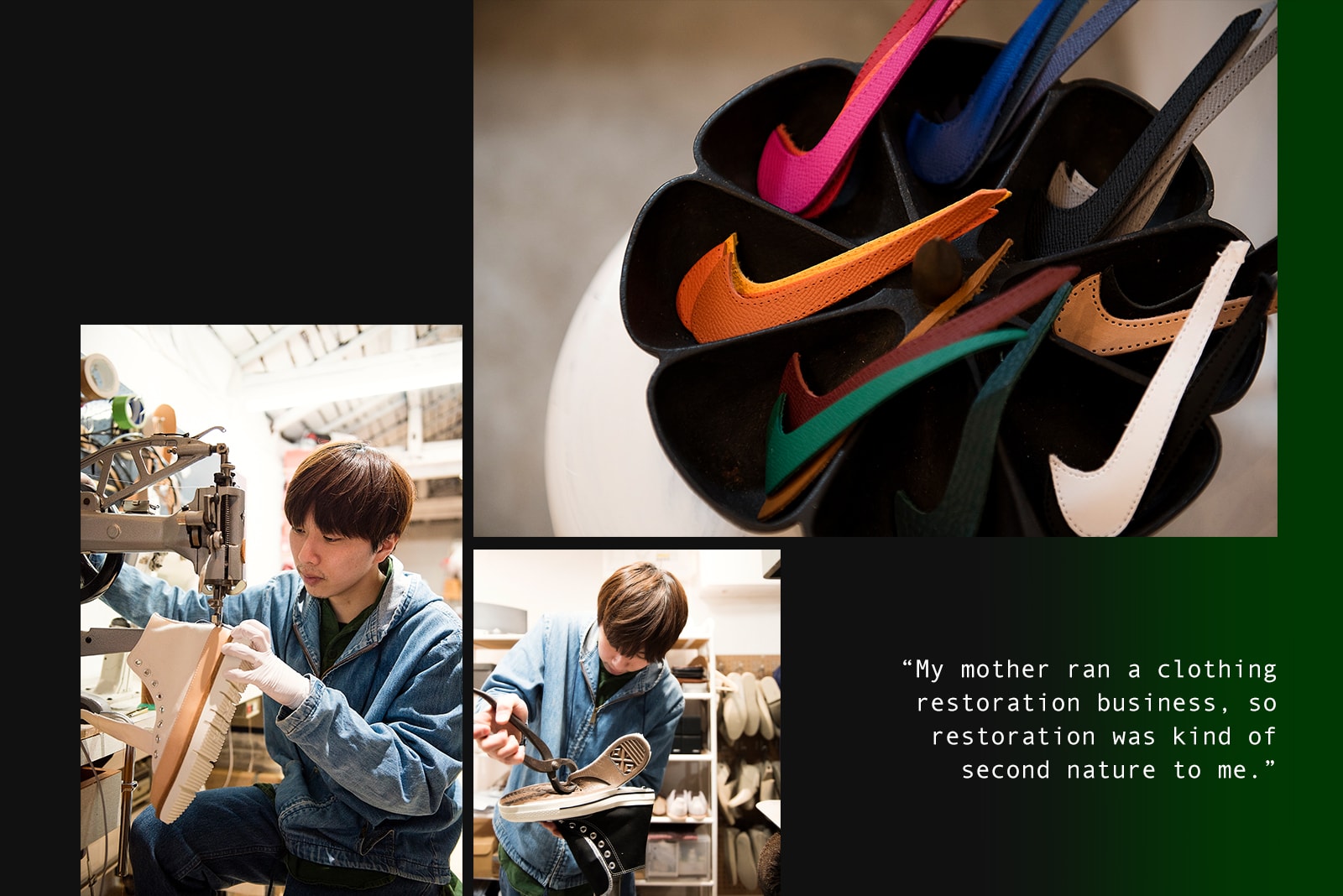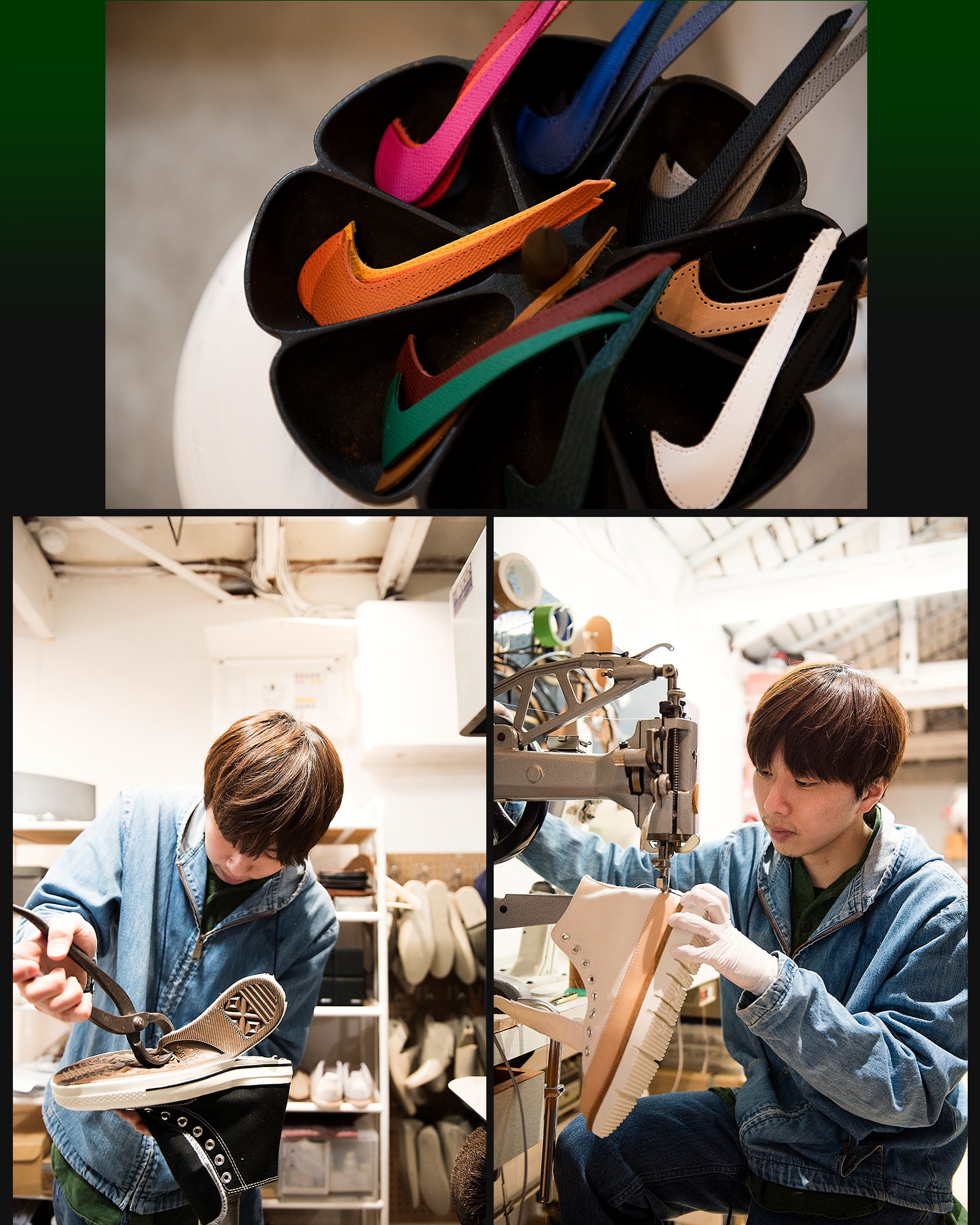 What kind of store is RECOUTURE?
"RECOUTURE" is a neologistic term that combines the prefix "RE", and "COUTURE" from the word haute couture. The term means to "disassemble, repair and rebuild". My main line of business for the past decade was shoe repair, but because of our recent exposure on Instagram, we've shifted to customizing sneakers. Sneakers are expendable items by nature, and old, worn-out pairs often have a lot of damage on the soles. That's why we first detach the soles to minimize any damage to the upper portion of the sneakers and seamlessly stitch on functionally superior Vibram soles. This way, our customization still maintains the great qualities of the original.
Tell us about your career before RECOUTURE.
My mother ran a clothing restoration business, so restoration was kind of second nature to me. After dropping out of university when I was 19, I started working part time at a shoe repair shop, and that got me started in this industry. There was a time where I left the shoe repair industry, but the owner of a repair shop that was supposed to close in three months asked me to work for them and that's how I got back into the business. The store actually regained its sales afterwards and ended up not closing down. After that, I was offered a position as an owner of a store for a nationwide shoe restoration franchise called "Riat!"
But running a franchise has a lot of restrictions, so I decided to go independent. In April 2014, I opened Kokubunji Shoes. It was a pretty typical repair shop. I did a wide range of work from heels and boots to high-end leather shoes like John Lobbs. We focused on restoring the shoes to as true to their original form as possible. On the other hand, I started to want to experiment with doing more original work, so I began making small leather goods like bags in my downtime. As an extension, I started reinstalling soles for worn-out Cortez sneakers. I guess you can say this is how RECOUTURE got its start.
Of course, the background to my current line of work comes mostly from shoe restoration, but knowing how to work with leather to make things like bags and wallets definitely helps. Specifically, knowing how to work with "nume leather," like making specific shapes, and working with how the leather softens with use. It's crucial to understand the characteristics of nume leather to create high-quality products. Nowadays, others perform similar types of customization, but nume leather customization is more than just swapping the Nike swoosh to a new material, and it's pretty difficult to execute.
When did you first realize that RECOUTURE "made it," so to say?
It was a big decision for me to relocate to Shibuya, and, to be honest, I don't know how long this type of customization will continue to be as in-demand as it is now. So we try to keep things fresh and keep challenging ourselves. We don't see our relocation to Shibuya as some sort of milestone – we actually see it as the beginning. Right now we're not restricting ourselves to customizing soles, but challenging ourselves to new types of customization and brainstorming projects for next year and onwards.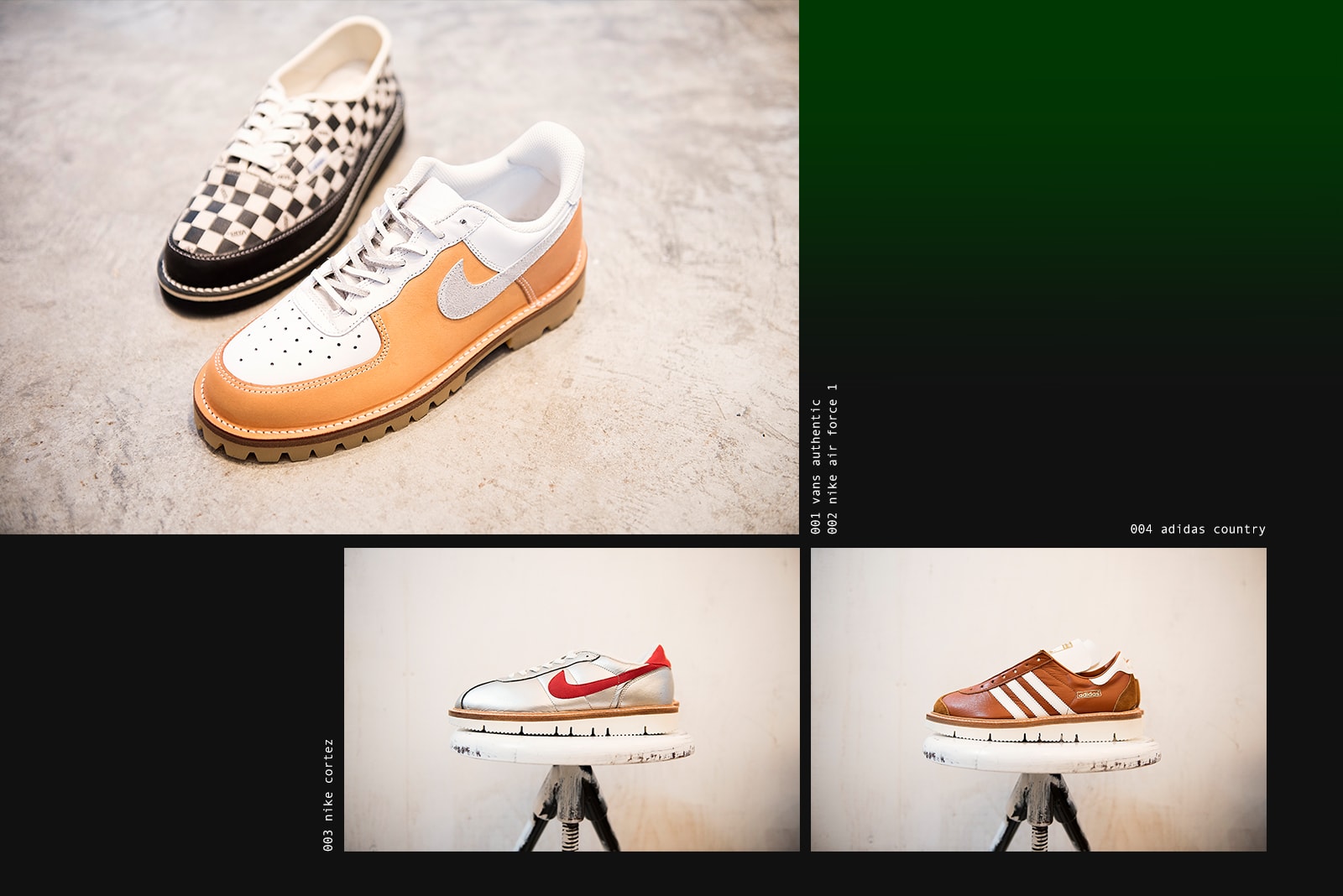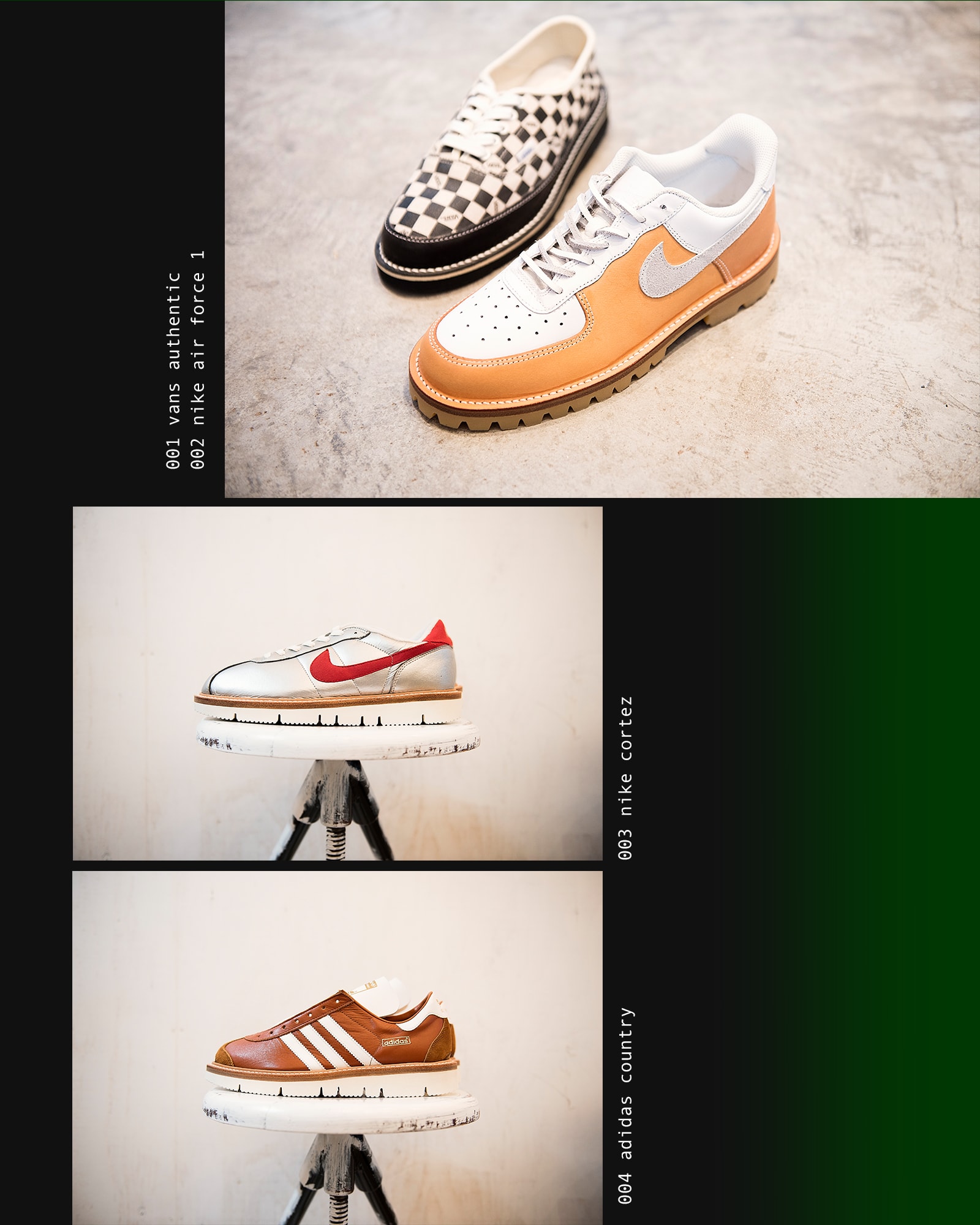 Why did you decide to do repair work on midsoles and outsoles?
I wanted to bring out the originality in restoration work, and do something that's different from the typical kinds of customization that you see today. People often have to repair their shoes due to the soles undergoing hydrolysis, or wear-and-tear. We want our customers to cherish their shoes and be able to wear them for many years to come. This all loops back to the idea behind our store name "RECOUTURE".
Tell us about the first pair of shoes you ever customized.
At the time, I was busy repairing boots, and I saw my old pair of Nike Cortez with the soles peeled off. Back then, I was really into boots from Red Wing and didn't like the volume on the Cortez soles. So, to add volume to the edge and soles, I installed boot-type soles. Then I uploaded the result to Instagram, and they turned out to be a hit. From then on, we had a lot of requests come in for more, even from outside the country. If I remember correctly, the first custom I ever did for a client was a N. Hoolywood x Converse Weapon.
Can you tell us why there's such a unique appeal to RECOUTURE?
We have a background in shoe restoration, so we do have a bit of a finer finish compared to conventional customizers. For example, our soles should be more flexible when compared to other customized pairs.
We also often cater to customer demand, and they seem to like that a lot. Customizers such as the Shoe Surgeon have a business model where they sell what they customized, whereas I start on a made-to-order basis.
Tell us about the leathers and soles you use for customization.
The leathers I use include one of Japan's finest, tochigi leather, to the nume leather used by Louis Vuitton and Hermès. Leather is a crucial material for us and we don't compromise on that.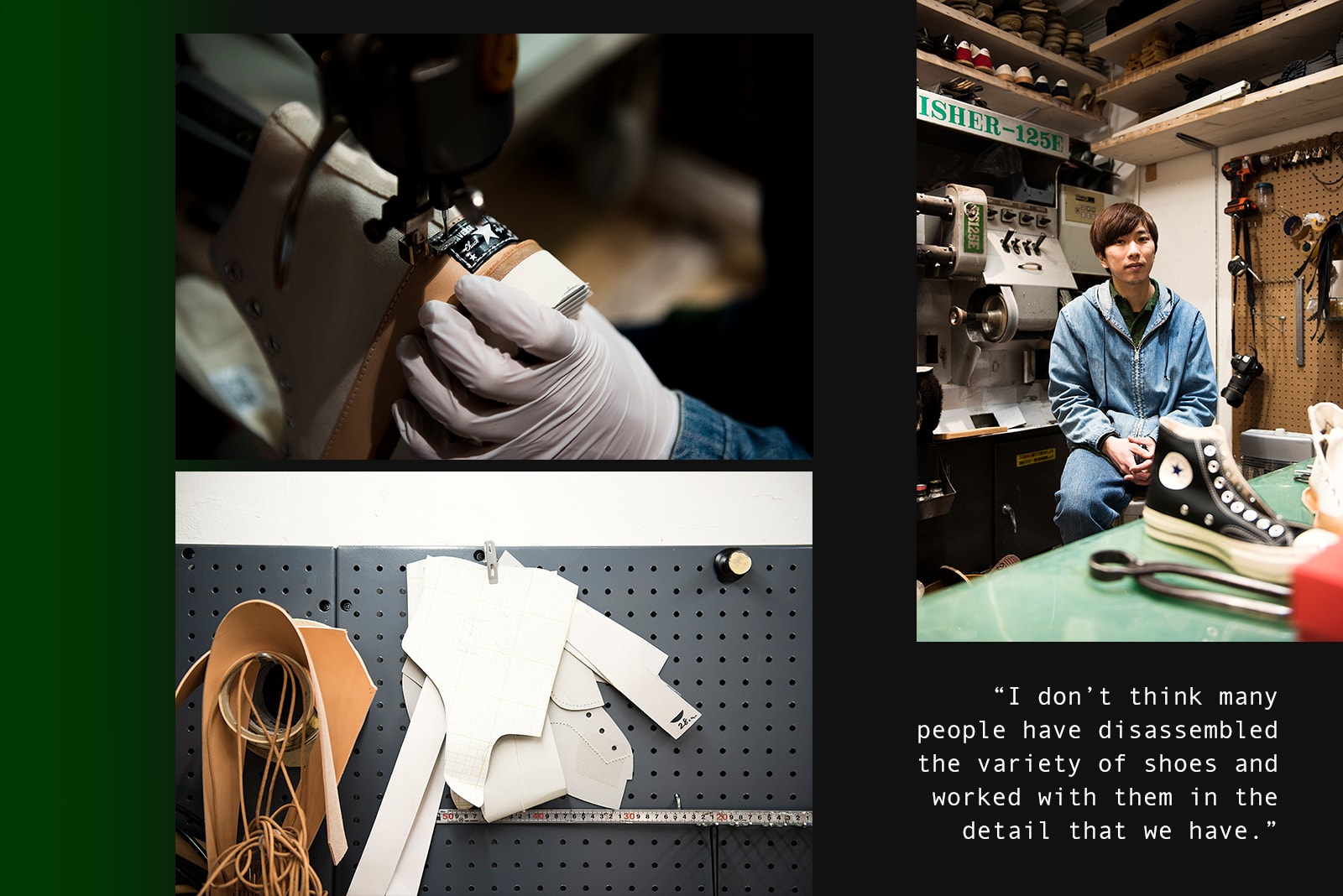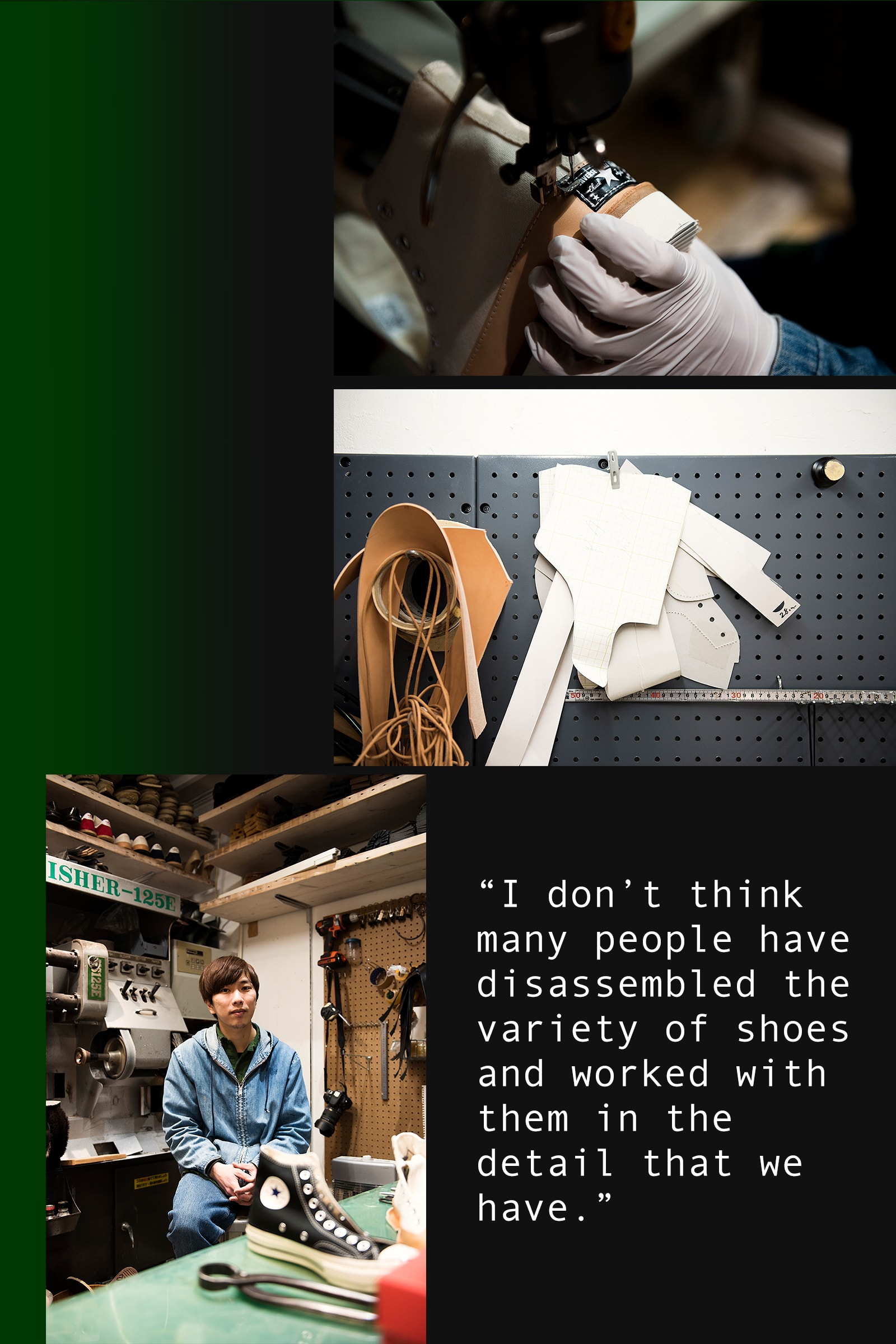 Can you tell us about your customization process?
First, I peel off the soles. Then I attach the leather that best fits the sneaker's shape to its upper, then stitch it on. From there, I sew the leather and the midsole together, then I attach the outsole. These are the basics.
It takes about four hours per shoe. Working alone, we make a maximum of two pairs a day. The most nerve-wracking part is when I'm getting the mold and cutting the outline. If I don't do this carefully, the final product will be ruined. The sole also has to be carved to follow the silhouette with perfectly smooth lines and that needs to be done very, very carefully.
Where do you see the brand 5 to 10 years from now?
I'll still be working on sneakers! But I'd like to try customizing clothes since I know how to restore clothing from before. Maybe not at this store, but in the near future, I have plans to open a shop to take custom orders for apparel.
We want to turn RECOUTURE into an original, stand-alone brand. I don't think many people have disassembled the variety of shoes and worked with them in the detail that we have. I think we can come up with some interesting stuff.
Favorite shoes?
My favorites are Nike Air Force Ones and Converse Chuck Taylors. I also like Adidas Superstars. They're the roots of their labels, iconic.
Besides sneakers, I was also really into leather shoes, so the Irish Setter from Red Wing is also one of my favorites. The quality at that price point, along with the amazing balance – I have to say that's one-in-a-million.
What are your thoughts on our obsession with sneakers today?
Right now, the chunky soles with lots of volume are popular, but I think it'll die down and sneakers that are more streamlined will make a comeback. I think it's great, if you ask me. However, with the freedom that brands, manufacturers and customizers have nowadays, the change of trends, what's "in" and what's not, is getting harder to distinguish, for better or worse. DIY is so common now. Because of this, I feel like customizers like us are more accepted. So I think we never know what new trends are coming next.
I personally like boots too, so I'm hoping leather brands such as Red Wing will start making sneaker-type shoes, kind of like visvim or Cole Haan. In fact, my customization work is kind of a blend between sneakers and boots.
This story was originally published in HYPEBEAST Magazine Issue 25: The Mania Issue as "Between the Bind." Find out more here.