Best New Tracks: Offset, Rex Orange County, Nipsey Hussle, G Perico & More
Valentine's Day week yielded much more than cheesy love songs.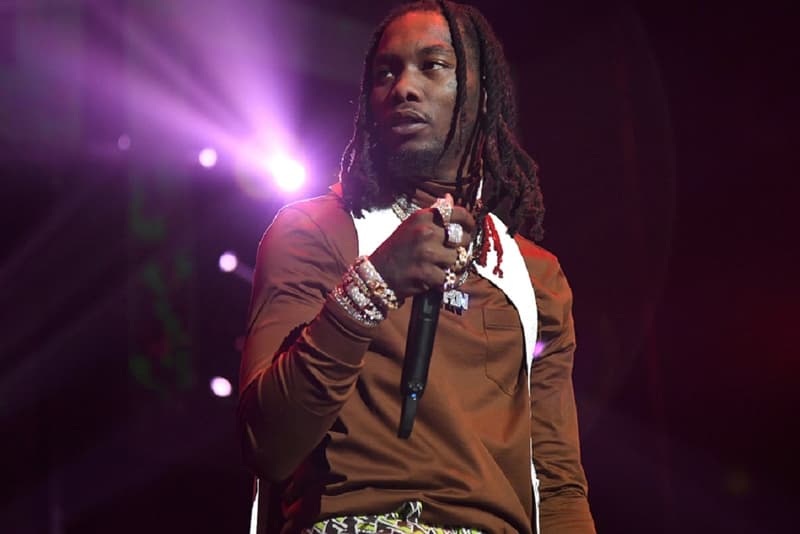 Last week, we looked to new releases from A$AP Rocky, Meek Mill, Future, Drake and others for our previous Best New Tracks entry. This time around, our Best New Tracks series co-signs new videos, projects and singles from Offset, Rex Orange County, Nipsey Hussle, G Perico, Lucki, AzChike, Lil Yee, Kossisko, MemoTheMafioso, O'Way and AzBenzz. You can check out all of our picks for this week's best new musical releases below.
Nipsey Hussle, Roddy Ricch & Hit-Boy – "Racks in the Middle"
Following an incredible streak of success in 2018, Nipsey Hussle serves up his first new release of 2019. Known as "Racks in the Middle," the Los Angeles rapper's latest features contributions from fellow West Coasters Roddy Ricch and Hit-Boy.
Lucki – Freewave 3
Continuing his Freewave series, Lucki delivers his latest full-length, Freewave 3. Supported with the Earl Sweatshirt-assisted single "All In," the Chicago rapper's latest project gives fans 15 new tracks to listen to, including collaborations with talented producer and close Valee collaborator CHASETHEMONEY. Lucki also keeps his new tape light on features, giving Earl Sweatshirt the lone guest spot.
"Freewave 3 & 'Politics' is a whole year of my life," Lucki shared via an exclusive statement to us. "What I'm receiving & the anticipation for the project is like nothing I've ever got before."
Rex Orange County – "New House"
For the first time since 2017, Rex Orange County releases a new solo single. Following up "Love Is Easy," the singer-songwriter serves up something special for Valentine's Day, "New House."
"I want to say thank you to everyone that is here for me now and to those who are still here from before," Rex Orange County shared via an official statement on social media. "Life is weird and it seems like everyone has a difficult time in one way or another. The greatest things always seem to come with a level of confusion that makes it easy to question whether anything matters … with that being said, I must confirm that I still love doing this and that i'm beyond grateful for all the support I've been shown … Life is good. I'm happier today than I was for the majority of last year. Thea is my valentine … and whether you're in love today or not, this one is for you, from me … Happy Valentines."
Offset – "Red Room"
With his debut solo album a week away, Offset delivers its lead single, "Red Room." Debuted via an Aisultan Seitov-directed video, the Metro Boomin-produced "Red Room" and its accompanying visual are intended to give fans a deeper insight into Offset's life-story and the trials and tribulations he has faced along the way — including his headline-dominating car wreck.
MemoTheMafioso & O'Way – "Effortless"
While it's still too early to give fully-formed analysis and insight into what's going on in San Diego's contemporary rap scene, it's pretty easy to see that the waves and musical movements birthed by Drakeo the Ruler and FrostyDaSnowmann have established a stronghold in the 619 region and motivated an entire generation of new rappers to hit the YouTube and SoundCloud circuits. Out of the current crop, MemoTheMafioso and O'Way stand as the best the region currently has to offer, and they combine their talents together for "Going Bad." Also worth checking out: O'Way's new "Chili Chasers" collaboration with SamiSideFly, which features a verse from O'Way that's a masterclass in acrobatic, serpent-tongued slick-talk.
AzChike, Mike Sherm & GBO Lean – "Strapped Up"
The West Coast hasn't been this strong since the '90s, and AzChike is an easy choice for one of its next major stars. For his latest, AzChike goes to the Bay to connect with Mike Sherm and GBO Lean for "Strapped Up." This song is shit-talking at its finest.
G Perico & Polyester the Saint – "Love Letter"
Out of all the love songs and romantic ballads released on or around Valentine's Day this year, G Perico definitely served up the best one. Similar hairstyles aside, this is the type of record that you could picture DJ Quik and Tony Toni Tone creating in the "Let's Get Down" sessions.
AzBenzz – ThugzNeedLoveToo
Right in time for Valentine's Day week, AzBenzz releases a quickstrike EP. Clocking in at a lean three tracks, ThugzNeedLoveToo features a sole guest feature from Big $wift and additional contributions from Sal Treze, Paupa, XIA Beats, SideflowMusic, IcerMakinBangers, ThatsBigGame, Kali, RobTWO and MixedByZ.
"The real gangstas and thugs are either dead, or in jail. We, us thugs love the streets, but the streets don't love us back. The motivation of this EP comes from real life stories that I've been through, things I wish I could've changed, and situations I wish I had handled better," AzBenzz explained to us. "ThugzNeedLoveToo is the beginning is GUDDAR&B, that thug love. This EP is an appreciation of all women who sacrifice moments and situations in their lives for us to be loved too.
Lil Yee -"Red Eagle"
25-year-old San Francisco artist Lil Yee has already racked up millions of streams for his melodic, stylistically-diverse take on his region's most recognizable and infectious sounds. Now, Yee is back with plans for a new studio album, Live 4 It, Die 4 It, and is introducing the effort with a video for its lead single, the Zaytoven- and Cassius Jay-produced "Red Eagle."
The main concept is that eagles fly alone and are a rarity, similar to myself," Lil Yee tells us, breaking down "Red Eagle." "Red's my favorite color. It symbolizes blood. I'm running my show, being the head of the house, taking care of my sisters and brothers, I did everything on my own. My mom's passing was a touchy situation for the whole family. I couldn't cry in front of my siblings because I was the one who was telling them that it was going to be alright. The weight on my shoulders on everyone, showed no weakness. The eagle do shit by itself."
"Music is something I live for and I rap about about a lot of family is incarcerated and so in essence, I live for them too. They living for the music," Lil Yee adds. I got a few big cousins in prison for life and I'm their inspiration. It's a touchy subject for me and my family. That's the one thing that keeps them lit. They say to me, 'We look forward to listening to your music.' It's a reflection of my life, all the shit I've been through … I took my time with this tape so it's personal to me. I really got to take my time with it and show my craft and uniqueness, coming from the Bay, everyone expects everyone to have this hyphy sound, you need an uptempo beat, I'm here to show that the Bay Area is diverse."
Kossisko -"SUPERFICIAL"
Revisiting his stellar, criminally-slept-on 2018 album LOW, Kossisko teams up with director Natalie Fält for a video in support of LP standout "SUPERFICIAL."
"I could say this is really like my debut album," Kossisko recently told us, breaking down his latest project and current creative direction. "I did some EPs and shit, but it wasn't this. Now it's dialed in, and this is what the f*ck I wanted to do. This is the first album I feel like I have ever done — even considering what I did with 100s. This is me as a person, with all my influences and everything. Now, I'm at the point where I'm like, 'this is exactly what the f*ck I wanted to do.'"