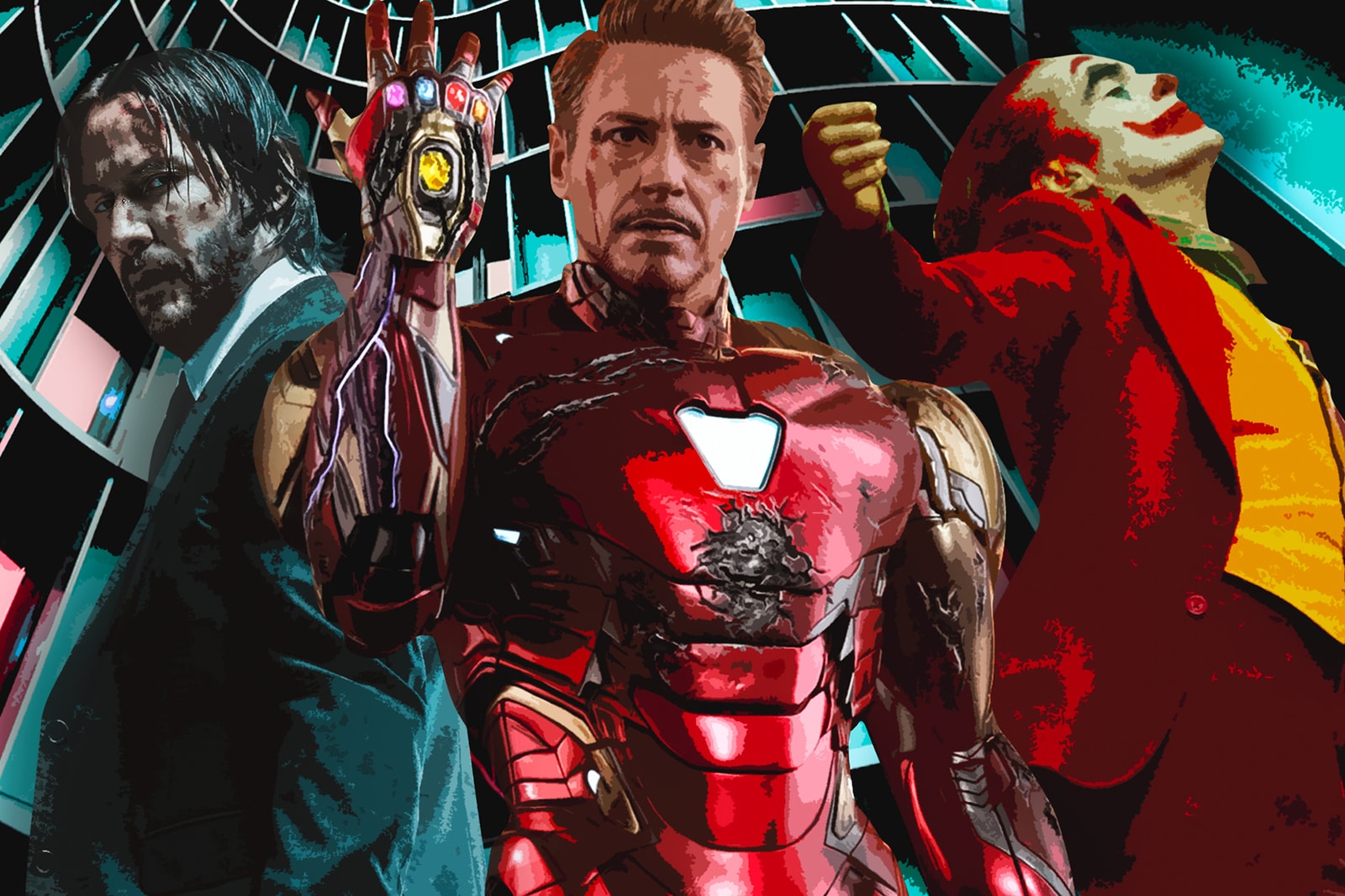 Top 10 Movies of 2019
With only a few weeks left until the end of 2019, the crippling realization that time is trickling through our fingers starts to sink in. Just like that, within the blink of an eye, our 2019 resolutions get moved into 2020 and we are in dire need of a recap on the past year. Returning to our annual end-of-the-year examinations, we'd be remiss if we didn't look back at the best movies from the past 12 months.
Compiled below are films in various categories that have captivated cinephiles from all over the world. This year's list includes a few auteur-driven films and directorial debuts such as The Last Black Man in San Francisco, to thoughtful sci-fi and daylight-drenched horrors including Ad Astra and MIDSOMMAR. Mixed in-between is Marvel's blockbuster hit Avengers: Endgame and what is rumored to be Quentin Tarantino's penultimate offering, Once Upon a Time In Hollywood.
These are the 10 movies of 2019, in no particular order.
Foreign Language Film: Parasite
South Korea has been dominating the international cinema scene in recent years, with the release of The Handmaiden in 2016 and Burning just last year. 2019 is no different with Bong Joon-ho's (Snowpiercer, Okja) meticulously crafted gem Parasite.
The film, which went on to win Cannes' Prestigious Palme d'Or Award, follows the poor and ingenious Kim family as their fates become intertwined with those of the much more affluent Parks. The twists and turns architected by Bong Joon-ho in this black comedy parable about class makes Parasite not only one of the best films of the year, but also a movie sure to be talked about in the decades to come.
Comic Book Film: Avengers: Endgame
Marvel knows how to save the best for last. After weaving over a decade's worth of storylines over multiple films, Phase 3 concluded spectacularly with
Avengers: Endgame
. Although the film wasn't perfect, it exceeded the expectations of fans, many of whom had become deeply invested in the long-running saga and certainly had high expectations for this final installment. Helmed by Joe and Anthony Russo,
Endgame
follows the events of last summer's
Infinity War
blockbuster and effortlessly mixes action, drama and comedy with A-game performances from
Robert Downey Jr.
,
Chris Hemsworth
,
Chris Evans
,
Scarlett Johansson
and
Mark Ruffalo
.
Horror: MIDSOMMAR
Ari Aster's follow-up to Hereditary is a visual delight, and perhaps the first bonafide horror movie to take place in daylight. What Aster has dubbed a "break-up film/fairytale" goes beyond the normal horror tropes and delves deep into the toxicity of holding onto a relationship and what it means to finally set yourself free.
Aster is consistently able to get under the viewer's skin due to his ability to transform his own personal trauma and pain into a visceral cinematic experience. Here is no different. On the surface, the film follows Florence Pugh, who gives a stunning performance as Dani, as she follows her boyfriend and his pals to rural Sweden for a festival that only takes place every 90 years. The result is macabre and cultish violence.
Period Piece: Once Upon a Time In Hollywood
Quentin Tarantino's latest film is a love letter to the long-gone Hollywood of the 1960s. Although it falls short compared to his previous projects, such as Pulp Fiction and his debut Reservoir Dogs, Once Upon a Time In Hollywood is still chock full of Tarantino's signature storytelling, edits, corny commercials and humor.
The finale alone makes the film's nearly three-hour runtime well worth the watch, as it ends on a note of euphoria and heartbreak. Leonardo DiCaprio and Brad Pitt steal the show as fictional western TV star Rick Dalton and his loyal stuntman Cliff Booth, even while Margot Robbie's controversial role as the real-life Sharon Tate is alarmingly thin. On the other hand, 10-year-old Julia Butters' portrayal of a serious child actor breaking into Dalton's shell is charming.
Comedy: Jojo Rabbit
Taika Waititi's Jojo Rabbit is the Nazi satire we didn't know we needed, and a film only he could have architected with such skill. Based on the 2014 novel Caging Skies by Christine Leunens, the story follows 10-year-old Johannes "Jojo" Betzler, a member of the Hitler Youth who navigates life with the help of his imaginary friend version of Adolf Hitler, portrayed by the eccentric Waititi.
Jojo soon finds himself questioning his Nazi indoctrination when he discovers his mother (played by Scarlett Johansson) is hiding a Jewish girl in their house. Unfolding during the last year of World War II, the film is able to poke fun at the Reich without neglecting the violent consequences of their hateful agenda. Jojo Rabbit is full of vibrant colors and laced with jokes that you're not even sure you should be laughing at. Oh yeah, there's even a German cover of David Bowie's "Heroes."
Limited Release: The Irishman
Netflix is really out to prove that streaming services are capable of crafting a critically-acclaimed feature worthy of the Academy's attention. Following in the success of Roma, Mudbound and The Ballad of Buster Scruggs, Netflix unleashed its latest heavy hitter in the form of Martin Scorsese's The Irishman.
Adapted from the 2004 book I Heard You Paint Houses, the mob tale about the disappearance of Jimmy Hoffa is beautifully executed for cinephiles, due largely to performances from Robert De Niro, Al Pacino and Joe Pesci. Although the film comes in at a lengthy three hours and 20 minutes, it's one of Scorsese's best works yet.
Action: John Wick 3 – Parabellum
While most franchises start to fizzle out following a sequel, the third outing in the cult action series John Wick proves otherwise. In the film's first 20-minutes alone the eponymous character, portrayed once again by Keanu Reeves, takes down his enemies via a library book, horse, and frantic knife-throwing. This beautifully choreographed action film takes place one hour after the events of John Wick: Chapter 2, and sees the ex-hitman with a $14 million USD bounty on his head running from a legion of assassins.
Packed full of pure fun, sheer spectacle and ridiculousness, Parabellum takes viewers on an exhilarating ride and embraces what the genre is all about, while solidifying Wick as one of the best action heroes in Hollywood. Reeves is joined by Laurence Fishburne, Ian McShane, Asia Kate Dillon and Halle Berry for a full cast of heavy hitters.
Psychological Thriller: Joker
As it's one of the most-talked about films of the year, we had to include Todd Phillips' divisive Joker on the list. Although the movie acts as an origin story for one of the most famous villains in Batman lore, Joker takes on a more B-movie aesthetic than today's usual comic book fare. Laced in-between the film's visuals are direct homages to two of Scorsese's cult classics: The King of Comedy and Taxi Driver.
Joaquin Phoenix's portrayal of a mentally challenged Arthur Fleck transforming into the titular character is spine tingling and warrants him as one of the best actors of our time. Phoenix's mesmerizing performance is then elevated by Hildur Guðnadóttir's score, adding to the sheer visceral uneasiness of watching a psychopath take shape.
Sci-Fi: Ad Astra
The Brad Pitt-led Ad Astra has pulled in many comparisons to Terrence Malick's The Tree of Life, which also starred Pitt — however, we assure you the former is far less pretentious if anyone is put off by the association. Helmed by James Gray, the space opera explores timeless existential and balances more on humanity's failings than its triumphs, which is excellently executed by Pitt's poetic and agonizingly physical journey of self-discovery.
As Pitt's character, Major Roy McBride, journeys through the vast abyss that surrounds our planet to search for his missing father (Tommy Lee Jones), viewers are gifted with an intimate and captivating sci-fi epic that's both visually and emotionally stunning. In short, it was a good year for the movie star.
Drama: The Last Black Man in San Francisco
A24 has released some top notch dramas over the past 12 months, from The Farewell to Waves, both of which are garnering Oscar buzz. Equally worthwhile is Joe Talbot's directorial feature debut The Last Black Man in San Francisco, a wildly ambitious portrait of a city in an existential crisis. The film chronicles Jimmie Fails' character as he tries to find his sense of home and belonging in San Francisco by reclaiming his grandfather's Victorian home.
Talbot and Fails penned the screenplay together, which is loosely based on the latter's life. Additionally the auteur began raising money for the project through Kickstarter back in 2015. This was not in vain as The Last Black Man in San Francisco went on to win the Best Director and Special Jury Awards at this year's Sundance Film Festival. Weaved into the film's tender storyline are dazzling shots that demand your attention and reward your patience.