Cyborg Dinosaurs Invade "SORAYAMA Space Park by AMKK" at Bangkok's Central Embassy
Complete with exotic floral and botanical arrangements.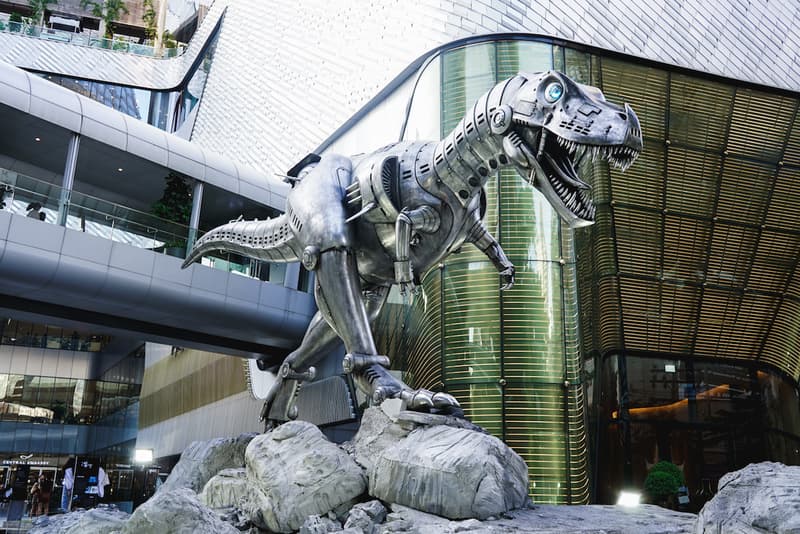 1 of 14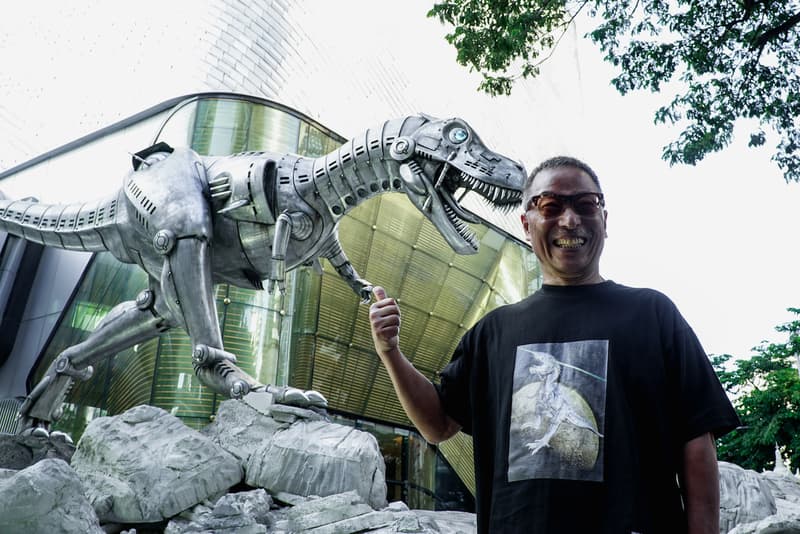 2 of 14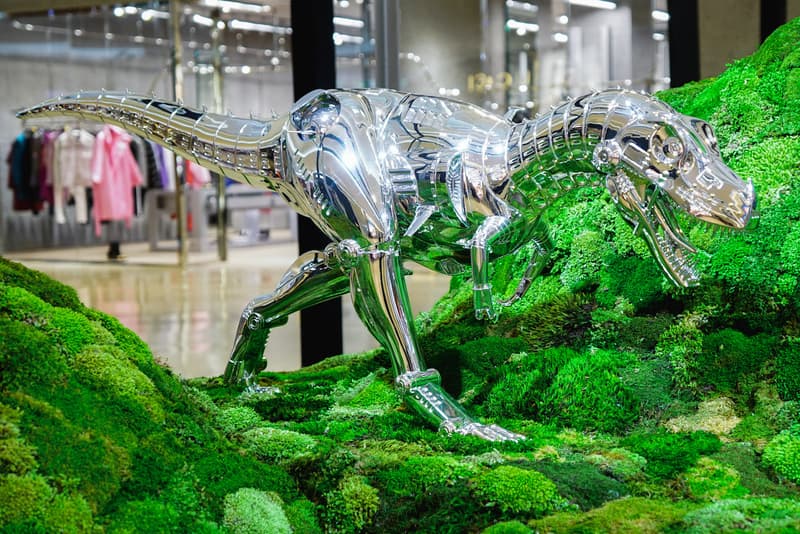 3 of 14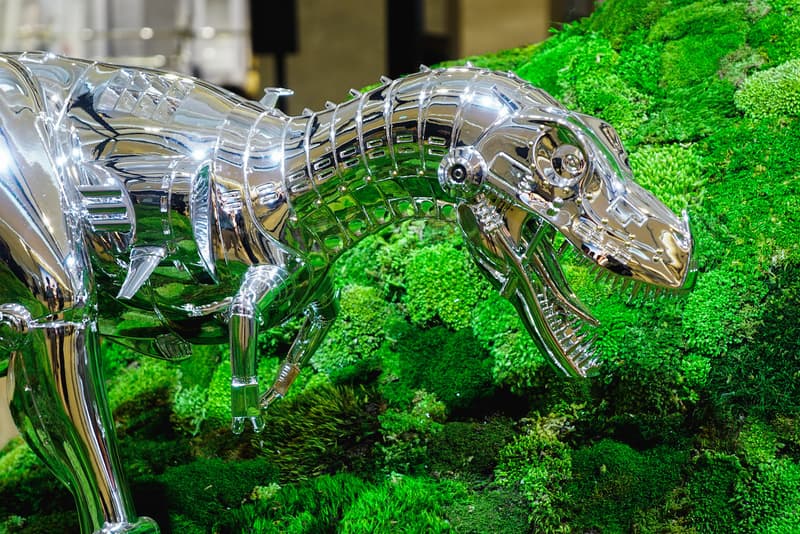 4 of 14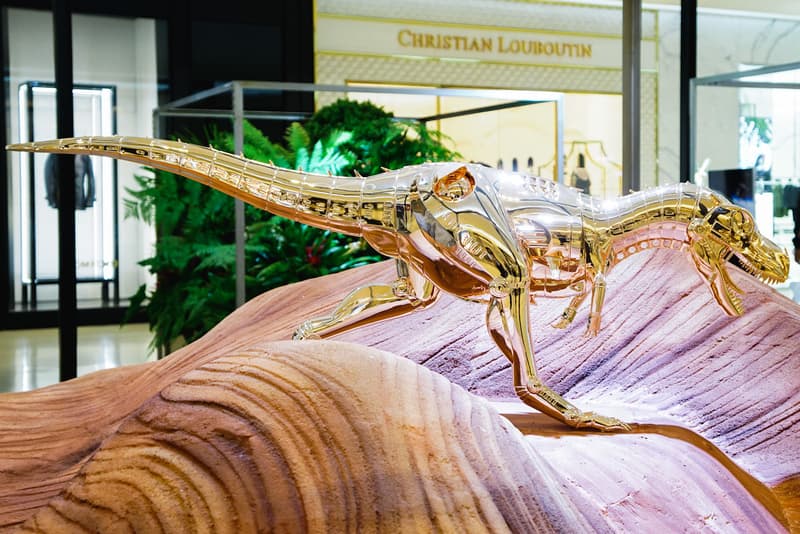 5 of 14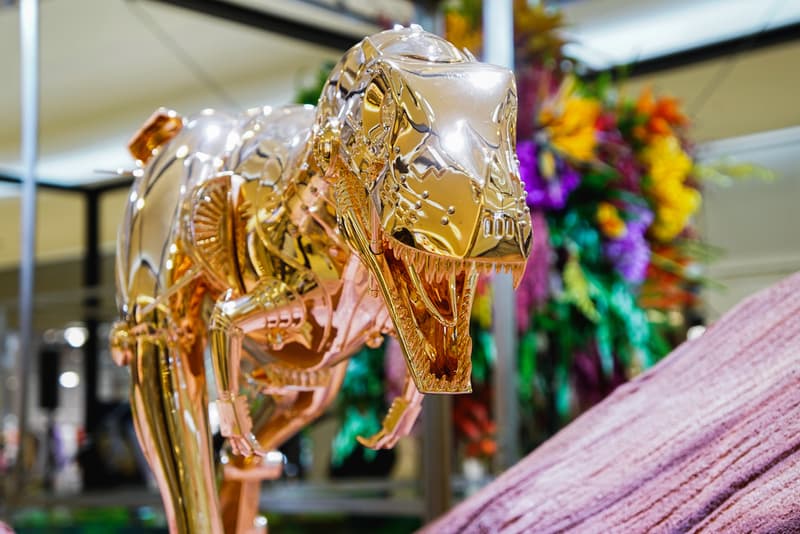 6 of 14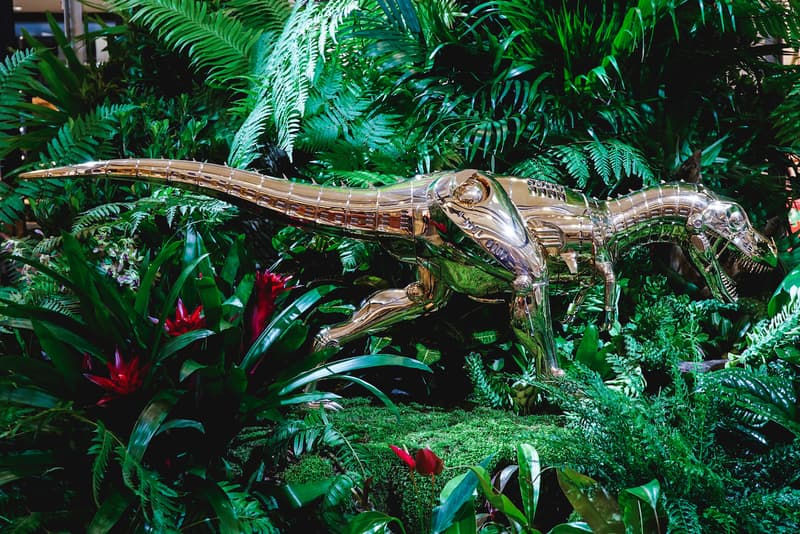 7 of 14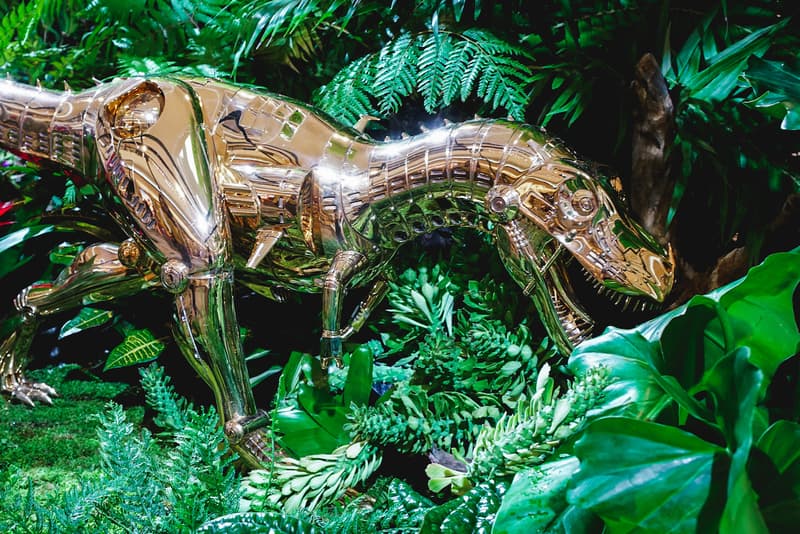 8 of 14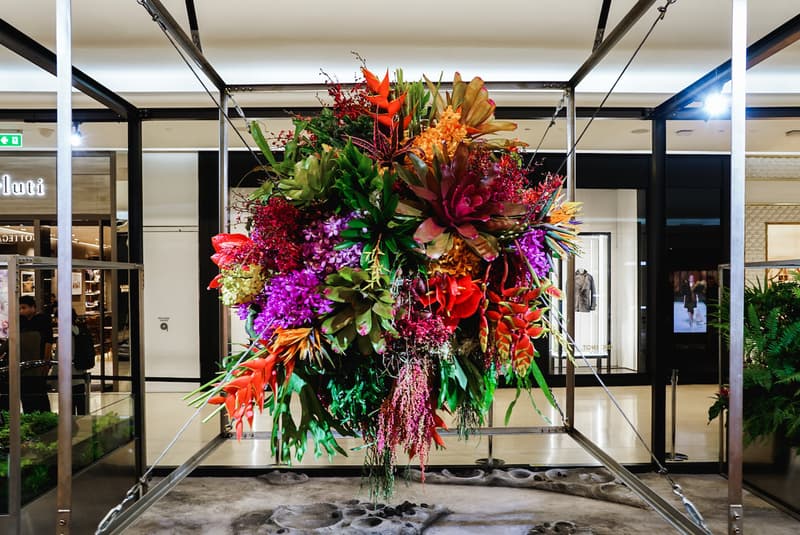 9 of 14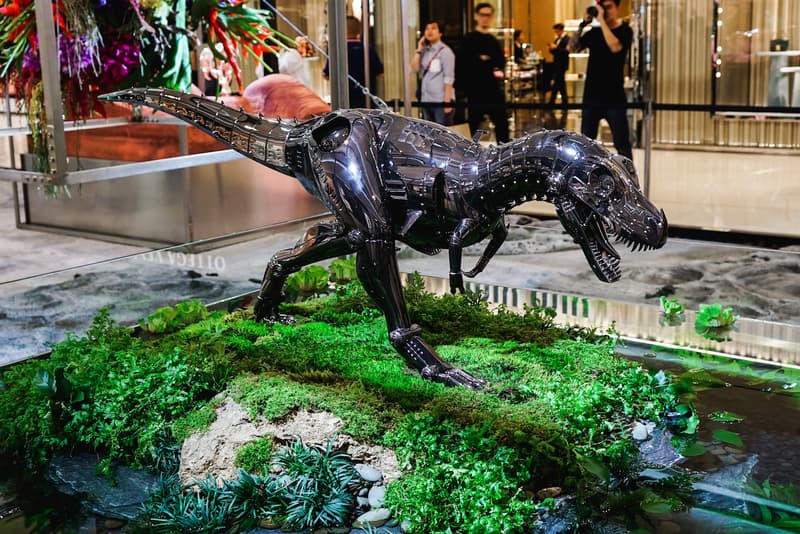 10 of 14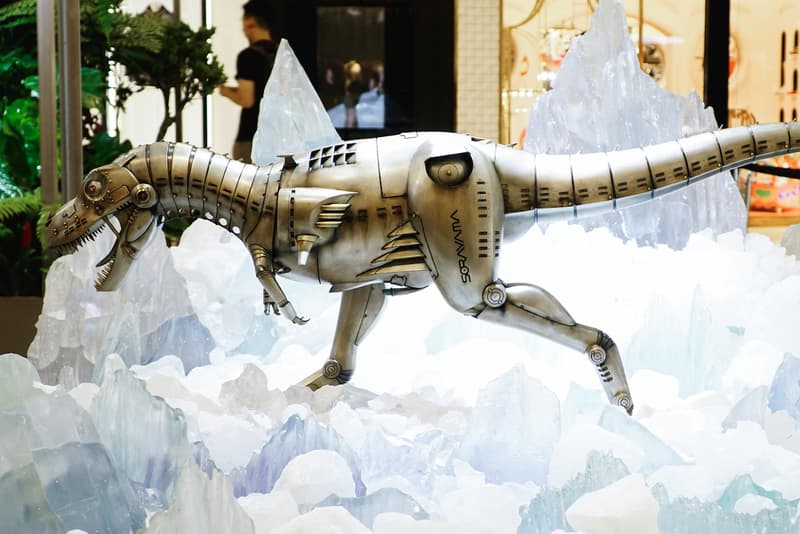 11 of 14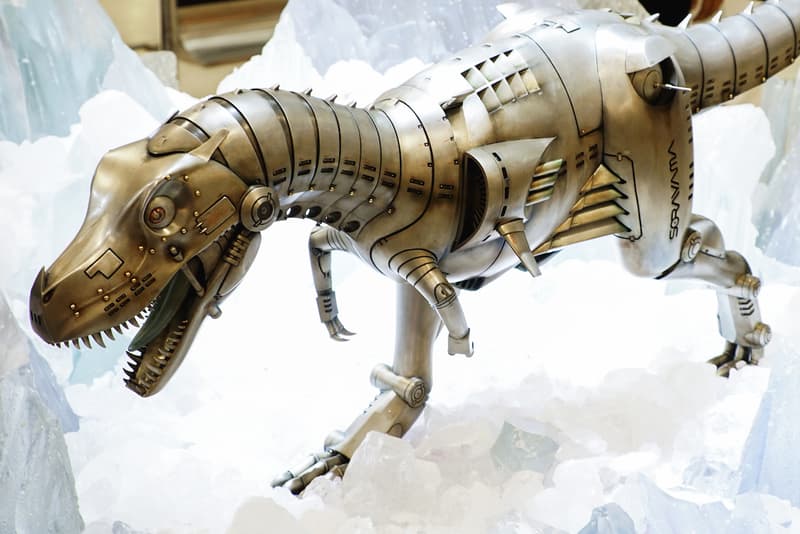 12 of 14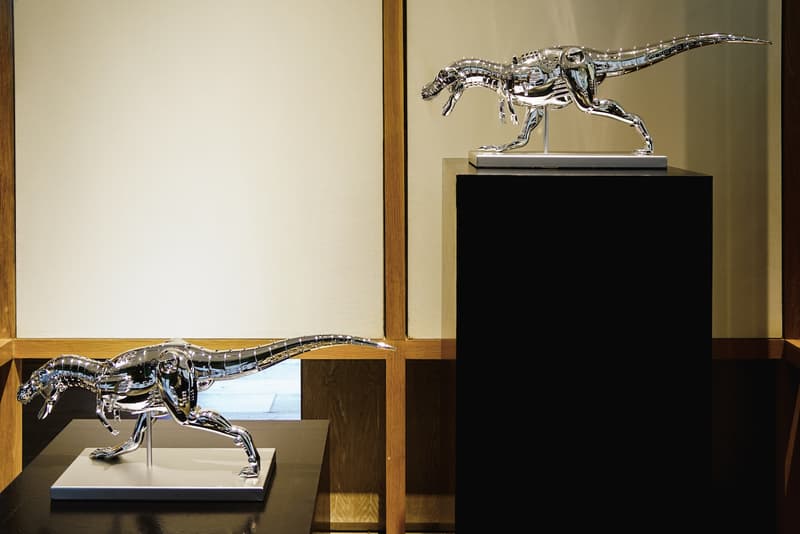 13 of 14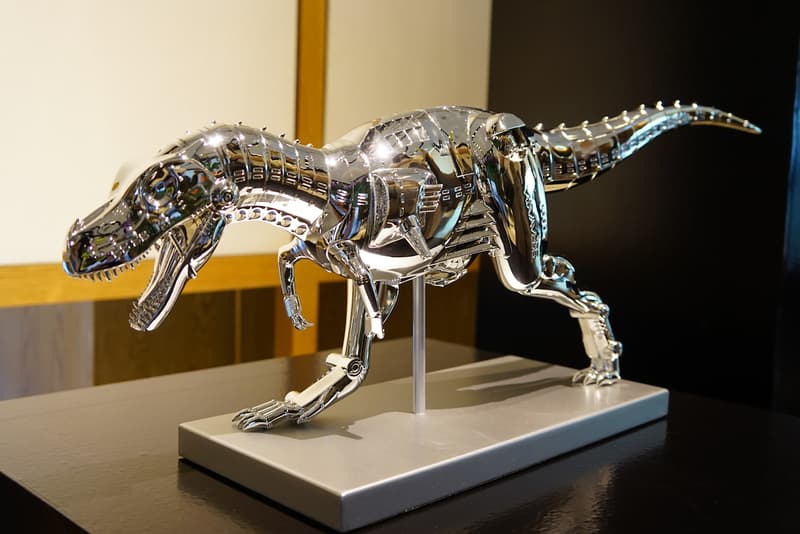 14 of 14
Surrealist Japanese artist Hajime Sorayama and AMKK curator Azuma Makoto have teamed up on a monumental installation titled "SORAYAMA Space Park by AMKK." The presentation, made in partnership with NANZUKA and EchoOne NANZUKA, combines the worlds of outer space and nature . Situated at Bangkok's Central Embassy, the exhibition spotlights a 12-foot-tall aluminum T-Rex sculpture created by Sorayama — his largest one yet. The towering work stands atop a moon surface designed by AMKK.
The installation was incepted two years ago by Central Embassy Managing Director Barom Bhicharnchitr and Sorayama. The project spawned from their simple desire to bring Sorayama's cyborg dinosaur to life. As their vision progressed, Bhicharnchitr and Sorayama realized that Makoto's work (specifically the "EXOBOTANICA" project) would perfectly complement Sorayama's futuristic, Triassic creature.  "I'm a big fan of Azuma-san, so I went to see him and asked if he would be able to join us. Luckily he was very happy to collaborate and started the project with us about a year ago," said Bhicharnchitr.
Situated in the outdoor yard of the Central Embassy, the installation highlights Sorayama's surrealist techniques as the artist expands upon his paintings of dinosaurs which he began creating in the 1980s. "We're focusing on the dinosaur's movement for this project. My past work never focused on that," explained Sorayama. "The concept of this is that the gigantic dinosaur is running from the first to the second floor — running through the jungle and the lake and they're stopping on the second floor. The movement is very quick and there's still some sort of heat coming from its engine."
Accompanying the T-Rex sculpture is AMKK's take on the moon surface, along with five additional landscapes that showcase their artful twists on the jungle, desert, glacier, moss, and lake. AMKK's practice traditionally focuses on experimental floral and botanical arrangements. However, he went with a different approach for this standout presentation, crafting a much simpler environment for the life-sized and miniatures dinosaur sculptures. "I designed the landscape for the art piece to be more prominent and dominant," said Makoto. "There are no trees, dinosaurs or lakes in outer space. Therefore, we're creating new landscapes that combine plant, fauna, and cosmos in the same expanse."
"When kids love something, they want to grow up and do something related to it. So when I create, I always feel like a child that never grew up" – Sorayama
With the exhibition set to run for a month, the curators aim to leave an impact on its audience. "I first saw the dinosaur in Jurassic Park and it felt like a superhero. When kids love something, they want to grow up and do something related to it. So when I create, I always feel like a child that never grew up. I create good work when I feel this way," said Sorayama. "It's hard, but when I've finished something no one's ever done before, it'll be something I'm proud of when I pass away."
"SORAYAMA Space Park by AMKK" is on view until November 17 at Bangkok's Central Embassy in Thailand. As Sorayama and AMKK continue to celebrate their collaboration, Makoto already has plans for his next project. "I'm working on a botanical sculpture in over 20 countries including Cuba, Africa, and Kenya," he revealed. "In 10 years, I hope I can make more sculptures around the world so I can utilize the countries' local materials."
Elsewhere in art, take a look at the offerings in this year's "Harajuku Auction" in Tokyo.
Central Embassy
1031 Phloen Chit Road
Pathum Wan District,
Bangkok, Thailand