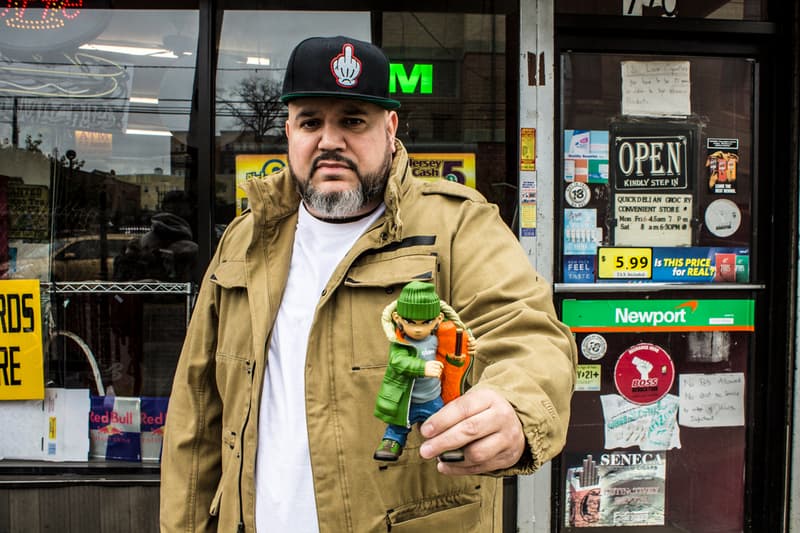 Rios Palante Wants to Make Toys That Reflect His Community
HYPEBEAST caught up with the artist to discuss FU-Stamps and his passion for creating.
---
What do you get when you combine anime, figurines, Teenage Mutant Ninja Turtles and the Bronx? The answer is Rios Palante, a Bronx-based toy designer who uses his anime-inspired FU-Stamps characters to showcase heroes influenced by his community.
"I want to design for the people, my culture, I want to design for the hood," Palante told HYPEBEAST of his work and roots in the Bronx. "I want to give back a little something and it's a way of telling—giving a voice to the people that don't really have one."
Bodega Blade (also known as Dega) is the tactful leader of Palante's FU-Crew, a gang of rambunctious teens obsessed with martial arts that fight to keep punks off their block. Palante says it's a spin on the Teenage Mutant Ninja Turtles format, but with heroes that are representative of the demographics of his neighborhood. And although they ultimately serve as an ode to his culture, he also wants FU-Stamps to represent people of color as heroes inside and out of their communities.
HYPEBEAST caught up with Palante to discuss his passion for creating art, the cast of characters from his FU-Stamps line, and how his creations serve as representation for his community and culture.
1 of 3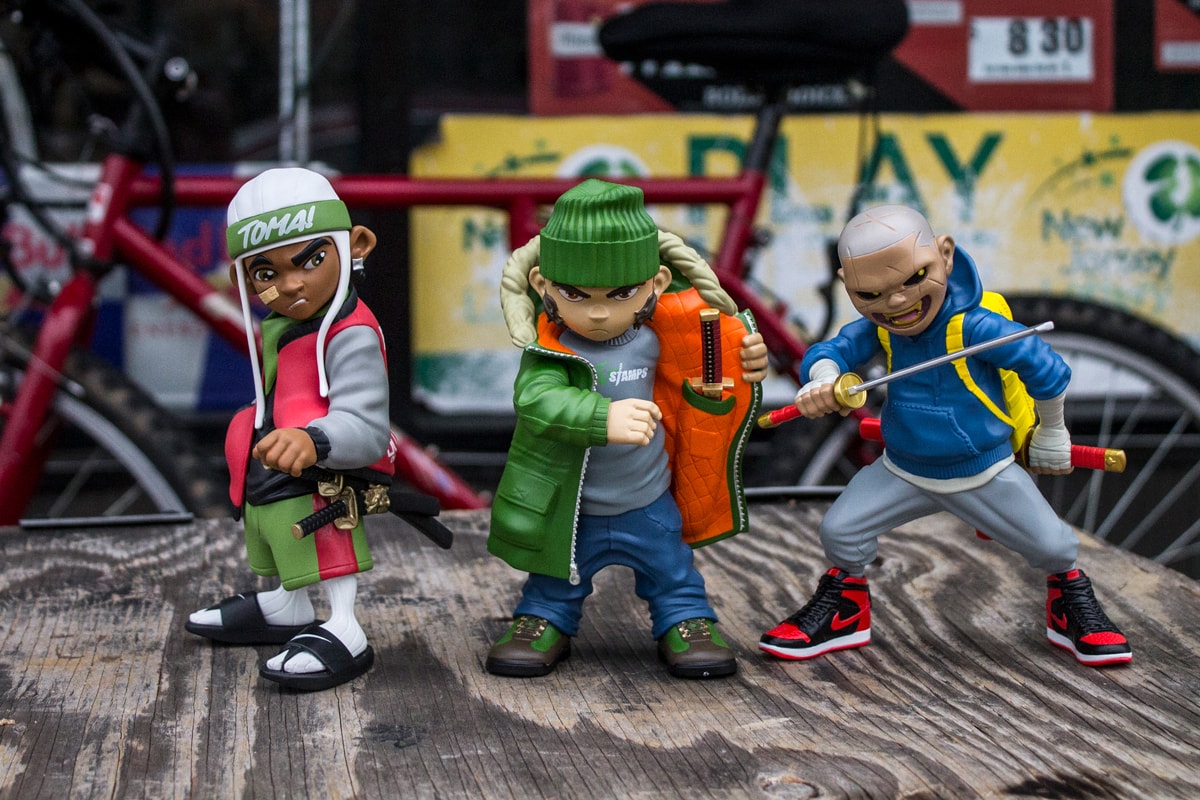 2 of 3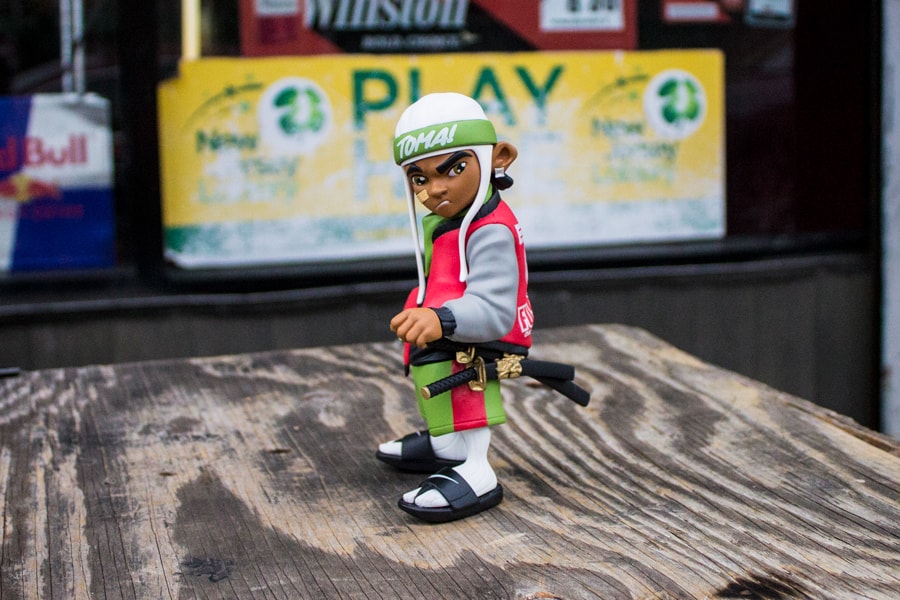 3 of 3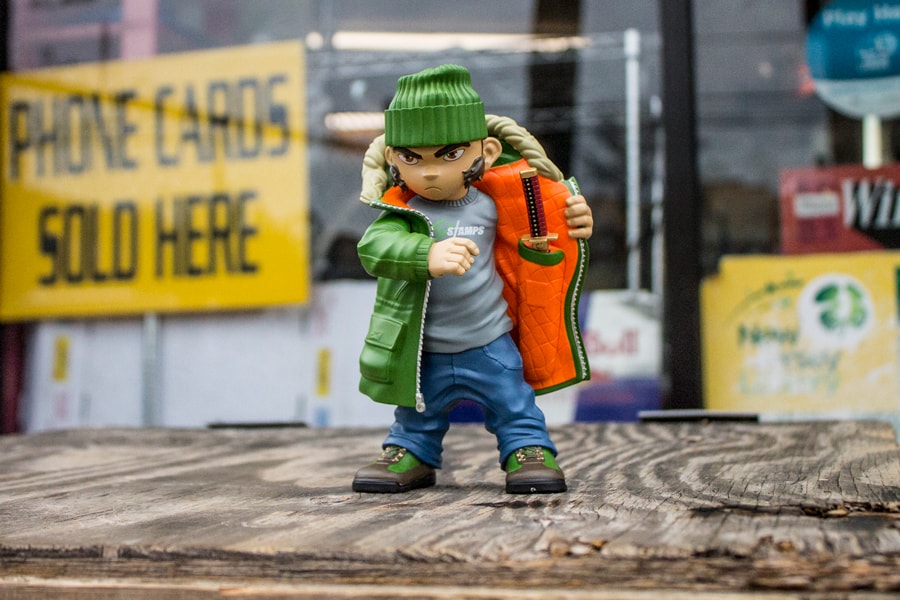 Where did your passion for art stem from?
My passion came as a little, little boy. I was about three years old and my mother moved clothes to her closet from another closet. Seeing that I painted this mural. I was three years old, painted this big mural in ash on the wall. First, she wanted to kick my ass.
She was like, "What are you doing, you crazy. Why would you do this?" But at the same time she was impressed. The real passion came from my mom. My mom would sit down and just draw, and draw and draw and she'll draw me all these characters to kind of keep me quiet. But I've always wanted to do cartoons. I've had a knack for it from the beginning and just was drawn to the exaggerated… How a cartoonist takes something real and just exaggerate it, stretch it to as far and ridiculous as it could be.
"I want to design for the people, my culture, I want to design for the hood."
Who are some of your influences in your artwork?
There's many phases. I got to go back to Renaissance time with Giotto and Michelangelo, of course, and da Vinci with pretty much designing specs for products, which I do now. But also Todd McFarlane is a big, big, big inspiration just because he took everything to another level. He took it to the entertainment phase. He created toys, he did McFarlane Toys at first and he's a big influence to me. There's also Joe Mad [Joe Madureira], there's Jim Lee. So kind of the '90s guys had a big influence on me. But you see my artwork, you have some of those details that they kind of do a kind of mimic them I guess. Somewhere along the line I got to find a style of my own.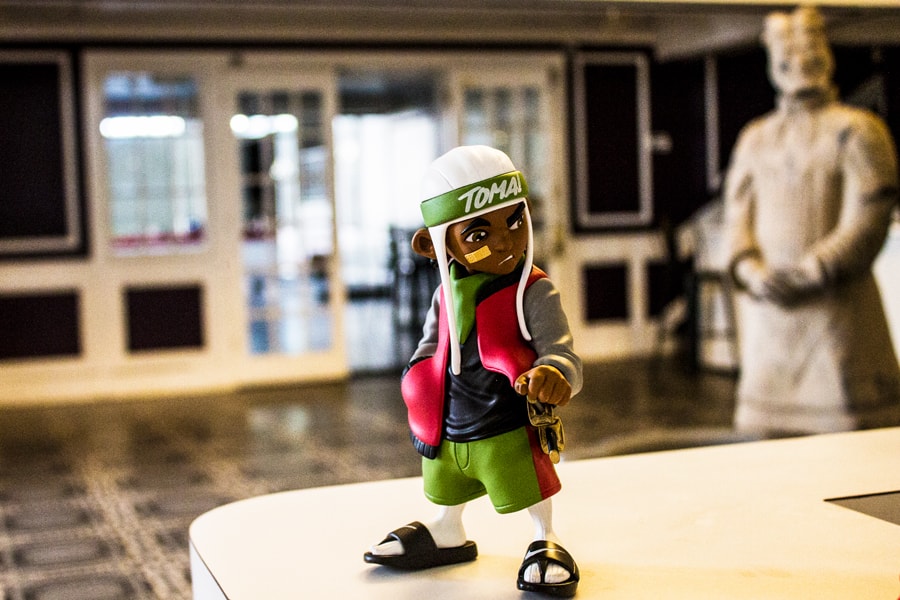 How did you come up with the concept of FU Stamps and the looks for your staple characters?
So it's a take on the word food stamps and Kung-Fu. As a kid running in the hood with his food stamp in hand, whatever. You've seen it, I'm from the '80s and I was born in '77 so I was running around. My mother would send me the little food stamps and just like a lot of people from my neighborhood.
I wanted to make things that were once looked at as negative, almost flip it on its ass and make it as a positive. Like food stamps is this thing that connects me and the kids from my neighborhood. It's a currency for me. "Hey, you're the guy who gets imported waters and some barbecue chips from the grocery store," that connects us all. If I say food stamps right now, two, three people will be like, "I got you." I know what that feels like.
In a nutshell, the FU-Stamps line is just tying in that whole generation, that whole way of living, the culture, how I grew up. So FU-Stamps is about these kids from the hood, who band together to make a team that protects bad gangs from their neighborhood bodega. So in the bodega downstairs, there's this place where they train and fight and practice and they also learn discipline and do their homework. At the same time, they kick ass and beat the guys who are trying to come in and infiltrate and change the neighborhood for the worse.
"I wanted to make things that were once looked at as negative, almost flip it on its ass and make it as a positive."
So what's the process of creating vinyl figures? I assume you got into the art first and then the figures.
I've been a toy designer for 10 years now working with companies like Toys "R" Us, Mattel, Fisher-Price. I got my degree from the Fashion Institute of Technology as a toy designer. Yeah, there's actually a degree for that.
So I learned different techniques in manufacturing methods, plastic shrinkage, all of these technical things and terms. I've gotten to speak to people overseas and build toys. I understand the whole process, right? But what happened was as the Toys "R" Us went under, there were a lot of people that went jobless. I saw this is an opportunity to just kind of branch off and to see if I can do something Indy, on my own. So what I did was, I grabbed my old sketchbook and pulled out the first character and it was Bodega Blade. The character who was our first release.
I'm using resin now, but looking to move into vinyl. I don't want to go into vinyl yet because, well, I want the [figurine] line to be consistent. I want them to feel heavy and to be more aware than your vinyl. But yeah, that's how I got into it.
1 of 2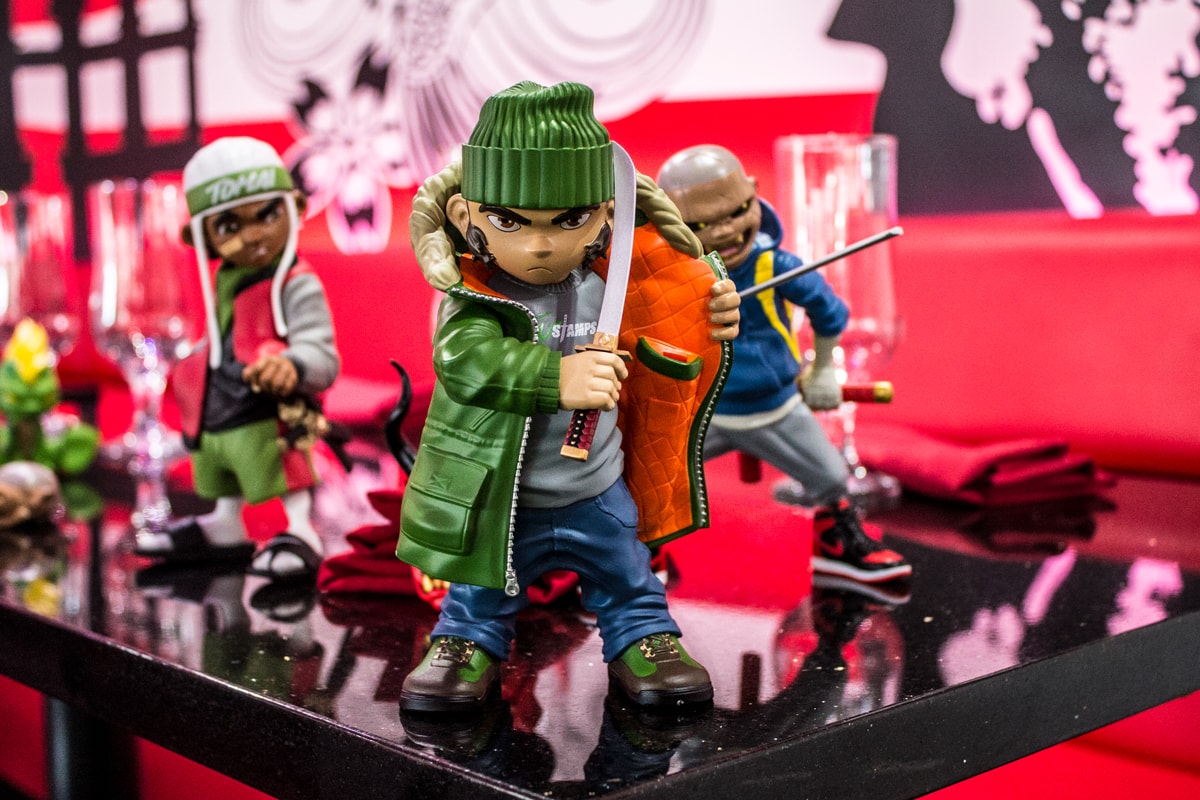 2 of 2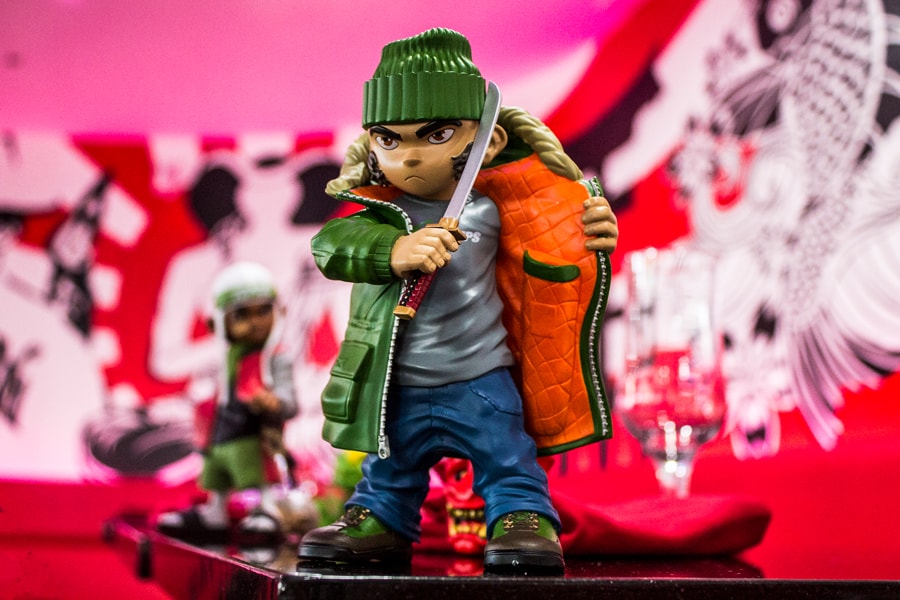 How did "Dega" A.K.A Bodega Blade come about?
I saw a newspaper ad, right? And man, I saw this story called Bodega Ninja. It was about this guy in the bodega who was getting robbed and the guy chops the [other] guy's fingers off. And this guy was a hero. When I saw that headline, "Bodega Ninja," I was like, "Oh, that is nice." So I borrowed it. All of a sudden synapses start firing, right? And I go, "Okay, I got to capitalize on this and this guy." So I've got like tons of stories, tons of characters, and they've always stood in the sketchbook. But that's how Bodega Blade came to be. As a kid who's protecting his father's bodega. Then the other characters to start kind of coming in and evolving.
Where do you see your career going five years from now? Where do you want it to go?
What I want to do is affect as many people as possible. I want people to… I want to adjust the conversation, change it from seeing Latinos crossing the border, jumping over fences, being beaten up and sleeping with silver foil. I want to change that to seeing them on their own terms as heroes. As people who've contributed to society on their terms. Not having to conform. We don't have to conform.
"I want my son to look up to a kid who looks like him, not a Ninja Turtle."
We can be Latino, Black, Asian. Keep our culture and still be positive. That's what I would love to do. Professionally, I would love for this thing to kick off and to spin into something where I'm getting more people to see it. That's pretty much, I mean I have a message and the challenge is getting a lot of people to hear what I have to say. I think the people that've been hearing it, it resonates and they like it and go, "Man, thanks."
People come to me and say, "Thanks for this hero." I hope it blows up. I want my son to look up to a kid who looks like him, not a Ninja Turtle. I can put pen to paper, I can draw whatever you want me to draw. But I want something that speaks volume and that's why I'm doing what I'm doing.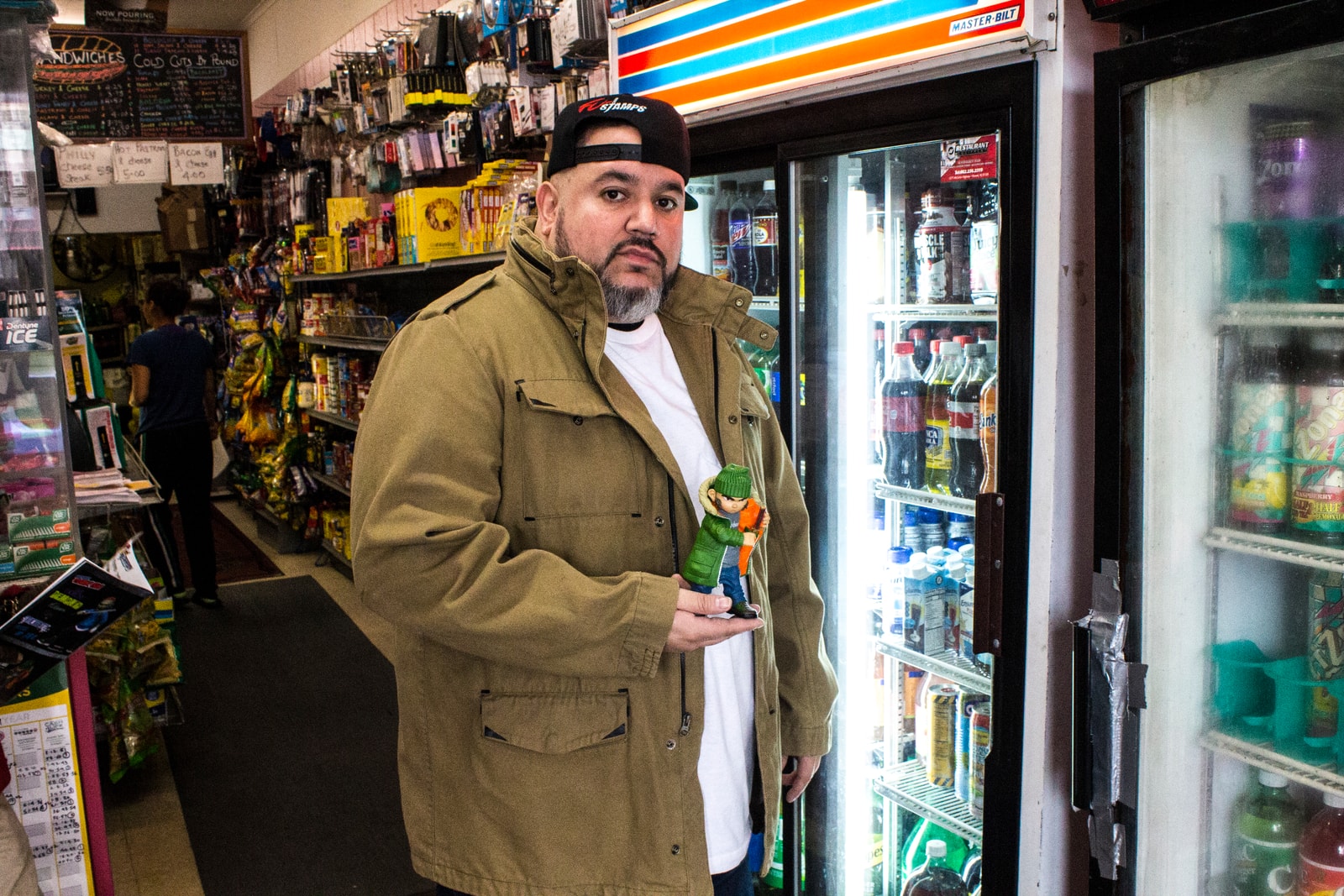 So what are some products you got coming down the pipe? 
So I'll be releasing my official third figure, which is SkrewFace. This guy has the du-rag, the head headband. He has the sandals and But there's something about [him that's distinctly] samurai.
I'm going to be releasing a DIY set for Designer Con. I'll be releasing crack babies. It's small secondary characters that are just white. So it was because they looked like pieces of crack, they're resin little white character.