One Epic Year: A Conversation with D.R.A.M.
"Bruh it's been attention, good vibes and success… on crack."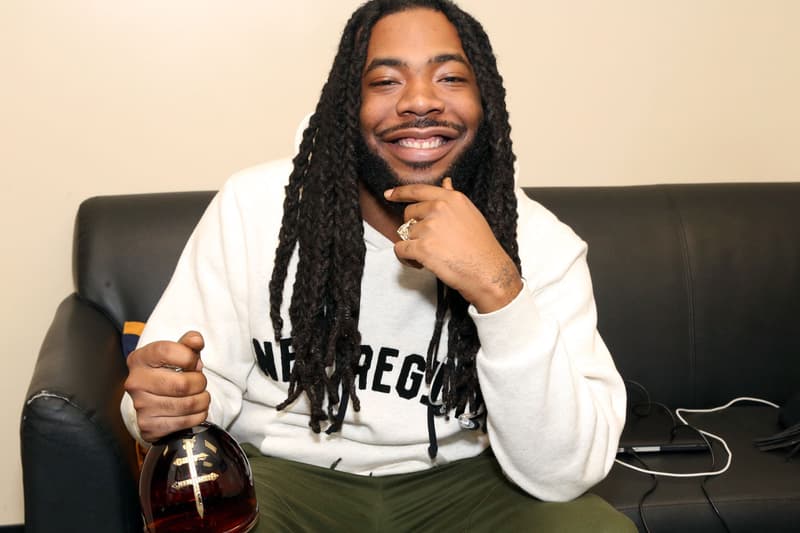 [gallery columns="3"]
Every year, during the unofficial last weekend of summer, Labor Day Weekend, Atrak's Fools Gold Day Off makes it's hometown stop in Brooklyn, NY. In addition to a select few of Fools Gold Records signees Post Malone, Skepta and Meek Mill were on the line up. A$AP Ferg and Fab made surprise appearances and as usual, it was a long, hot, fun event. Early in the lineup, earlier than I would've expected, VA-native and all-around happiest rapper you may ever come across, D.R.A.M. was performing.
Just days before the one year anniversary of #1EpicSummer being released and now D.R.A.M. is crowdsurfing and cha-cha-ing across the yellow, Fools Gold Stage in Williamsburg. It's been quite a year. D.R.A.M. has kicked it with Rick Rubin, got major cosigns from the Queen B, Beyoncé, performed at both Trillecto in D.C. and now Fools Gold in Brooklyn before he heads out on tour with Chance The Rapper and one of the hottest producers right now, Metro Boomin'. Somehow, behind the stage and speakers of the Day Off, overlooking a view of Manhattan from riverside, BK lot, I got to steal a couple minutes of D.R.A.M.'s epic summer day in New York. Check what he had to say.
Who's idea was the Mario Bros sample?
The world. It was the world's idea.
It was about a year ago you released #1EPICSummer and within about two weeks Cha Cha hit 10k plays – what's the past year been like?
Bruh it's been attention, good vibes and success… on crack.
You've met and received support and praise from the likes of Beyoncé and Rick Rubin. What's the most important thing for your career someone like that has taught you?
Rick Rubin once told me, you should never approach someone with a negative disposition. If you want to take a picture with someone don't say, "You ain't trying to take this picture with me, are you?" You are already setting it up for them to agree with the no. So if you really want something, just go for it. If you really want to do something just say "hey, I would like to do this. Let's do this." Mothafuckas will deny you if they are not really all the way with it.
I read you took a hiatus from music and did the normal job thing. Was there one moment or event that happened that made you feel like nah, I have to do this and make music my focus again?
Well, I mean music was always in the forefront but opting out and getting 9-5 paper, know what I'm saying, to adhere to the daily fees of life. It weighed on me, ya know? Music was still number one but it cut into how much I could make it. During the time, we were building up the culture locally. I had a show in July, at one of our big spots in VA. It was a local thing. We made it do what it did. I asked this one girl at my job to go. It was $10. She was like, "Nah, I ain't never gonna pay. I ain't paying for nothing." I said, "Girl, when I get there, when I make it, I ain't gonna know you." And she was curting on me, "I don't want you to know me," blah, blah, blah, whatever. I worked at Best Buy, predominantly white job. She was one of the only black people there, so when she curting on me, everybody had their little giggle moment. My manager partook in it as well. And I pointed in his motherfuckin' face, his fat fuckin' face and said "Yo, I'm gonna be a motherfuckin' millionaire," with a straight face. And he said, "Oh, oh, ok, well… alright… well. Ok." Fuck him. He'll be alright.
And when you will be returning to Best Buy?
Oh, oh, in the coming months, in my upcoming video series, Just Saying Hey! That's going to be one of several stops I make.
Ok, so everyone look out for Just Saying Hey.
You performed Bootsy Collins 1976 hit "Id Rather Be With You" at Trillecto in DC. What's the significance of this song to you?
It let's me share my love of funk with just the majority of the crowd. That song is, it's a staple in funk music but it's also known by the masses. It's not the pinnacle of like, my favorite funk music but its definitely one of Bootsy's records that's known by many. So to be able to perform that and have everyone in the crowd knowing it to an extent, its a great feeling. It brings funk to life for that time. Funk never dies though.
I saw that you visited Miami for the first time a few weeks ago and performed at LIV in the iconic Fontainbleau. What was that like and do you have a preference between shows like that, compared to something like Trillecto or Day Off or say, like Chance the Rapper's tour your joining him on for a few dates?
It's all about balance. You need to be circulating in each realm. Especially with the type of situation I have going on. To stay hot in the club, you have to be able to certain things. That club wave. The vibes is crazy from that. LIV was fuckin' bananas. To be 10-deep full of n*ggas in the section before I performed the record and just be all n*ggas. Then after I perform that record, its like a zoo with 60-70 women all scattering through our section. Ya know, it's that lifestyle. It's like, wow. It's an eye-opener. It's a nose opener. But it's also a reminder. That's just one part of it. The festivals, Trillecto, Fools Gold, people that follow Trillecto and Fools Gold in general, then other people that follow the other acts get to get put on to my music. People that come to see me and get put on to other music. It's one hand helping the other. That's great to build a festival presence and other establishments know that this guy does this, that and third, and we'll keep him in mind. I'm not all the way rooted in just club performances. As far as tour, with Chance, this will be my first big run. That's the homie, it's all love. Towkio, that's the homie. i havent met Metro yet but ya know, we have a mutual respect for each other's music and I'm almost damn certain it's going to be all love when I see him. We're going to be on tour for about two months and doing like 2,000-3,000 cap rooms, so it's going to be another set of nose and eye openers.
Obviously, Drake came through with his own interpretation of "Cha Cha," "Hotline Bling". Did you know it was coming beforehand?
Nah, nah.
Just caught it online like the rest of us?
Yea.
What does it mean to you to have an artist of his level be inspired by a track of yours? 
For it to not even have been a year? It's very flattering. Know what I'm saying. He's the first powerhouse to be heavily influenced by the VA wave that was influenced by myself and Gabe [Niles]. And like, it's pretty much just a stamp that what we're going is something real here. Ya know, we're going to continue on. I dont think he is going to be the only that will be heavily influenced by our wave and sound. I just think he was the first. And ya know, over here we're embracing it.
So, I just heard you bring up Gabe, Gabe Niles. The first time I heard your music was "I Luv It" with Sunny & Gabe. You guys work a lot together but it's more than that. How did you get connect initially?
I was seeing Gabe, ever since like 2010, 2011 like when I really started going to these local events for people letting their music be heard for people ya know, who gave a fuck or came to see someone else or whatever. We had mutual level of respect because it was a passion we both recognized in each other. But it wasnt until the beginning of 2014 that we started making music together. The reason why we even linked like that was because when I heard "Free Candy" from Sunny & Gabe I was just blown away that something from my area, my mile radius, was coming out making such progressive music. It was something that was real exciting for me. When I called him and told him, we were just hype. It was lit. Months went by, now we're making music. Ya know, then a year, now we're doing shows and shit. (Laughs)
So, Gabe is part of the plan for 2016. What can you tell me about the plan for 2016?
The plan has always been the same, just spread love. Move love. More and more love. The more love that's spread, the mroe will be received. More attention, more music, definitely. Expect the unexpected. Only thing you can expect is more love being spread. As far as musical direction, whatever, whatever, just as wild as broad as funk is, think of D.R.A.M.
I lurked deep on your IG earlier today. I didn't like anything, but I lurked.
AH DAMN, why didn't you like my shit?!
I lurked a year deep! Now that I told you, I'll go back and like my faves. I think I found one photo where you didn't have your staple, huge, D.R.A.M. smile. Is there any one thing that puts that smile on your face everyday?
Marijuana. Loud. Marijuana.
And it's lit. Last question, if I wanted to teach someone how to Cha Cha, what would I tell them?
Search up… "how to Cha Cha" tutorials on YouTube.
Take it to YouTube for everything.
And then express what you just learned to D.R.A.M.'s "Cha Cha." (Laughs) Because I don't do the traditional Cha Cha, I do my own little one, two. Don't learn from me, learn from the pros.
The VA Cha Cha is what we're doing out here. 
Yea, the VA Cha Cha, I like that.
Photography: Taylor Okata