Ron-Ron the Producer Debuts His Own HYPEBEAST Music Playlist
The Watts artist also opens up for an exclusive interview.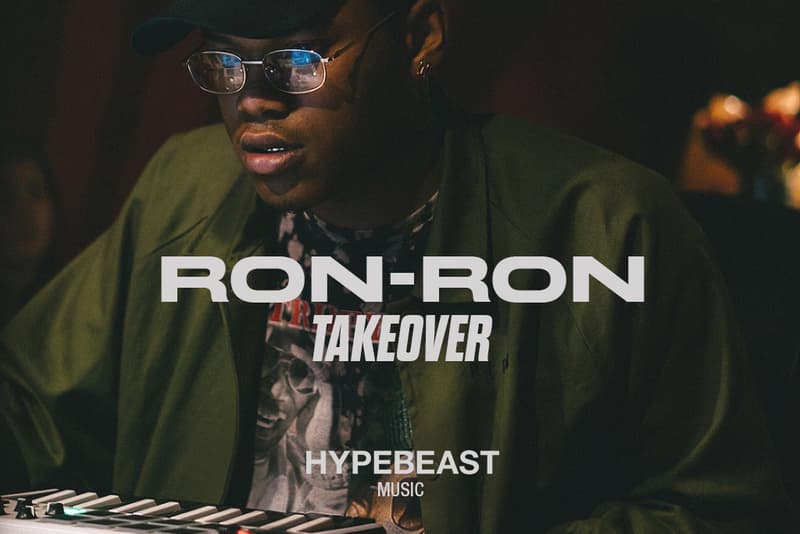 For the latest entry in our HYPEBEAST Music Playlist series, we've teamed up with California's Ron-Ron the Producer to curate our first exclusive artist takeover.
Raised in Watts, CA, Ron-Ron jumpstarted his current run by producing career-launching records and regional hits for influential new-school rappers like FrostyDaSnowMann, Almighty Suspect and AzSwaye, quickly earning a top spot at the forefront of the West Coast's modern rap renaissance. He has injected another exciting new sound into the Los Angeles hip-hop's narrative, providing the scene with its most remarkable stylistic shift since DJ Mustard started unofficially soundtracking local airwaves. 03 Greedo, Drakeo the Ruler and Shoreline Mafia, the homegrown heroes who are now making an impact on the national scene and forming their own inventive, critically-acclaimed musical movements, count Ron-Ron as a close collaborator and sonic guide. As his manager explains, Ron-Ron laid the foundations for the "New West."
"All the artists I got now are because of Ron-Ron," Ron-Ron's manager TK Kimbro says; TK also works in a similar capacity with Drakeo the Ruler and his Stinc Team crew, Shoreline Mafia, 03 Greedo and other rising West Coast artists. "He had a lot of quality music, and I heard a hybrid sound in him. What really made me want to work with Ron-Ron moreso than anybody was that, at the same time he was dealing with LA dudes, he was dealing with SoundCloud rappers too. He was dealing with everything, and it equally sounded good."
You can stream Ron-Ron the Producer's takeover of our HYPEBEAST Music Playlist series and check out our exclusive interview with him below.
When you first started making beats, who were the producers you were listening to for inspiration?
I was listening to E-40 and a lot of Bay music at that time, so I would say Rick Rock and Droop-E and a lot of those Bay producers from that time. I would listen to a couple Mustard tracks to really try and mimic a Mustard setup too. But, the Bay area is real heavy on me.
What was it about the Bay sound that drew your attention?
Out here, we rap about gangbanging and bullsh*t out here. Hearing the Bay area music, they were talking about getting hyphy, they were talking about getting turnt. And, the bass on the beats were just crazy. The bass on every beat I listened to was just crazy.
Growing up, my sister, my cousins, were all going to parties. So, with me going to the party, I wanted to see everyone turn up to my music. That's part of the reason why I wanted to make the little party sound I got.
Since you're from Watts, how important is someone like 03 Greedo to the culture of Watts?
03 is a big impact on Watts right now, and I feel like I'm a big impact on Watts right now too. I never gangbanged or anything, so that's another thing that I feel is going to separate me from a lot of the other people coming from Watts right now. The people who don't gangbang are going to feel me because they're going to understand where I'm coming from, and the people that do are going to understand me too (laughs).
Do you feel like not having that sort of gang affiliation could help you cross over and work with a wider variety of artists?
That's basically how I feel I linked with Greedo. I ain't gonna lie — my family and his side don't get along. If I was to be affiliated, it wouldn't have worked out between me and Greedo — because of the things my family got going with his side. The fact that I don't have nothing to do with none of that is cool.
I grew up around a lot of gangbanging (laughs). I grew up around that shit. I had my dad and my mom in my life, and my dad gangbanged, so he was like, "no, you're not about to do none of that." Having him in my life made me not want to gangbang too. A lot of my friends gangbanged, but the friends I'm around now, they don't. I make sure I'm around a lot of good individuals.
Growing up, when did you start taking music seriously?
In ninth grade was when I started to take producing seriously. Basically, my whole high school years I didn't really do nothing but chill with the homies and go back to my house and make beats. Those were my high school years: go to school, chill, go home and go to the studio.
When was it that more high-profile rappers started to notice and work with you?
After I graduated high school was when everyone started to notice me. First, I would say it was Ralfy [the Plug] from the Stink Team. Ralfy was the first person who had my name out there. After Ralfy was Frosty. I knew [Frosty] he had a little buzz going on and he was doing his thing. I made a tape with him and the tape went crazy. He started just coming over to my house. At one point, Frosty would just start popping up at my house like, "let's record, bro." Middle of the night, daytime, it didn't matter, he was popping up.
Did that sort of motivate you to produce more beats?
I could say that was why I started to make a lot more beats — because people would just start popping up and wanting to record. I was recording and engineering too, so I needed to make more beats so the artists could have something.
So people were just showing up at your studio in the middle of the night?
Yeah. It was my mom's house at the time, so you know how that goes. It was my mom's house and I had a little backroom with a door, and they could just knock on the backdoor and they could be in my room. That's where the Frosty stuff originated, that's where some real milestones happened. That's the Golden Gate right there — my house.
This was going on for about two or three years. Then, I got into it with my mom and I had to move. That's when I moved to Santa Monica and had a studio there. It was too small and I was paying like $500 a month for that space. After Santa Monica, I moved to a spot in Torrance — NWA's old spot. It's the old spot Battlecat used to be in, I'm in Battlecat's old studio. It's crazy because we got two major deals in the rooms right here. It's blessed (laughs).
That's like 30 years of West Coast rap history right there.
Yeah, that shit is crazy. It's crazy because I met Greedo and Shoreline around the same time, and that's around the same time I moved here about a year ago. We've all been going at it for a year, and you see how much we've done. I feel like I elevated my whole style since I came here.
I linked up with Greedo and Shoreline after Frosty and the Stinc Team. I already knew of Shoreline, but I didn't know of Greedo until my manager Picasso hooked me up with Greedo. That was when "Mafia Business" was going up, and my manager was like, "you gotta work with Greedo. You from Watts, he from Watts — you two need to work." We just locked in the studio one day and we f*cked with each other's vibes, and ever since then we've been ganging.
What were those first encounters with Greedo like?
It was cool. I'm an eastside n*gga too, and growing up there, I know how to interact with people from there. With Greedo, it was a straight connection. It was just cool.
Do you feel like now you finally have a sound you can attach your name to?
Yeah. I feel like I have my own sound, party music, a trap sound, and I'm trying to get into some smooth shit and EDM shit. I'm about to start really going crazy. I'm trying to do all of that and on a bigger scale.
Could you see yourself producing pop and EDM in a couple years?
I could see myself producing anything, honestly. I could see myself producing everything from classical to video games. Movie scores, soundtracks, all of that.
How important do you feel producers are to the careers and rises of rappers?
I feel like we're very important. Without us, there wouldn't be the rappers. Nobody would f*ck with their sound. I'll give you the example of Shoreline: it wasn't until they hopped on "Musty" that their sh*t started going crazy. I already had that little whole sound down when I made the "Musty" beat, and they wanted a Ron-Ron beat. They went on my SoundCloud and found a beat and rapped on it and it went crazy.
I feel like us producers need to be more acknowledged. We shouldn't be in the background as much as we are.
Are there any things you feel producers could do to become more known?
Yeah, that's what I'm starting to learn. We should start doing what artists do. We should put ourselves as artists; just putting yourself in that scene, and dropping tapes with artists. Like, "Ron-Ron featuring so-and-so," Instead of, "so-and-so produced by so-and-so." That's how I feel like we're going to get it.
Are you planning on making your own full projects in the future?
That's what this whole summer is about to be (laughs). People are really going to see that I'm about to be that n*gga, I'm about to be that sound out here. I'm taking my throne from Mustard (laughs).