Foals Are a More Promising UK Prospect Than Their Currency
The Oxford band talks about 'What Went Down,' staying relevant, laptop artists, why they root for Cleveland Cavaliers and more.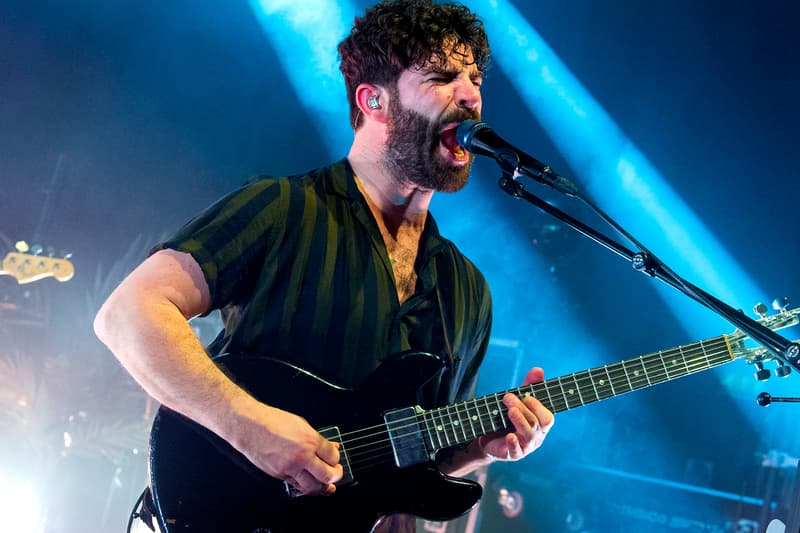 In an age of fast-paced technology and short attention spans, there's no better example of a medium where you'll be recognized then forgotten in a moments notice than with music. 2016 has showed that one can become a buzz-worthy musician within the matter of weeks, but lose it all within an equally short amount of time. It's a totally different operation compared to that of the last decade, where record deals, creative interference, rock bands and studio recording were still the norm. Both have their pros and cons, but unless you're Adele, awareness to industry trends and adaptation is likely required to remain pertinent. So how does Foals, a five-piece band conceived in Oxford, UK in 2005, stay relevant, continue to grow their following, and get booked to play at countless major festivals all over the world?
Simply put and as cliche as it sounds, it's because they make music that is refreshing yet stands the test of time. In our conversation with Walter Gervers, the band's bassist, we find out a little about how they achieve this. Foals knew very well the style and sound they were going for when they first started, but at the same time challenged themselves to be open-minded to growth and progression. And by progression, they don't mean radical change — it's more about the balance of knowing where their strengths and specialities lie and working in new ideas with them, rather than following the footsteps of the next new thing and abandoning what their fans had valued them for. Each album has a distinct sound, but each progression is believable and authentic.
Foal's progression was achieved in the little things. Sure, with current technologies they could probably record from their homes for a fraction of the cost, but the band chooses to jam out in traditional studios because they acknowledge how varying environments can contribute to the overall aesthetic of their music. When they hit technical and creative brick walls, they're open to receive assistance from other open-minded talents who are able to bring the best out of the band as opposed to changing them from who they are. They understand the appeal of this age's SoundCloud and production culture, even if they're no longer the youngest musicians around. And instead of trying their hand at it themselves, Foals recruit adept electronic music artists who can reconvey the band's sound to demographics that their music might not normally reach. UK's pounds may have plunged drastically after their recent Brexit victory and oil prices and stocks crash as world financial markets react to the vote to leave EU, but Foals have shown and are continuing to be a promising English prospect with no sign of losing value.
Walter Gervers, Foal's bassist
Who are you? And for those who don't already know, tell us a little about Foals.
I'm Walter and I play bass for Foals. We're basically a rock band, but I think we've been lucky enough to survive long enough to be influenced by a lot of different types of music, from dance to punk to ambient to electronica. Our sound is a little bit of everything.
Great to meet you, Walter. Can you guide us on the evolution of your band's sound?
When we first started, we had a regiment or idea about how we wanted the band to sound like. We had a lot of tight, high electric guitars and it was all about having rhythm and a danceable nature. We wanted to do it as a five-piece band rather than using backtracks, drum machines and keyboards. That was the idea at first and we were listening to bands like Talking Heads, The Rapture and things like that. I suppose as the band progressed, we learned how to use the studio more and be more structured about the way we write songs. We implemented more unique chords and our vocals started to become more prominent in the songs. We had more of a progression; there has not been anything too sudden and radical in changes musically.
That makes sense. We imagine it to be quite difficult to maintain a band at this day and age, where technology has allowed so that a producer with a laptop can replicate the sound that would traditionally take a full band to make. Has this affected you guys in any way?
That's a good question. I think we were lucky enough that we're not "of this age" because we've been around for a while now. When we started, it was normal to still be going into studios and make full records with one or two producers. I totally understand that now, there's a totally different type of production going on, and why not? The quality of music production software has improved so much. Inexpensive interfaces and pre-amps are really good now and you can record really well with just a Mac. We use the studio as more of a form of escapism thing rather than thinking about what we can achieve sonically. It's about space and moving your gear in and about being in a particular environment and a particular country. If we really wanted to make our album in the cheapest way possible, we would have done it from our own rooms back home but it would really affect the record. We want to keep working in different exciting spaces that have a positive affect on the album.
Your latest album, What Went Down, was received with unanimous acclaim — we enjoyed the project a lot too. What were some challenges you faced while making it?
Thank you. I assume that there's always going to be some difficulties and things that are quite tough, such as having an idea you're playing that you really like. You think it could turn out to be something really good but as the writing process goes on, things get left behind and it could get really frustrating. Some things we just can't finish, which is a bit of a shame but it's natural. With What Went Down, we got a chance to work with James Ford and he was excellent in working with us, listening to the songs in their early stages and giving opinions about what he thought was going to be strong and what wasn't. We eventually ended up going to this studio in France called La Fabrique. Recording songs always take a lot longer than you think but it was quite a smooth process. Anything that was more tricky happened towards the end with sequencing and selecting the tracks that aren't going to make it in the final version. We really enjoyed it — overall it was the most enjoyable album to make.
James Ford, known best for being a member Simian Mobile Disco and having done production work with the Arctic Monkeys, Klaxons, Mumford & Sons and more, is credited for instrumentation work and engineering on the album. He's technically not a member of the band, what specifically did he do to help Foals out on What Went Down?
James is such a great musician himself. He can play guitar, drums, bass, keyboards – he can sing. He's a really talented guy. With a few of our songs when we've hit brick walls on them, he would pull out the piano, figure it out and suggest where we could go. He was quite bold, especially with the writing in the later stage. He's also a great percussion player and he did quite a lot of the percussion bits. He was really involved, but we always wanted to be quite hands-on. He certainly didn't try to control anything, he just helped when it was needed. You don't always get that from producers. There might be excellent engineers with great ears and great ideas but they can't actually musically do themselves. So James is actually quite special – if he has an idea he can actually show you how it's done. He's great.
Other than your music, your videos are quite the experience to watch. They are all very well-produced and certainly add another dimension to the overall Foals listening experience. Do you guys have more input in making them or do you leave it to the vision of your directors, and do you ever face difficulties bringing your ideas to life?
I think it's always a bit of both with the creative process. That's how it tends to work, whether we're working with Nabil, Dave Ma or other people. They're really talented at what they do but it should be a 50/50 split. Sometimes, the artist will go, "I think it should be like this," and the director will come back in and be like, "Well that's my work," which can cause some uncomfortable situations. Also, you may have an idea but to make it happen it's going to cost a lot of money. It's hard because music videos definitely used to be an art form but I think it's dying out a little bit.
Another thing you guys are known for, especially with the SoundCloud users, are the remixes to your tracks. Do you reach out to producers or do they come to you?
Yeah, we will definitely request some people to do a track, whether it's someone we've actually met or someone who's suggested to us. Sometimes remixes happen when people would tell us that certain track would work well with certain producer. What puts us off sometimes is when they don't try and use the vocal in a different way because it's not that exciting to us. I think we always wish for something more radical; sometimes they're a bit safe with remixes because they think that it's going to be more successful. I think it's more exciting when they're being pushed further away from what was the original idea of the song.
Festival season is in full-effect right now, and you're playing in a number of big ones. As an audience member, whose sets are you watching?
Radiohead. Thankfully, we're able to be playing at four or five festivals with them. We're big fans of theirs; we're from the same town. It will be really good to see them play from their new record and old stuff as well. We've seen them a lot in America as well so it should be great. Tame Impala – we did a few festivals with them. Underworld – brilliant comeback with a good record and I saw them at Coachella. I don't know about many younger smaller bands that I should be checking out because I'm a little bit behind. I'm not really up to date but I'm sure there will be some nice surprises at festivals that we'll get to see.
Let's talk hobbies. What do you like to do on your downtime?
I like to watch Game of Thrones.
Are you caught up?
I'm not caught up to episode nine [as of June 21] but I did watch episode eight.
You need to catch up on that. Do you follow sports?
Yes, I do.
The NBA Finals concluded not too long ago, who did you root for?
Definitely Cavs. Everyone was talking about Steph Curry and the Golden State Warriors. We were watching the games when we were over in America and I just loved the way that Irving, Smith and LeBron James were just quietly chipping away in the background. And to come back from being down 3-1, good on them. That's awesome!
You're from the UK, do you follow the Euro Cup?
Yes I've watched a few, but I've been at home and on holiday so I haven't really had time to sit down and watch some of the games. So yeah, I a little bit behind right now.
We assume you're cheering for England?
Yeahhhhhh… I'm more of a Rugby fan and there have been some big wins down in Australia, which has been much more of a big deal to me. I obviously support England but it's not something I at least too much speak about as they're not as good as the other team in Europe. They just can't play together.
---
Foals is currently on a summer world tour. Grab your tickets here and download Foal's latest album, What Went Down, via iTunes.