Elon Musk & Grimes Go Public With Their Relationship at Met Gala
She is also wearing a Tesla choker.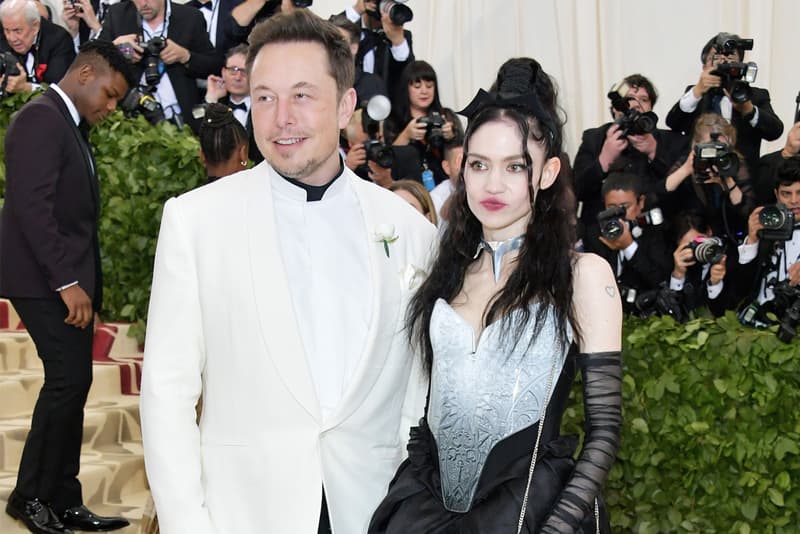 Looks like Elon Musk and Grimes are in a relationship. According to Page Six, the Vancouver musician-songwriter-visual artist and the SpaceX founder have been quietly dating for the last month. The pair reportedly met online after bonding over "a joke Musk had planned to tweet but discovered Grimes had already made." The "nerdy" joke dealt with the "complications of artificial intelligence."
"Thought experiment Roko's Basilisk considers the hypothesis of a future where AI lords over the world and could punish those who did not help it into existence," Page Six reports. "His joke was to merge this thought experiment with a pun using 'Rococo', referring to the ornate French 18th Century Baroque style, perhaps pointing out that both concepts are complex, too extreme and ridiculous."
Grimes had previously made the joke in her video for "Flesh Without Blood." The visual features a character named Rococo Basilisk. In an interview with Fuse in 2015, the Canadian artist explained that Rococo Basilisk "is doomed to be eternally tortured by an artificial intelligence, but she's also kind of like Marie Antoinette." Prior to this, Grimes had already been on Musk's radar. He tweeted about one of her videos earlier this year, calling it the "best music video art [he's] seen in a while."
Musk began dating Grimes after seeing her video and getting in touch through a mutual contact. Grimes was seen wearing a Tesla choker at the Met Gala.
See the tweets and pics of the couple below.
Best music video art I've seen in a while https://t.co/F2E4zDZMyM

— Elon Musk (@elonmusk) March 31, 2018
Rococo basilisk

— Elon Musk (@elonmusk) May 7, 2018
— Elon Musk (@elonmusk) May 7, 2018