Here's What We Think of Chance The Rapper's 'Coloring Book'
How we heard it.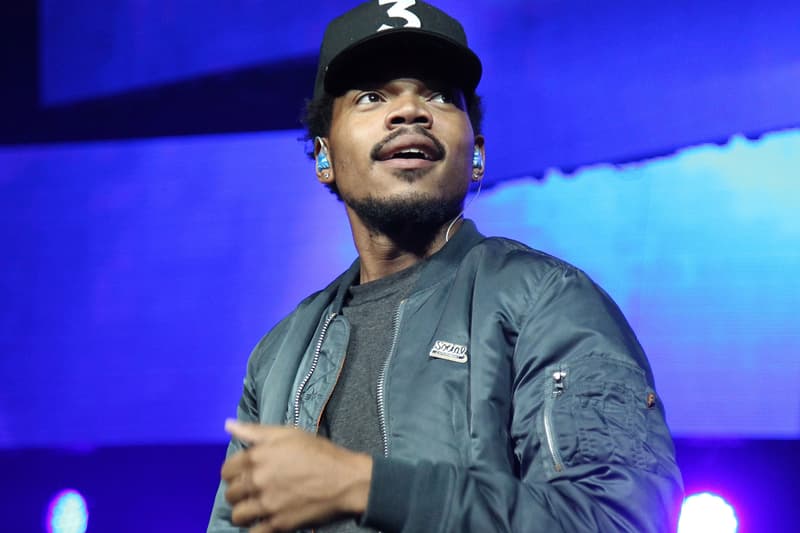 Evolving from endearing local emcee to gospel-slinging hometown hero all within his early twenties, Chance the Rapper has managed to assert himself as the central focus and arresting precipice of nearly everything he passes his gifted hand over. Essentially by default at this point, it feels like his magnetic talent snatches the spotlight each and every time. Even more so on his latest fourteen-track effort Coloring Book, Chance's signature flow exerts itself like an indestructible rubber band, stretching around every intricate Brasstracks, Kaytranada or The Social Experiment-directed soundscape. Chance was destined for stardom from day one.
Nowadays, Chancellor Bennett certainly isn't the rebellious teenager who copped a suspension from high school for "chiefin' a hunnid blunts" in the carpark and clapped back with his debut mixtape 10 Days. Nor is he the deeply troubled, drug-addled, pessimistic adolescent that churned naively over the challenges of expectation and the pressures of growing up on Acid Rap anymore. Fatherhood, spiritual growth and a vastly shifting relationship with substance abuse has nurtured a fresh perspective for the Chi-town legend; Chance has abandoned his days of "riding around with blunts on his lips" and committed to a righteous path, largely for the sake of his daughter and her mother ("Tryna turn my baby mama to my fiancée / My daughter couldn't have a better mother / If she find another, he better love her," he declares on opening track 'All We Got.')
With Chance's personal redemption at the fore, it's abundantly clear that Coloring Book is a gospel album first and a hip hop album second – even if "Finish Line / Drown" throws the holy Kirk Franklin into the fray with an all-theistic heathen like T-Pain. 'All We Got' feels like a direct sequel to "Ultralight Beam," Kanye West and Chance's introductory trip to church on The Life Of Pablo. Returning the favor and bringing his number one idol Kanye in alongside the Chicago Children's Choir, Chance fulfills musings on Chance 3 ("He said let's do a good ass job with Chance Three / I hear you gotta sell it to snatch the Grammy") and launches into vivid religious imagery to flaunt both triumph over his personal demons ("I might just give Satan a swirlie") and his ability to resist temptation ("I get my word from the sermon / I do not talk to the serpent"). Acknowledging the profound impact of his show-stealing appearance on The Life Of Pablo – "You cannot mess with the Beam" – the track is an embodiment of Kanye's key influence on his protégé's personal and artistic progression, casually calling Beyoncé "Auntie Yoncé" to remind everyone that he's on familial-title terms with rap's monumental heavyweights. Thanks to God, Chance's life is "so perfect he could merch it", and Coloring Book plays out like a victory cry for a young man in the prime of life and at peace with his maker.
Chance has never opted for subtlety or subdued postulation, so the fact that "How Great" leads on an interpolation of Chris Tomlin's signature global church anthem "How Great Is Our God" is no grand surprise. Paraphrasing Psalm 34:3, touching on theology with allusions to biblical history and the book of Malachi, and championing "the faith of a pumpkin-seed-sized mustard seed" that grounds Matthew 17:20, the entire five-and-a-half minute experience is Chance's anthem of exaltation to the God that he believes is wholly responsible for his victories. Even practicing Muslim Jay Electronica joins in, alluding to both his and Chance's "war with the poltergeist" alongside "the exalted Christ" and positioning himself as apocalyptic figures from the book of Revelation.
Chance also keeps his hands lifted to the heavens on "Blessings." "It seems like blessings keep falling in my lap," he croons, complimenting Jamila Woods' gentle vocal hook: "I'm gon' praise Him / Praise Him 'til I'm gone". Over stunning horn arrangements that hark back to his work on Surf with The Social Experiment, Chance backtracks on the frustration with God he vented about on Acid Rap's "Everybody's Something." "Whys God's phone die every time that I call on Him? / If his son had a Twitter wonder if I would follow him?" has evolved into "Ain't no blood on my money, ain't no Twitter in Heaven." "The nicest hotels on the 59th floor," "big wide windows" and "suicide doors" are simply materialistic throwaways to Chance now; he "knows the difference in blessings and worldly possessions." However, in light of all the religious allusions and testimonial declarations, neither "Blessings" or any other moment on Coloring Book ever delves into repellent 'preaching' territory; Chance is simply projecting the deeply-felt intricacies of his divine reformation, and any overt religious expression only broadens his appeal rather than limiting it.
But aside from counting his blessings and detailing his divine revelations, Chance also jumps at the opportunity to climb onto his soapbox and air out the frustrations that have accompanied his rise to international prominence. 2 Chainz and Lil Wayne collaboration "No Problem" is a sobering warning to record labels that attempt to disrupt Chance from his craft. While brimming with a spirited elation and a whimsical edge, and despite the ironic selection of largely decadent, uber-typical guest features, the message is effective and clear: Chance ain't buying it. "You talk that talk that make a lame ass n*gga fall in love / Not me, though, bitch you can keep those," Chance spits, calling out shady big-wigs on their undercover "tweaking" and "putting the hinges back in their hands" – a DJ Khaled-ism that hits back at the naysayers by handing over everything they're attempting to repudiate. Although 2 Chainz sticks to his standard fare – flaunting his materialistic indulgence and targeting unidentified industry figures that rock fake Yeezys ("Where the hell you get them from? Yeezus said he ain't make them") – Lil Wayne matches Chance's spirit, marking his closing verse with spined cogitation on the longstanding issues surrounding his binding contract with Young Money Records. "I got problems bigger than these boys / My deposits, they be on steroids / Lord, free the Carter, n*ggas need the Carter / Sacrificin' everything, I feel like Jesus Carter," he professes, piling on the religious allusions while firing potshots at detractors whom – at one point – were crucial members of his inner circle.
Continuing the trend of gunning for authenticity and exposing the fakes, the shadowy Young Thug and Lil Yachty collaboration 'Mixtape' is a heavy-hitting group conference for a trio of idiosyncratic rappers who have dodged the lunging, grimy hands of the ugly mainstream process and forged their own success without sacrificing autonomy. "Am I the only n*gga that cares about mixtapes?" Young Thug reiterates, expressing grave concern that free distribution in the hip hop world is a gravely fading concept. Lil Yachty rounds out the track with concern for the future of the rap landscape: "Am I the only one who really care about cover art? / F*ck them reviews that they put in the paper / Did what I wanted, didn't care about a hater". Chance may have attained spiritual and personal fulfillment, but Coloring Book is tinged with a concerning shade of disillusionment that is impossible to ignore. In a way, the two work hand in hand; authenticity is a virtue that a committed Christian should strive for, and the born-again Chance doesn't conceal his apparent distaste.
Coloring Book is an ecstatic, star-studded, holy-ghost-saturated experience that oozes with relatability and unbridled jubilation. At this point, Chancellor Bennett is wholeheartedly indulging in the glory days of his life thus far, and it shows in both his assertive, directional artistic decisions and his optimistic, previously uncharacteristic tranquility. Even if a selection of his intricate verses are laced with razor-sharp shards of barbed doubt, pointed warnings and pessimistic truth, Chance is always quick to return to his new overarching mantra: there's always a light at the end of the tunnel. There's still blessings falling into his lap. Salvation is already here.