Kendrick Lamar's 'DAMN.': A Guide to All the Featured Artists, Producers & Writers
The album drops tomorrow.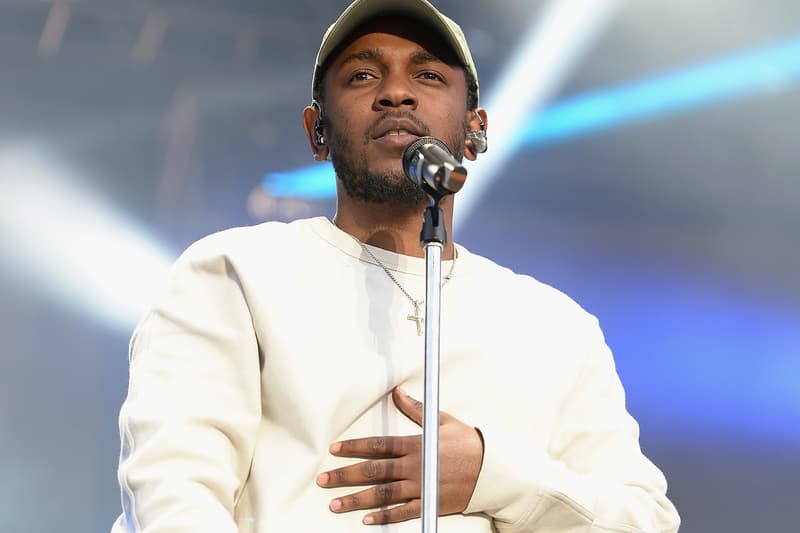 Kendrick Lamar is set to release his new album DAMN. on Friday, April 14 (less than 24 hours from now). In addition to the drop, fans can also look forward to Lamar's headlining set at Coachella, which will also take place on the 14th. The LP will spotlight familiar names including Sounwave, Terrace Martin, DJ Dahi, Anna Wise, as well as a plethora of collaborative fresh faces like Steve Lacy, BADBADNOTGOOD, Teddy Walton, Zacari, 9th Wonder and others.
Shortly after Kendrick announced the release date and iTunes link for the project on April 7, a Reddit user was able to uncover most of the composer credits for all 14 of the tracks by pre-ordering the album. And when Lamar quietly shared the title, artwork and tracklist for the album during the early hours of April 11, a few surprise guests not featured on the previously uncovered composer credits were revealed, including Rihanna and KAYTRANADA (who revealed he would be singing on the track using Auto-Tune.)
In anticipation of the release of DAMN., we've created a concise guide for all the featured artists, producers, instrumentalists, writers and songwriters on the project. For more on the impending album, you can also check out the Vlad Sepetov-designed cover art.
9th Wonder
Appears on: 14. DUCKWORTH.
Real name: Patrick Denard Douthit
Profession: Producer, DJ, lecturer
Origin: Winston-Salem, North Carolina
Although 9th Wonder has produced for a number of major artists like Drake, JAY Z, J. Cole, Destiny's Child, and more, the man also known as 9thmatic is well-respected in the world of underground hip-hop. He started his music career as the producer of the North Carolina group Little Brother and made his breakthrough after releasing an unofficial remix project of Nas' 2002 album, God's Son. On top of producing, Douthit is also a music professor and lecturer, teaching classes and researching at universities like Duke and Harvard. 9th Wonder and Kendrick Lamar have previously collaborated on Wonder's Warren G and Mars-featured 2011 track "Enjoy."
The Alchemist
Appears on: 12. FEAR.
Real name: Daniel Alan Maman
Profession: Producer, DJ
Origin: Beverly Hills, California
The Alchemist currently works as Action Bronson and Eminem's official DJ. Before that, he was a close-collaborator of Dilated People and Mobb Deep. He began his career under the moniker Mudfoot in the hip-hop duo The Whooliganz in 1991 and has produced for Earl Sweatshift, Nas, G-Unit, Eminem and more. In 2010, Alchemist and Madlib's brother Oh No formed a group called Gangrene after Dilated Peoples member Evidence introduced them to each other. The Alchemist currently has three official studio albums under his belt. He is also one of the four producers responsible for producing Kendrick Lamar's "The Heart Part 4."
Anna Wise
Appears on: 7. PRIDE.
Profession: Singer-songwriter
Origin: Brooklyn, New York
Anna Wise is best known for her collaboration with Kendrick Lamar, "These Walls" and "Institutionalized" which appear on Kendrick's last album To Pimp A Butterfly. Before that, she was an independent artist who released music as a member of groups Sonnymoon and Built To Fade. She was also featured on CunninLynguists' "Looking Back" and "Darkness (Dream On)" off the Kentucky/Georgia group's fifth studio album, Oneirology. Kendrick Lamar contacted the singer-songwriter after hearing her music online through the rapper Tunji. She has released two solo albums and have appeared on over 11 songs with Lamar.
BADBADNOTGOOD
Appears on: 9. LUST.
Members: Matthew A. Tavares, Chester Hansen, Alexander Sowinski, Leland Whitty
Type: Music group
Origin: Toronto, Ontario
BADBADNOTGOOD is a Toronto band consisting of Matthew Tavares on keys, Chester Hansen on bass, Leland Whitty on saxophone and Alexander Sowinski on drums. They met in 2010 through the Humber College jazz program, and started off by playing instrumental covers of their favorite rap songs from the likes of A$AP Rocky, Gucci Mane, Waka Flocka Flame, A Tribe Called Quest and more. BBNG got more recognition after recording a live jam session with Tyler, The Creator in Sowinski's basement in 2011. They've since released five studio albums and two live album, with their latest IV being a commercial success. It has been revealed that BBNG and KAYTRANADA would both be featured on "LUST.," off of Kendrick Lamar's DAMN.
Cardo
Appears on: 13. GOD.
Real name: Ronald LaTour
Profession: Producer
Origin: Denver, Colorado
Cardo began his career by producing for Mac Miller and Chevy Woods in 2010. He met Wiz Khalifa at a show in Texas through Chevy Woods and after giving Wiz a few of his beats, the Pittsburgh rapper used them for his Kush & Orange Juice mixtape. Since then, Cardo has gone on to produce for major artists like Drake, JAY Z, Travis Scott, 2 Chainz, ScHoolboy Q and more. Furthermore, he also previously worked with on "untitled 07 | levitate" off Kendrick's 2016 rarities collection titled untitled unmastered., as well as on Travis Scott's track "goosebumps."
Danny Keyz
Appears on: 1. BLOOD., 13. GOD.
Real name: Daniel Tannenbaum
Profession: Producer, Instrumentalist
Origin: Los Angeles, California
Danny Keyz is a producer, instrumentalist and vocalist who is signed to Dr. Dre's Aftermath records and is closely associated with DJ Khalil. He's contributed to songs from Drake, Eminem, Emile Hayie, BJ the Chicago Kid, Aloe Blacc, RZA, Cypress Hill and more. His most well-known musical contribution is perhaps playing the piano on Dr. Dre's 2010 "comeback" song "Kush" featuring Snoop Dogg and Akon. He is listed as composer on two of the tracks on Kendrick Lamar's DAMN., "BLOOD." and "GOD."
DJ Dahi
Appears on: 3. YAH., 6. LOYALTY., 9. LUST., 11. XXX., 13. GOD.
Real name: Dacoury Natche
Profession: Producer, DJ
Origin: Inglewood, California
DJ Dahi started his music career off by DJ-ing in college. After getting some buzz for producing for like Pac Div and Fashawn, Dahi got his first big break through Dom Kennedy's "My Type of Party," off of his mixtape The Yellow Album. Since then, he's produced/co-produced on ScHoolboy Q's "Sexting" and "Hell of a Night," Kendrick Lamar's "Money Trees," Drake's "Worst Behavior," and three tracks on Dr. Dre's Compton: A Soundtrack. He's also produced for Lily Allen, Freddie Gibbs, Lupe Fiasco, Vince Staples, Mac Miller, Travis Scott, Vic Mensa, Big Sean, Tinashe, Logic and more. Dahi has five composer credits on Kendrick Lamar's DAMN.
Greg Kurstin
Appears on: 10. LOVE.
Real name: Gregory Allen Kurstin
Profession: Producer, songwriter
Origin: Los Angeles, California
Greg Kurstin is associated with releases that have altogether sold over 60 million albums internationally. In 2017, Kurstin won Producer of the Year at the GRAMMY awards, and has been nominated for ten awards. On top of writing, producing and playing most of the instrumentals on Adele's 2015 single, "Hello," Kurstin has also worked with Sia, Beck, Kelly Clarkson, Pink, Tegan and Sara and more. Not only does he play keyboards, guitar, bass and drums, Kurstin also engineers and programs the music he produces. Kurstin previously worked with Kendrick Lamar on Sia's song, "The Greatest."
James Blake
Appears on: 4. ELEMENT.
Real name: James Blake Litherland
Profession: Singer, songwriter, producer
Origin: Enfield, England
James Blake is known for his uniquely soulful and experimental take on electronic music. The UK artist dropped his first project, titled Air & Lack Therof in 2009, which got the attention of BBC Radio 1 DJ Gilles Peterson. After releasing two more EPs and placing second on BBC's Sound of 2011 annual poll, he dropped a self titled album. In 2013, he released Overgrown and in 2016, The Colour in Anything. Although Blake has never worked with Kendrick before DAMN., the London singer-songwriter has collaborated with rap and R&B's biggest names like Drake, Beyonce, Frank Ocean and Travis Scott. Although he's been nominated at the GRAMMY and BRIT awards several times, he has yet to win either awards.
KAYTRANADA
Appears on: 9. LUST.
Real name: Louis Kevin Celestin
Profession: Producer, DJ, songwriter
Origin: Montreal, Quebec via Port-au-Prince, Haiti
KAYTRANADA started DJ-ing at age 14 and making beats at 15 with FL Studio. At 18, he began his career under the moniker Kaytradamus. After dropping two projects under that name, the Montreal producer officially changed it to KAYTRANADA in 2012. In 2014, KAYRA signed with XL Recordings. His debut album, 99.9%, was released in 2016, featured artists like Craig David, Syd tha Kyd, Anderson .Paak, and received widespread acclaim. The producer has released thirteen projects and 41 remixes in total. "LUST.," which also features frequent collaborators BADBADNOTGOOD, will be KAYTRANADA's first collaboration with Kendrick. According to the producer, he will be singing with Auto-Tune on the track.
Mike Will Made-It
Appears on: 2. DNA., 8. HUMBLE., 11. XXX.
Real name: Michael Len Williams II
Profession: Producer, songwriter
Origin: Marietta, Georgia
Mike WiLL Made-It got his first big break for getting Gucci Mane to rap on his beats in 2011. After developing a close relationship with the Atlanta rapper, he then went on to produce for other artists like Future, 2 Chainz, Meek Mill, Rick Ross and more. In 2012, Mike produced "Bandz a Make Her Dance" and co-produced "Mercy." He has also worked with Rihanna, Rae Sremmurd, Lil Wayne, Big Sean and more. He is the CEO and founder of EarDrummers Entertainment, which houses artists such as himself, Rae Sremmurd and Two-9. "HUMBLE.," the lead single of DAMN., is Mike's fourth collaboration with Kendrick Lamar. He will contribute to two other tracks on the project.
Riera
Appears on: 4. ELEMENT., 13. GOD.
Real name: Ricci Riera
Profession: Producer
Origin: Los Angeles, California
You might not be immediately familiar with Riera's name, but you'll definitely be familiar with his music. When he was part of the production crew and creative collective THC, he helped produce songs like Kendrick Lamar's "m.A.A.d city" and ScHoolboy Q's "Collard Greens." Riera has since gone solo to produce more well-known work, such as Drake's "U with Me?" and Travis Scott's "sdp interlude." is featured twice on Kendrick Lamar's DAMN., on "ELEMENT." and "GOD."
Rihanna
Appears on: 6. LOYALTY.
Real name: Robyn Rihanna Fenty
Profession: Singer, songwriter, model, actress
Origin: Saint Michael, Barbados
As one of the biggest pop stars of today, Rihanna needs no introduction. The Barbadian singer got her start in the music industry through recording demo tapes under the guidance of Evan Rogers in 2013. She captured the attention of JAY Z after an audition and got signed to a recording contract with Def Jam Recordings. Eight albums later, RiRi has become one of the best-selling artists of all time. She has sold over 230 million records worldwide, surpassing more than 100 million Gold & Platinum song certifications. She also has gotten 14 No. 1s on the Billboard Hot 100, the third most in the chart's history. Rihanna has never collaborated with Kendrick before DAMN.; "LOYALTY." will be their first song together.
Sounwave
Appears on: 3. YAH., 4. ELEMENT., 5. FEEL., 6. LOYALTY., 9. LUST., 10. LOVE., 11. XXX., 13. GOD.
Real name: Mark Spears
Profession: Producer
Origin: Compton, California
Sounwave is undoubtedly one of Kendrick Lamar's most trusted producers; his name appears eight times on DAMN. Alongside Tae Beast, Dave Free and Willie B, he is part of the LA-based production crew Digi+Phonics, which currently serve as the main in-house producers for TDE. Along with Kendrick, Sounwave has also worked extensively with other Top Dawg members like Jay Rock, ScHoolboy Q and Ab-Soul since 2009. Spears got his first big break working with Carson, California rapper Bishop Lamont. Anthony "Top Dawg" Tiffith was originally unimpressed with Sounwave, but after sharpening his skills, Tiffith was taken aback by the improvement. Sounwave has produced some of Kendrick's biggest hits, like "B*tch Don't Kill My Vibe," "m.A.A.d. city", "A.D.H.D" and more.
Steve Lacy
Appears on: 7. PRIDE.
Real name: Steven Thomas Lacy-Moya
Profession: Singer, songwriter, producer
Origin: Compton, California
The youngest contributor to DAMN., 18-year-old Steve Lacy is a self-taught guitarist, bassist, singer-songwriter, producer, and audio engineer. He is perhaps best known as being the guitarist, bassist and one of the producers of The Internet. Lacy joined the band after meeting former Internet member and Thundercat's brother, Jameel "KiNTaRO" Bruner, while in their high school's jazz band. In February 2017, Lacy dropped his debut project titled Steve Lacy's Demo, produced, mixed and mastered mostly with the GarageBand app on his iPhone. It will be Lacy and Lacy's first time working together on DAMN.
Teddy Walton
Appears on: 10. LOVE.
Profession: Producer
Origin: Memphis, Tennessee
24-year-old producer Teddy Walton hails from Memphis, Tennessee, home to legends like Three 6 Mafia, Kingpin Skinny Pimp, Tommy Wright III, Project Pat, Gangsta Pat. He describes his sound to be old-school Three 6 Mafia meets NYC R&B-gospel trio SWV meets Australian psychedelic one-man-band Tame Impala. As of date, his biggest songs are A$AP Rocky's At.Long.Last.A$AP single, "Electric Body," featuring ScHoolboy Q, GoldLink's "Crew," and Joey Fatt's Vince Staples-featured "Farrakhan." Walton has worked with other artists and producers like KYLE., J-Louis, Axlfolie and The NBHD. It will be Teddy and Kendrick's first time working together on DAMN.
Terrace Martin
Appears on: 6. LOYALTY.
Real name: Terrace Jamahl Martin
Profession: Singer, instrumentalist, songwriter, producer
Origin: Los Angeles, California
Terrace Martin was born into a musical family — his father was a jazz drummer and his mother is a singer. As an adolescent, he took up the saxophone and quickly became first chair at the All-State Jazz Band. Terrace captured the attention of Jay Leno, who bought him his first professional horn. After high school, he toured with Puff Daddy and gospel choir God's Property. Since then, he's produced and played on records for prominent artists like Stevie Wonder, Snoop Dogg, The Game, Raphael Saadiq and more. He's also worked extensively with the likes of Kamasi Washington, Lalah Hathaway, Robert Glasper and Thundercat. Martin currently produces albums for his mentor Herbie Hancock. He has worked on all of Kendrick Lamar's albums since Section.80.
Top Dawg
Appears on: 1. BLOOD., 3. YAH., 6. LOYALTY., 7. PRIDE., 10. LOVE., 11. XXX., 13. GOD.
Real Name: Anthony Tiffith
Profession: Founder and CEO of Top Dawg Entertainment
Origin: Carson, California
The only person on this list who isn't a musician or artist, Anthony "Top Dawg" Tiffith is the founder and chief executive officer of Top Dawg Entertainment. Tiffith began managing producers in 1997 and in 2003, founded a 15-year-old Kendrick Lamar and signed him after seeing strong potential. It wasn't until 2005 when the label began gaining success with Watts rapper Jay Rock. Under his guidance, TDE has amassed nine artists in its roster: Kendrick Lamar, Jay Rock, Ab-Soul, ScHoolboy Q, Black Hippy, Isaiah Rashad, SZA, Lance Skiiiwalker and SiR. TDE also boasts an lineup of in-house producers like Axlfolie, Ricci Riera, Sounwave, THC and more. Top Dawg is featured on seven of the tracks on DAMN.
U2
Appears on: 11. XXX.
Members: Bono, The Edge, Adam Clayton, Larry Mullen Jr.
Type: Rock band
Origin: Dublin, Ireland
Today's generation might not know about U2 and the enormous impact the group has had in pop and rock music. Initially rooted in the post-punk sound when formed in the mid '70s, the crew eventually grew to being one of the biggest rock-pop band in the world with their signature anthemic sound. With 13 studio albums under their belt, U2 has sold over 170 million records, making them one of the highest-selling artists in music history. Since 1979, U2 has embarked on 15 tours, many of which are sold-out worldwide stadium tours. Bono, the band's frontman, is estimated to have a net worth of $600 million USD; the groups collective wealth is estimated to be $672 million USD. How U2 will sound on Kendrick's new record, however, will only be revealed with time.
Zacari
Appears on: 10. LOVE.
Real name: Zacari Pacaldo
Profession: Singer, songwriter
Origin: Los Angeles, California
Zacari Pacaldo is an independent artist who has worked with Soulection and Dreamcity Records. Specializing in the soul, blues and electronic music genres, the 23-year-old resides in Koreatown and attended The Musicians Institute in Hollywood, California. He's got special ties with TDE, having worked with rappers like Kembe X, Ab-Soul, Isaiah Rashad and Kendrick Lamar, and producers such as J-Louis, NGHTMRE, DrewsThatDude and Josh J. Zacari is one of the three listed featured artists on Kendrick Lamar's DAMN., alongside Rihanna and U2. Expect his career to take off after the release of K-Dot's album.