EXCLUSIVE: Introducing Astronautica's Desert Love Story for "Palm Springs"
We premiere the video for her 'Gemini' cut "Palm Springs" and speak to her about the visual aspect of her sound & more.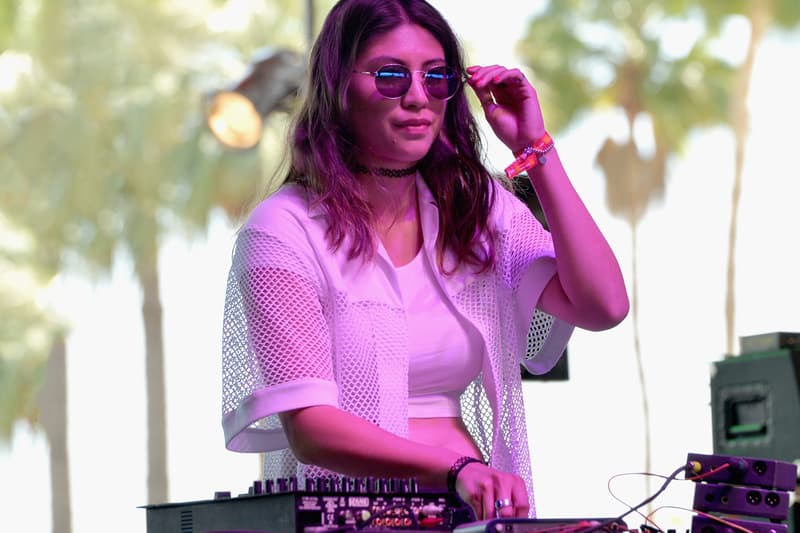 On Gemini, the album multi-talented California musician Astronautica just dropped on underground institution Alpha Pup, the 24-year-old presents a sonic voyage through slow-churning swaths of melodies and emotions. The entire experience is billed as a "love story" that's personal to Astronautica herself and should be something most of its listeners can connect to in their first listen. For its first visual, Astronautica is hoping to add a visual that perfectly fits the project. Taking on album cut and standout "Palm Springs," the Alpha Pup and HW&W affiliate is delivering a narrative that's born out of the Gemini story and expresses the LP's themes and tales without even streaming it. Linking up with Astronautica as she made her way out to the revered trade show NAMM, we spoke to her about her beginnings as an attendee of L.A.'s electronica mecca Low End Theory, her new album, the video for "Palm Springs" and more. You can check out the "Palm Springs" vignette above.
You're part one of the few labels that really helped create and shape LA's influential modern electronic scene and the beat scene in general. What sort of effect did that culture's epicenter Low End Theory have on you?
The beat scene is what inspired me to make my own music. I was a big fan of Flying Lotus, Nosaj Thing, Tokimonsta, Teebs, and seeing how the scene grew and how Low End Theory was their hub and was so central to all these artists was really inspiring.
I just performed at Low End theory and I've been going for maybe five years now and just seeing how there is still a new crowd and new generation going shows how it has really effected the whole electronic scene. It's cool to see that it still holds a super important role in music scene today.
Your new album 'Gemini' has a sound different from a lot of the music being pushed through the LA scene in the moment. On 'Gemini' did you intend to have a sound that was different from your contemporaries?
While I was making the album, I kind of shut myself off from other types of music because I wanted to make my own sound. I didn't want to be too influenced by what other people around me were making. I really focused on, "okay, what is it that I like and what genres of music do I pull inspiration from," and a lot of it was that.
One my biggest goals for this record was to use my own voice and sing on it. I wanted to sample my own voice instead of using other acapellas or vocals. So, I did a lot that on this album and it all just came together. I feel like the album has a lot of the genres that are part of my heritage like R&B, house, indie rock, electronic music. I pulled inspiration from all of those genres to make a fluid sound on this album.
Do you think it helps an artist create their own voice when they shut themselves off from a lot of current music?
I know for me it does. I'm the type of person where if I hear something I really like I'm like, "that's tight, I want to go and try do this," but I get frustrated if I can't or it doesn't come out like how I want it to sound. So, in order for me to focus on getting to the type of creativity I want, I need to shut down. The way my process is, I kind of have to shut myself off from what I listen to. I'll create a song and listen to it back and forth until I'm sick, just to make what I'm creating and put my heart into is something I'm really proud of afterwards. But, it's also good to listen to who you were originally influenced by, because you kind of find your own sound in that. Pulling inspiration and sound from that, you create your own sound.
Speaking of that process, how did this new album come about? What is it something you forced yourself to sit down and work on or did it just sort of come together over time?
It came to me over time — I think it took me about two years to really finish it. I was still in school – I finished up in 2014 — and all throughout that time I was working on this album part time and trying to complete it. But, I did finally kind of sit myself down and look at the body of work I had and see what I felt was gonna enough to be put on the album, then go back and finish those songs. It was definitely a process — I took my time with this one because I wanted it to be the best.
With the songs that made the album, did they make it because they fit a specific narrative that you wanted to put together?
For the album, it was a chapter in my life and I wanted to tell that story and I wanted there to be an narrative. It's kind of a love story; it's about finding love, losing love, and finding it again. It relates to me as well as a lot of people, and I think that's an experience people go through in some point in their lives. I want it to be relatable to listeners, and I feel like I'm letting them in on a little part of my life by vocalizing that.
For the "Palm Springs" video, was there anything in particular you were trying to express to the viewer and what inspired the shoot for it?
With "Palm Springs," the song is really about breaking away from everything and having a getaway. For me, Palm Springs is that place. I have such a romanticized idea of Palm Springs, I've been going there ever since I was a kid. To me, Palm Springs is the place to get away from it all and be with the person you love and spend time there. The desert is such an inspirational place for me; it's this very majestic place to me, and I really wanted to exemplify that in the song. I went to Palm Springs five times or so in 2015 while I was making the record, and my whole album art is inspired by the color palettes I saw out there.
The music video we shot in Palm Springs, and the director took on his own approach with the lyrics. It's kind of just me, alone in Palm Springs, singing about this person I want to be with but who isn't there. I'm really excited about it, we got some very cool shots.
Why is it that Palm Springs has such a positive, motivational effect on you?
It's just a place I like to go to for inspiration. I think the desert as a whole — being such an open, vast environment — is almost like an awakening. And, I think that's good for my creative process to break away from the norm. Every time I leave the desert, I'm always coming home inspired. I just have so many positive emotions going to Palm Springs, just because every time I've gone I've had such great experiences. It's a little oasis in the midst of the desert. That whole aesthetic effects mine and is very similar to my own and the things I like. I would say a good amount of songs on 'Gemini' are inspired by that.
How important is the visual aspect of your sound to you?
I think it's really important. This is going to be the first album that really has a visual aesthetic to accompany the music. It's great, because it gives me another outlet to express myself and my vision for the album. It gives the audience a new sense: you're not just hearing it, you're seeing it. I think the visuals really tie the album and its story together. I was really trying to go for consistency in everything — especially the color palettes, I'm really big on color right now. So, I think the visual aspect will compliment the music well.
Are there any other songs from this album that you plan to turn into a video soon?
We're thinking of turning "*69" and "Falling For You" into videos. Both of those songs share the same vibe as "Palm Springs," and I think it'll be a good way to tie it all in together.