Banksy Raffles Dismaland Sculpture in Aid of Refugee Support
Visit the Choose Love store in London or New York City.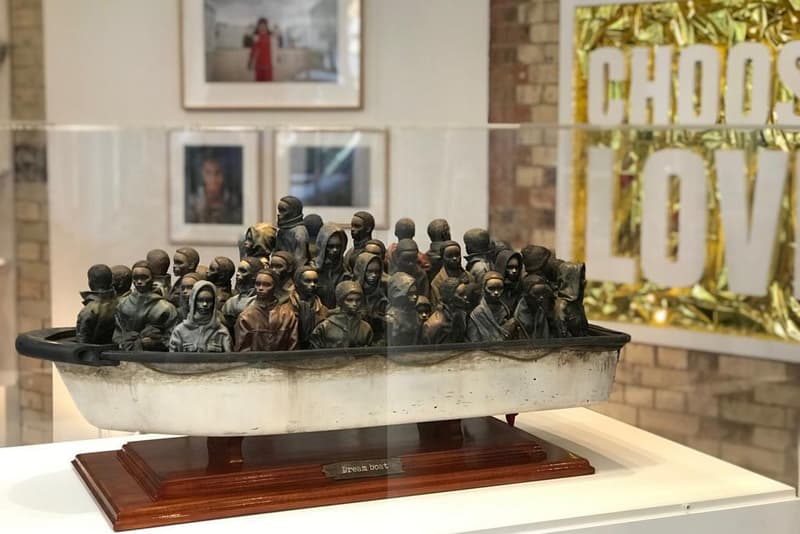 Banksy has teamed up with Choose Love to raffle a Dismaland boat sculpture in aid of refugee support services. For a chance to win the sculpture, visit Choose Love's website here and guess the weight of the boat. In addition, you can shop the store's selection of products to donate to refugee support.
Opening pop-ups during the holiday season in both New York and London, Choose Love invites visitors to shop from a selection of products and services that will help refugees at home and abroad. Products range from solar lamps and women's services to emergency blankets, legal aid and school bags. Each purchase goes toward a similar item for a refugee and is distributed through partners across the US, Europe, and the Middle East.
The Dismaland boat sculpture will be on display in the London store and also available to enter the raffle from the New York location. Visit either store below:
CHOOSE LOVE NEW YORK
Address: 456 West Broadway, Soho, New York, NY 10012
Opening: 28 November 2018
Closing: Christmas Eve 2018
Hours: Monday – Saturday 10am – 9pm, Sunday 11am – 6 pm
CHOOSE LOVE LONDON
Address: 30-32 Fouberts Place, Carnaby, London, W1F 7PS
Opening: 23 November 2018
Closing: 31st December
Hours: Monday-Saturday 10am – 7pm, Sunday 11am – 6 pm