Best New Tracks: N*E*R*D, Skepta, Flying Lotus, Lil B, 21 Savage, Travis Scott, Metro Boomin and More
The hottest releases from the first week of November.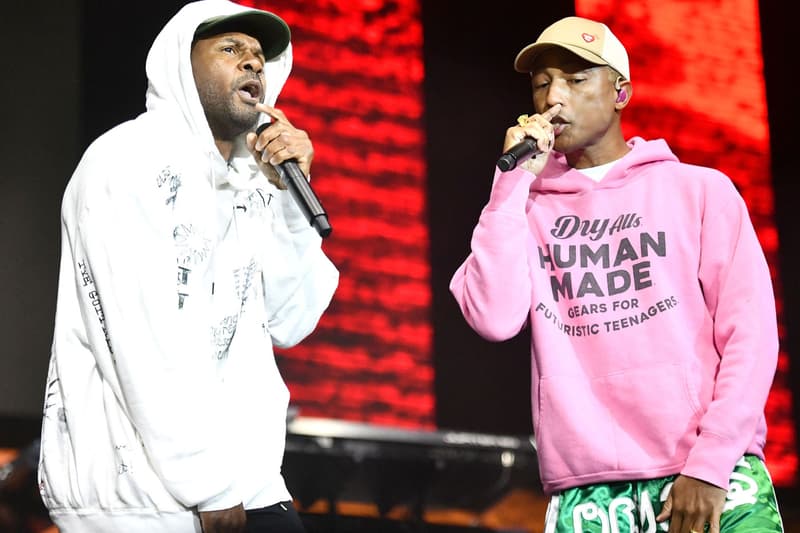 The first week of November proved to be the time of choice for surprise releases this year. On Halloween alone, we saw respective full-length drops from Skepta, Kodak Black & Plies and 21 Savage Offset & Metro Boomin amongst others. This week also saw the long-awaited return of N*E*R*D who announced a new album along with the project's first single, "Lemon." In addition to the music headlines, French Montana announced he'll be dropping a joint album with A$AP Rocky that will be reaching us "real soon" during an interview this week.
On the note of Rocky, fans saw the beloved Harlem-rapper play the role of peacemaker in front of thousands when he made two fans hug it out after the two concertgoers were spotted beefing in the crowd. Meanwhile, Travis Scott was also amongst the crowd himself when a fan captured him losing his mind after the Houston Astros' World Series win earlier this week. Not to mention, La Flame also appeared on what may be the hardest track off the surprise 21 Savage, Offset, Metro Boomin album that was apart of our roundup below. Check out our entire music roundup below and let us know what you think in the comment section.
Skepta featuring Lil B – "Sit Down"
For Skepta & Lil B, things come full circle. The grime king linked up with Lil B on a hard-hitting new track after showing his support to the Based God following the infamous Rolling Loud attacks. The song also comes as part of Skep's newly released surprise EP, Vicious that dropped earlier this week that also features Section Boyz, A$AP Rocky and A$AP Nast.
Flying Lotus – "Post Requisite"
After spending most of the year promoting his new surreal horror film Kuso, the beloved LA-based experimental sound maestro made his return with a new video-single this week. Titled "Post Requisite," parts of the song were leaked back in 2015 during an episode of his BBC Radio 1 residency but now with the full version available, you can fully enjoy all the magical soundscapes from FlyLo below.
21 Savage, Offset, Metro Boomin & Travis Scott – "Ghostface Killers"
Without warning (no pun intended), 21 Savage, Offset and Metro Boomin surprised fans with an unexpected surprise release of a new collaborative project, Without Warning, after teasing it moments earlier on Monda morning. The album produced entirely by Metro Boomin and as you would expect, it's bangers after bangers — especially "Ghostface Killers," the opening track featuring 21 Savage, Offset and Travis Scott, listen below.
N*E*R*D featuring Rihanna – "Lemon"
Following N.E.R.D. posters sightings around spotted around Los Angeles this week, the iconic music trio finally made their return this week with a new single, "Lemon." The frenetic high-energy cut also came accompanied with a video starring Rihanna, who also serves as the song's featured guest. Listen and watch below.
T-Shyne & Strick – "Goin' Viral"
After a year filled with impressive single releases, Young Thug's up-and-coming YSL cronies, T-Shyne & Strick, showcased their collaborative efforts on a new banger this week titled "Goin' Viral." Just as the song title suggests, track finds both rappers exchanging verses about getting their rep and chasing that almighty dollar all while not letting any adversaries get in their way. Listen below.
Gorillaz & Little Simz – "Garage Palace"
Don't be surprised if Gorillaz drop an unexpected new album in the coming weeks. On Halloween, Damon Albarn and his animated musical misfits shared a new single with Little Simz called "Garage Palace." The song debuted on Zane Lowe's Beats 1 Radio show where Albarn also unveiled during their interview that he intends to release another track known as "Hollywood" and hinted at a Gorillaz, Flume and Mike WiLL Made-It collaboration. Stay tuned, and for now, listen to "Garage Palace" down below.
Lil Wop & Trippie Redd – "IN A DAZE"
Not to be forgotten, young rap up-and-comers Lil Wop and Trippie Redd also joined Halloween release club with new project of their own called, Angels & Demons. The short-but-sweet DigitalNas and 4point0Lehgo-produced compilation arrives with five tracks, including fan-favorite "IN A DAZE." Stream below.
Big Sean, 21 Savage & Metro Boomin – "Pull up N Wreck"
Big Sean and Metro Boomin dropped off their latest track collaboration this week and although 21 Savage was not mentioned in the teasers posted by the Detroit rapper and the super producer, The Slaughter King also has a verse on the track. You'll be hearing this one on rotation for months to come, stream below.
CyHi The Prynce & Kanye West – "Dat Side"
CyHi The Prynce uncovered new Kanye West-featured track this week, the first sighting from Kanye since his last release Mary J. Blige back March of this year. The track itself features a piano-led beat, with a hook telling "all the haters stand on dat side." For Kanye's verse, the rapper takes on everything from the success of YEEZYs ("YEEZYs in the field now / Made it to the NBA, we in the NFL now") to being the only African-American in his neighborhood ("Moved into a neighborhood where I'm the only black guy / Neighbors said they think I give the neighborhood a black eye"). Listen below.
Xavier Wulf & Bones – "CrashLanding"
Following the release of his 16-track Failure project, Bones reconnects with his TeamSESH brother-in-bars Xavier Wulf for the new "CrashLanding" video-single. Both artists have mastered a multitude of styles over the past few years, and they're getting sharper with time. When it comes to the HollowSesh family, you would be hard-pressed to find a more influential and active movement in the contemporary rap underground. Listen and watch below.
Be sure to check out our previous music roundups for the best drops of weeks past.