ALLBLACK & Kenny Beats Debut "Blitz" & Discuss Their '2 Minute Drills' Project
"ALLBLACK is one of those timeless artists."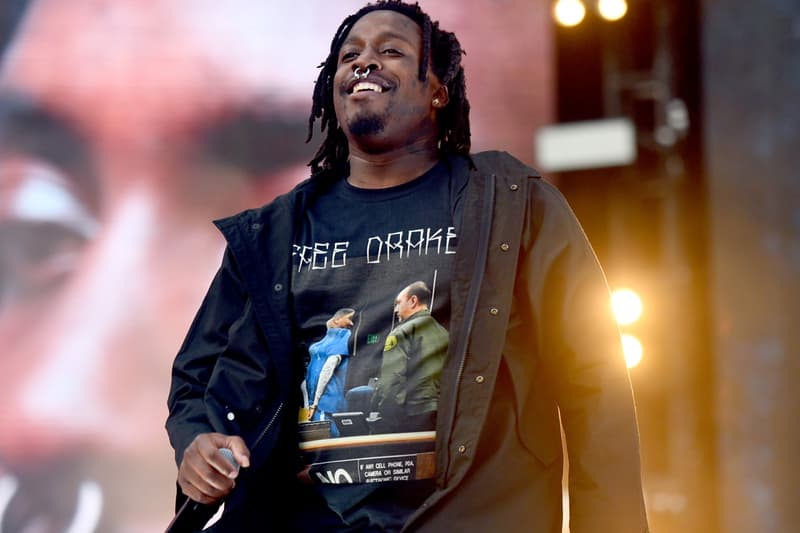 Towards the middle of last month, ALLBLACK and Kenny Beats revealed plans for a new collaborative project titled 2 Minute Drills. The pairing introduced the effort with a video for its lead single, "John Madden 2," the sequel to ALLBLACK's Noshame 2 standout "John Madden" and one of seven tracks on the aforementioned EP. Now, ALLBLACK and Kenny Beats are back with another taste of 2 Minute Drills, "Blitz."
"ALLBLACK is one of those timeless artists and one of those timeless people," Kenny Beats tells us. "There's no one like him; there's no one that sounds like him; there's no one that looks like him. You can't pull his card. There's no one I have showed his music to him that doesn't get it, whether they listen to this type of music or not, and I think this [ALLBLACK's music] is how Oakland really regains its title in the radio and the rap hierarchy."
"We're the old Warriors baby!" ALLBLACK adds. "'06 'Tell Me When to Go,' we need the whole city behind us. It's real, we not playing. It's a f*cking film! We on."
You can stream ALLBLACK and Kenny Beats' new "Blitz" record and check out an exclusive Q&A with the two artists below. 2 Minute Drills is scheduled to hit streaming services and similar platforms on November 1.
How did you two link up?
Kenny Beats: I remember five or six of my best friends playing BLACK's music over the space of two months, and just being like, "you got to reach out to this kid." Eventually, I think Mike [Michael Power, Kenny Beats' manager] talked about with Ari from EMPIRE, and me and BLACK got in one time and made one song. Everybody in the room was just looking at each other; it didn't sound like nothing I had done or he had done. We've just been moving since then.
ALLBLACK: Kenny turned my savage up so bad. He got me walking with my chest out, he got me turnt up, man. I was maxed, but I wasn't turnt up as I am now. Kenny doctored the f*ck out of my flow, he doctored my whole shit. Every bar, every hook, every f*cking verse! I never recorded like that ever.
ALLBLACK definitely has a very strong flow and energy.
Kenny Beats: A lot of artists in California record very different compared to artists from Atlanta, artists from Chicago, artists from Texas. It's a very normal practice in California to punch your whole verse in one take, or half your verse in one take. Especially with someone like BLACK: if you've ever heard any song from him, you know he has a lot of personality, he has a lot of shit to get off his chest, and he says it with a lot of power and force. In my opinion, if he's trying to get 16 bars out as strong as he trying to get them out, there's no way he can put the focus on every sentence in one try the way he could if he slows himself down and gives me each bar as it is.
He has so many different ways he can say something or get something across, and his bars mean so many different things — there's so much humor and seriousness in them. I just try to tell him, "think about what you're saying. Say what you mean the way you're saying it. If you're asking a question, ask a question! Your voice should go up." He does these things in conversation, it's not like I'm telling him to be something he's not. Get your personality on paper.
That's an interesting point you touched upon as far as recording and song structure goes. Can you sort of explain the technical process behind working with someone like ALLBLACK versus someone else from California?
Kenny Beats: I engineer and record and mix and produce every song I do. I don't have an engineer, I don't have anyone who does my vocal for me. I do that for a reason, because when it comes to someone like BLACK, 03 Greedo, Vince Staples, Shoreline Mafia or Dom Kennedy, these are all California artists who have completely different sounds, beats, styles, settings they like on their voice and all these different things. The one thing they have in common: everybody tries to record these big chunks of their songs, whereas if you've ever been in studio with any artist from Atlanta — Hoodrich Pablo Juan, Gunna, Young Thug, Future or anyone like that — they're punching in bar by bar. They're writing it that way, and they're recording it that way. They're going in there and saying one sentence as clear and perfect as they can say that sentence, then they think about the next sentence for a couple minutes or seconds or whatever, and put the next sentence down. BLACK gets his whole verse ready in his head before he even steps in that room next to the microphone; he knows exactly what the whole song is, what it's about, what the video looks like and all of that. Some artists don't. I'm making him record like he's freestyling, I'm making him record every single sentence, every single piece, bit-by-bit. I want people to really feel what the f*ck he's talking about.
ALLBLACK: You just made me so happy. Is this what you've been doing with me the whole time? I never knew this the whole time. I'm like, "oh my god." I'm thinking about it like, "that's why I'm gassing?" I needed that shit. It's easy to let these motherf*ckers play with you out here. I'm with Kenny, and he's going harder! He's telling you this sh*t, he's giving it to you. I'm like, "alright, it's a movie."
Is that why we hear that sort of pitbull-like intensity with the flow on this project?
ALLBLACK: Yes! It doesn't matter if you have ADHD, no one gives a f*ck! You not about to be that turnt up if you not in there [the studio] getting that love. I get love in that bitch — it's just me and Kenny in that motherf*cker. The last time, I brought hella demons in there and Fenix from Shoreline Mafia, that's it. Kenny don't even let motherf*ckers come to the session, it's out. You can't even hop on a track if you're not gassing. If he not f*cking with your music, you not going to that shit.
Kenny Beats: I don't sell studio time, I don't sell beats, I don't do any of that. I specifically just invite people who I f*ck with, period. There's no, "oh, this person's hot right now; this person has a big budget; this person wants to work with you and they have a verified check." It's none of that. All I care about right now is 2 Minute Drills. If you like what I like and think my production's good, this is what I'm paying attention to, period.
Even beyond BLACK, he's putting me on to the next thing I'm paying attention to, because he's such a tastemaker. He'll just tweet a lyric or sing something in his story, and I'll text him like, "what the f*ck is that? What are you listening to?" He'll be like, "oh, you don't know BandGang? You don't know GT? You don't know Sada Baby? You don't know Drego and Beno?" I'm like, "who?" It'll be ten names! BLACK was doing this to me since the day he met me.
It's different when a rapper has talent, but when they have talent and listen to everything else too, it makes for something kind of special.
Kenny Beats: I think the two best kind of rappers are the ones who can see the good and appreciate everything, or only listen to themselves; BLACK is half-and-half, he's both of those.
ALLBLACK: You know me Kenny, I never play my music, but 2 Minute Drills? Oh my god!
With this project and this sort of chemistry, how did you two narrow the amount of songs you guys recorded to this list?
Kenny Beats: There are no other songs that we have made except for the songs on this project. He came to my studio, and every time we made one  song. At a certain point, they were like, "ya'll need to drop." So we're dropping [laughs].
ALLBLACK: It's just enough. I don't have to go in there and go for 10 songs and then we narrow it down. That shit dead. That's damn near torture too; how you gonna beat the dice up making all those songs?
Kenny Beats: We have no throwaways, there's no extras. I made pretty much every beat for BLACK and on the spot or while he was on the way there. Every single time we've hung out, we made like one song. He came the other day — after we made a video all day — and we made super Detroit shit with Fenix from Shoreline and Geechie. I sent it to Drego, and he's like, "man bro, you applying pressure over there!" We just keep going and everything we make is gas. There's no brakes. We might as well just give everybody everything.
ALLBLACK: There's so much energy in that bitch. Why play?
Kenny Beats: This has been a priority to get to the finish line, because we've been so excited about the music since day one. Since day one, the energy has been so different than anything else I've been working on. It was just more exciting for me than anything I've done all year. Now, this whole Detroit and California bounce is one of the main things I'm studying and focusing on.
ALLBLACK is definitely one of those artists who captures where that sound is at now, but evolves it too.
Kenny Beats: I met Vince Staples for the first time a couple months ago, and we started working on music. I was trying to flex, playing him all kinds of different artists and songs. He didn't give a sh*t about anything I played him — he just wasn't that impressed. I put on one ALLBLACK song, and he started grabbing his homie's arm, started making me rewind it, making me play it back! "Bro, you heard what he said?! You know what he's talking about, right?!" He was explaining bars to me, on songs I did with BLACK. From there, I'm pretty sure that's why me and Vince got cool and ended up making music. He heard what I made with BLACK, and he felt how authentic and crazy that music was. I was playing so much other shit from so many different people and all these big names, and he kept on going back to ALLBLACK's shit. That said a lot to me.
Lastly, what are you both working on right now and are planning to drop next?
Kenny Beats: I got a bunch of music with Vince Staples coming out this week. I'm working on a full project with Q Da Fool. I have some new shit with Rico Nasty about to drop, and new shit with Key! about to drop. I'm trying to figure out what's going on with my 03 Greedo project.
ALLBLACK: I just did some shit with Future, I just did some crazy shit. It's gonna be a demon. The beat is made by Metro Boomin.
I got hella shit: my whole gang and the Play Runners Association; Rexx Life Raj, I did some shit with him; please look out for Offset Jim, he's a f*cking demon; you got Prada Mack, you got Geechie, you got Offset Jim. Be on the look out for Play Runners Association.