Pollari Is the Latest Rising Rap Star from Atlanta You Need to Know
We premiere his latest EP 'OFFWITHHISHEAD,' featuring Metro Boomin and Father.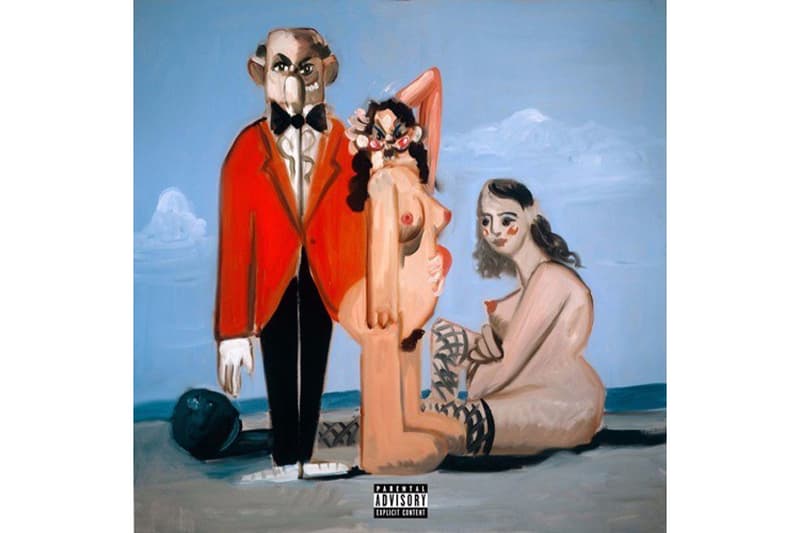 You may not have heard of Pollari just yet, but we're willing to bet you'll soon be familiar with the name. The Atlanta rapper will readily admit that he's fairly new to the rap game, but didn't waste anytime diving in head first: his very first song was a collaboration with Playboi Carti back in 2014, and its only been uphill from there. His latest offering, the six-track EP OFFWITHHISHEAD — which we are premiering on HYPETRAK today — sees Pollari collaborating with younger producers as well as some industry heavyweights: Awful Records' Father is one of the features, and two of the six tracks are produced by none other than Metro Boomin. We caught up with Pollari to chat more about the project and what else he has going on for 2016. Read on for our Q&A, stream OFFWITHHISHEAD above and stay tuned to Pollari's SoundCloud for more material from this promising young artist.
How would you describe your music?
Personal; my music is very personal and a wild reflection of me. I came up listening to lots of Kanye and old R&B shit, then a lot of more street and Atlanta-based shit when I got older. It comes out at different times in my work; it's me.
What are your thoughts on rappers borrowing the Atlanta sound?
I feel them. I don't necessarily respect people from other regions copying a sound that they have never lived or been through to sell records, but I feel them. Our whole industry is copy and paste now, and with Atlanta being the new center of attention it's only natural. Our sound comes from our lives, what we see, how we move and interact. They can try and replicate it as much as they want, and some will do it well, but it'll never be the same.
Atlanta is known as a hotbed for music; are there any other cities that you think are buzzing right now and why?
Toronto; that's about it. The good thing about TO are the support systems. Guys at the top still show love and support to the ones coming up, and since the old heads there are connected to the streets and times, they still know what's relevant and going on.
Tell us about the producers and features you have on your new project.
So for this project I wanted to keep it as organic and intimate to Atlanta as I could. I only reached out to work with other artists that I knew personally and some of their extended friends. This may be the last EP I release 100% independently for a while, so I wanted it to feel like a real Pollari project.
I worked close with a young producer named Senseiatl, who produced "Shining" and "Lil llari" with his production group, Larry League. I also had the privilege to work with one of the best, a friend of mine Metro Boomin on "Roxanne" (with Father) and "Missing!" The last producer I worked with on OWHH was HurtboyAG, who I met recently when I moved to LA.
---
---
How is your working relationship with Metro Boomin? How did you guys connect?
Metro and I met like late 2014 in Atlanta at his studio. I was still doing a lot of stuff in fashion then. We met on some clothing business, over a few BAPE pieces and Saint Laurent denim. When we met I had just begun my plunge into music and he helped me out even though I know I had to be bloody annoying. My first song produced with him was "FeFe" with Playboi Carti from Awful Records. Metro is huge now though, and he deserves it. Very respectable, very humble, God-fearing dude. He sent me the beats for "Missing!" and "Roxanne" a few months ago, and me and Father took the rest from there.
What's the concept behind this new project and what did you want to accomplish with it?
OFFWITHHISHEAD is a passion project for me. I have a few records out, and lots are doing well, but I wanted a group of work that fully embodied and showed me as an artist and where I am in life. That's why I wanted it to feel and sound like Atlanta, and worked with the people I did on it. Before my album and people see me pushed to my limits, I want them to feel me for me, and know where I came from.
Do you have anything else upcoming in 2016?
Sonya, my debut. I recently just moved to Los Angeles to finish it up with D33J and Shlohmo of WEDIDIT collective and a few other special guys.
Do you have a favorite spot to eat in Atlanta?
King Seafood; shoutout Luhtae.
Any other final words or anything you'd like to add?
Always, be GOOD.