HIDDEN HYPEBEASTS: Phil Tayag Dances His Way Onto the 2018 Grammy Stage
How the Jabbawockeez co-founder ended up dripping heat next to Bruno Mars.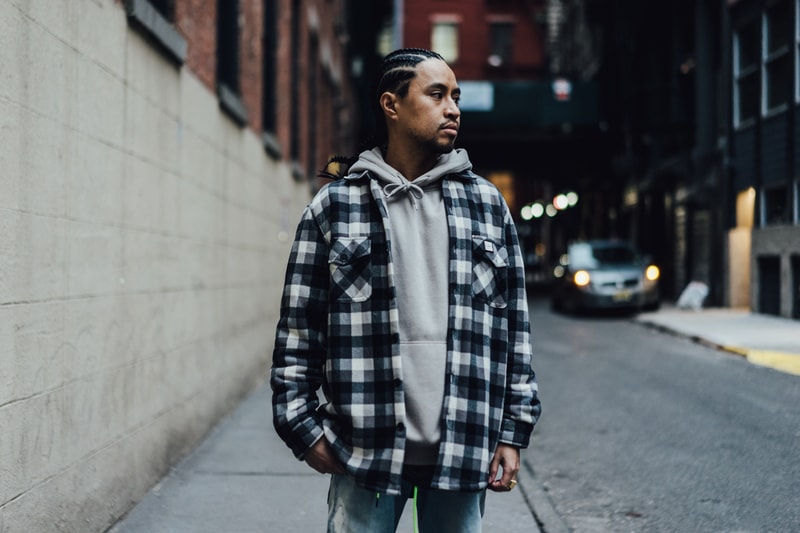 Decades ago before the term "hypebeast" was even born, a niche group of collectors and fans of sneakers, streetwear, and hip-hop culture coexisted and were seemingly a mystery to the rest of the world. These days, it's not hard to find someone who fits that mold in both a positive and negative connotation. What is difficult to find however is someone who works in a profession where stereotypically you wouldn't think of finding someone who fits the mold. And thus, HIDDEN HYPEBEASTS was born — a new series with the goal of seeking out individuals who may not come off as one at first, because of their job or occupation, but truly exemplifies the culture once you peel back the initial metaphorical layer. Today we introduce the CEO, creative director and co-founder of the world famous dance crew, Jabbawockeez, Phil "Swagger Boy/SB" Tayag.
While the Jabbawockeez have been a cultural phenomenon in our space for the last decade, taking off after winning season 1 of America's Best Dance Crew, they have typically danced under the guise of their now iconic white masks. When Tayag hit the stage alongside Bruno Mars at the 60th Grammy Awards this weekend at Madison Square Garden, few recognized the dancer as one of the original founders of the group — much less to be the one who presented Bruno with the idea of wearing so much heat on stage, creating one of the show's standout moments.
Origin Story
The story of the Jabbawockeez has been documented multiple times over the years, but Tayag's tale offers further insight into how a group of close friends and dancers turned a counterculture into a mainstream phenomenon that connected at the core with streetwear, music and dance. Both a dancer/breaker and a rapper as well as streetwear enthusiast, Tayag offered words of wisdom before even starting off his story. "More than dance, more than anything, first and foremost it's always been about communicating, expressing an idea, it's always been more of an outlet," he explains.
Growing up in Sacramento, California, he observed beach street breaking for as long as he remembers and aside from working in a boutique for about five months, never had a job that didn't involve dancing. Acknowledging the origins of the culture from the '70s and '80s, Tayag says the West put its own twist on it: "the boogaloo slide, the popping side and all that, of course we're gonna have our own interpretation of that, and come the '90s is when it became more hybrid, to the point where we were even calling ourselves housers."
The hybrid style of the '90s is what most of us are familiar with when we see Tayag and the other members of the Jabbawockeez perform. "There were b-boy moves, it was hip-hop but there was like freestyle, abstraction, dancing up top, not going to the ground, footwork arms and stuff like that. So there was a transition from '70s with the locking to the '80s b-boying to the popping movement to this house era and then new jack," he describes. The new jack style is also the best way to describe Bruno's style as since it combines elements of swing, soul, funk, pop, hip-hop and R&B.
"Because we were from Northern Cali and so untraditional, we became a style of no styles."
Tayag isn't afraid to tell it like it is, and recounts growing up on the West Coast with candor. "We grew up and we were halfway thugging. We knew the drug dealers or maybe you were one. You weren't in a gang but you were a gang. It was a weird culture because everyone was trying to figure out what they wanted to do, but it was all street culture," he recalls. Tayag adds that dance, like skating, was an early counterculture and he still considers it to be one today. The connection between the overlapping cultures naturally led to the creation of the Jabbawockeez.
Dance & Streetwear, Relatable Countercultures
Linking up and forming a crew with the homies — Kevin "KB" Brewer and Joe "Punkee" Larot, who were part of his Three Muskee crew along with Rynan "Kid Rainen" Paguio from San Diego and Gary "Gee One" Kendall and Randy "DJ Wish One" Bernal from the MindTricks crew in the Bay Area — Jabbawockeez "became the visual to music," Tayag explains. "Because we were from Northern Cali and so untraditional, we became a style of no styles." He mentions Bruce Lee, Rock Steady Crew, and Michael Jackson as sources of inspiration and transitions into talking about how the unique style of their crew was welcomed warmly by fans. "People could've really frowned on what we were doing because we mixed a popping style and then just went on the ground to some b-boy shit and then a choreography-esque style that would be contemporary or new. So it's not traditional and we were doing all of that over some abstract beat by Mix Master Mike or Invisibl Skratch Piklz or DJ Shadow. It got really weird but it was what we liked and what we were exposed to."
During the same time that Jabbawockeez started to gain traction, Tayag also helped founded a side project called "Byterz Will Be Eaten," which was a direct result of people trying to claim they were the Jabbawockeez and copying their every move without contributing anything to the culture. He references the competitive nature of hip-hop for the birth of the term: "It was some hip-hop competitive shit and that's when in '06 I was in bed and felt tired of the biting; it's not like one time with one move, it's the song, it's the concept, with the formula, with all these moves, it was some verbatim shit." This feeling of being copied is not new and is especially prevalent in the streetwear space.
After being in the spotlight for over a decade, Tayag now understands that being part of a movement that presents something new and unique to the world naturally results in everyone and everything wanting a piece of it. As the creative director for his BWBE label, Tayag promotes originality and encourages proponents to add their own twist. "Instead of taking, what are you contributing to it? How are you remixing it instead of just fully cashing out on somebody else's concepts of an idea?" Among Tayag's many ventures, he has discovered that the common bond holding together both dance communities and streetwear communities is music. Artists and producers have influence in starting and ending fashion and sneaker trends just like the backbone of any great dancer is a fire beat to anchor them. And over the weekend, no one was a bigger Grammy winner than Bruno Mars.
Flexing with Bruno Mars
The story of how Tayag ended up on stage with Bruno Mars actually starts five years ago when Mars reached out for the first time to work together on "Treasure." Unfortunately for the Jabbawockeez, they were two weeks into the grand opening of their show at the Luxor — the Jabbawockeez are signed to the MGM family and previously had a residency at the Monte Carlo.
"I was kicking it with him in Vegas at one of his shows and was like this guy is one of the homies. I felt really bad because it was a cool opportunity to collide with a major artist." Two years would pass as Mars went on tour and the Jabbawockeez further grew their team and global shows. Then, when "Uptown Funk" was being produced, Tayag received another call from Mars and the Jabbawockeez would finally get to collaborate with one of the greatest forces in music. From there, the collective would work together on the Super Bowl, "24K Magic," "That's What I Like" and most recently "Finesse."
Before talking about Sunday night's performance, Tayag shouted out Cardi B. "She brought a crazy energy to that thing. She's like everything that people see on social media. She's that way and that's why everyone's rooting for her; she's one of us, she's not one of these entitled people on that Hollywood stuff. Just blunt and unfiltered. I think that's what this new generation is about, they just want genuine people," he says.
The Cardi B shoutout is important because the success and love shown during the Grammys performance was a direct reflection of the genuine bond Tayag and Mars have developed over the years. Tayag started discussing outfits with Bruno prior to the show and said that the sneakers had to bring the juice. "It organically worked out, the fusing of the old and the new. From the cross colors to the ill Air Max 1/97 Sean Wotherspoon and the Prestos and the Jordan 1. We just wanted to be like 'let's flex on them real quick' and felt like it was the right opportunity. I feel like it was epic in that way, there's that sneakerhead in us all and that was a little nod to the homies," he says with a smile.
Sneakers and dancing/b-boying have been connected since the beginning of hip-hop culture but Tayag believes there's still room to grow. "I still feel like dancers have yet to really button up shoes in a particular full-on dance-related way. I guess you can say with the PUMA Suedes and adidas joints you have the flat soles, which makes the gliding look so ill. But people are even breaking in Sock Darts and Frees and even Timbs now," he states. We also get into the topic of how sneakers have become part of pop culture as the sneakerhead trend has fully saturated everyday people.
"It's really, really dope because we're wearing a basketball player's shoe that was meant to be worn on the court and we're turning it into some street stuff. Now we're wearing basketball shoes meant for the court with jeans and everyday wear. Even with skating from Vans and DC and all that we saw the Nike SB come out," Tayag says, still smiling. All this is a product of the internet and the fact that street culture is pop culture. "Street culture in general is a driving force in pop culture point blank," further relaying a message of communication to close out our chat. "You have a bunch of eyes looking at it from different perspectives all critiquing, there are all these communities, and what's dope is we were able to give a nod to hypebeast, streetwear and sneakerhead culture. It's a reflection of right right right now. It was dope to be in sync and fire off a cool, strong vibe."
"More than dance, more than anything, first and foremost it's always been about communicating, expressing an idea, it's always been more of an outlet."
Phil Tayag and the Jabbawockeez have blessed pop culture with their unique and "weird" style for over a decade and while at times Tayag took on the persona of the man behind the white mask, on a Sunday night in New York City's world famous Madison Square Garden arena, he gave a cosign to the culture alongside fellow dancer TJ Lewis and the extremely talented Bruno Mars. There's a chance you may have heard of Phil Tayag aka "SB" before today but now you know how a boy came up with his friends from NorCal, grew into men to create a global phenomenon and glided their way across the biggest night in music.