Going With The Flow: A Conversation With Goldlink
The dance-rap innovator is just doing what's natural.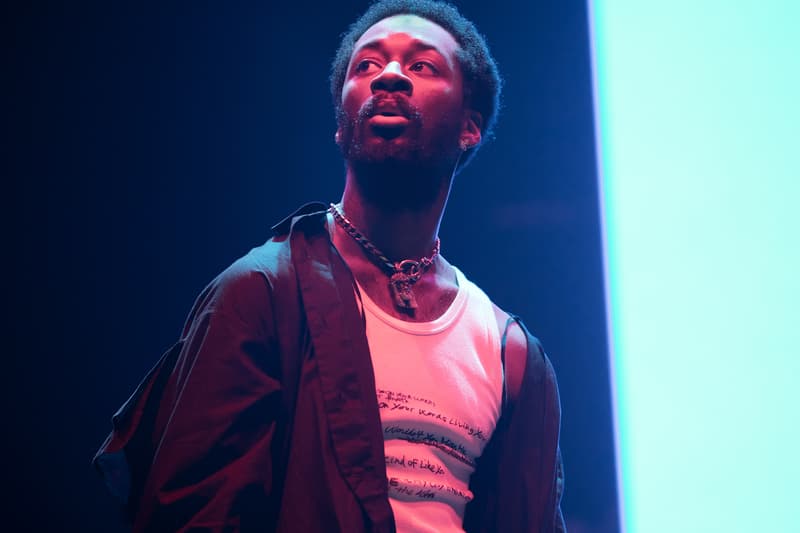 I met GoldLink in Los Angeles a day after he shared the stage with Odesza at the Shrine Auditorium. When asked about it, he seemed unfazed by just performing for a sold out crowd at one of LA's bigger venues. This speaks volumes to how far the DMV native has come in a short period of time, as just a few years ago he was starting his career by anonymously releasing songs on SoundCloud. GoldLink's steady come up can be attributed in part to his versatile style. While he's technically a rapper, he definitely has a way with melodies and makes seamless transitions between rapping and singing, drawing sonic comparisons to the likes of Chance the Rapper. His music, which he describes to us as "genreless," has landed him critical praise, tours with notable music acts like Flume and SBTRKT and now has him on the heels of his headlining his own tour in the US this year.
Another notable step for GoldLink has been landing the mentorship of the legendary Rick Rubin. Rubin advised the young rapper on his debut album And After That, We Didn't Talk, which has been well received for expanding on his unique sound that GoldLink has dubbed "future bounce." That seems like an appropriate description for the first rapper to be signed to Soulection as the label's motto is the "sound of tomorrow." The pairing makes sense as GoldLink carved his rap flow chops on beats from Soulection's producers and both parties have found grassroots support by letting their music speak for itself. Check out our conversation with GoldLink below as we discuss topics like Soulection, getting personal on his new album and who his musical influences are.
How did you initially get involved with Soulection?
I was a fan of Soulection first. Then one of the artists, Lakim, put the owner Joe Kay on to my music and he really, really loved it. He reached out and showed support ever since so we just been family for like two years now.
What's it like to put out the first rap album with Soulection?
It's an honor because they never did that before and they had only really worked with producer/DJ's. Me being the first rapper on there is really cool.
What do you think the future is for the crew? Possibly more rappers?
I'm not sure. The right opportunity would probably have to come up to get another rapper on the team.
You do a lot of upbeat dance songs that translate well to live shows, do you have performing in mind when you're at the beat selection/production stage?
I do. I think about how it will resonate live, the crowd or the atmosphere or whatever I'm trying to create. So anytime I pick a beat I try to keep the live aspect in mind.
I feel like that's smart with how much of the income is made from touring these days.
Exactly, that's like how your whole living is based off now.
What was it like meeting and getting to work with Rick Rubin?
He's awesome. He's amazing. That was a great opportunity and another honor that I was presented with. Really great guy with a very centered spirit.
The new album seems more personal. Was it hard at all to put yourself out there like that?
It came pretty natural, putting myself out there like that. It was just something that I had to do. Just for me and for the sake of the people who listen to my music. It's like, I never really let people in, so I felt like that was the perfect opportunity to let people in to where I came from and why I do the things that I do or why I make the music I make or why I sound the way I sound and how I feel the way I feel. It was very natural, but also very necessary.
Is there a message that you hope listeners get from the album?
Mainly just a better idea of who I am.
Your music blends a lot of genres. If you had to, how would you define your sound?
Genreless. It's just feel good music, very fun, very dancey.
It seems like rap music is getting more melodic, more artists continue to sing in addition to just rapping. Why do you think that is happening now?
I don't know, that's a good question. This is me just assuming… maybe it's because we grew up in different times or maybe it's because the standard rap has been perfected so much in the past and now it's time for a change. So we're just kind of bringing a different element to it.
Do you have roots in singing?
Not really, it's just something that kind of happened.
Are you working with anyone on vocals?
Lessons? No, maybe I should. (laughs)
Who's your biggest musical influences?
I don't have too many. As of recently, as I started doing music, that's when I really started to venture into other things like the Alabama Shakes, they're awesome. I'm trying to get into Lou Reed and the Velvet Underground. I didn't really have musical influences like that growing up. Now that I'm in music and working on music I appreciate it from a different standpoint.
So now that you're working on your craft you have a new respect for it?
Yeah, absolutely because I never knew the process that goes into it before.
Who else are you listening to at the moment?
I listen to The Strokes a lot now. A lot, the same album like over and over again. The same like 10 songs, that's about it.
Are you still living in the DMV area? If so, are there any plans of moving for the career?
Yeah I'm still in Virginia. No plans of moving anywhere else.
What are some of your plans for 2016?
My main thing is to just make even better music. Expand the sounds, collaborate more and be a little more open minded this time around.
Interview/Photography: Aaron Miller