HYPETRAK Meets Freddie Gibbs: Why the Rapper Is Crushing the Competition
What's next for Freddie Gibbs?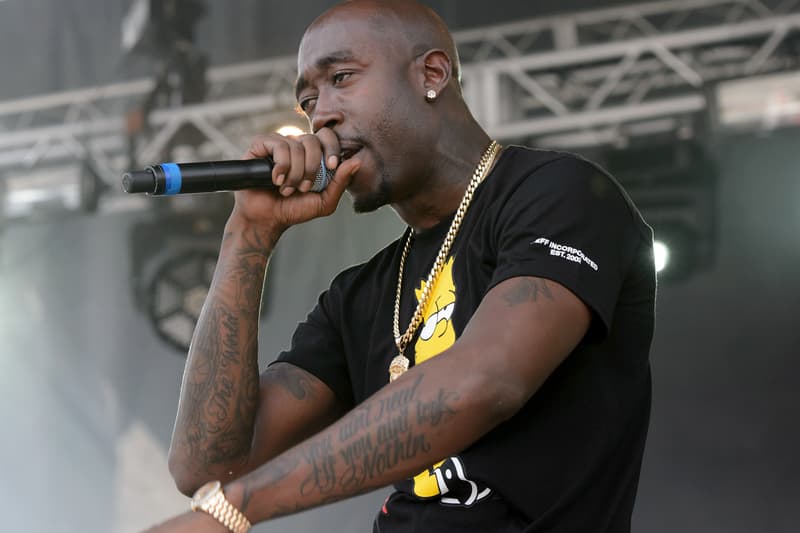 Freddie Gibbs burst onto the scene back in 2009 with his breakout album, The Miseducation of Freddie Gibbs. With his deep and guttural voice, Gibbs is able to deliver incredibly smooth bars over Midwest and Southern-style beats where songs like his thoughtful cover of Souls of Mischief's "'93 Til Infinity" have proven that the Gary, Indiana-born native is bringing hip-hop back to its basics. Seven years and a handful of quiet mixtape releases later, Gibbs drops his latest project Shadow of a Doubt (stream the album here), which only solidifies the artist's lyrical prowess and most importantly his respect for the gangsta rap genre.
Our friends over at HYPETRAK bring us an exclusive interview with the Baby Face Killa himself, who reflects on his career with the musings of an intelligent and thoughtful businessman. View excerpts from the interview below and read the full piece over at HYPETRAK.
In the nearly two-year period since Piñata has arrived, your life has changed. You've become a father, your music changed a bit, your career has gone in a different direction. What have been the biggest changes for you since then?

I've just been learning. I've become a better businessman, and that has helped me streamline my business a little more. As a person, when you have a child, you definitely should change. If you can't find something about yourself to change, you're going in circles, you're chasing your own tail. I definitely can't be the same guy I was at 19, I'm somebody's father now.

Which project do you feel is your best and that you're most proud of?

Probably SOD. I think I get with every project, and the moment I stop doing that that's when you have to stop. This was the most difficult to record — I was coming off Piñata and a lot of people were putting me in a box. I felt like I had to do something to win people back over. Every time I drop I feel like a new artist. I feel like I have the veteran experience, but every time I drop, it's exciting like I'm a new artist dropping because people don't know what aim I'm going to hit them from.

When it comes to the rap game, are there still things you want to accomplish? Any big collaborations you want to work on?

That's the beauty of this business: you can never really put a ceiling on yourself, there's always something new and innovative to do. I just want to stay on the pace I'm on and keep growing. I'm blessed to be in the position I'm in and keep growing, especially without a major and any backing of that nature. I think I'm in a great position, I think this rap game has turned me into an executive, into a boss. I just want to keep elevating. You never know, I could do something with Adele or something in the next few years (laughs). It's a long shot, but the music industry is so exciting and sporadic you never know what could happen.

Which rappers influence you and motivate you to be a more melodic rapper and experiment with more melodies in your music?

Pimp C. I think he was the best when it came to infusing melodies into the music. A lot of the things he did back then are becoming present now in the music game. He's in my top five when it comes to rapper. I don't think that he gets the credit that he deserves, especially with the melodies he implements. Just for the love of the older songs that he took from and sampled and things of that nature, it made me go back as a man and a musician and study those things. He was always giving me a history lesson when he made his music.

Does the Atlanta sound have a significant impact on you as an artist?

Definitely. The same way New York impacted rap in the 80's and 90's, Atlanta is definitely impacting the whole rap game. They definitely changed the sound and added to it and you can't deny that whatsoever. You can be one of these old guys and be mad at it or you can run with the wave. The game is forever changing and evolving, so do you want to stay in the league or do you want to get out of it? I love a lot of things going down in Atlanta right now — they're the pinnacle of the sound right now.

What's next for Freddie Gibbs?

I'm definitely going to start working on another project — I'm already working on another project. I'm in the studio every night. You just know when it's time to come back — I wasn't even going to drop SOD this year. I just felt like the game kind of needed it, I needed to throw my two cents into the game. I wanted to show people the ideas and things that I implemented into the game and kind of innovated and a lot of people are running with now. I wanted to show people my work and prove it even more, and not just have that Piñata thing to stand off. I didn't want to ride off that for years, I wanted to keep going and show my true sound.