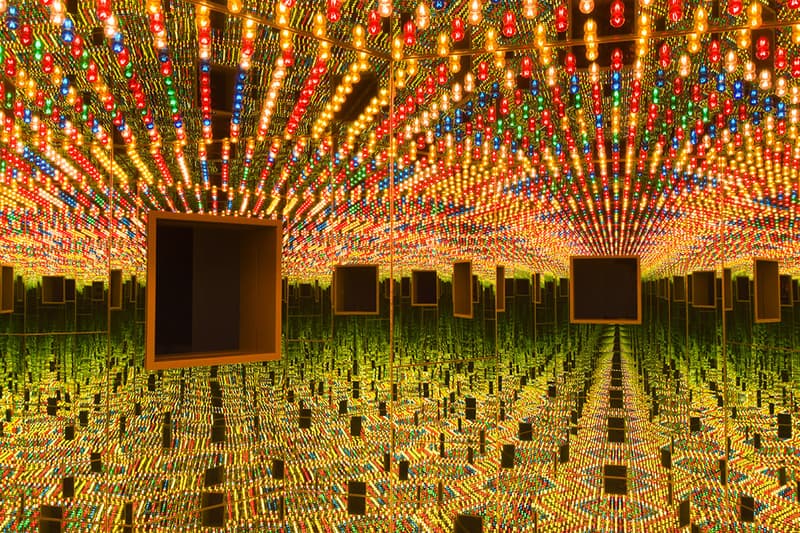 Yayoi Kusama's Trippy New Museum, Post-it 'Gangster Doodles' & More Art You Need to See
Including $3 million USD worth of MoMA photos.
---
Finding your creative niche is key to becoming a well-known artist. For example, Yayoi Kusama became obsessed with polka dots at the age of ten. Since then, she has relentlessly experimented with dots on a wide range of artistic mediums spanning paintings, drawings, sculptures, as well as immersive installations. Meanwhile, Canadian artist Marlon Sassy has a knack for creating illustrations of rappers on 3×3 yellow Post-it notes — having amassed a large following on Instagram with over 70,000 followers. Whether you're a fine artist or an Instagram doodler, it's safe to say that niches are pivotal in garnering art acclaim.
From a Yayoi Kusama Museum in Tokyo to Rone's stunning wall mural portraits in Melbourne, check out this week's list of captivating art stories.
The Yayoi Kusama Museum to Launch in Tokyo This October
Legendary Japanese artist Yayoi Kusama will open her own museum in Tokyo, Japan this coming October. The forthcoming institution—designed by architectural firm Kume Sekkei—will have Kusama's archival works on display alongside her most-popular immersive installations. The inaugural exhibition, dubbed "Creation is a Solitary Pursuit, Love is What Brings You Closer to Art," will launch on October 1 and last until February 25, 2018. Tickets will be available to purchase starting August 28 at the museum's official website.
Yayoi Kusama Museum
107 Bentencho
Shinjuku-ku, Tokyo
Japan
MoMA to Auction 400 Photographs Worth Approximately $3.6 Million USD
The Museum of Modern Art is slated to sell approximately $3.6 million USD worth of photographs at a Christie's auction. A total of 400 images from world-renowned photographers will be up for grabs. More precisely, the photographic work of Alfred Stieglitz, Edward Steichen, Edward Weston, Man Ray, Henri Cartier-Bresson, as well as Walker Evans will be available to purchase. Each photo is expected to sell between $1,000 USD and $300,000 USD. Head over to Christie's official website to learn more.
John Dove & Molly White's "Sensibility and Wonder" Exhibit
John Dove and Molly White will launch their first solo exhibition in Japan next week. The London-based designer duo/artistic couple is famous for their MODZART clothing label which they founded back in the '70s. Iconic English musicians such as Mark Bolan, Mick Jagger, Lou Reed, Sid Vicious and Paul McCartney have purchased their graphic tees. Not to mention, the pair has designed a leather jacket for Iggy Pop and even collaborated with Rei Kawakubo.
Dove and White's punk-inspired artwork has been on display at prestigious museums such as The Victoria and Albert Museum in the UK as well as the Textiel Museum in Tilburg, Netherlands. A new series of drawings, paintings and sculptures by the pair will be featured in the forthcoming exhibit titled "Sensibility and Wonder" at Diesel Art Gallery in Tokyo's Shibuya district. The show will run from August 25 up until November 11.
Diesel Art Gallery
cocoti B1F, 1-23-16 Shibuya
Shibuya-ku, Tokyo
150-0002
Street Artist Rone Creates Striking Murals in Abandoned Melbourne Home
Visual artist Rone has created a captivating series of murals in an abandoned house in Melbourne, Australia. Titled The Omega Project, the temporary presentation consists of large-scale portraits painted on the walls of a 1900s weatherboard cottage. Acclaimed interior stylist Carly Spooner has provided furniture and other home decor to complement the showcase. Watch the video above to learn more.
A$AP Yams, Childish Gambino & More Rap Icons Featured in 'Gangster Doodles'
Canadian artist Marlon "Gangster Doodles" Sassy has an affinity for creating post-it note illustrations featuring portraits of famous figures in the realm of hip-hop and rap culture. Sassy recently released a hardcover book boasting 336 pages of illustrations spotlighting A$AP Yams, Childish Gambino, The Notorious B.I.G., DOOM as well as Chief Wiggum from The Simpsons.
The artist is set to hold a book signing at Rappcats in Los Angeles, California.