People Are Using Highlighters to Make Their Own "Semi Frozen Yellow" adidas Originals YEEZY BOOST 350 V2s
Ruining them?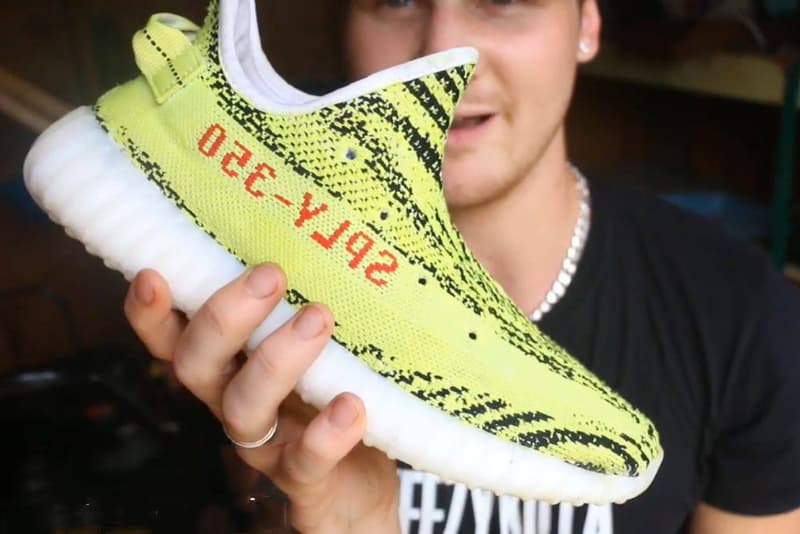 Recently this week YEEZY MAFIA put a call out to its followers to create their own pair of "Semi Frozen Yellow" YEEZY BOOST 350 V2s. Fans of the page quickly responded by posting videos and pictures of their adidas Originals YEEZY BOOST V2 "Zebra" colored in with yellow highlighter, replicating the look found in the unreleased colorway teased a few months back. Although many people used fake YEEZYs to create their DIY "Semi Frozen Yellow" colorways, YEEZY MAFIA is now guaranteeing some of its brave followers authentic YEEZY BOOST 350 V2s from a future release. Take a look at the colored in shoes below and let us know what you think.
Also, check out The Shoe Surgeon's newly unveiled one-off military fabric YEEZY BOOST 350 V2 rework.
First one to highlight his Zebra with a Yellow Sharpie getting a gift
GO #MafiaSZN pic.twitter.com/9zkkpFXETV

— Yeezy Mafia (@theyeezymafia) July 17, 2017
Doneeee pic.twitter.com/R8II7Ge0sC

— Collidal A̴̴̸̸̴̢̨̨̢̧ (@CollidaI) July 17, 2017
@theyeezymafia Be done in a sec pic.twitter.com/tNUIJRYl9S

— Cam (@alwaysyzyseason) July 17, 2017
Liana said a video to prove it so we will listen to her, if you did it, video or nada ??‍♀️ https://t.co/Xr7qvMHQxx

— Yeezy Mafia (@theyeezymafia) July 17, 2017
@theyeezymafia done pic.twitter.com/u5YApr56PE

— Cam (@alwaysyzyseason) July 17, 2017
Poorly done you can do better https://t.co/Ep7nOTA07b

— Yeezy Mafia (@theyeezymafia) July 17, 2017
Congrats Terry, you won a first look at the upcoming YEEZY BOOST 350 V2 "Semi Frozen Yellow" releasing in December ? https://t.co/cp6JPGkCXC

— Yeezy Mafia (@theyeezymafia) July 17, 2017