Exploring Raf Simons' Obsession with Youth Culture, Electronic Music & Art
The master of menswear has channeled Kraftwerk, Sterling Ruby, and more.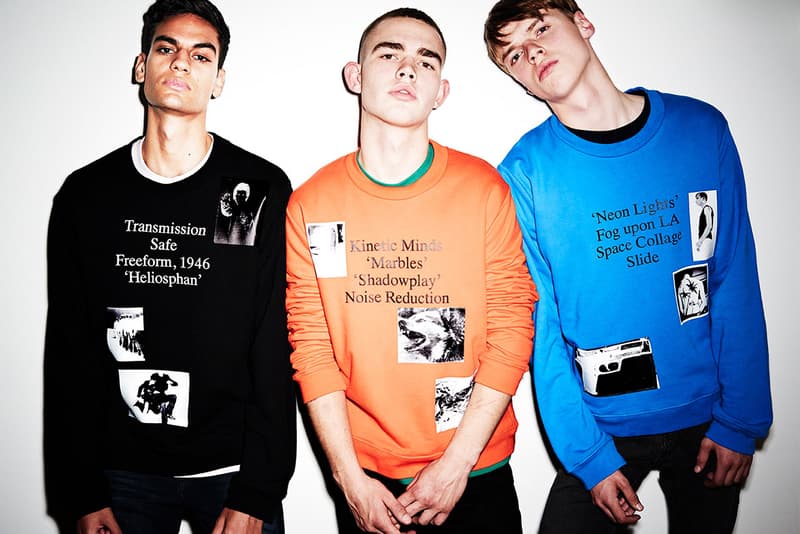 There will always be a youthful exuberance to Raf Simons' designs. It's one of the reasons why so many are attached to the creative's undeniably cool ethos — the balance of avant-garde and wearable modernism has continually drawn fans to the fashion house, especially menswear enthusiasts. At the core of its identity, Raf Simons the label will always be looked at as the brand that has progressed men's fashion. In a New York Times article, writer Alexander Fury writes:
He (Raf Simons) has fundamentally altered the way men dress, and the way men want to dress. He injected men's wear with cultish youth affiliations before anyone else was doing it, back in the mid-'90s. His clothes then, and now, express something about the world in which we live. Their design evokes socioeconomic mores, notions of value and worth, complex codes of masculinity, youthful rebellion. They challenge the status quo, frequently championing the dispossessed. They've influenced entire generations of designers that have followed him and changed the way his forerunners do their jobs today. He has shifted the landscape of men's clothing. Even if his impact isn't perceived, it's there.
It's no secret that music and art will always be present in the whimsical world of Simons. Music, for the most part, has dominated the designer's life growing up as a fan — whether electronic or rock, these references can be seen throughout his collections in the form of subversive graphics and prints. Art also has had a place in Mr. Simons' creations. He's built fruitful relationships with painters and photographers, leading to the production of some of the most iconic visuals to ever grace the menswear landscape.
Raf Simons is arguably one of the most prominent designers in the fashion sector today. His clothes are worn by celebrities and obsessed over by thousands of fans on social networks, creating an almost cult-like following. His weight in fashion is no longer in doubt. For 22 years, Raf has injected what he loves into his clothes: movies, paintings, sculptures, family memories, but more than anything else, music.
Music has had a constant presence in Simons' work, and references to his favorite bands are numerous. The best-known examples are the parkas produced for the Autumn/Winter 2003 collection, using visuals created by Peter Saville from his work for Joy Division and New Order. A few of those parkas sold for nearly $7000 USD last year.
Music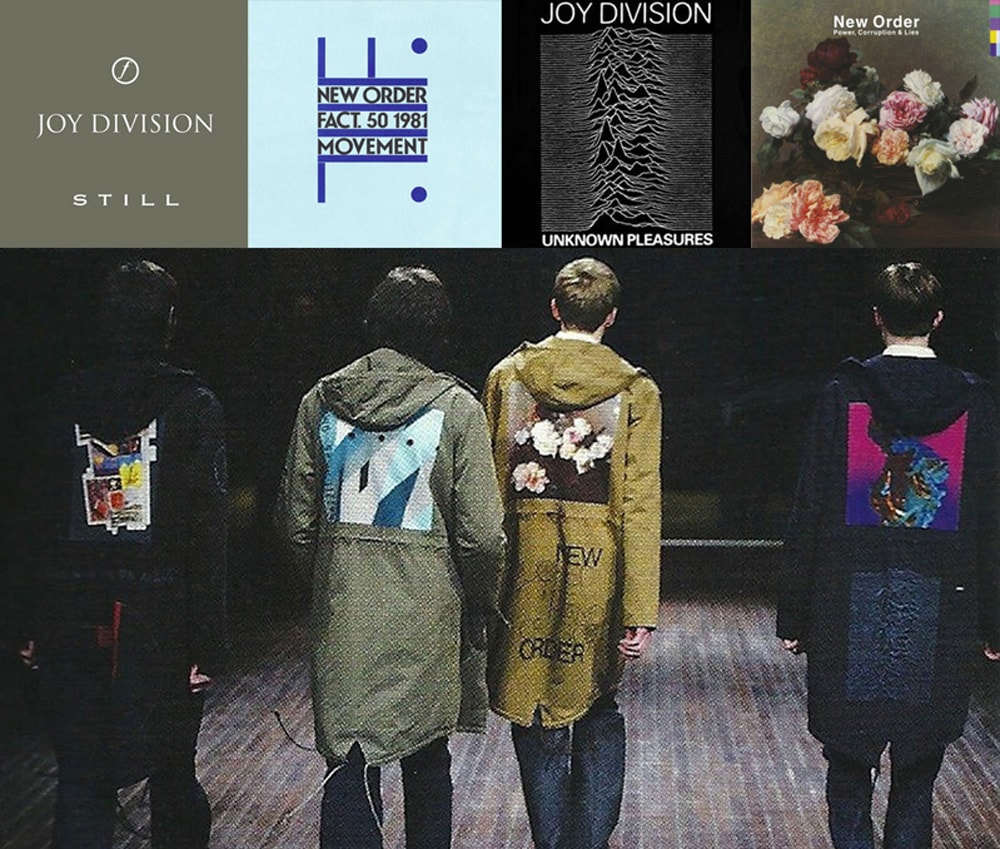 A lot of tributes to artists can be easily identified through Simons' early collections. In 2001, Simons' created clothes covered in patches representing David Bowie along with Richey Edwards from The Manic Street Preachers. One of Raf's favorite bands is Kraftwerk, to which makes multiple references to in his Autumn/Winter 1998 collection.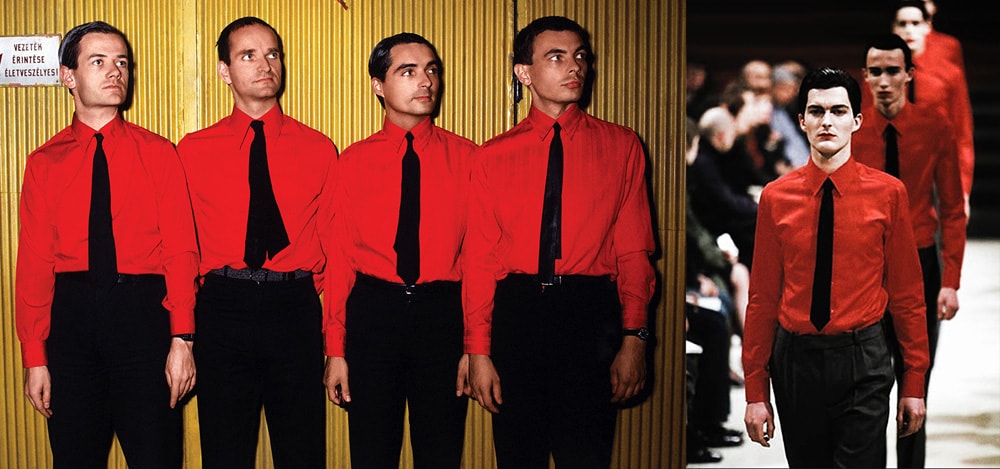 Most people are aware of David Bowie and Joy Division's influences on Simons' work, but Kraftwerk is a bit more confidential. Kraftwerk are a German group known to be the pioneers of electronic music, creating classic albums such as Trans-Europe Express and The Man-Machine, as well as influencing the work of innumerable later electronic musicians. Their song titled "Radioactivity" was also the name of the Raf's Autumn/Winter 1998 collection.
The use of artist patches on garments such as coats and sweaters was so important for Simons that he has reused some of the most iconic ones in re-editions and collaborations such as his 2014 collaboration with the store Storm in Copenhagen. The collaboration highlights his earlier work, especially from shows such as his Spring/Summer 1998 "Black Palms."

Youth Culture
The Belgian designer often draws inspiration from the youth and more specifically, youth subcultures. In the late '80s, a new genre appeared in nightclubs across Belgium — New Beat. New Beat (and later Acid House) was mostly played in mega discotheques located in Flanders, near Antwerp and Ghent. Tens of thousands of young people went out every weekend to dance to electronic music.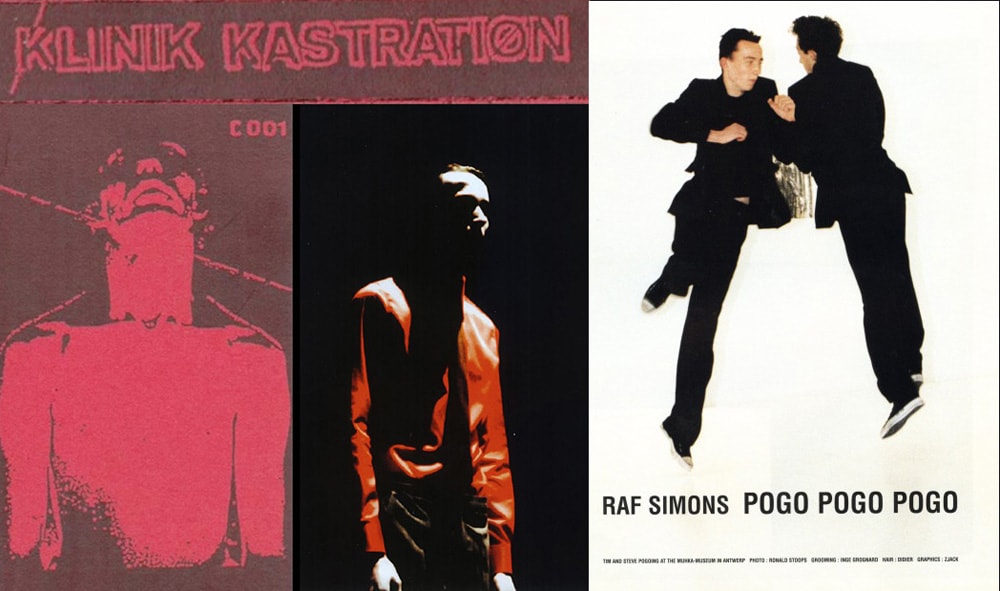 The photos above were taken by Ronald Stoops, a Belgian photographer who worked with most of the Belgian designers in the '90s. He photographed Simons' first fashion shows and the early editorials including Autumn/Winter 1997, where youth and electronic music were strongly highlighted.
A long sleeve tee produced for Autumn/Winter 2004 was inspired both by CJ Bolland's song Rave Signal and by the writing style used by Amnesia — a Belgian DJ collective active in the '90s. This example perfectly shows how the designer's penchant for mixing his own personal influences and integrating them into his work.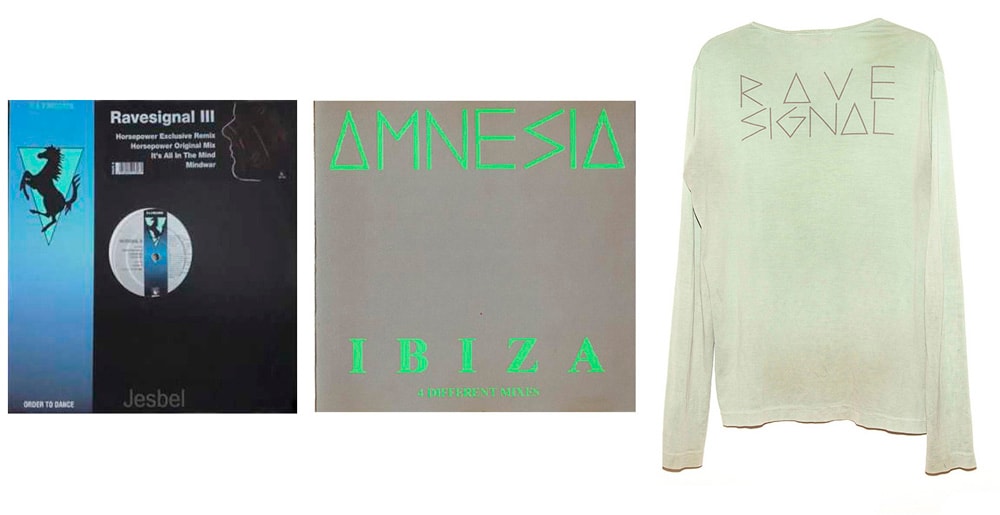 Raf Simons is not the only artist to be inspired and be part of this sub-culture. In 2011, the Belgian electro label R&S Records called on Tom Tosseyn to redesign their logo. R&S Records is one of the most important record labels within the New Beat sector; producing and supporting the best Belgian DJs and music makers since 1984.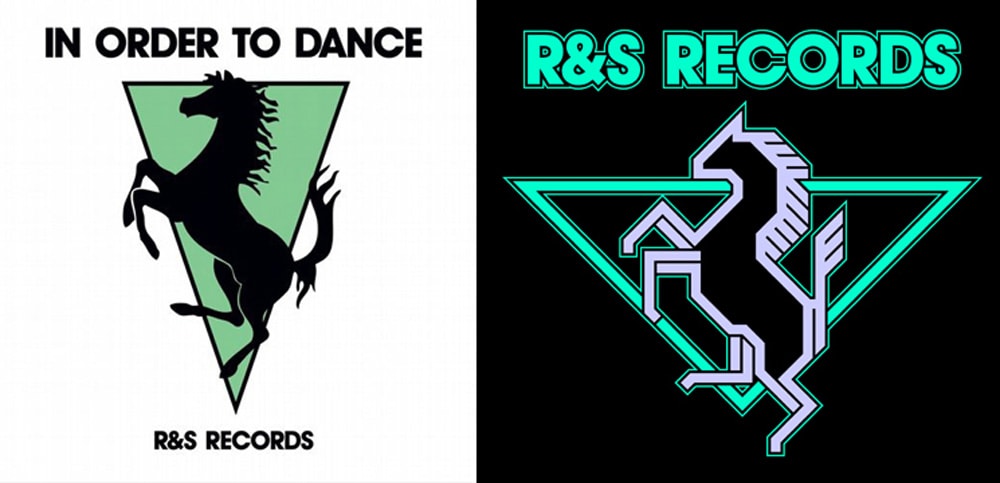 Moving on to the more experimental Acid House side of things, Tom Tosseyn, an Antwerp-based graphic designer who has worked with Raf Simons for multiple collections was also drawn upon for Simon's earlier work. Creating visuals, prints and invitations to events, Tosseyn also created graphic designs for Tim Coppens with obvious references to the genre.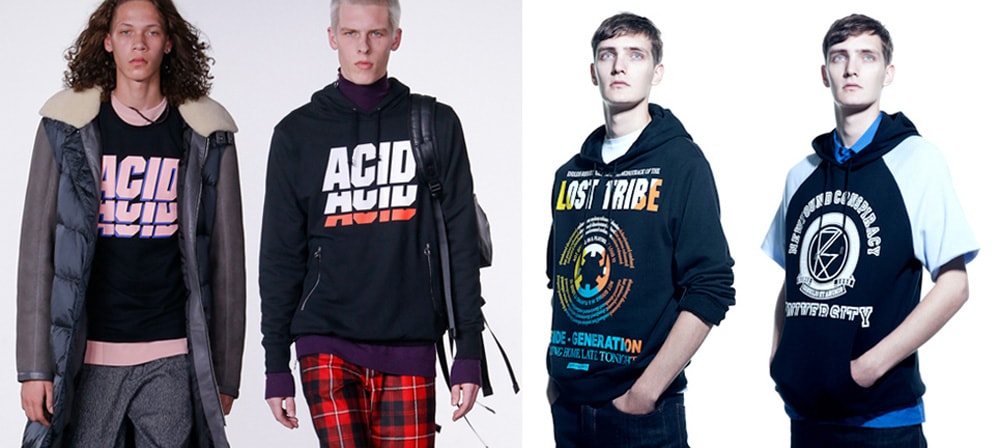 Another example of a more subtle influence on Simons' work is the link between him and The Chemical Brothers.

An extract from The Chemical Brothers' 1999 song "Hey Boy Hey Girl" and pictures from Raf Simons Spring/Summer 2000 runway show illustrates his interest towards the Manchester-based brand. The hairstyles for model and clothes presented in the collection along with the clip, take obvious inspiration from Gabber influences.
Another portion from the same clip together with a picture of Raf's Spring/Summer 1997 lookbook highlights how the two worlds intertwined. While many schools have uniforms that look this way, Raf Simons has also used several other tracks of The Chemical Brothers in his runway shows.
Art
The inspirations for Raf are not limited to music, as references to art are numerous and some collections are entirely inspired by an artist. For example, Brian Calvin in the Spring/Summer 2013 collection or Sterling Ruby for the Autumn/Winter 2014 lineup.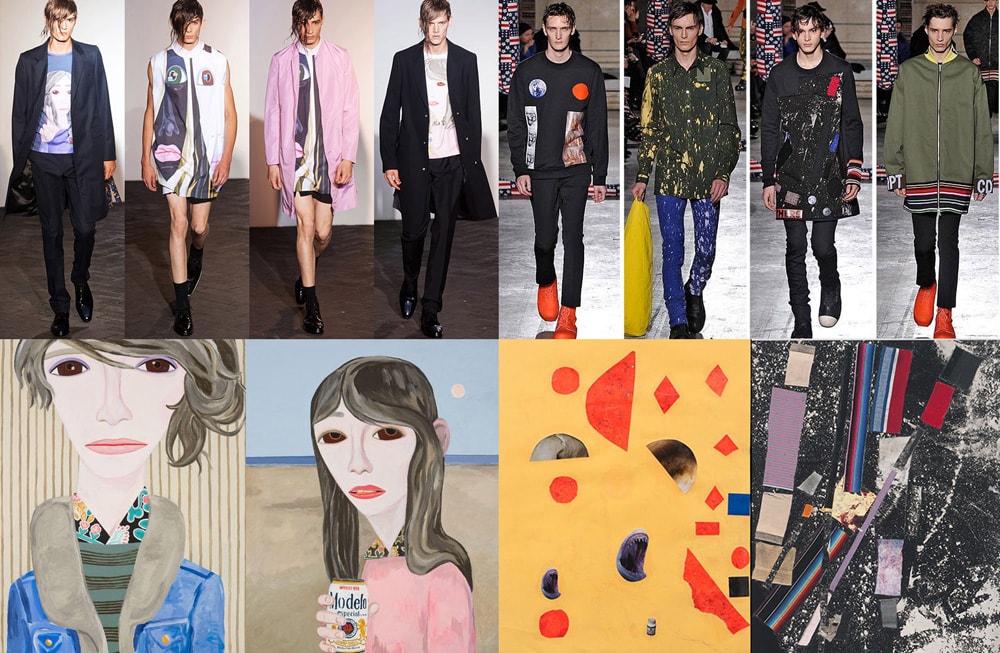 More than a simple inspiration, these two collections pay homage to the artists themselves. Sterling Ruby even co-signed the collection by putting his name on the label.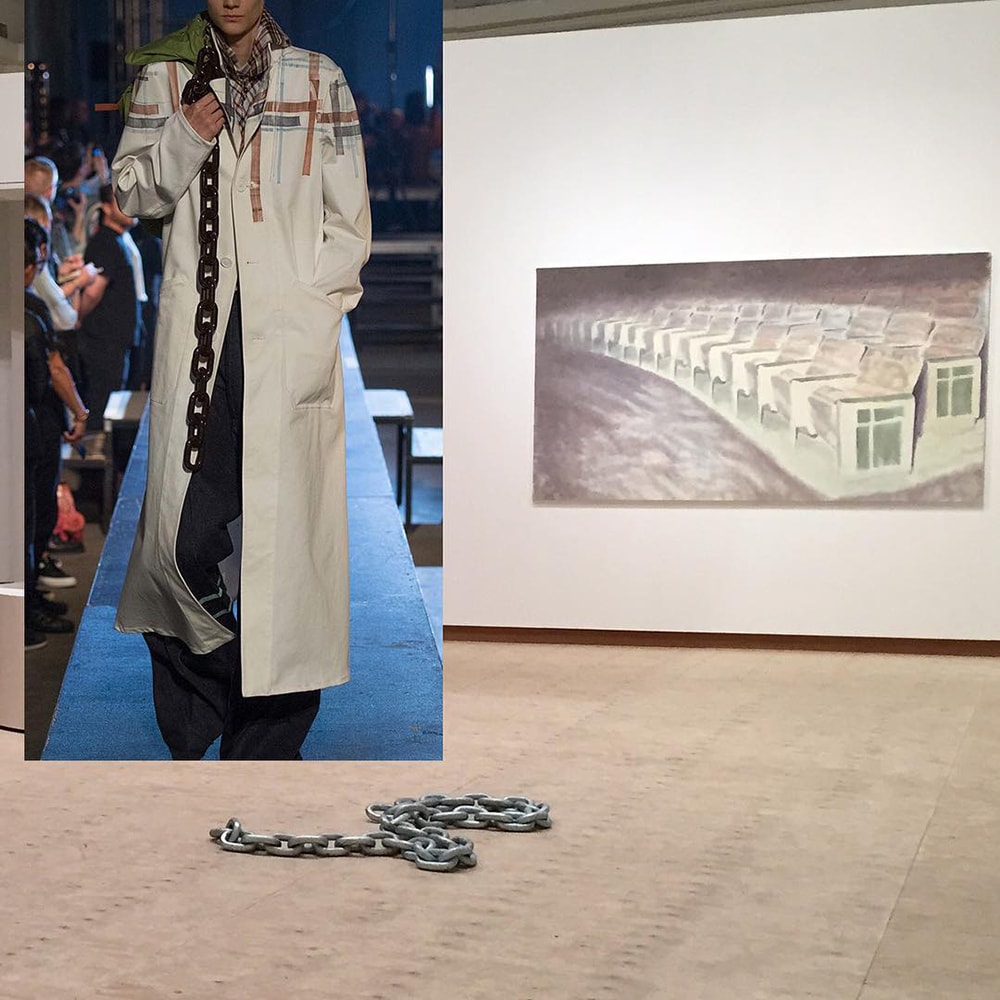 Recently, during an exhibition at the Bozar in Brussels, a painting by Luc Tuymans was in the same room as chains on the floor. Not only were the chains reminiscent of the backpacks created by Simons for his Autum/Winter 2015 offerings, but the colors and repetitive patterns of the painting matched the coat of the same collection. A coincidence that demonstrates that art and fashion can respond and inspire each other.