Krispy Kreme & Ghirardelli Introduce Two New Donuts to Destroy Your Diet
Sugary decadence.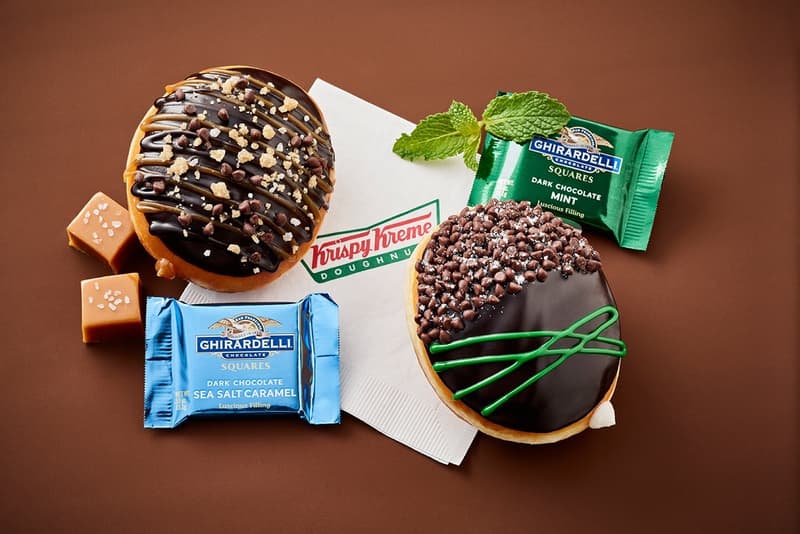 Krispy Kreme and Ghirardelli have come together to make nutritionists tremble and break the strictest of diet plans. Combing all sorts of sugary sweet decadence, the two companies have introduced two donuts inspired by some of Ghirardelli's most beloved chocolate products. The new Krispy Kreme Sea Salt Caramel and Mint Chocolate donuts have been introduced to menus across North America, and are now available for a limited time only. The Sea Salt Caramel donut boasts salted caramel filling and chocolate plus caramel icings, while a "blend of amber sugar, salt sprinkle, and Ghirardelli mini chocolate chips" tops it off. The Mint Chocolate donut is filled with Chocolate Mint Squares-inspired White Mint Kreme filling and chocolate icing; "Ghirardelli mini chocolate chips dusted in powdered sugar" decorate the top of the item. Outside of the dough, all the fillings and icings for the new Krispy Kreme donuts come courtesy of Ghirardelli.
You can check out a picture of both new Krispy Kreme and Ghirardelli donuts above then head on over to your local Krispy Kreme shop for a taste.