The 12 Coldest Chains Rappers Copped in 2017 So Far
All made by Ben Baller and Elliot Avianne.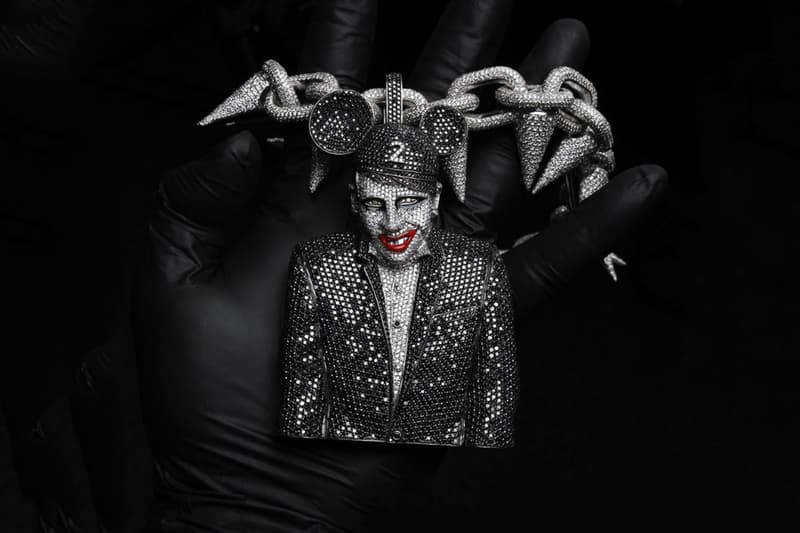 2016 was a great year for rap chains: Tyler, the Creator and Lil Uzi Vert both commissioned famed jeweler Ben Baller and his company If & Co. to get their colorful "Smiley Face" and "Vs. the World" pieces done, Lil Yachty allegedly dropped $250,000 USD on a "Boat" chain, and 21 Savage copped a "Knife" chain from Elliot Avianne for an alleged price of $200,000 USD. Gucci Mane's "St. Brick" chain was so marvelous that he even made a Twitter account it. This year is no different; successful rappers are still dropping robust amounts of cash to cop some beautifully crafted, fully customized neck decor.
The demand for ice was so great that Baller, who had announced his decision to stop making jewelry in October last year, was brought out of retirement (thanks to A$AP Ferg). Since the "Yamborghini" piece, rap's biggest names like Drake, Lil Uzi Vert and Migos have showed off their new pendants as well.
We've gathered 12 of the coldest chains rappers purchased this year below. Let us know which one is your favorite and if we're missing out on any notable ones.
12. Metro
Boomin's

"High Voltage" Chain

Price: Unknown
Maker: Elliot Avianne of Avianne & Co Jewelers

Although he is not a rapper, Metro Boomin sure does like to flex like one. Young Metro is one of Elliot Avianne's most frequent customers, having bought several hefty pieces from the famed New York jeweler, including a "BOOMIN" piece that he acquired last year. The Atlanta producer's standout purchase of this year is a crispy chain based off of the "High Voltage" emoji and the white-gold piece features flooded two-tone white diamonds, while a puffy Gucci link is decorated with various charms. Its is not revealed but based on the quality and quantity of diamonds used, a chain of this caliber could easily go for $50,000 USD.
11. A Boogie Wit A Hoodie's "
Highbridge

" Chain

Price: Unknown
Maker: Elliot Avianne of Avianne & Co Jewelers

A Boogie Wit A Hoodie is one of rap's hottest newcomers and with all the money he's acquired in the past year, the rapper was able to purchase himself a bold chain from Avianne & Co. The three-dimensional, two-tone custom "Highbridge" chain pays tribute to the Bronx neighborhood where he grew up in. Avianne notes that A Boogie's chain has more diamonds inside of the piece than "most rappers have on their neck," complementing A Boogie's willingness to spend money on diamonds that are situated in areas where they can't be seen. Although he is a relative newcomer, this "Highbridge" piece is not the first chain that A Boogie has acquired. The price for this piece is not revealed but based on the details in craftsmanship and quantity of diamonds used, it could fall in the $50,000 to $100,000 USD range.
10. Kodak Black's "Sniper Gang" Chain
Price: Unknown
Maker: Elliot Avianne of Avianne & Co Jewelers
Kodak Black is scheduled for trial today, which will determine whether he will remain in jail or be a free man. However, the 19-year-old Florida rapper has found so much success as a rapper — locked up or not — that he has already made some big purchases from Avianne. The completely flooded-out "Sniper Gang" piece he purchased back in January has 650 diamonds in it. The chain's design is based on of the logo of his Sniper Gang label. It's the biggest piece he has purchased to date, and although the exact figures aren't revealed, it looks to be somewhere in the $50,000 to $100,000 range.Because he hails from south Florida, Black chooses to stick with gold rather than white gold for his jewelry. Kodak also owns an impressive "Liberty" piece.
9.
Quavo's

"Yoda" Chain

Price: Unknown
Maker: Elliot Avianne of Avianne & Co Jewelers

For over half-a-decade, Migos have been known as one of rap's most iced-out entities. Quavo, Takeoff and Offset does not only have the jewelry game on lock but are also setting new standards. Whether its their three-headed piece, "QC" medallion or "YRN" chain, the Gwinnett County trio have always been draped in gold jewelry like an Egyptian pharaoh to match their Versace ensembles. Recently, however, it looks as if the Migos have traded their all-gold-everything look for white gold and diamonds. One of Quavo's more exceptional pieces as of late is his "Yoda" chain, which references to his "T-Shirt" lyrics, "Space coupe, Quavo Yoda, pourin' drank in sodas." The piece, made by Avianne & Co., is an addition to all his previous chains, watches and jewelry, which have been upgraded and completely flooded with diamonds. Along with his "Datway" and "Ratatouille" chains, Quavo just might have the top spot in the chain game. This "Yoda" piece can easily cost upwards of $50,000 USD.
8. 21 Savage's "Slaughter Gang" Chain
Price: Unknown
Maker: Elliot Avianne of Avianne & Co Jewelers
In March, 21 Savage copped a "Slaughter Gang" chain from his go-to jeweler, Avianne & Co. The three-dimensional, white-gold, diamond-flooded piece features Jason masks and the words "Slaughter Gang." Last year, 21 obtained an equally impressive diamond-encrusted "Knife" chain, referencing the tattoo on his forehead. He also previously purchased "21" and "Savage" chains for himself and his team. While the cost of the chain is not revealed, a custom piece like his would cost the upwards of $50,000 USD.
7.
Quavo's

"

Datway

" Chain

Price: $70,000
Maker: Elliot Avianne of Avianne & Co Jewelers

Quavo has copped three impressive chains this year. The first two are his "Yoda" and "Ratatouille" pieces. The third, which he just purchased last week, is his "Datway" chain. The new piece finds the famed rapper riding a horse with the words "Dat Way" spelled out in cursive underneath it. Rumored to cost $70,000 USD, the chain is likely to have been made by his go-to jeweler, Elliot Avianne. Like the other two pieces, this chain is also made with white gold and is completely saturated with diamonds.
6. A$AP Ferg's "
Yamborghini

" Chain

Price: Unknown
Maker: Ben Baller's If & Co.

Famed jeweler Ben Baller came out of retirement in January to crafted a chain for A$AP Ferg in commemoration of the second annual Yams Day. Baller took to Instagram and wrote, "You f*ck with the bull, you get the horns!" He continued, "A$AP Yams & A$AP Ferg brought me out of retirement. And Flacko said, "Ben you can't retire, the game needs you. So now I'm back like cooked crack!" The piece, based off of the Lamborghini logo, contains 65 carat white VVS diamonds on a 14K white gold three-dimensional "Yamborghini" medallion. It features a custom Hermes link diamond chain, as well as baguettes on Yams' teeth and Solitaires in his eyes. A miniature version of the piece was made for A$AP Yams' mother.
5. Drake's "Stone Island" Chain
Price: $100,000 USD
Maker: Ben Baller's If & Co.
Drake has never been quiet about his love for Stone Island, having worn the brand multiple times in public. Ben Baller made the Toronto rapper a $100,000 USD "Stone Island" diamond-encrusted gold chain. The pendant features green, canary yellow and black diamonds, as well as 880 grams of gold. The chain also features the words "on tour" at the bottom. The back of the piece says "BRINGING THAT CERTY" with Drake's "6 God" logo placed below it. Ben Baller shared a story of his friendship with Drizzy: "I met Drake at the Apple Store in the Beverly Center in 2008. From that day on I f*cked with The Boy heavy. I was picking him up from the airport, getting him cars, trees and showing him my city like a real big homie does. [...] In 2012 I started my family and he became the biggest superstar in the world and we lost communication. So nine years later were here in Manchester U.K. to finally have our full circle moment. More life and more jewels to come bro."
4. Offset's "Raindrop" Chain
Price: $100,000 USD
Maker: Elliot Avianne of Avianne & Co Jewelers
Before the popularization of "Bad and Boujee," most people would consider Quavo to be the group's biggest member. However, after the song blew up, Offset got some time in the spotlight as well, especially now that he no longer faces any criminal charges or jail time. In celebration of the groups recent successes, Offset gifted himself with a new $100,000 USD "Raindrop" chain. Engraved on the back on the piece are the words "drop top." Made by Avianne & Co, the raindrop itself is 32 karats, 65 karats including the chain. The piece was also rumored to have been made in 48 hours. While some people have jokingly compared the chain to a the likes of a testicle, Offset shows no regrets of the design and has been seen wearing it proudly almost everyday.
3. Drake's "
OVO

Owl" Chain

Price: $120,000 USD
Maker: Ben Baller's If & Co.

The "Stone Island" piece wasn't enough to entertain Drake for the entire year. The Toronto rewarded himself with an even bigger and pricier piece after finishing his 'Boy Meets World' tour and having an extremely successful More Life run. It was a $120,000 USD OVO Owl chain that he commissioned Ben Baller to create. The 40-karat Hermes link chain is laced with ice blue, canary and white VVS diamonds. "Hermes link, ice blue mink. We had to go crazy again. Light 40 carats," wrote Ben Baller after completing the piece, in reference Drake's "Gyalchester" lyrics. The word "MORE" is engraved on its backside in reference to his debut playlist.
2. Lil Uzi Vert's "Marilyn Manson" Chain
Price: $220,000 USD
Maker: Ben Baller's If & Co.
It wasn't too long after Ben Baller made Drake the "OVO Owl" piece that he presented Lil Uzi Vert with a phenomenal "Marilyn Manson" Chain. Presented to Uzi during this year's Coachella festival, the chain is a rework of an image of Manson wearing Mickey Mouse ears, captured for a 2015 issue of PAPER magazine. The entire piece is comprised of a 100 carat VS diamond-spiked choker; the Marilyn Manson pendant features 55 carats of black and white diamonds. The piece is rumored to cost a whopping total of $220,000 – nearly quarter-of-a-million dollars. Its finishing touches include the number two placed on the Mickey Mouse ears, symbolic of the forthcoming project from Lil Uzi Vert, Luv Is Rage 2. Uzi has previously commissioned Ben to make something nearly as impressive — the "Luv Is Rage" piece.
1.
Quavo's

"

Ratatouille

" Chain

Price: $250,000 USD
Maker: Elliot Avianne of Avianne & Co Jewelers

Finally, the coldest and priciest chain of 2017 thus far goes to Quavo Huncho. While his "Yoda" and "Datway" pieces are certainly impressive, the "Ratatouille" chain by artist Bernard Rollins, tops them all. Copping the piece back in March from Avianne & Co, the chain is a reference to the Gwinnett County rapper's iconic lines in "Bad and Boujee": "Still be playin' with pots and pans, call me Quavo Ratatouille." The white gold pendant is flooded with VVS white diamonds and even contains a "QC" chain of its own as well as an iced-out Rolex. The "Ratatouille" piece is rumored to cost $250,000 USD, making it the most expensive chain a rapper has purchased this year yet.