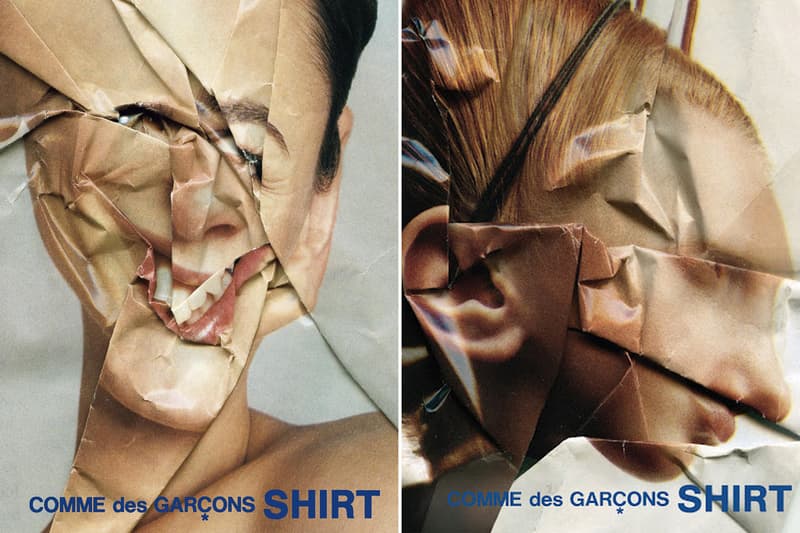 Everything You Need to Know About Conceptual Artist Stephen J Shanabrook
The creative visionary has a way with chocolate and cotton candy.
---
In the fashion community, conceptual artist Stephen J Shanabrook is widely praised for his work on Comme des Garçons SHIRT's 2010 spring/summer campaign. For the ads, Mr. Shanabrook borrowed from his own "Paper Surgery collection to help convey the design house's wildly imaginative identity. The series were done in collaboration with fellow artist Veronika Georgieva and featured crumpled photos of fashion models — the images are meant to reflect the public's perception of beauty. Untouched, the spreads only show the glamorous exterior of fashion. However, strategically crumpled to distort and disfigure the models' faces, the photos aim to represent the uglier side of the industry.
Here, we present to you some interesting facts about his personal life, past works and influence on the art community.
1. Born in 1965, Shanabrook was the son of an obstetrician and the town coroner. He worked at a chocolate factory in a small town in Ohio during his childhood.
2. He is known for using non-traditional materials, especially chocolate. Other materials he has used include animal carcasses, plastic dolls and cotton candy machines to name a few.
3. His works are meant to juxtapose unassuming objects and items of desire with the emotional responses surrounding addiction, violence, sexuality and religion.
4. For his earlier works with chocolate, Shanabrook would go to morgues in Russia and the United States and make molds from the fatal wounds of anonymous people — this included gunshot wounds, stitched skin, protruding eyeballs, etc. A dark chocolate sculpture titled On the road to heaven the highway to hell depicts the remnants of a suicide bomber with his entrails in full display.
5. Another food-related work features a performance art piece entitled Slapped in the face until your shit turns red. Here, standing against a white wall, Shanabrook places a cotton candy machine modified with fans in front of his face that slaps him with the red and fluffy substance. According to the artist, "The cotton candy performance for me is a simple gesture to conjure up feelings of forcing ones beliefs on others… even beliefs that seem sweetly correct. This action is the interpretation of a mental torture for the unwilling recipient."
6. In his Pharmaceutical Landscape series in 2009, Shanabrook melted prescription pill bottles and formed them into Easter bunnies. The works are a reflection of the artist's own battle with addiction and a commentary on how prescription drugs, often meant to alleviate people's health issues, become a bigger problem themselves.
7. Was commissioned in 2010, along with Veronika Georgieva by Saatchi & Saatchi to create the advertising campaign for Reporters Without Borders' 25th anniversary. The ads featured Kim Jong-il, Mahmoud Ahmadinejad and Muammar Gaddafi in the style of the Paper Surgery series.
8. Shanabrook has held solo exhibitions at the City Museum of Ljubljana, Orel Art in Paris, Charlotte Moser Gallery in Geneva, Daneyul Mahmood Gallery in New York, Musee d'art et d'histoire in Neuchatel, Switzerland, among others.
9. When asked what he was most inspired by in an interview, Shanabrook responded: "The Arte Povera artists' methods and process in how an endless amount of material can be adapted into an artwork, had a big influence on me." The Arte Povera by definition is an art movement that originated in Italy during the 1960s. It combines conceptual, minimalist and performance art in addition to utilizing ordinary materials to undermine the commodification of art.
10. Stephen J Shanabrook was one of the artists Kanye West introduced his readers to when the rapper still had his official website in a blog format. Other artists named in different posts included John Currin, Gabi Trinkaus and Marco Brambilla.