Lil B Pens an Open Letter to Kevin Durant
"Welcome home, KD. Welcome home."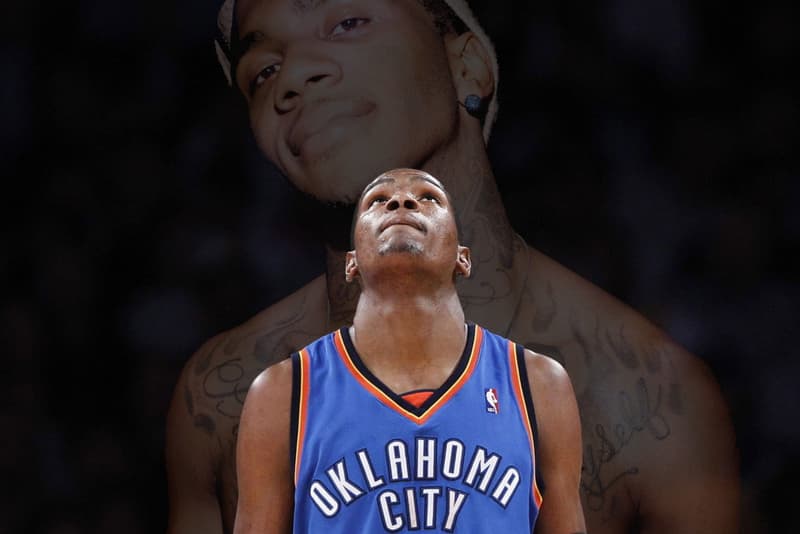 Lil B may have officially lifted his curse on Kevin Durant when the latter signed with the Golden State Warriors, but the Bay Area native born Brandon McCartney went one step further when speaking to The Undefeated. Instead of a traditional interview, the Based God opted to use the platform to deliver an open letter addressed to Durant himself. Ever the beacon of positivity, B spoke fondly of the new signing and while he hesitated to make any sort of bold-faced predictions, he admits he doesn't "know about any other starting lineup that could potentially have more offensive firepower than these guys. This is going to be a really exciting season." He also promises to sit courtside next season.
Here's the open letter in its entirety:
I still don't think it really has set in, but Kevin Durant to the Golden State Warriors felt very natural — what it was supposed to be. It felt so right.

The Based God always works in very different ways. Me being Lil B, I don't want to say it was super unexpected, but it was amazing. The Based God understood. I know The Based God definitely knew and had it foreseen.

Kevin Durant's decision said a lot of things. I definitely commend him for being brave, for trying something new. Making new things happen. Making things happen that people wouldn't normally think is conventional. He did something that was very brave, I think, and showed he does feel something. A lot of questions were answered.

The curse had to be removed for the simple fact that Kevin Durant has shown his humility by coming to the Warriors. Me being Lil B, I really feel like The Based God did it because The Based God is humble and very empathetic. Just from what I've seen, Kevin Durant has shown that he wants change.

I was always just protecting The Based God. The Based God said the curse is over, so the curse is officially over. As for a sorry, I don't need one. I think Kevin Durant has shown where his heart is. And his heart is in the Bay Area.

I want him to hang out with the people of the Bay Area. Have fun. Listen to the music. Get a feel of everybody around. Different places. Feel the welcome. People are so excited to see him play and be a part of a Bay Area team.

Our one-on-one game still has to happen. I think it's for the love of the sport. The world wants to see it — hundreds of thousands, millions of people. They want to know what would happen with this game. They're obviously interested.

At this point, I like where I'm at right now with my game and how much better I've gotten. I'm a real defensive guy. My defense really speaks loudly, which rolls over on offense. I have a pretty decent midrange shot. I like getting to the rack. I like getting to the hoop. I'm kind of like Russell Westbrook, but I can't dunk. Just as far as going to the hole. I'm not saying all aspects of Russell Westbrook's game because I don't have the same aspects. I'm coming to the court with a lot of confidence now. It's definitely different. I definitely do think I'm ready to play KD. Winning, who knows? But I definitely know I am ready to play him.

When he wants to talk about it, I know I'm more than happy to, with open arms and a lot of love. It's just about playing a nice game of basketball, one-on-one, for the love of the game. But now, for me, it's just about him focusing on the Warriors' season. Focusing on winning, getting this championship. I'm really excited to see them play. He knows he's home. Everybody knows he's home.

No predictions right now from The Based God on how many championships the Warriors will win, but I don't know about any other starting lineup that could potentially have more offensive firepower than these guys. This is going to be a really exciting season.

Welcome home, KD. Welcome home. Keep going, my brother. Stay positive. We love you in the Bay. We're excited to see you play. Definitely look out for me courtside. — Lil B
You can read the rest of the article here.