Kanye West Sheds Light on the Thought-Provoking "Famous" Video
"Maybe in some alternative universe me and George Bush could have been friends."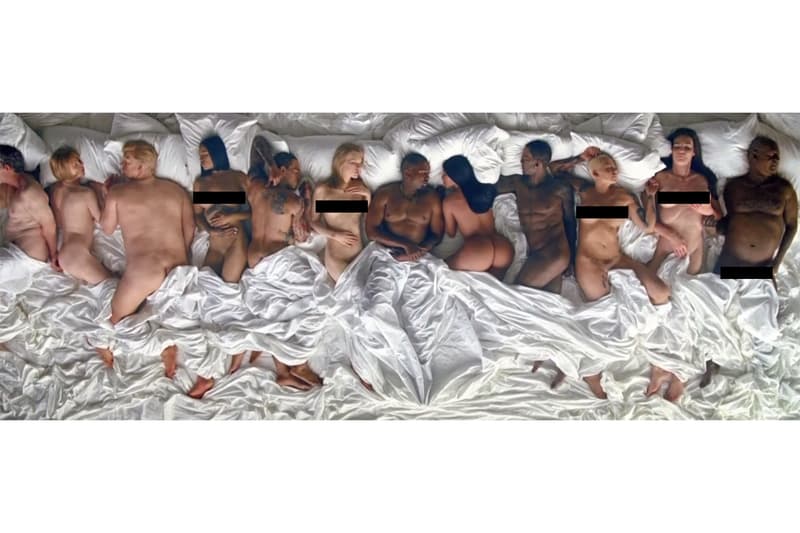 Kanye West has always pushed the envelope when it comes to music videos. Whether it be "Flashing Lights," "Power," "Runaway," "Black Skinhead," "Bound 2," "Only One" or "All Day"/"I Feel Like That" (just to name a few), Yeezy's visual pieces have never been de rigueur. And "Famous" is no different. Recreating American painter and sculptor Vincent Desiderio's 2008 piece, Sleep, West's video (which was unveiled to 8,000 onlookers on a 100-foot screen at the LA Forum) was filmed over a period of three months and went through four different formats and a bevy of collaborators before its final cut was revealed — the highlight of which is a hypnotic interpretation of the aforementioned Sleep. At once voyeuristic and elegant, the shot is perhaps West's most provoking work to date and one that depicts George W. Bush, Anna Wintour, Donald Trump, Rihanna, Chris Brown, Taylor Swift, 'Ye, Kim Kardashian West, Ray J, Amber Rose, Caitlyn Jenner, and Bill Cosby naked and in bed, side by side.
On the occasion of the internet-breaking premiere, West caught up with Vanity Fair from his LA editing suite a day prior, shedding light on "Famous" while obsessing over the short film's final cut. As West puts it, "It's not in support or anti any of [the people in the video]. It's a comment on fame."
For more on "Famous," head on over to Vanity Fair's website.