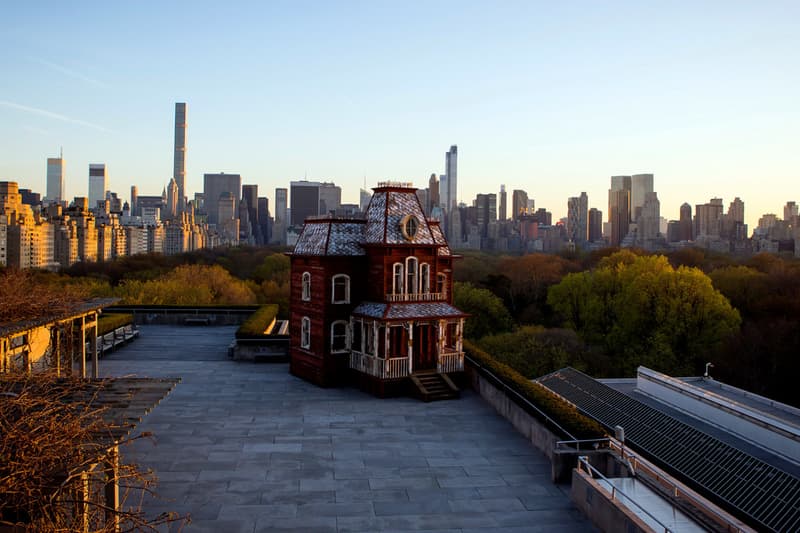 Alfred Hitchcock's 'Psycho' House Gets Recreated on the Met Museum's Rooftop
Tour a replica of the Bates home from the 1960s thriller.
---
While the Metropolitan Museum in New York is most notable for its sizable fine art collection and Beaux-Arts style architecture, the rooftop has quickly transitioned as another focal point during the summer due to its scenic views of Central Park and temporary immersive art installations. For the fourth year of the museum's commissioned rooftop art series, British sculptor Cornelia Parker's "Transitional Object (PsychoBarn)" takes center stage, as it replicates the two-sided set that served as the Bates' family home in Alfred Hitchcock's 1960s thriller Psycho. The 30-foot-tall sculpture also took cues from the movie set's original inspiration, The House by the Railroad by Edward Hopper, which features an ornate Victorian home in upstate New York. In an interview with Fast Company, Parker stated that she wanted to juxtapose the "wholesome" quality of a barn with what the Psycho house represents: "The dark psychological stuff you don't want to look at." The piece is actually two facades supported by scaffolding, constructed by Showman Fabricators in nearby Long Island City, highlighting the contrast of rural American architecture against urban skyscrapers both in history and location. "PsychoBarn" is on view now through October 31.