A Cultural History of the Souvenir Jacket
Get to know a little bit more about the contentious and luxurious outerwear staple.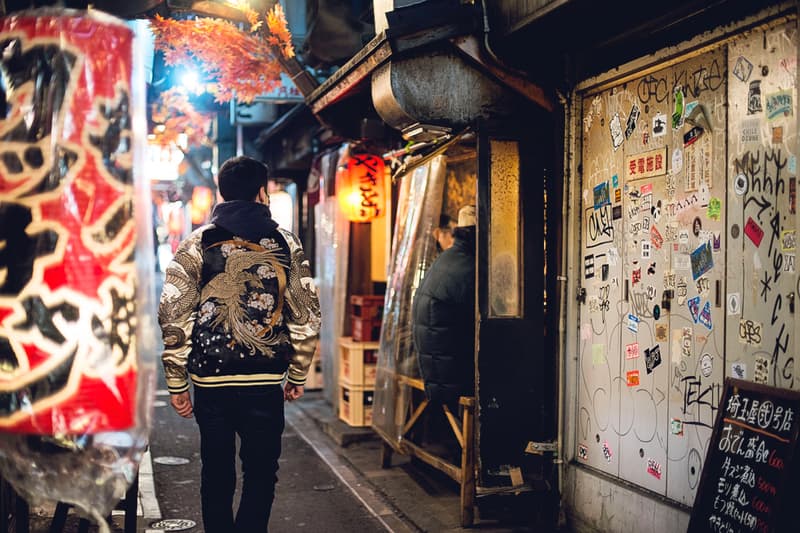 As with many clothing designs, the souvenir jacket is one garment that has evolved past its cultural origins and integrated itself into popular culture. The distinctive embroidered style was originally created for American GIs to bring home after the post-war occupation of Japan as literal souvenirs, hence the garment's name. Since then, the jackets have been seen countless times in films, on fashion runways and it continues to serve as a symbolic representation of rebellion to this day. With the resurgent popularity of the style in both high fashion and streetwear, it's worthwhile to look back at the souvenir jacket and its cultural history.
1 of 2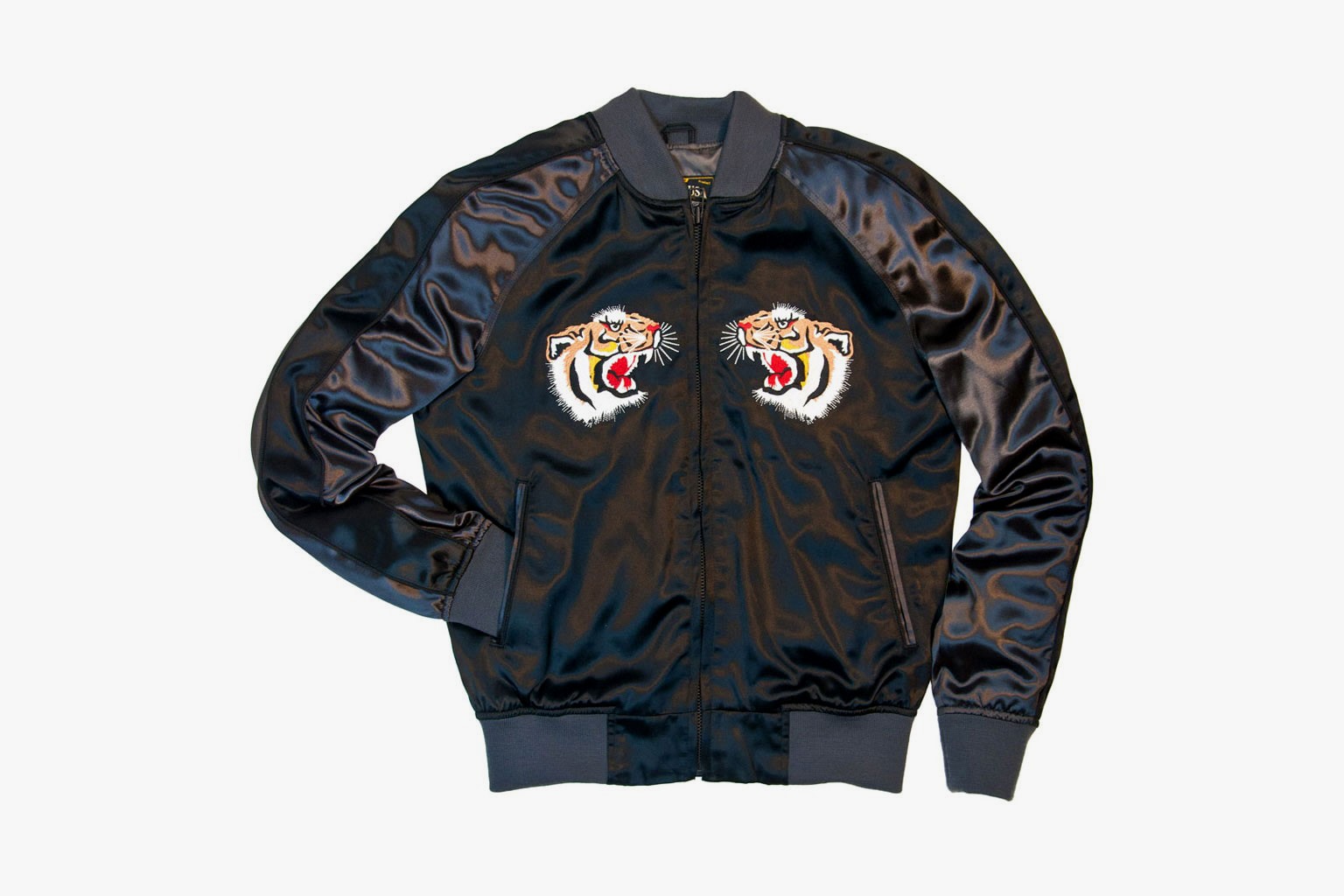 2 of 2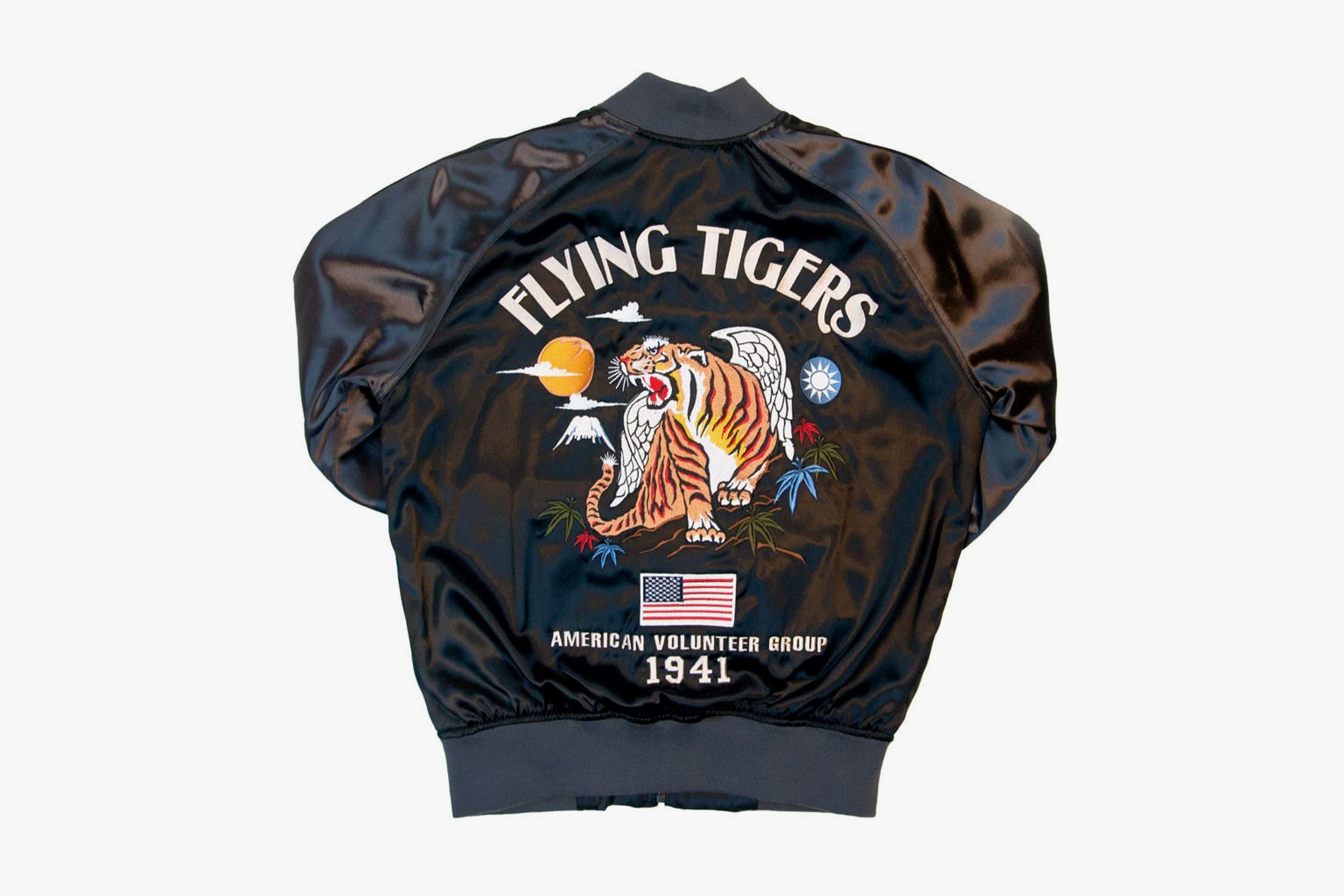 Post World War II Origins
The roots of the Souvenir Jacket, or Sukajan in Japanese, can be traced back to American soldiers stationed in the Pacific Theater following the end of World War II. During the post-war occupation, American troops began getting traditional Japanese designs hand-stitched into the backs of their jackets to commemorate their time in Japan. Popular designs included Japanese (and Chinese) style dragons, cherry blossoms and trees. Other soldiers chose local artwork that ranged from traditional maps to Geisha girls. These jackets would often incorporate rayon and silk and, in some cases, were actually constructed from excess silk salvaged from military parachutes. These jackets were brought back to the United States as literal souvenirs and sometimes were purchased as gifts for family members and close friends. Other than the embroidered designs themselves, this style of jacket is defined by its cut, which is similar to a classic American baseball jacket. They often incorporated bold colors and contrasting sleeves. The origin of the term 'Sukajan' is contested; with some believing the word was an amalgamation of Sky Dragon Jumper in Japanese. Others trace the origins of the name to Yokosuka, an area where American soldiers were stationed; simply combine the words 'Yokosuka' and Japanese-accented 'Jumper' and you get 'Sukajan.' The style was adopted by the working class youth, and it became a symbol of rebellion in post-war Japan.
Cultural Evolution
The 1960's saw the incorporation of American trends and styles within Japanese society. Many Japanese youth at the time loved the American preppy look and chose to wear classic American pieces like Oxford button downs and blue jeans. The rise of Americana and the resulting cultural exchange is documented in books like Ametora : How Japan Saved American Style and seen across multiple brands like NEIGHBORHOOD, Human Made and WACKO MARIA still incorporating it into their brands core aesthetics. While souvenir jackets started out as something made for American soldiers, they ironically became co-opted by a Japanese audience themselves. Those who didn't want to conform to the Americana-obsessed Ametora trend chose to adopt the Sukajan as a statement piece and an act of defiance. The style was adopted by the working class youth, and it became a symbol of rebellion in post-war Japan. To the greater society, the jacket carried quite negative connotations – namely as a symbol of gang ties and juvenile delinquency. While this reputation may be fading, the image of the Sukajan is still very prevalent in Yakuza films; the jacket is featured primarily as one of the criminal underworld's favorite styles.
1 of 2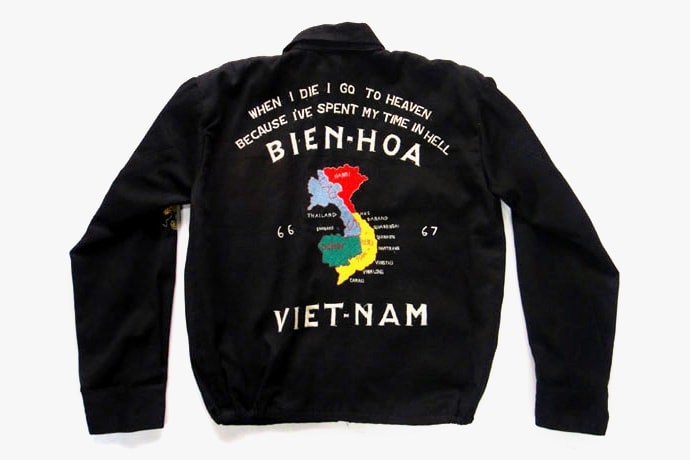 2 of 2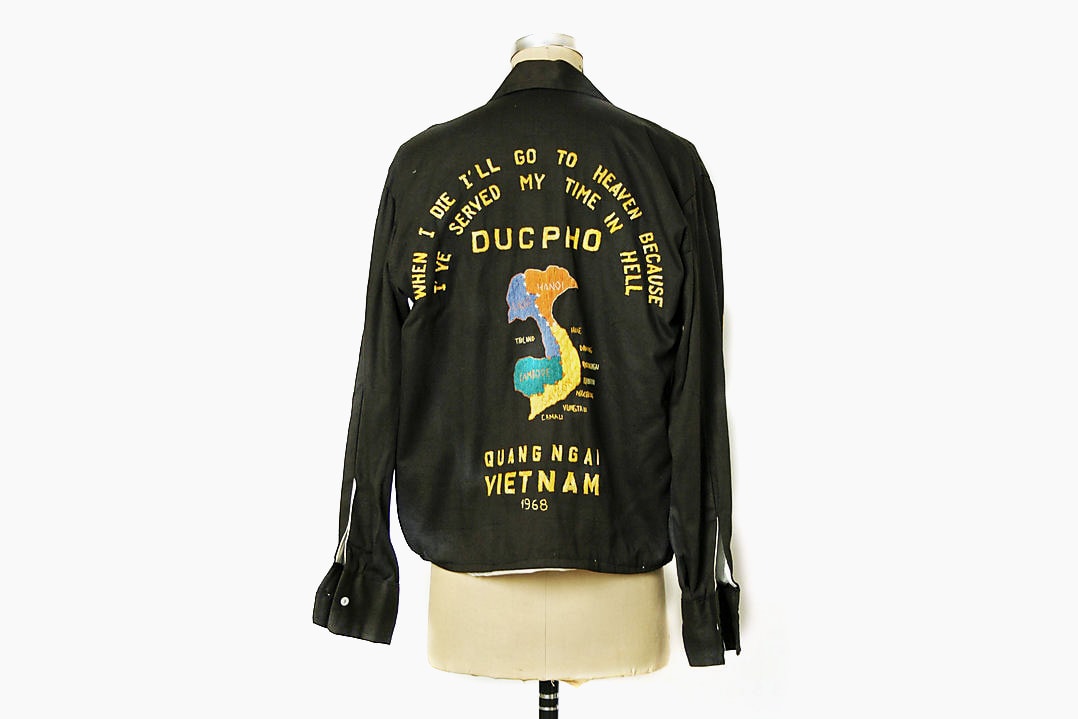 New conflicts in Korea and Vietnam saw the style extend outside of Japan. The souvenir jacket became ingrained as a popular style for soldiers, and were offered at any city where American GIs were stationed. The brutality of the Vietnam War was especially reflected in the designs of these Souvenir Jackets: often, these had a darker, more morbid outlook and featured political or anti-war sentiments. Many jackets from this era, for example, were embroidered with the phrase "When I Die, I'm Going to Heaven Because I Served My Time in Hell." These new conflicts brought the jacket outside of just Japan and made it a part of military culture across Asia.
In Popular Culture and Fashion
As the jackets were brought back to America and spread throughout Europe, those outside the military establishment sought after and coveted them. The jackets stood as a symbol of counterculture, with rock stars like Mick Jagger choosing to wear them whilst on tour with the Rolling Stones. A souvenir jacket is prominently featured on Ryan Gosling's character in the 2011 film Drive. Directed by Nicolas Winding Refn, the film follows a renegade Hollywood stuntman and created a mini-frenzy around the quilted, all-white style with a scorpion embroidered on the back. The adoption of the jacket by pop culture icons and celebrities in recent years has helped bring the style back in vogue within mainstream fashion.
Recent Popularity
1 of 2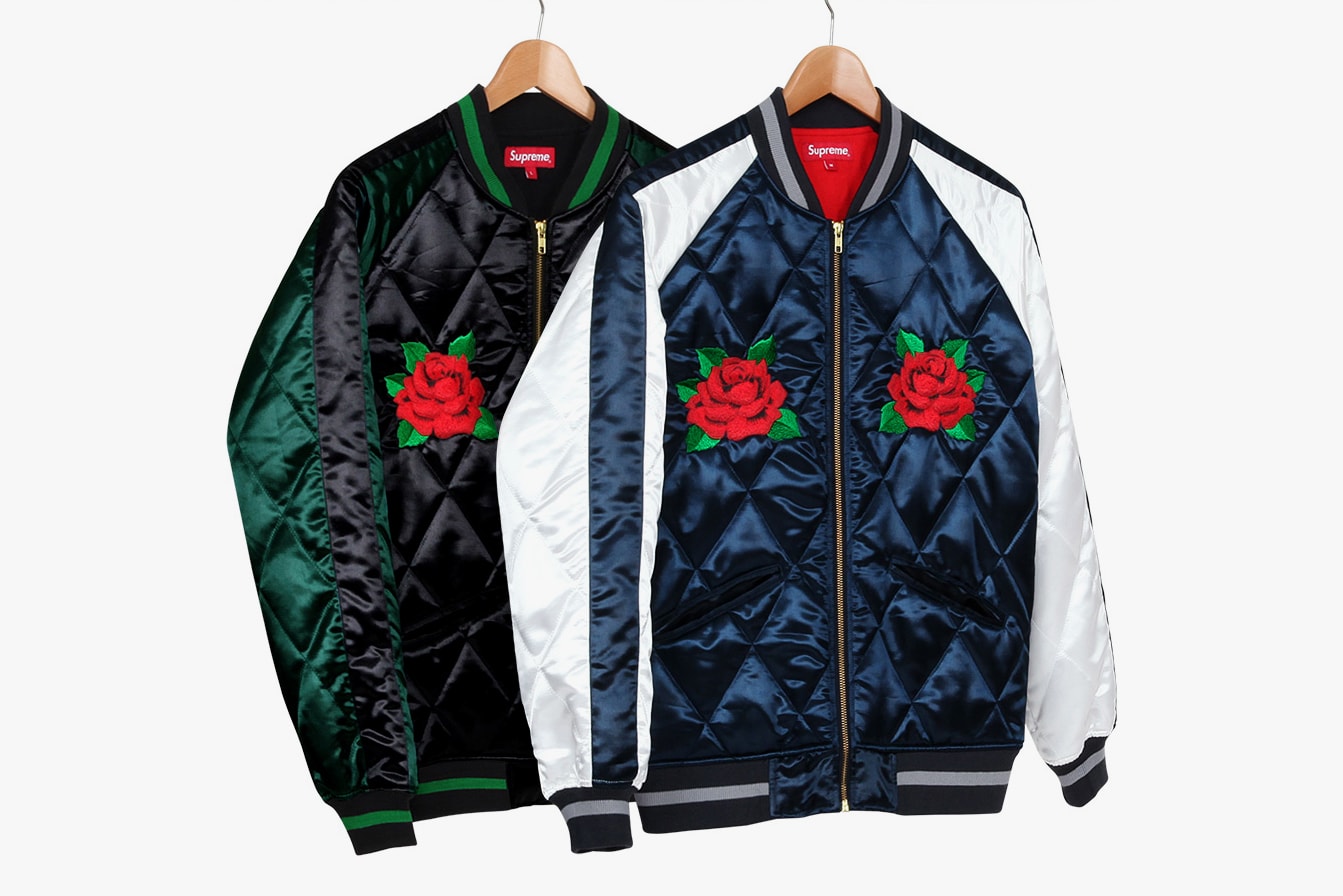 2 of 2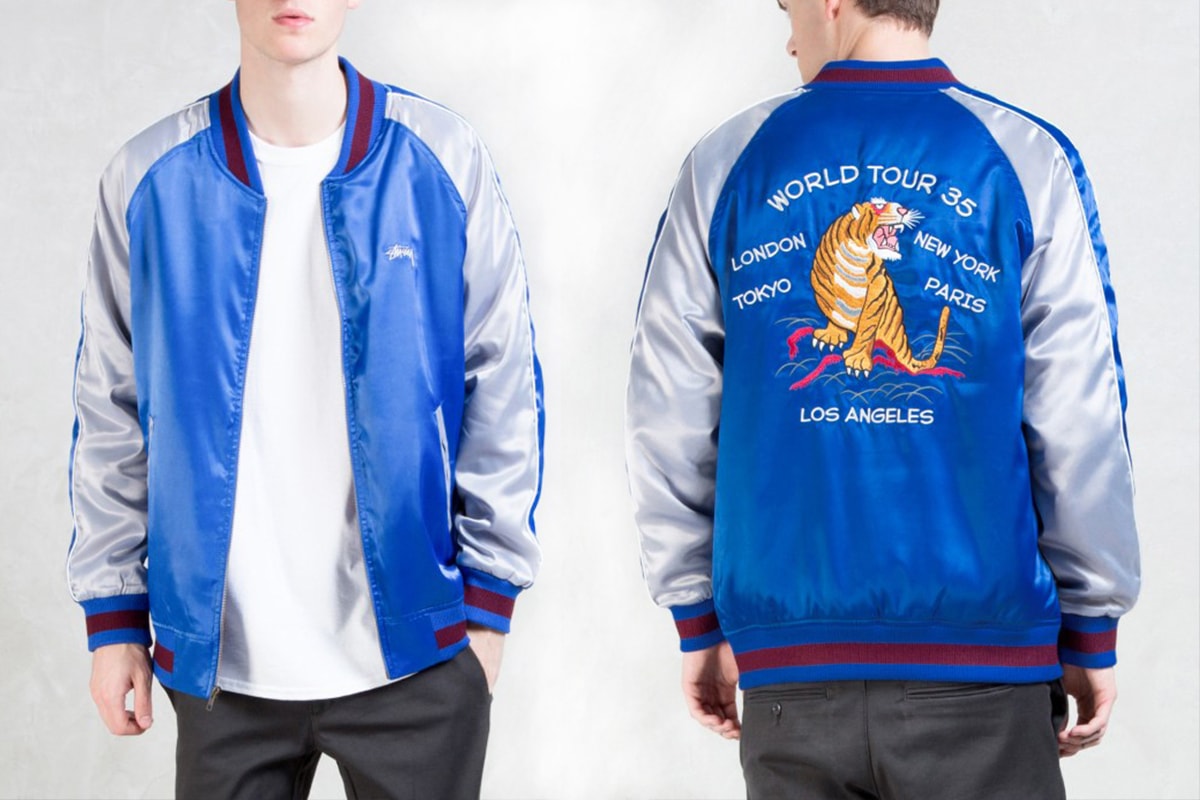 Outside of film and music, the Sukajan has been frequently re-interpreted by many high-fashion labels as well as streetwear companies. In just the last year alone, everyone from Supreme and Stussy to Saint Laurent and adidas have released their own variations on the timeless style; it even inspired a Converse sneaker pack in late 2015. While many of the current versions have switched the style from the traditional silk to nylon, the embroidered artwork of a good souvenir jacket is hard to miss.
The ascent of the souvenir jacket from what was essentially a commemorative item for soldiers to a worldwide fashion trend is a story worth reflecting on. If the first couple months of 2016 are any indication, the Sukajan jacket looks to continue its broad appeal through the year's end and beyond. Its legacy thus is a good case study of how a style can slowly evolve from serving a specific purpose to having a broad mainstream appeal. As the 24/7 social media cycle continues to democratize fashion, I can see designers choosing to re-produce more obscure cultural pieces to differentiate their product offerings. While fast fashion and poor design can definitely cheapen this iconic style, brands who understand the cultural history of the piece and pay it its due respect will make the best product.
On a personal level, I think that serious Sukajan buyers should really select their Souvenir Jacket carefully. The original spirit of the piece was all about messaging and customization, so the ideal jacket should say something about its wearer. I love some of the original vintage silk pieces for their artwork and hand-stitching. It's no small feat that some of the designs still look great 30 or 40 years down the road, and many of the fashion interpretations of the style might fall short in this regard. Similar to finding that perfect leather jacket, I don't think anyone should rush into purchasing this style. It's one of those pieces that will be much more fulfilling if you find your own perfect variation. While the souvenir jacket is having a moment, time has already proven its lasting appeal.