Raif Adelberg's New "Gender-Less" Fashion Label HERMAN Infuses Surf and Skate
The Stussy Tribe veteran remarks on word association, quality, and his love for Canada.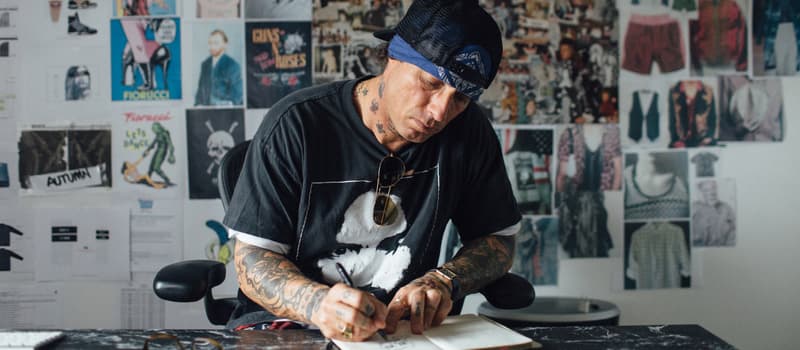 The late '80s, early '90s era was an unforgiving period for fashion in Canada. At a time when style was merely safe and sterile, Raif Adelberg was at the forefront of Vancouver's budding streetwear scene. You may know the artist, fashion designer and all-round creative from his longtime relationship with Stussy Tribe, his "Fuck I Love You" art series, or for helping launch quality menswear labels like wings + horns. He's made luxury cashmere sweaters for Bergdorf Goodman to hand-knit cowichan sweaters for Stussy, but it was restless experimentation with clothing as a youth that inevitably led him to a career that continues to be spurred by Raif's penchant for cutting up and re-stitching things in ways only his mind can understand.
Personal style may evolve, but for Raif, his core has never changed. A veteran in the industry, the designer prefers to rock an old pair of Acne jeans, cut-up sweats, visvim Chukkas and a Katz's Deli hat ("anyone who's been around 125 years deserves any support in any way," laughs Raif). The 48-year-old creative now brings his humble mix-and-match style and DIY approach to fashion with the "sex-less" designs of his budding label HERMAN. The clothing is neither aggressive nor provocative; it is simply himself, and there's nothing out there quite like it. We caught up with the designer at his studio near Vancouver, British Columbia for a conversation rich with sobering reminders that anyone can launch a brand, but staying true to yourself is becoming more of a scarcity in the industry. If there's one lesson to take away from the exchange with Raif it's that you can never be too old to chop the sleeves off.
1 of 4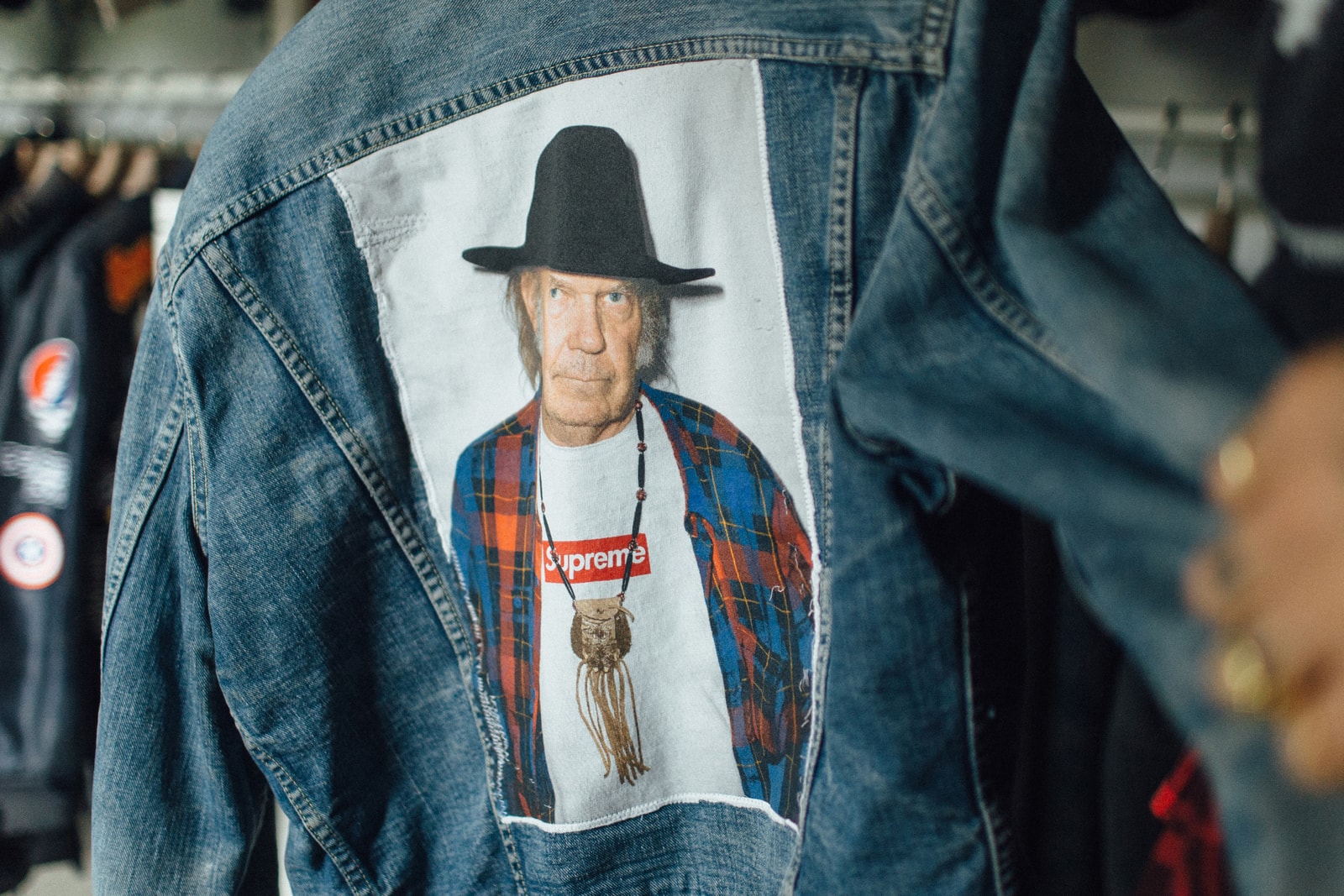 2 of 4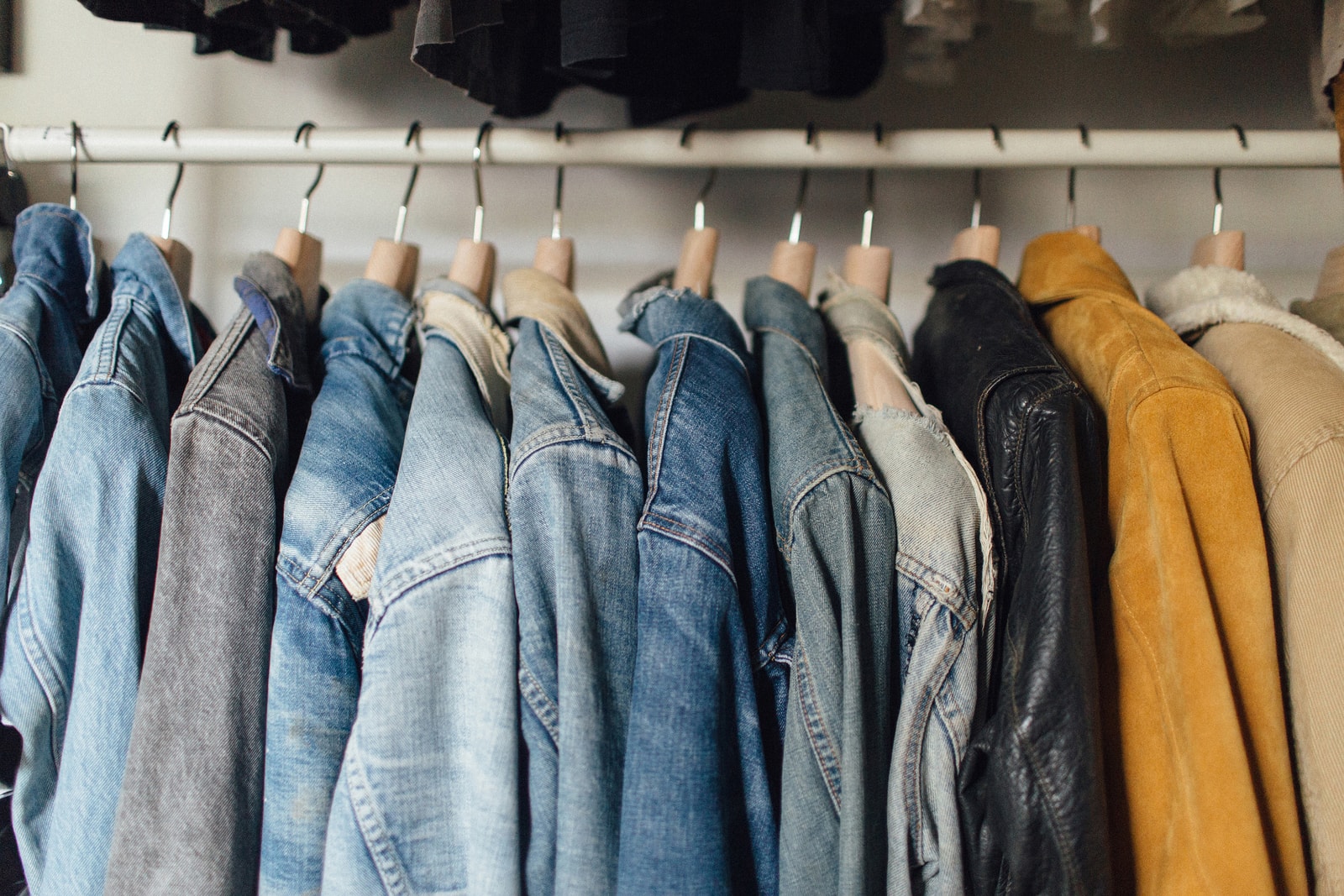 3 of 4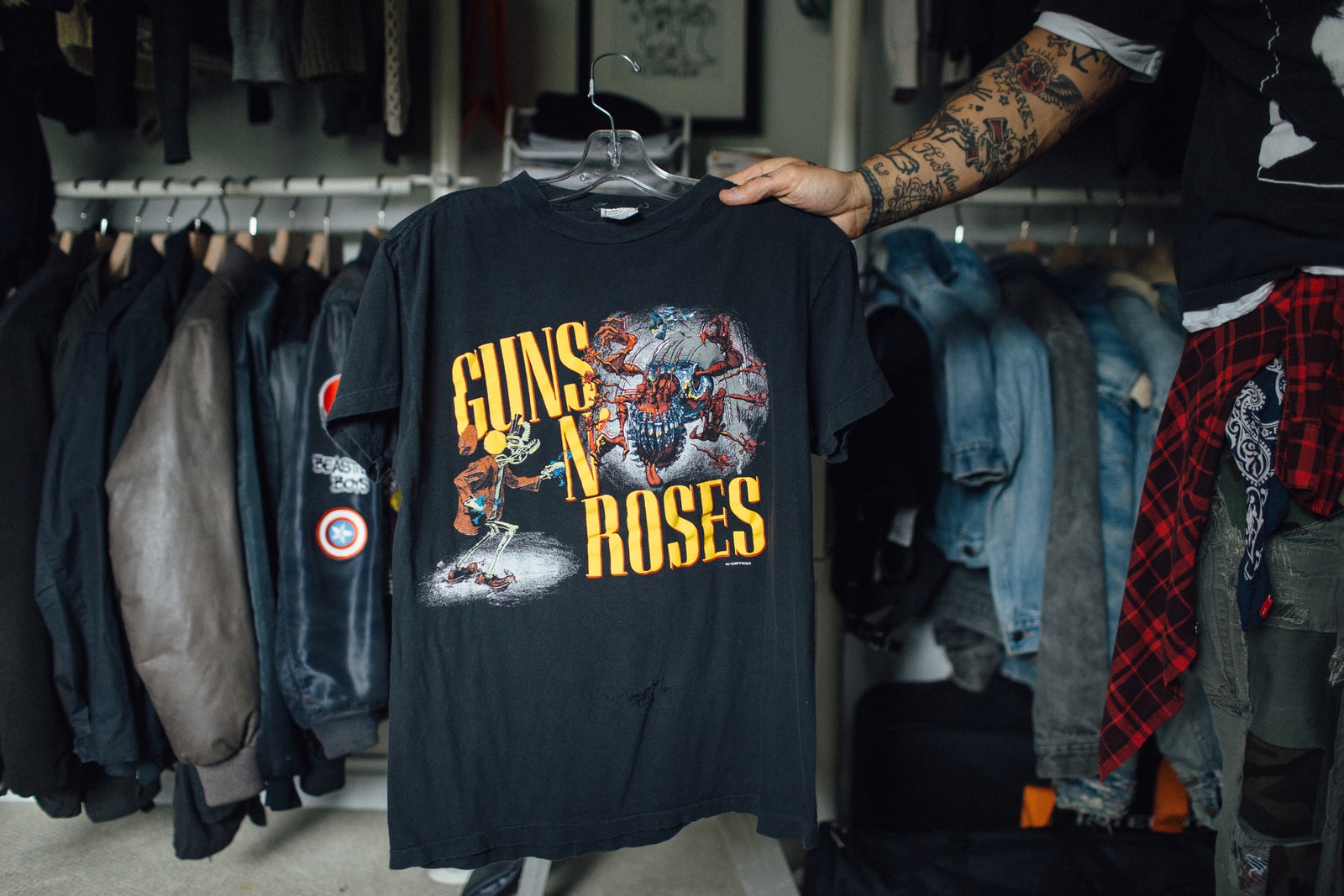 4 of 4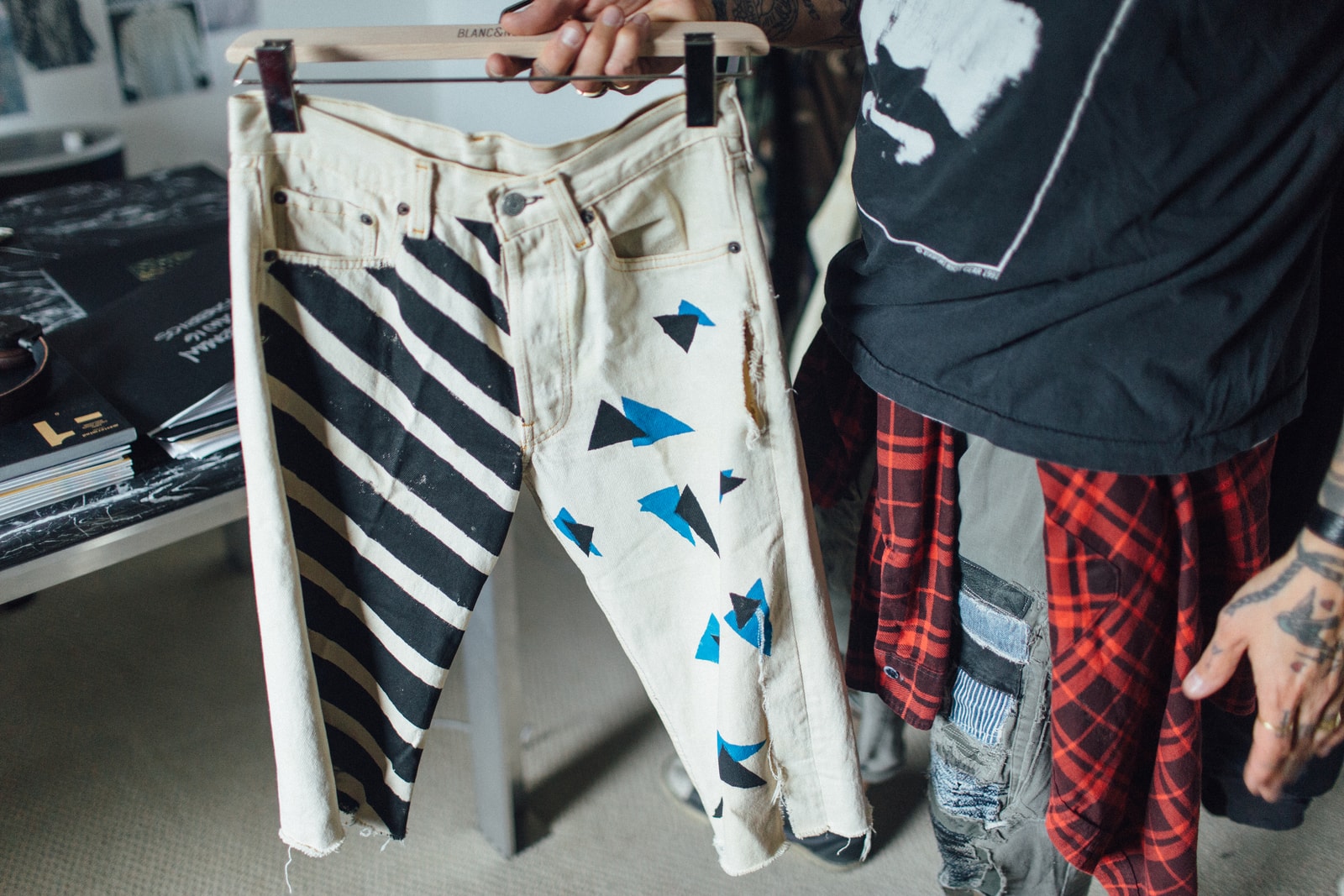 What inspired you to launch your career in fashion?
In sixth grade I would wear my sweatshirts inside-out or paint on them. My mom would buy me new clothes and I'd be chopping the legs off (laughs). But that's just the way I've worked. I knew I wanted to do something in the art world when I was 13 years old, whether it was drawing, painting or designing. I would paint my jeans, my Chucks, and skate decks. But the style in Canada at the time was very conservative, you couldn't find anything! I remember we had to drive to Blaine, Washington to buy my first pair of Vans Slip-Ons when I was in the seventh grade. We just didn't have access to brands.
How can someone stay ahead of the curve in streetwear today?
I've always been told I was too ahead of the curve (laughs). This is a dangerous topic for me because for years I struggled with always being told I was too far ahead or that my product was too ahead of its time [the designer reflects on opening Vancouver streetwear shops like Richard Kidd, now closed down]. I always asked myself: well, if it's too far ahead then why am I thinking of it? You can learn to separate yourself from the herd. Street fashion to me is about being authentic and creating a style to one's personality. When you say "you can't judge a book by its cover," actually, you can. Because when you go into a book store, you're attracted to that book for its cover, it's what gets your attention. So if your attention's automatically gone towards this product, and you start reading it, and you get involved in it — really, it worked. "Fashion is just another accessory for someone who has great style."
Whether it's street or not, you can get a good read on most people based on how they put things together. But I feel like there's a big disconnect right now among a lot of brands. People aren't necessarily sticking true to who they are or creating a part of themselves that tells a story. Too many are producing based on what they think is gonna sell. Think of this analogy: fashion is a just word in the dictionary, and it's about how you put words together to tell your story. We all have access to all of these words, yet we can all write different stories that's individualised to a person. If someone continues designing bomber jackets, that's a part of who they are, but we're lacking a lot of individuality – you don't have to change your whole look to accommodate someone else's. There's been this resurgence of the '90s, '80s, then '90s — it goes through a cycle and depends on how people mash it together. Some stuff looks great, and some stuff I just don't get at all. Which is fine. It's not for me to get.
1 of 7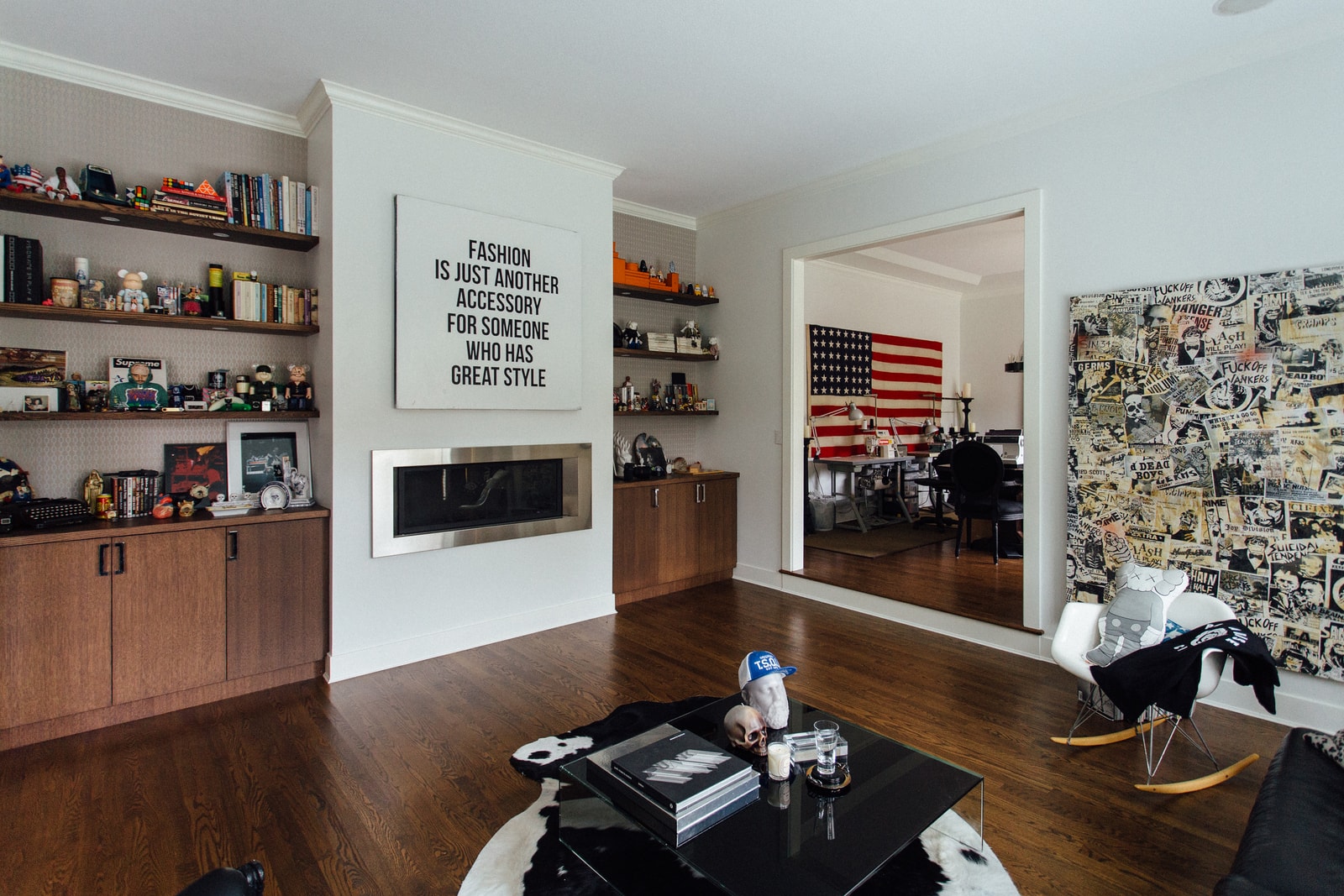 2 of 7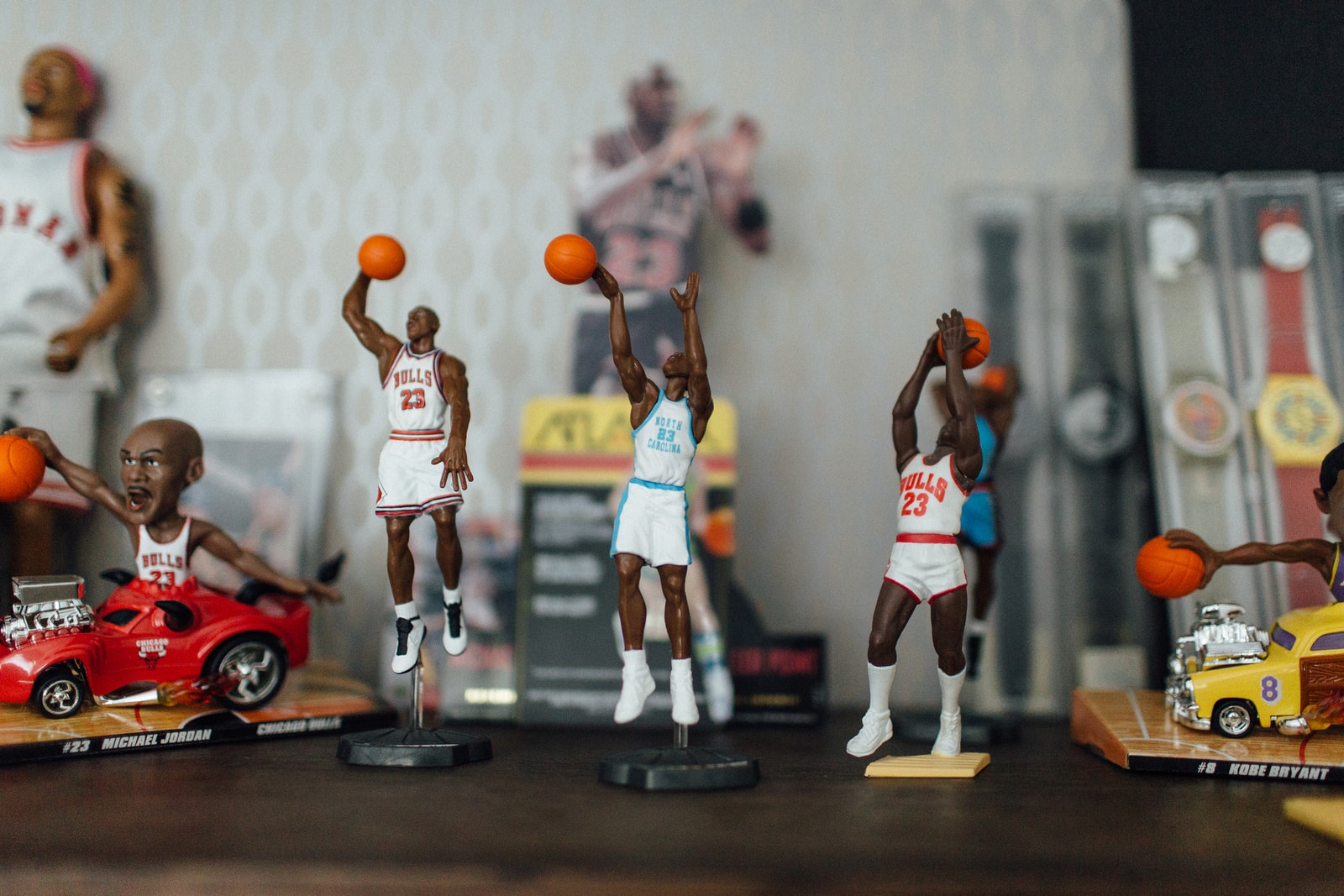 3 of 7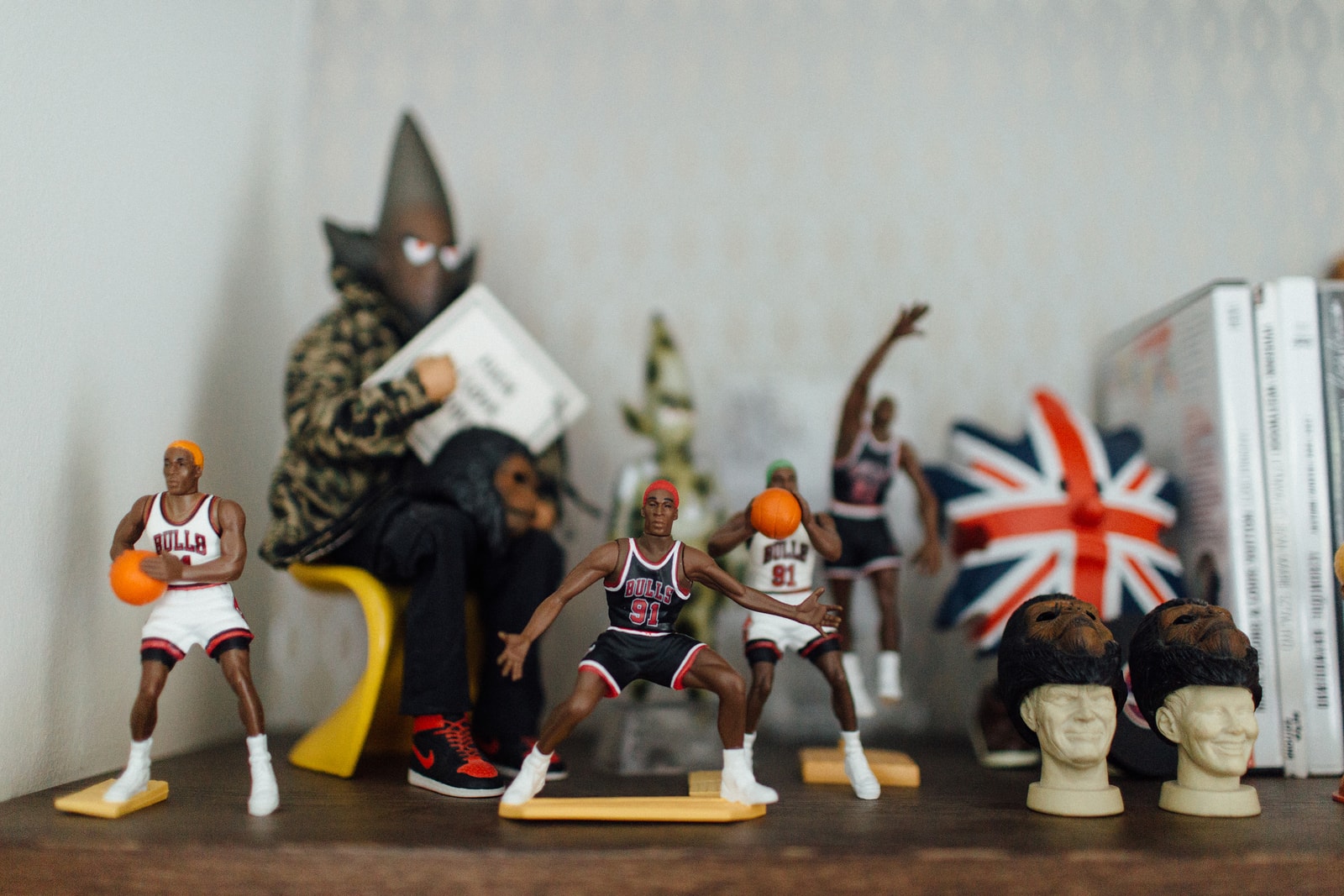 4 of 7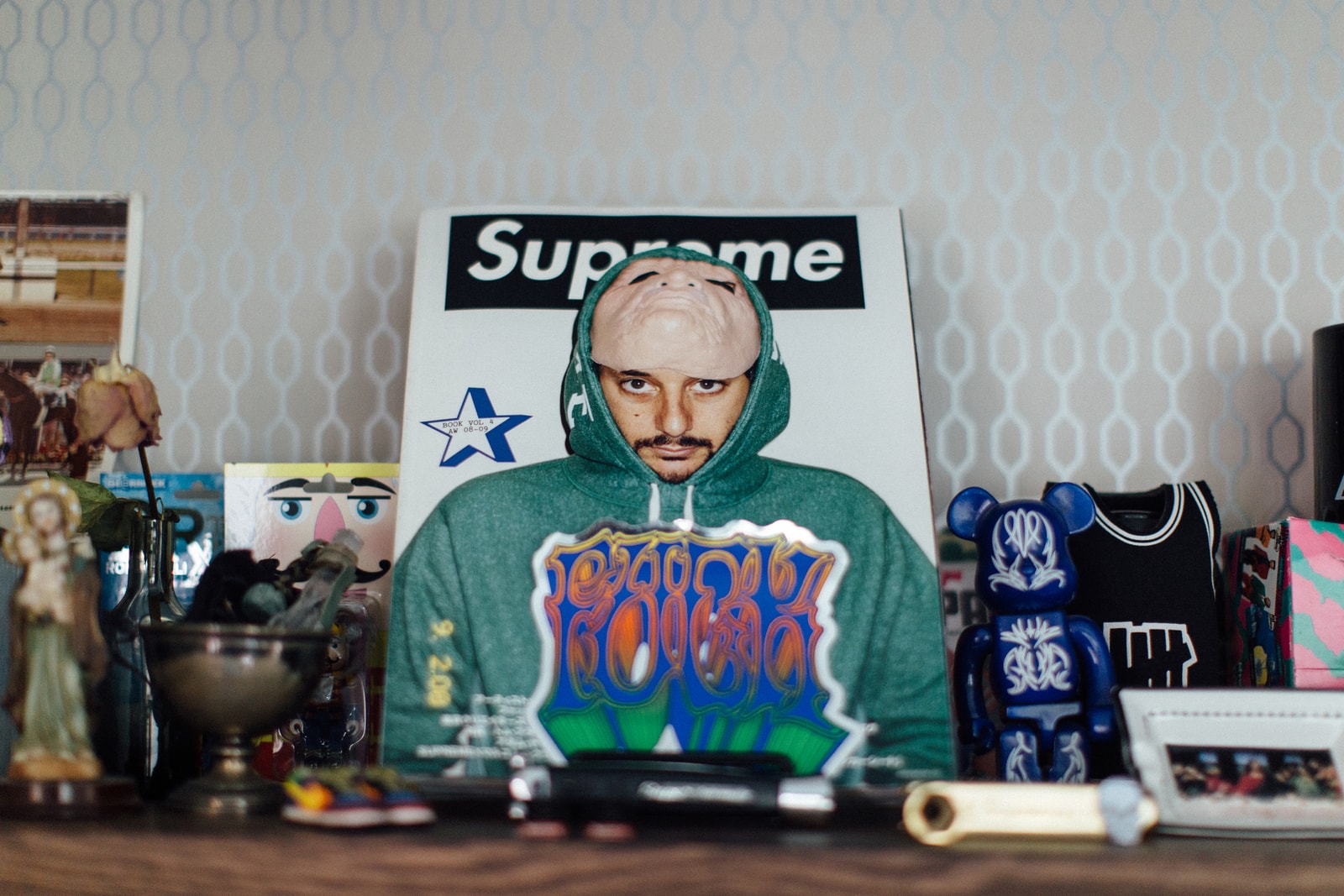 5 of 7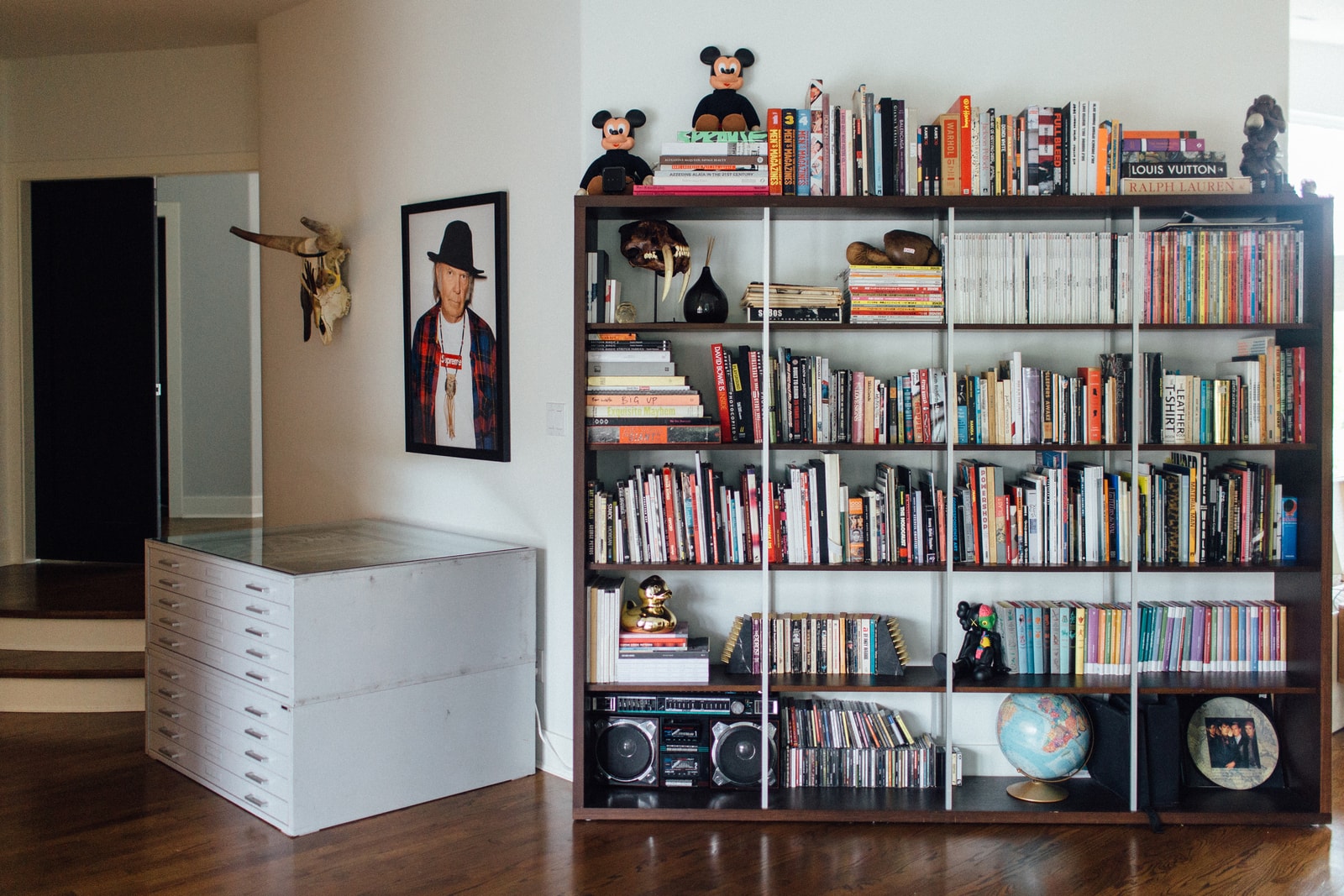 6 of 7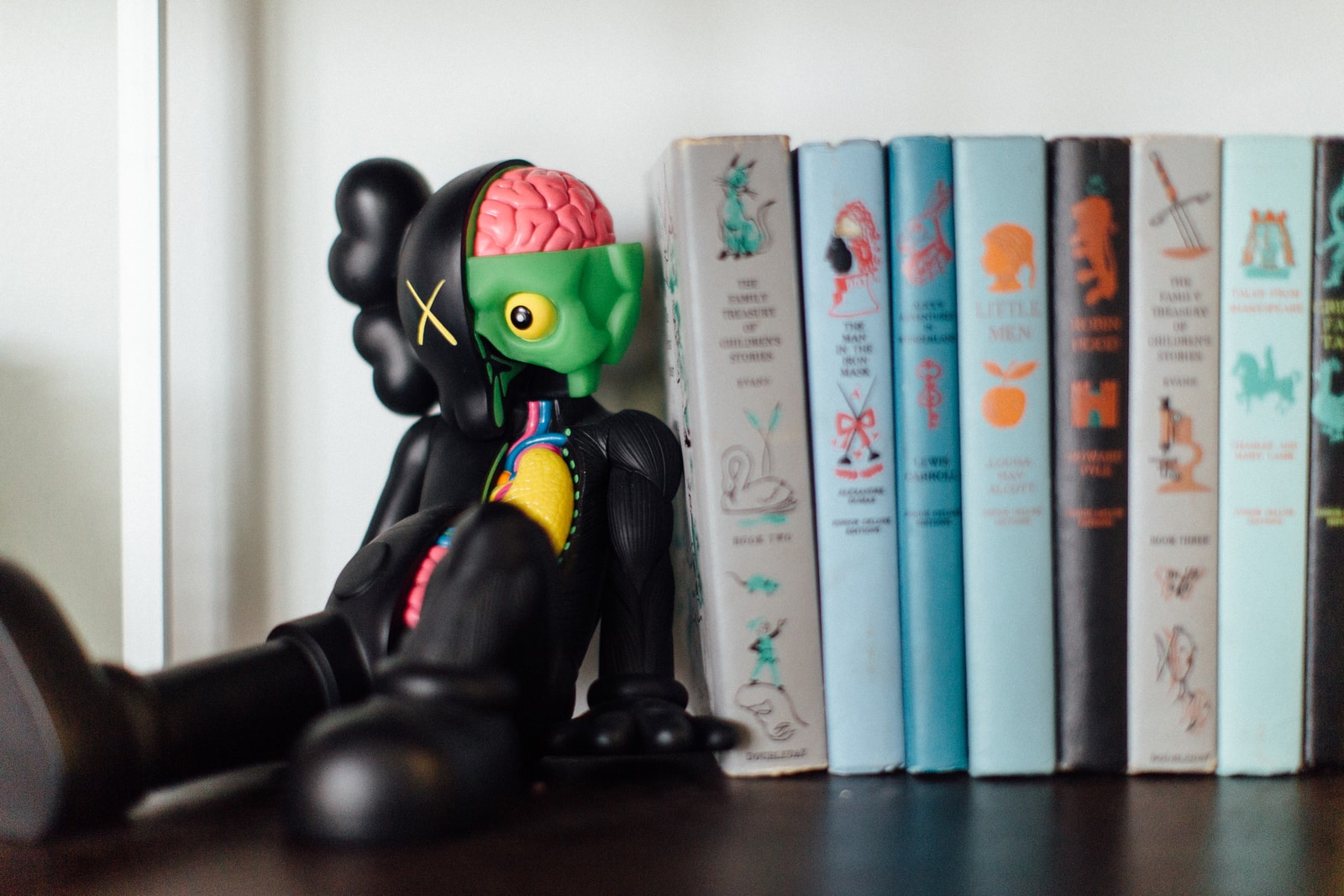 7 of 7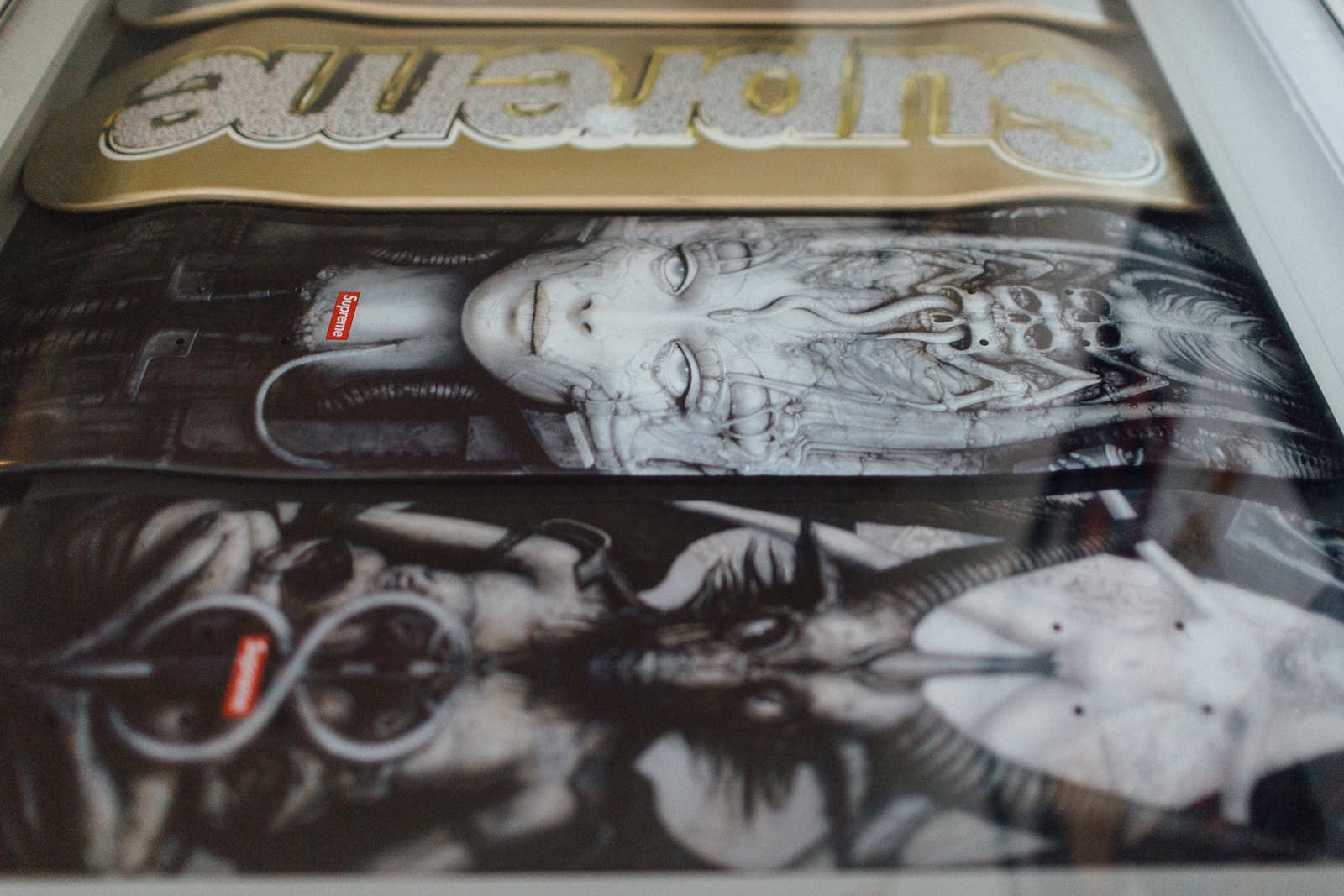 Tell us about HERMAN.
I've always liked a play on words; anyone who knows me knows I love word association. My new collection looks like it's called "Herman," but it's actually "Her" and "Man." It made me laugh when people would say "Herman!" I've always designed for women but the clothing always had a masculine feel, so one day I asked myself, "why not just create one collection, have a label for "Her" and a label with "Man" to go for both genders?" And at the same time it encompasses that music scene: it's that skate, it's that surf, it's all of that embodied into what I see in 2016, 2017, and has become one of the most authentic collections to who I am. I'm just having fun doing it and I hope people enjoy it. It may not be for everybody, it may be for everybody (laughs) – it is what it is.
And I really like the old rock icons. I was watching one of my favorite movies, The Decline of Western Civilization Part II: The Metal Years and I always love how these guys get dressed up full glam with the hair spray and everything. You had guys that looked like girls where women chased them and men wanted to be them. I'm waiting for that day when a group of guys come out with their own style. Look at old photos of Rod Stewart's fashion back in the day.
Think of this analogy: fashion is a just word in the dictionary, and it's about how you put words together to tell your story.
Do you consider these designs unisex?
There's things women will wear, there's things guys would wear. In this day and age, does fashion have to be gender-centric? Other than dresses and gowns and things like that, but even today there are a lot of guys that would wear a gown or a dress. But has the fashion world not progressed beyond these male and female boundaries? There's jackets and tees here women would wear, but do I categorize this as menswear? I don't think so. Here's a size small — for him or for her.
What has influenced your style the most?
The mid-80s to the mid-90s was a pivotal time for me. Surf and skate culture definitely inspired me to create and I loved pop culture and pop artists. We were living in California at the time and the music scene that was going on, the surf and skate culture, they still influence me today, as well as everyone I was hanging around with on the Sunset Strip like Gazzarri's and all these places. It was a cool time to be in California for sure. There was metal, hip-hop, and all these genres coming together, but it was a style that was being created. People were creating looks, whereas today, you can go buy a genre. If you asked me to describe what the style from 2010 to 2016, what would it be called? You can definitely identify a punk era. When you look at what's on the street, what is its title and where's the authenticity to it? It's like a stew: we just grabbed everything that we thought was good and threw it in a pot.
1 of 6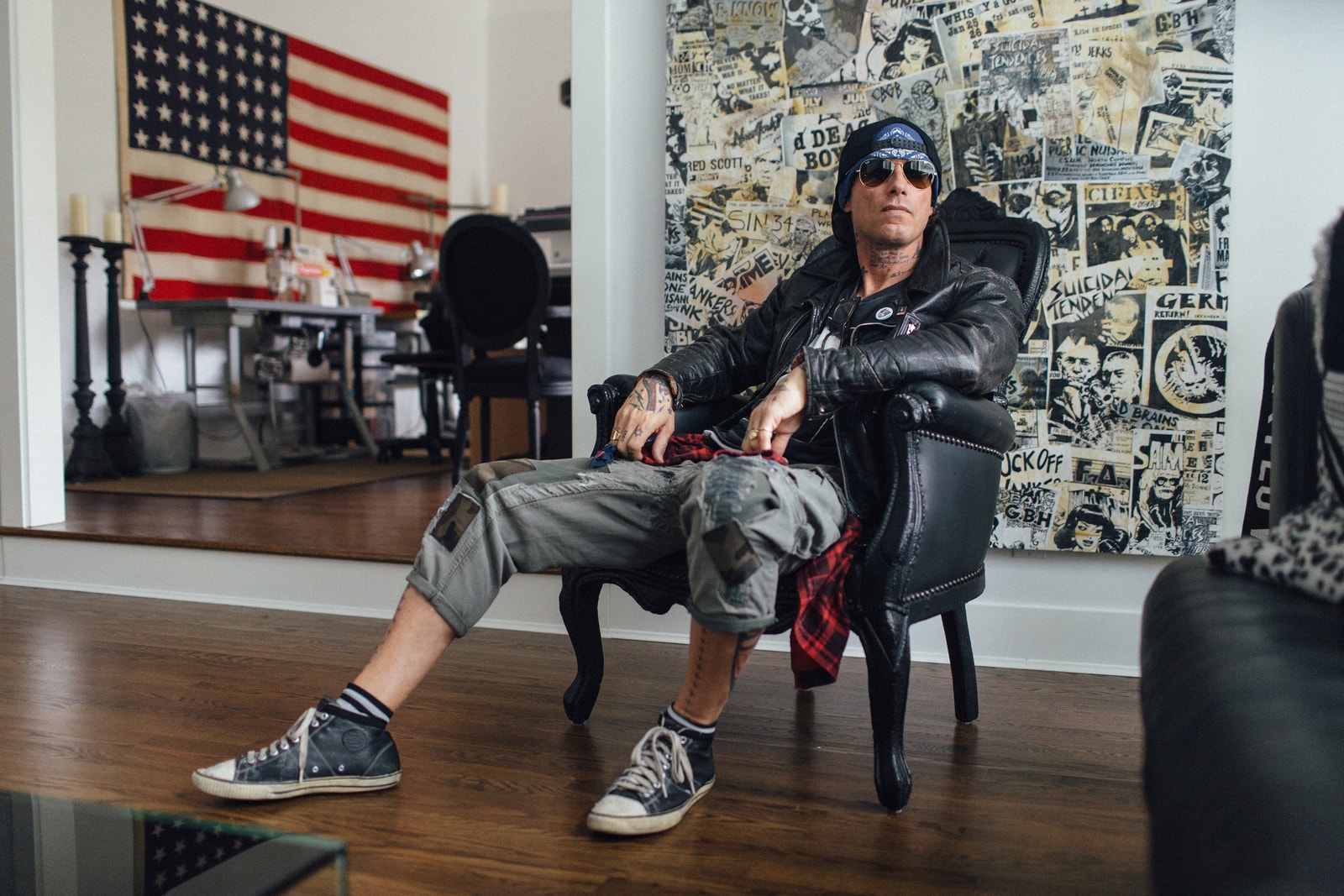 2 of 6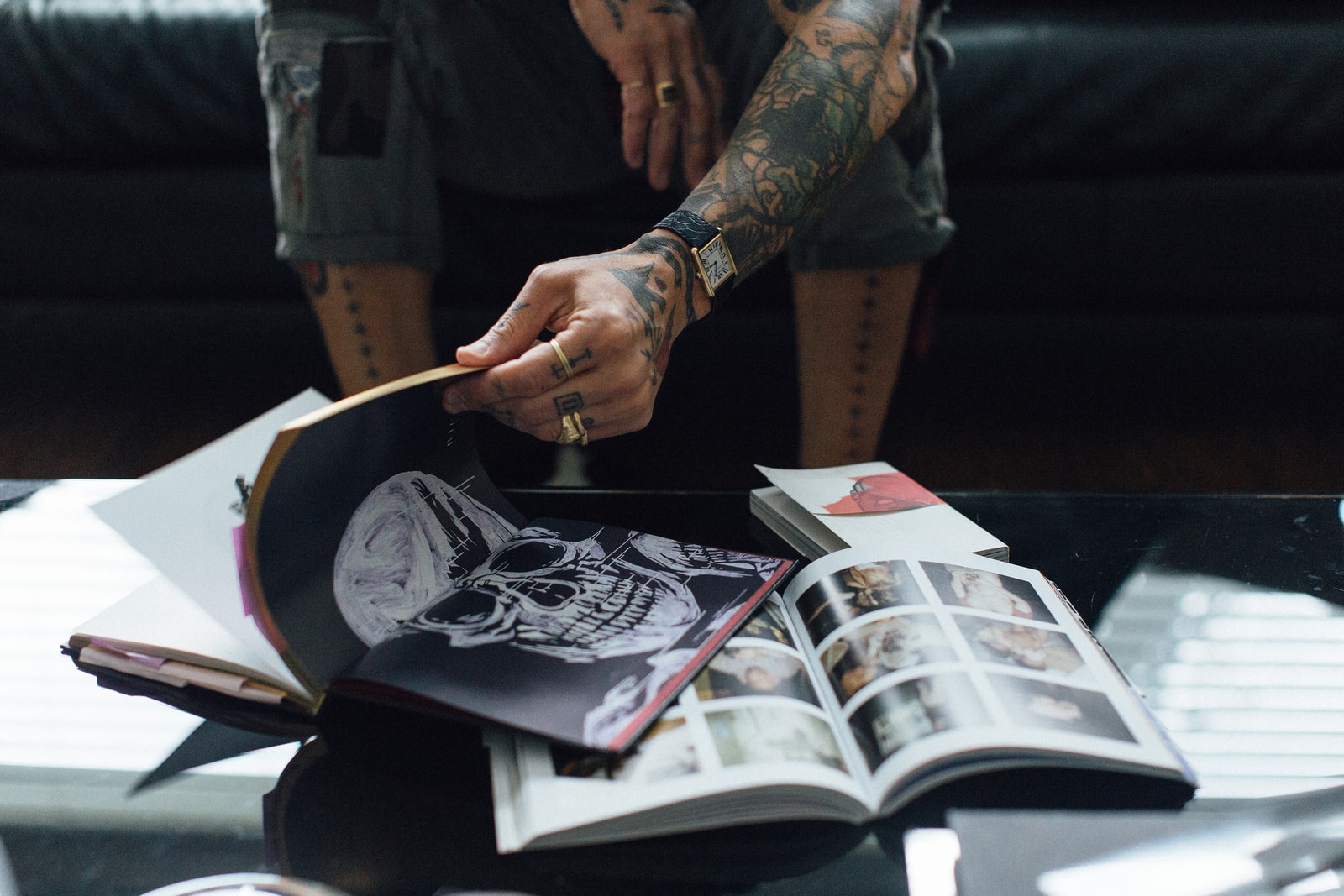 3 of 6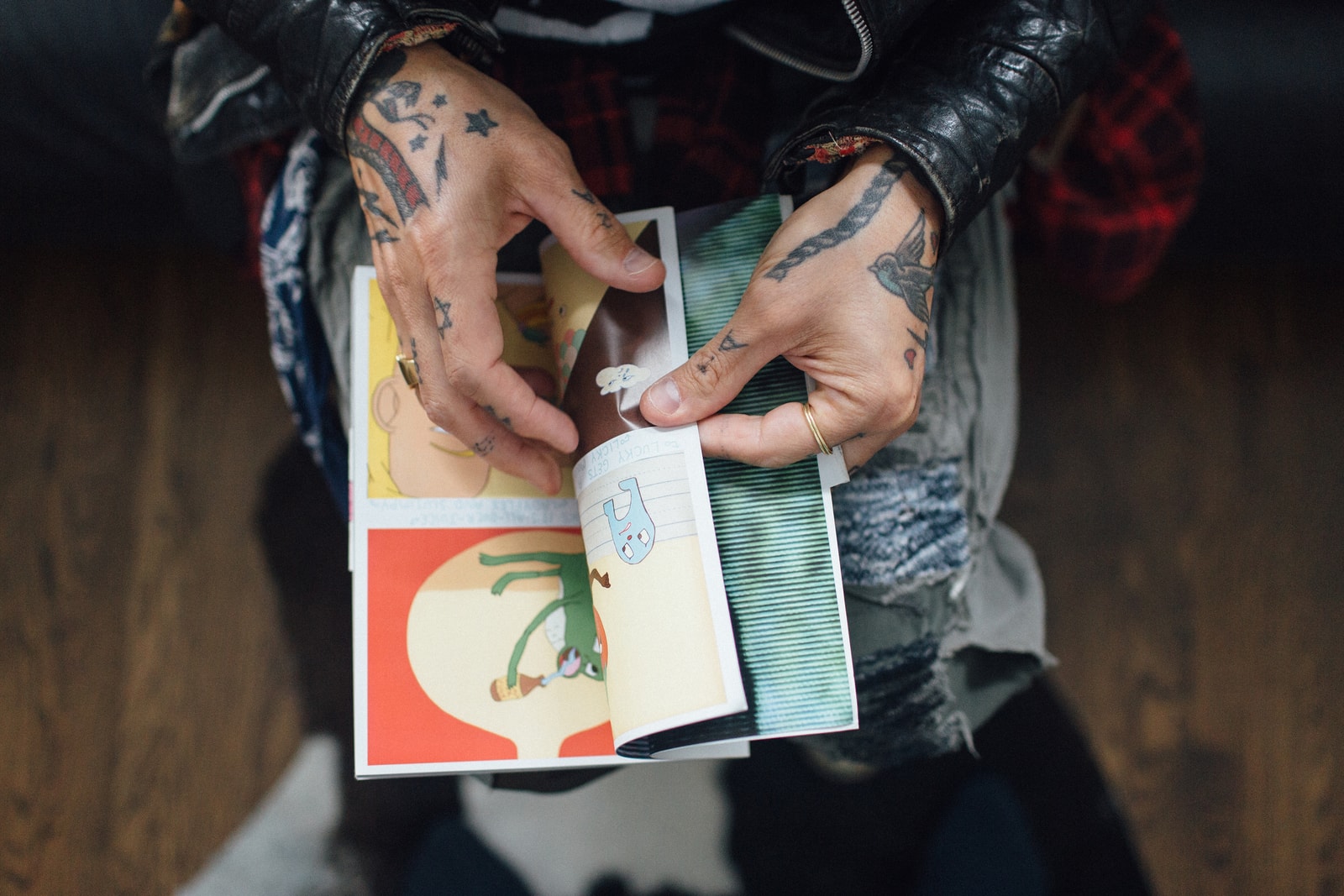 4 of 6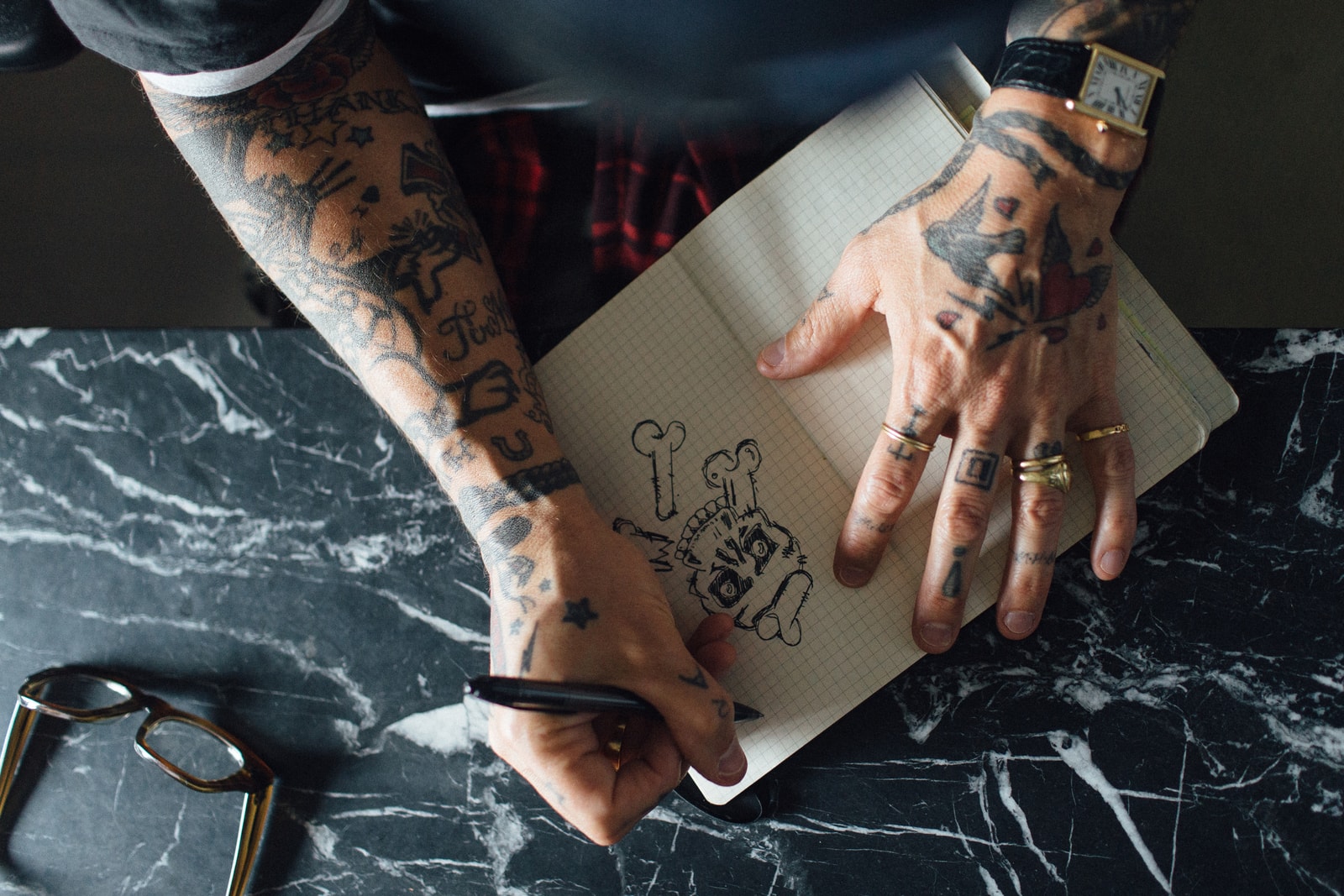 5 of 6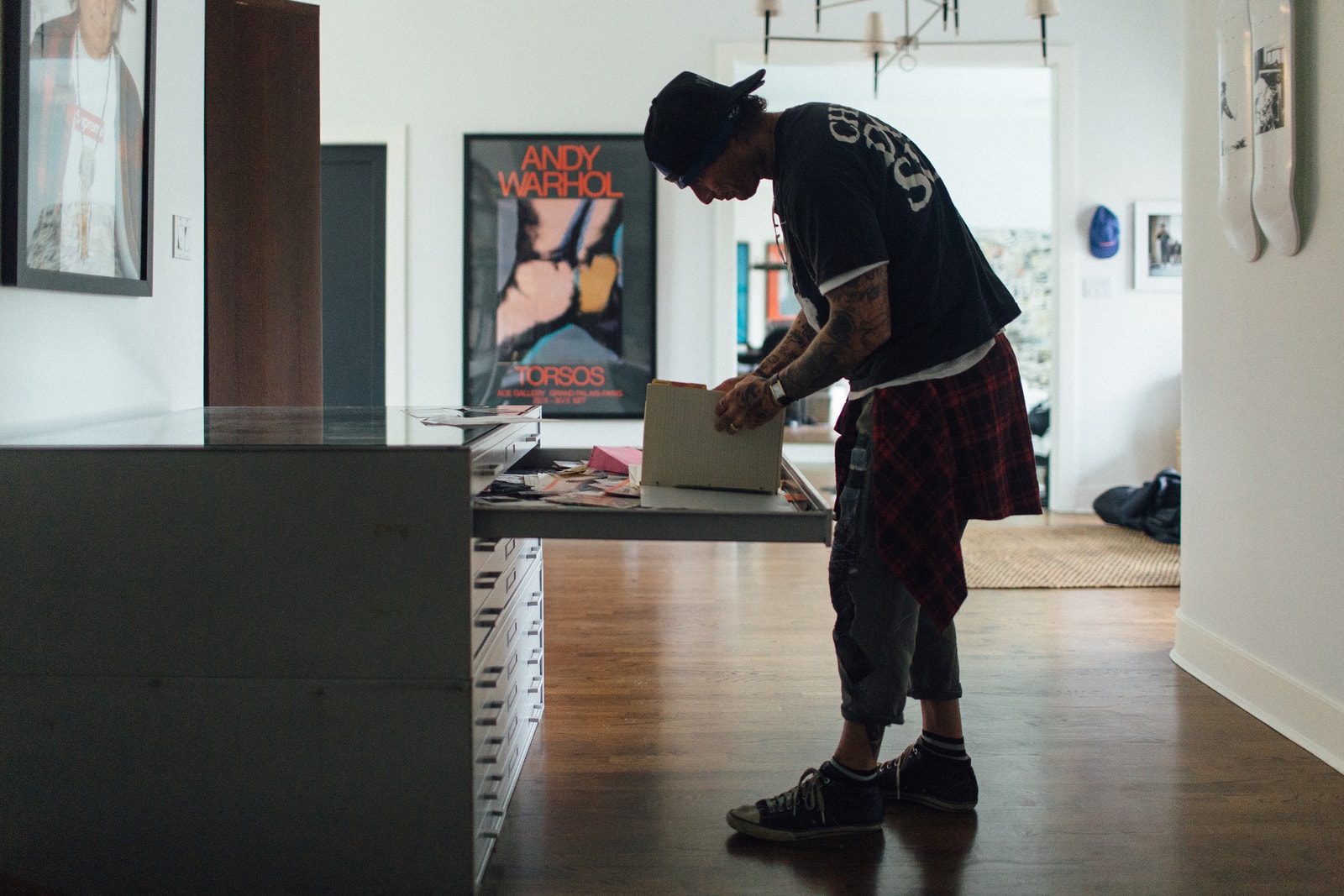 6 of 6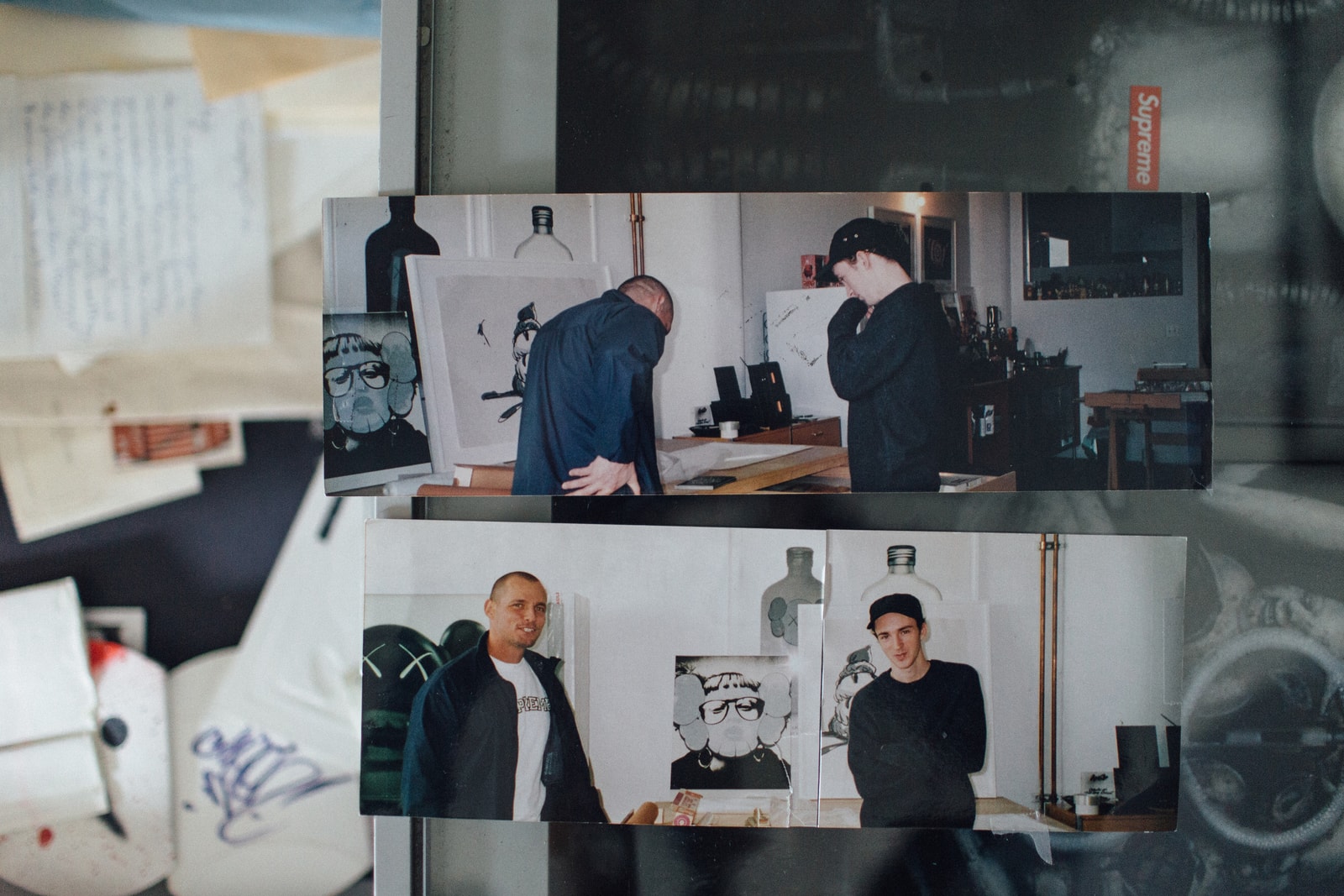 What's your involvement with Stussy like these days, any upcoming projects with them?
I always consider Stussy a huge part of my youth. My dad had a showroom in Hawaii right across the hall from Stussy and Body Glove, too. I don't have anything coming up but if they ever called, I'm always down.
There's been a global rise in Canadian brands led by the likes of wings + horns, etc. Does Canadian fashion have an identity to you?
You can tell there's a certain high quality coming out of Canada that's not necessarily a certain style, it's about quality. When we first started wings + horns it was a different brand (check out their early designs from Japanese publication HUGE), but the quality level that was achieved at that time, and still is achieved, is one no one can complain about. Everyone will have an opinion on style, but you can agree that the quality coming out of Canada is great. I think CYC Design Corporation [parent company of Reigning Champ and wings + horns] has always been a great manufacturer.
What are the biggest life lessons you've learned from the industry?
Put your ego aside. When you're young sometimes you think you know everything, so you make decisions based upon ego and not necessarily ones based upon rational consciousness. I respect people putting themselves out there — anyone who is creating whether it be food, music, art, whatever it is, it's humbling.
What's next for Raif Adelberg?
I just take it day by day because everyday is a surprise.