Kanye West Previews the Yeezy 1050 Boots Via Twitter
GORE-TEX GORE-TEX GORE-TEX.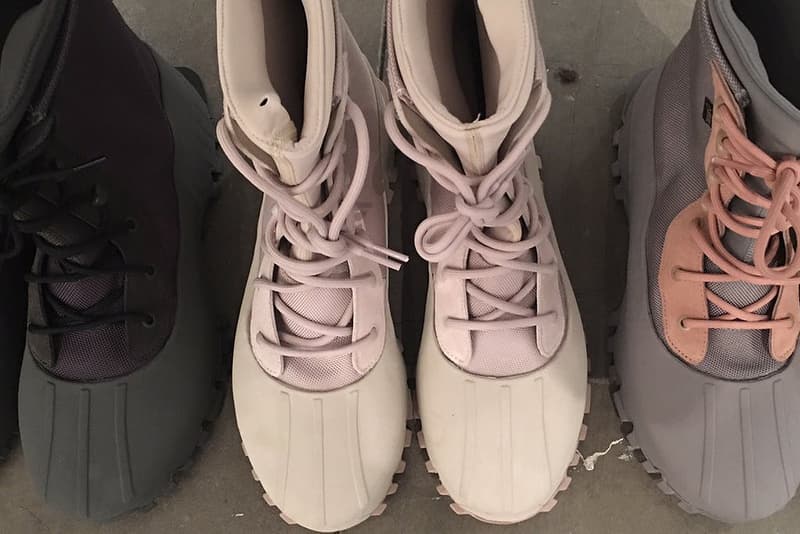 Alongside the unbranded Yeezy Boost 350s previewed earlier, Kanye West now previews a new silhouette: the Yeezy 1050 Boots. Strikingly similar to the 950s that released in October of 2015, the main difference in these boots seem to be centered towards the lace area, where it's sectioned away from the rugged toe wrap. Alongside a slight design change, Kanye West goes on Twitter to display that the shoes are indeed GORE-TEX for maximum breathability and waterproofing. A beige pair stands out against a grey/orange pair, while a chocolate colorway with a plum lace area that's more in line with the 950s seems to also have a sample. What do you think of the upcoming boots?
@ fitting / 1050s pic.twitter.com/X2C8zKLfKN

— KANYE WEST (@kanyewest) February 8, 2016
@ fitting /waterproof 1050s pic.twitter.com/M7LGLpnIJ1

— KANYE WEST (@kanyewest) February 8, 2016
@ fitting / gloves pic.twitter.com/jLcrdx1NN1

— KANYE WEST (@kanyewest) February 8, 2016