Tim Cook and Jony Ive Talk About The "Synergy" Between Apple and Fashion
"In what we do," says Cook, "design is crucial, as it is in fashion."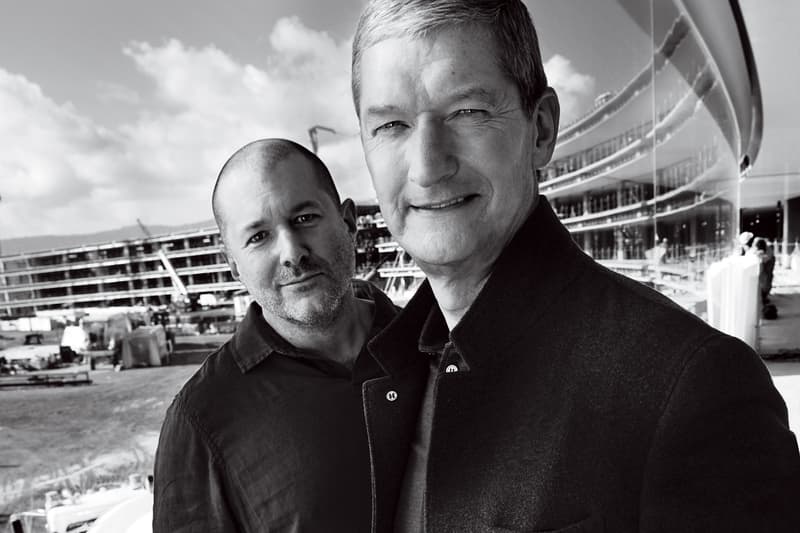 Two of Apple's most recognizable figures take Vogue into its construction space for its new campus. The round, futuristic design is nowhere near done, but the trio tour the space while Cook and Ives speak about the parallels between fashion and technology, most specifically, fashion and Apple. It's undeniable that Apple is a trendy brand, it's fashion-forward and sleek, but its relationship to the loosely-defined term "fashion" is deeper than that. Aside from Apple's fashion-related aspirations (for example, teaming up with Hermès on the Apple Watch), both industries are driven by curiosity and change. Click here to read the full article.
"Hard to know which is more beautiful, the building or that pile of dirt," says Apple CEO Tim Cook with a wide smile on a recent morning, as he stands among the construction crew in their acid-yellow vests and gazes at the tall mountain of soil, its stepped surfaces painted a dark gold by the sun. Not a speck of dirt is to be removed from the campus; instead it will nourish a forest of more than 7,000 trees, which in turn will nourish a village of some 13,000 techies tinkering in silicon. In its current form, the pyramid suggests nothing so much as Giza brought to Cupertino, as if that ancient triumph of human hands had decided to seek an audience with the high priests of technology.

From aerial mock-ups, the building variously suggests a spaceship that has touched down gently in a clearing or a softened, highly styled Pentagon, sure to contain as many secrets. The $5 billion, 2.8 million–square foot structure was originally commissioned by Steve Jobs in 2009, in what Foster describes as "a series of rather amusing phone conversations." Jobs waxed nostalgic about growing up amid the citrus groves of Northern California and wandering through the outdoor corridors of Stanford as an undergraduate. He took the architect to the cathedral-like building on the Pixar campus north of Oakland, which Jobs designed himself with the goal of keeping everyone and everything under one roof.

"There was from the outset a concern with breaking down barriers," says Foster—the circular form is intended to encourage chance encounters outside the corporate box. Foster's vision includes nearly four miles of curved glass and will be powered by one of the world's largest solar-paneling grids. "The sheets of glass are so long, so clear, that you don't feel that there is a wall between you and the landscape," he says. "And at the same time the building is an echo of the ethos of Apple, which designs artifacts that, though they fulfill all sorts of functions, exist abstractly in their own right." Scheduled for completion later this year, it is both Apple's flagship and an Apple product par excellence—a sleek container worthy of the sophisticated machinery within. "In what we do," observes Cook, "design is crucial, as it is in fashion."

Apple's lexicon of pure, pared-down forms, smooth surfaces, gleaming metallic colors, and soft contours within hard carapaces has emerged over the past 20 years under the eye of chief designer Jony Ive. Talking over coffee on the old campus about the growing synergy between the company and the fashion world, Ive points to his rose-gold Apple Watch, a precious counterpoint to the Clarks on his feet. "Nine years ago, the iPhone didn't exist, and the most personal product we had was too big to carry around with you," he explains. "The technology is at last starting to enable something that was the dream of the company from the very beginning—to make technology personal. So personal that you can wear it."
Join Our Discussions on Discord
The HYPEBEAST Discord Server is a community where conversations on cultural topics can be taken further.