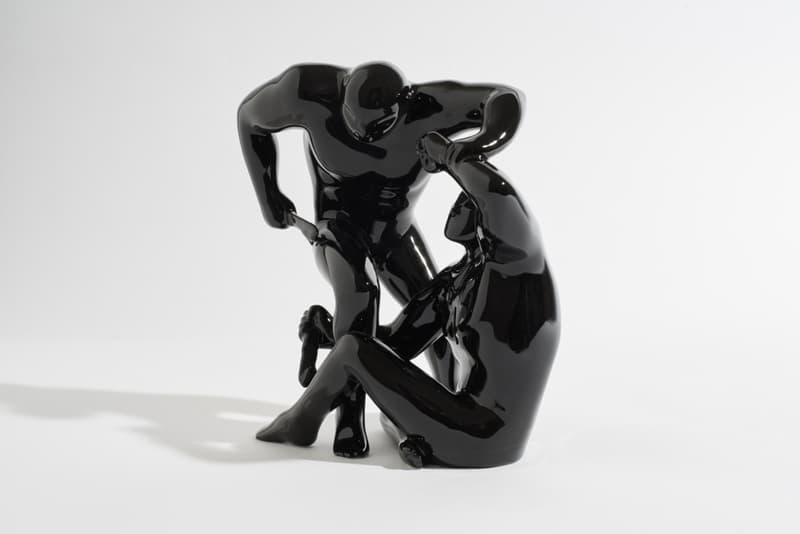 1 of 2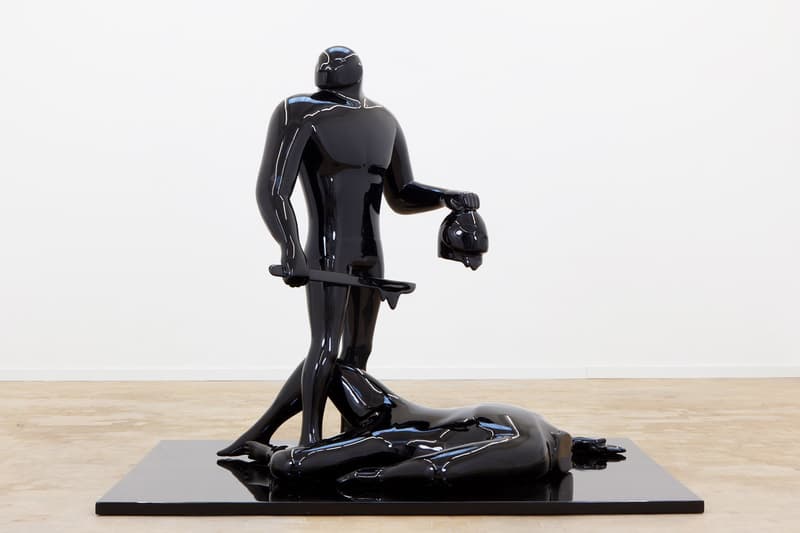 2 of 2
Cleon Peterson x Case Studyo "Destroying the Weak" Black Edition Sculptures
Limited to 25 pieces.
---
Cleon Peterson's artwork thrusts you into a tumultuous world of sex, drugs and violence, and yet, the artist achieves an exceptional balance where chaos and beauty can coexist. The LA-based artist is known for his striking, large-scale murals and paintings heightened by layers of dichotomies not limited to his habitual use of black and white colors. His work often references symbols found in early societies around the world, from sectarian violence of ancient Middle East to mighty Greco-Roman warriors, and holds dark themes that bear striking similarities to those found in the work of Baroque and Romantic painters like Caravaggio and Francisco Goya.
Peterson recently unveiled his latest project: a collaborative sculpture with fine porcelain experts Case Studyo. Titled "Destroying the Weak," the life-sized sculpture depicts two characters locked in struggle; it's a scene of brutality that represents the perpetual struggle of power and submission that embraces dualities of those who have and those who have not, in a piece that both attracts and disgusts. Peterson fans will recognise these themes as the artist's ongoing commentary on contemporary society as well as the fluctuating state of geopolitical turmoil around the world.
In conjunction with the artist's upcoming solo show opening titled "The Judgment" in Antwerp's Plus One gallery, Peterson and Case Studyo will be releasing limited edition, miniature versions of the divisive piece. Limited to just 25 pieces, each black glazed porcelain sculpture will come in a screen printed wooden box, signed and numbered by the artist along with a certificate of authenticity. Peterson's "The Judgment" exhibition, which will host the original sculpture as well as his most recent paintings, launches February 4 with the life-sized sculpture displayed as the exhibition's crowning pièce de résistance.
Peterson describes the exhibition as such:
"These new paintings are about the violence we're living with today, a violence that's become the new norm. The new era of religious and ideological warfare brought on by otherness, powerlessness within the individual and the desire to have meaning in life. This is a conversation about people with a thirst for revenge striving for power. In the end whoever has the power will make the world in his or her own likeness. I think that the world and people's motives are exceedingly complex and what seems heroic and just on one side is often the opposite on the other."
The "Destroying the Weak" black edition sculptures also release February 4 with orders being taken via e-mail at contact@casestudyo.com.
Plus One
Sint-Hubertusstraat 58,
2600 Berchem,
Antwerpen,
Belgium