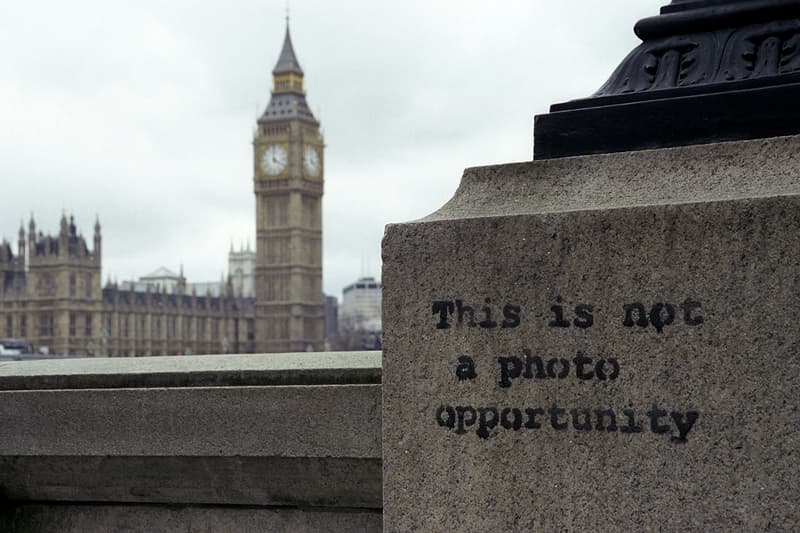 Banksy's Former Agent on the Artist's Most Notorious and Best-Selling Pieces
Five key moments from the street-art pioneer's career.
---
Having first met Banksy in Bristol while taking his portrait for Sleaze Nation, photographer and gallerist Steve Lazarides forged a lasting relationship with the elusive street artist, becoming his agent and going on to play a major part in Banksy's explosive rise to global fame in what Lazarides dubs "11 years of complete and utter insanity."
Although the two no longer work together, Lazarides' involvement in the artist's worldwide ubiquity has included the curation of a series of exhibitions — including a 2014 show at Sotheby's — and selling Banksy's work on the lucrative secondary market through the establishment of his own gallery. "As much as he'd hate to admit it, he was always a very savvy businessman," says Lazarides on Banksy's early vision to create mass-market prints of his work that now adorn people's walls — a move that also had the effect of forcing street art into mainstream culture.
This winter, Lazarides has launched the Banksy Print Gallery at the Mondrian Hotel on London's South Bank — an elevated shopping experience offering rarities and merchandise in addition to the chance to shop for some of his most iconic pieces. We asked Lazarides to reflect on his time working with Banksy and pick five pieces that still resonate for him today.
Girl With Balloon, 2007

"This by far and away Banksy's most sought-after and used image. People seem to think that it's full of hope, which I always find weird as I think it's a sad and wistful piece showing a heart-shaped balloon drifting away from a girl — that's not a happy image! But it's also quite unthreatening and it's not as in your face as some of his other work. It also got used for the Free Syria campaign, which put it out there on a global level. Also, as it's been around for a while, new collectors who are just coming to Banksy tend to stick to what they know; you could show them a super-rare print but because this one's been seen for so long it's got that recognizability and that's what people gravitate towards."
Laugh Now But One Day We'll Be In Charge, 2002

"This is an image that I've always loved – it made me chuckle and it's so rare that you have a piece of art that makes you laugh out loud. It works because it's simple and says quite a lot without saying too much and also really grabs your attention. In its print form it's also been very successful, although these things come and go in waves. Kate Moss was the most popular print for many years but then as she's faded out of the limelight, so has the print. Then there's some of Banksy's later set of prints that have almost a mythical status as they didn't go out on the open market and only 30 to 50 were made, when there are millions who would want to buy them."
Queen Victoria, 2003

"One of Banksy's more controversial works, Queen Victoria is worth around £25,000 to £35,000 ($31,000 to $43,000 USD) for a signed print. This and Rude Copper are two of his more humorous pieces with a political edge to it and have a booming secondary market. You have a lot of people who like that kind of cheekiness and something with bit more of a political edge to it than some of his other works. There's that thing with Banksy's stuff that it has that type of humor shot through it and it's the controversial ones that really make people take notice."
Media, 2006

"Banksy never gave much away and was a strong critic of his own work and you could always tell if he didn't like something as it would quickly be painted over. When it came to his paintings, Media was shown at the 'Barely Legal' exhibition in Los Angeles and this was a huge painting — one of the biggest he ever made. It showed a little girl who is bleeding and the press are holding back the medics so they could get their photographs and I think it's one of the finest pictures he's ever made. That show in LA was such a resounding success and people find it both interesting and challenging."
Mild Mild West, 1997

"Banksy's proud to be a Bristolian and showing off his roots he did this painting in the city of a teddy bear throwing a Molotov cocktail, which he called the Mild Mild West. Another painting back then was called London, Bristol, New York while there was another one with an old guy sat on a bench with a buzz saw coming towards him that was called Weston Super Mare — where he finally ended up doing Dismaland and which is perhaps one of the grimmest, run-down beach resorts you can find. The city's street art scene goes back way before Banksy, through the likes of Inky, 3D, and a bunch of others that came out of that community, and he has carried on that tradition and taken it to the ultimate level."