How the New MacBook Pros Compare With Microsoft's Surface Book i7
Which will you buy?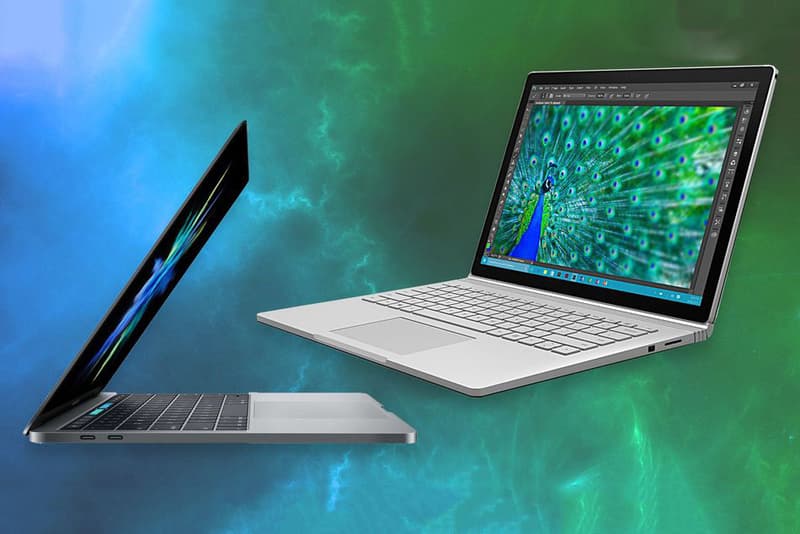 Today, Apple announced two new MacBook Pros, while just yesterday, Microsoft announced a new and upgraded Surface Book. So there's only one thing to do and that's to compare them. Apple has designed three new versions of the MacBook Pro: a 13-inch model with and without the OLED Touch Bar, and a 15-inch model that includes the Touch Bar. For the Surface, there's only one chassis — the convertible 13-inch model. Of course there are a range of different specs you can buy, so let's take a look at how the different versions stack up.
Specs

MacBook Pro and Surface Book both sport 6th Generation Core i5 and i7 processors. The Surface Book with Performance Base offers both Intel HD graphics and Nvidia GTX 965M graphics, while the 13-inch MacBook Pro has integrated Intel Iris for 2D games, while the 15-inch steps up to Radeon Pro for 3D titles. The Surface Book however, features a 3000 x 2000-pixel panel, while Apple's 13.3-inch MacBook Pro sports a 2560 x 1600 display, and the 15.4-inch MacBook Pro packs a 2880 x 1800 panel.

Battery Life

Microsoft claims its Surface Books offers 12 to 16 hours of battery life, while Apple said all of its MacBook Pros offer up to 10 hours of battery life.

Design and Size

Apple's 13-inch Pro is a consistent 14.9mm thick, which is somehow thinner than the MacBook Air and weighs three pounds. The 15-inch weighs four pounds. The Surface Book is a lot thicker at its hinge gap, but at its thinnest point, it's actually a whole millimeter thinner than the Pro. The Surface Book's weight comes in at 3.63 pounds. The major difference is the Surface Book's screen detaches to become a tablet, while the MacBook Pro is just a laptop.

Touch Input

The most notable change on the MacBook Pro is the addition of the new Touch Bar. The row of function keys along the top of the keyboard have been transformed to a multi-touch, multi-function OLED display. In regular use, the Touch Bar will display common controls like brightness and volume. For apps, the bar will switch to provide specific functions. The Surface Book heads the opposite direction with a full touchscreen and pressure-sensitive stylus. The entire screen can flip around and become one big tablet, giving you better control over something like drawing.

Ports

The latest MacBook Pro features four Thunderbolt 3/USB-C ports and only two ports on the base 13-inch MacBook Pro. For the Surface Book, two full-size USB 3.0 ports, a mini DisplayPort for connecting to monitors, a charging port, and an SD card reader are all included. All models contain a headphone jack.

Prices and Configurations

The entry-level 13.3-inch MacBook Pro (which lacks the Touch Bar feature) starts at $1,499 USD, while the 13.3-inch with Touch Bar will cost you $1,799 USD. The $1,799 USD 13.3-inch laptop packs a 2.9-GHz dual-core i5 processor, 8GB of memory, a 256GB SSD and Intel Iris graphics. The high-end 15.4-inch MacBook Pro will cost $2,399 USD which features quad-core Core i7 processors, 16GB of RAM, a 256GB SSD and a 2GB Radeon Pro 450 graphics card. The Surface Book 13.5-inch with Performance Base will cost $2,399 USD and includes a Core i7 CPU, a 256GB SSD and Nvidia GTX 965M graphics, but only 8GB of RAM.