'Straight Outta Compton' Costume Designer Opens Up
Kelli Jones talks to 'Fashionista' about how hard it was to get the '80s-'90s costume exactly right.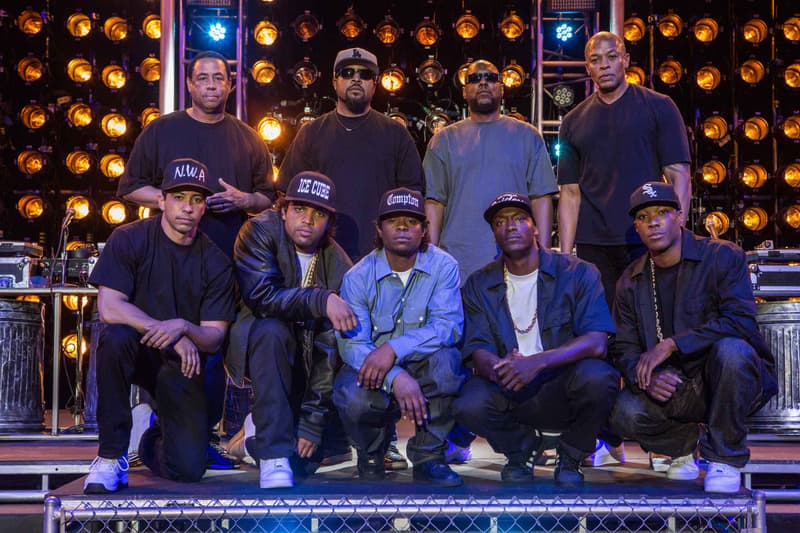 The N.W.A biopic Straight Outta Compton was a smash hit at the box office — not a surprise, considering the immense influence its members have had since their heyday to 2015. Undeniably, the costume design played a huge role in the film's success, as its accuracy and style reflected everything fans wanted to see. From LA Raiders caps to Dickies baggy pants without cellphone pockets, Head Costume Designer Kelli Jones had a lot on her plate. She didn't skim through any details, fully aware that diehard fans would easily recognize any discrepancies, such as Eazy-E's net gloves. Read about her entire experience dressing the N.W.A at Fashionista.
As co-producers, Dr. Dre and Ice Cube were very hands-on when it came to dressing their on-screen portrayals. "The first thing Dre said to me when I met him was, 'Whoo, you got a lot of work to do,' laughed Jones. "Cube was like, 'You know what, here's the deal, we want people to look at us today and think that what we're wearing is cool, even though we wore it back then.'" Despite an impressive 866 precutting room wardrobe changes and 10,000-plus pieces, Dr. Dre, Ice Cube and director Gray wanted collective approval on every, single, outfit.

Jones likens sourcing the film's vast wardrobe to a "wild goose chase" around vintage stores, costume shops and swap meets. Although, thanks to N.W.A.'s enduring fashion influence, many items are still on the shelves, like Dickies baggy pants, but with slight tweaks to reflect technological advancement since 1989. "Trying to find Dickies today that don't have cell phone pockets… " Nike and Adidas provided items for the movie and a few designers even recreated archival pieces, including Pendleton and hip-hop favorite Karl Kani. "[Kani] made a couple of throwback sweatshirts and sent them to us," she said. "Corey [Hawkins] wears one in the scene when they're out by the pool."