Aaliyah's Legacy: A Pioneer of the Tomboy Style
Paying homage to the original tomboy of streetwear.
A look back at Aaliyah's enigmatic life proves time and time again that her significance transcends beyond her music and records. The Brooklyn-born, Detroit-raised Aaliyah (née Aaliyah Dana Haughton), was more than just a sweet voice; with her natural attitude and effortless style, Aaliyah reshaped the R&B template. Known to balance femininity with an edgier, laid back tomboy chic, Aaliyah's life was cut short 14 years ago, when the 22-year-old crashed to her untimely death during a plane failure in the Bahamas. Yet her unique disposition lives far beyond the silky vocals and Timbaland and R. Kelly-steeped beats like "Try Again" and "At Your Best (You Are Love);" Aaliyah's audacious style influenced a whole generation that followed.
---
Balancing Street and Sex Appeal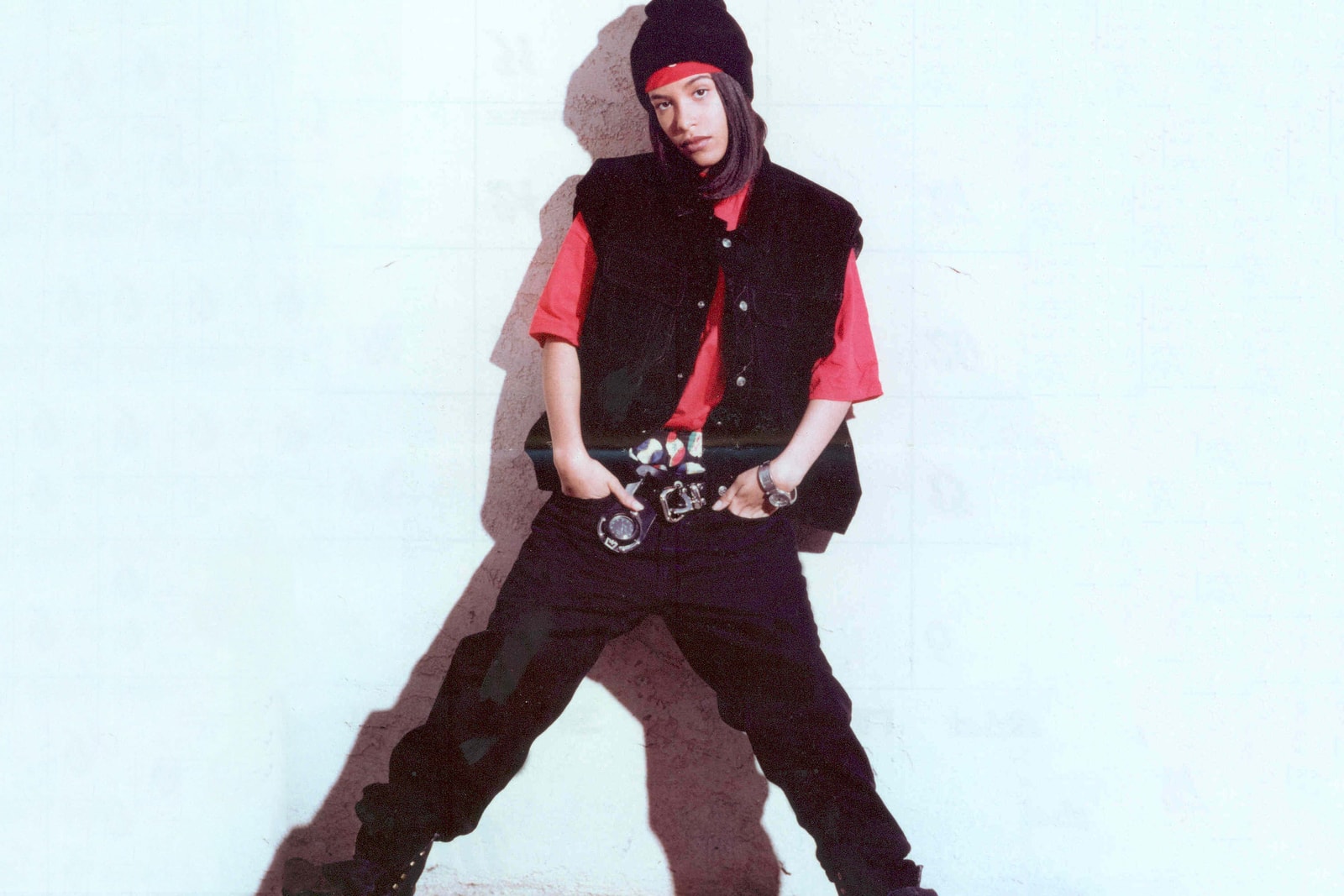 Contemporary R&B was characterized in the '80s by glamorous divas like Whitney Houston and Lisa Lisa and Cult Jam, while female rappers like MC Lyte and Roxanne Shanté aligned more with urban hip-hop emcees. The early '90s saw the likes of TLC, Mary J. Blige, SWV, Xscape and En Vogue swap the glitz and glam and bring a more unapologetic street sensibility to the R&B category, which set the tone for Aaliyah's debut.
Aaliyah made her first mark as a contestant on the reality competition show Star Search in '89, but she made her official entrance at the tender age of 14 with her debut album Age Ain't Nothing But A Number in '94. Up until this point, most young artists, such as Another Bad Creation, were carefully manufactured for the tween market. Enter Aaliyah, the sweet young teen who brought in an incredibly smooth Soprano voice, and a look to rival any G-Funk rapper.
---
The R&B Figure Redefined
As a teenager, Aaliyah was incredibly confident with her intrinsic style, where sportswear silhouettes, dungarees, oversized tees, bandannas, and track suits were staples to her look. Mixing sportswear with workwear staples was Aaliyah's innate way of showcasing individuality, with a look that has since perpetuated onto her peers.
"Even though she had the big baggy pants on, there was still sex appeal… She kind of related to the regular chicks but at the same time she had a sex appeal to her, so I think it translated [well]. It was a mystique and it gave her room to keep growing each album," remembers friend and collaborator Missy Elliott in an interview with The FADER.
"Her most iconic look of course is a sports bra, oversized Hilfiger jeans and Timbs! She invented that look… No one else was really pulling that off in an authentic way," said designer Erin Magee. And "authentic" she was. Taking the reins from Janet Jackson, Aaliyah showed the world that being sexy was more than just wearing revealing clothing. She oozed sex appeal in a way that celebrated her female form without taking the traditional bare-all Hollywood route, at a time when gender stereotypes were more confined. Aaliyah challenged the image of the female songstress in a refreshing way, when other singers like the Spice Girls and Destiny's Child donned miniskirts and platform heels.
Aaliyah surrounded herself with a diverse crowd that included the likes of Damon Dash, Static Major, Junior M.A.F.I.A., actress Kate Hudson, and of course, Timbaland. She was diverse in her music too, having achieved the crossover between the then-male-dominated R&B and rap categories at a time when it was customary for male hip-hop artists to rap verses, while female R&B singers sang hooks. Her look has been translated by numerous artists in forthcoming generations, from subsequent R&B queens like Blaque and Total, through to the pop stars of the early millennium, and the tomboy Ciaras and Tinashes of today. The snake-clad Britney Spears in her I'm A Slave 4 U music video, for example, undoubtedly draws parallels from Baby Girl's We Need A Resolution music video.
---
Switching Between Wardrobes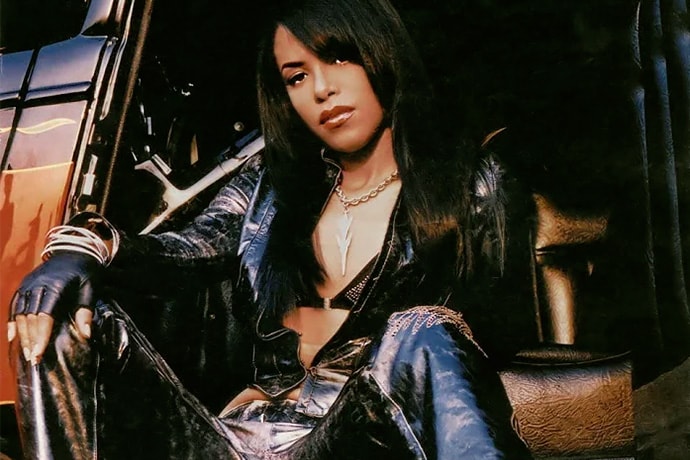 Aaliyah was, for lack of a better word, a true tomboy at heart. While she did receive guidance from stylists like Liza Montoya and Derek Lee, they only accentuated the style that already came natural to her. Aaliyah typically favored a crop top, baggy, low-rise jeans and Timberland boots over any statement dress. But for someone who wore pants to prom, Aaliyah could embrace her feminine side with outfits like the black and yellow Roberto Cavalli dress she wore to the VMA's in 2000, and her Queen of the Damned-era vampiress look too.
Her diversity allowed her to switch between wardrobes with effortless ease. Bright hues and casual sportswear aside, she also adhered to futuristic, fashion-forward styling — think gothic-meets-Matrix – where all-leather ensembles were accented by black lipstick. She didn't reach the versatility of Madonna's ever-changing look per se, but her chameleon-like nature to adopt different styles was more so a reflection of her confidence and growth.
---
Trademark Locs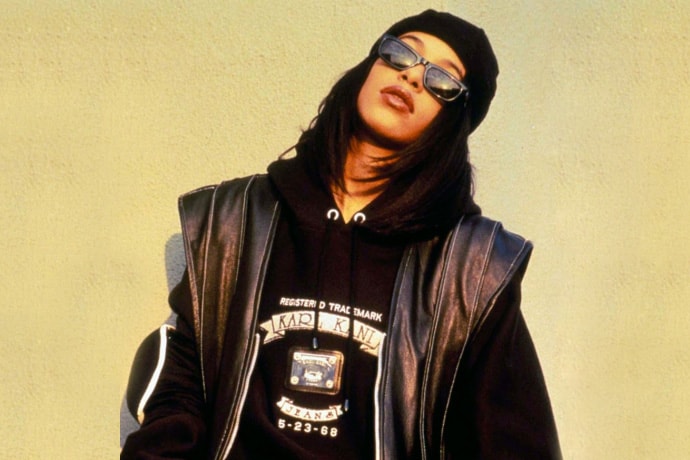 Among Aaliyah's signature looks were her locs — blacked-out sunglasses that were popularized by gangsta rappers in L.A. during the '80s. Innocently shy to show face to the media, Aaliyah's accessory of choice prompted rumors of a glass eye and other physical ailments. Yet the sunglasses remained with her throughout most of her career, and only supplemented her mystique to the public.
"The word in the hood was, 'she had a cockeye,' 'cause she always wore them shades," remembers Method Man, "but the next album came out and it was like, whoa, she killin' it on some real warrior shit."
In '96, Aaliyah traded in the locs for an eyepatch in her One In A Million music video. By incorporating these somewhat arbitrary trends, Aaliyah pushed forth her characteristic style in an incredibly organic way, marking another testimony to her vital role as a trend-setter.
---
The Tommy Era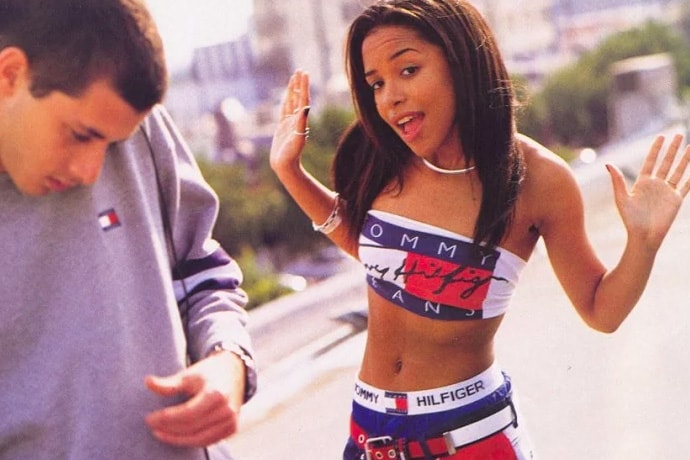 For a forward thinking artist, Aaliyah tended to wear "middle" designers over high-end names at a time when rappers coveted Gucci, Louie, and Prada. In '98, Aaliyah became the brand ambassador for Tommy Hilfiger in a rare partnership that showcased a hip-hop/R&B artist as the face of a mainstream brand with a significantly larger commercial outreach than urban mainstays like Fubu, Johnny Blaze, or Karl Kani. She was such a good fit for the brand, that Aaliyah's Tommy ads came across as an extension of her own style, rather than the other way around. Hilfiger capitalized on Aaliyah's innate sense of streetstyle and provided a platform for Aaliyah to influence the world above and beyond the R&B community.
---
Paving the Way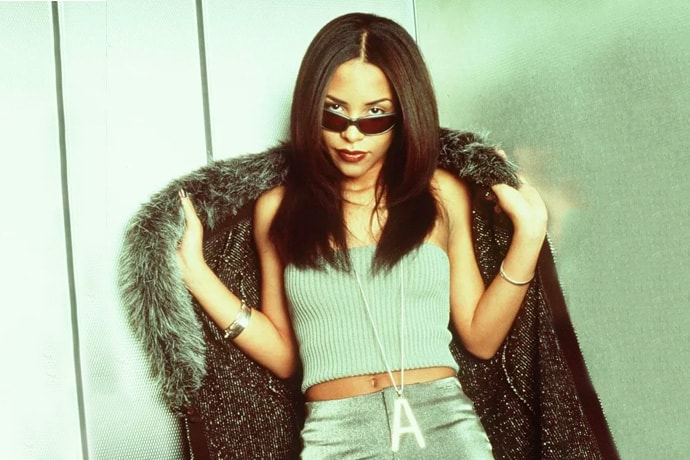 In 2015, rap and street culture figureheads like Cassie, Va$htie and Rihanna's constant reciprocation of the tomboy-meets-sex-appeal look also carries on the '90s and retro sportswear trend, where girls donning Calvin Klein logo sports bras and basketball jerseys owe much to Aaliyah to thank. In retrospect we can see how advanced her style was. In fact, around the time of her passing, Aaliyah was also working on her own clothing line, "Dolly Pop," with best friend Kidada Jones (one of Quincy Jones' daughters). The girls had planned to create cute, feminine designs with Japanese influences, well before Japanese fashion was within the industry's radar.
While Aaliyah's tomboy tendencies resonated with the "the baggier the better" trend, it most importantly allowed her to carve her own niche by deconstructing styles to create her own silhouettes. There's a reason why many contemporary artists have attempted to immortalize Aaliyah in a posthumous career: by challenging the fashion norms as a female celebrity, as an R&B singer, and as a brand ambassador, it is without question that Aaliyah created trends rather than followed them.
As an icon across the sectors of music and fashion, Aaliyah broke the mold for urban female artists everywhere, and without her legacy, the quintessential R&B singer would hold a different definition today. Her endeavors in music, film, and fashion are a solid testament to her progressive tastes and show Aaliyah was ahead of the curve.