Lalique x Damien Hirst "Eternal" Collection
The controversial Brit teams up with the historic French crystal and glass manufacturer.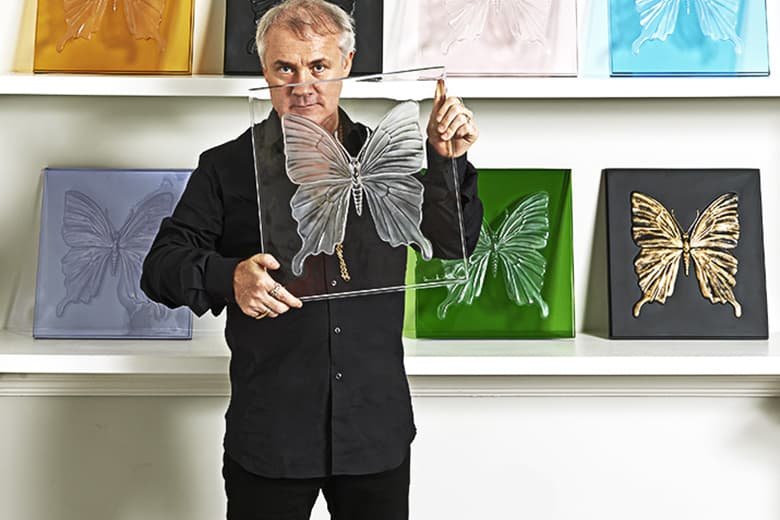 Controversial artist Damien Hirst has followed up the release of his miniaturized Anatomy of an Angel by linking up with historic French crystal and glass manufacturer Lalique to introduce the "Eternal" collection. Expressing "Hirst and René Lalique's shared sense of the magical and paradoxical beauty of the butterfly, ephemeral and eternal at the same time," the collection features three different series — Love, Hope and Beauty — and sees a butterfly in crystal with 12 different colors available. Limited to just 50 signed and numbered pieces of each color, the collaborative "Eternal" series is available now via Other Criteria with prices ranging from £12,000 GBP (approximately $18,433 USD) to £20,000 GBP (approximately $30,722 USD) per piece. Said Hirst of the project:
I've always loved crystal and it's both beautiful and difficult to work with, so I'm really excited about the project. It's amazing being able to use all the expert craftsmanship and incredible history of Lalique for something new, and the results are beyond all my expectations. I love that the panels have an almost religious feel, they make you think of stained glass windows which I've always adored, it's the way they manage to capture colour and light so completely and then throw it back out at you… I see butterflies as souls and part of a wider visual language. I've always described them as universal triggers; everyone loves them because of their incredible abstract fragility and beauty. I've always loved that they look identical in life and in death, but when the light shines through these panels, it feels like they're brought back to life in some way.