Essentials: Daniel Bradshaw of StreetX
The young entrepreneur keeps an arsenal of simple goods essential for any young man, with pieces keeping him on top of his game.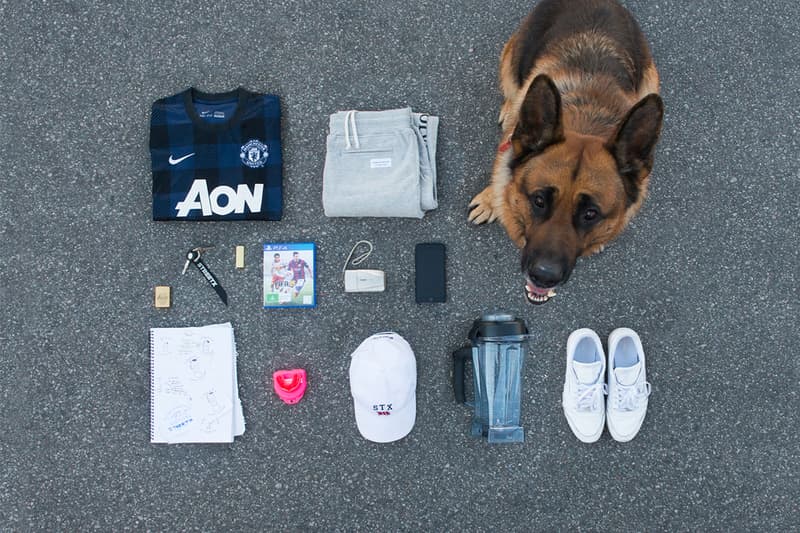 Daniel Bradshaw is the 24-year-old owner and founder of StreetX. Currently based in Perth, the brick and mortar store was founded in 2011 and has blossomed into a full-fledged streetwear mainstay and brand in Australia. The idea was founded upon an interest and passion for menswear and streetwear staples, with Bradshaw opening an online retail store to source these harder to find goods in his native Australia. With a keen business acumen and eye for style, the young man has built the business into what it is today.
For his Essentials, Bradshaw keeps it simple. Carrying several items that have a nostalgic value to him, the entrepreneur always has his dog, Zulu, as well as a Manchester United away kit. His copy of FIFA 15 makes sure he always gets his soccer fix as well. He matches a pair of Raised by Wolves' sweatpants for a carefree and casual fit, accessorized with a classic pair of Reeboks and STX White Flag cap to finish off his look. Additionally, the fitness fanatic prefers boxing as his sport of choice, with a mouth guard and a Vitamix blender always nearby. Additionally, a special memento he always keeps with him is a 1/1 custom-etched Zippo by Matt "Manface" McCormick, a result of a previous collaboration and a StreetX gold bar USB key to keep everything from Game of Thrones episodes and mixtapes with him.